Ford thinks you want to eat shrimp out of your frunk
Feb 3, 2020, 6:37 pm
Photo courtesy of Ford Motor Company
There's tailgating and then there's tailgating. Ford has taken the burgers, beer, chips, and dips game a step further by proposing 2021 Mustang Mach-E owners use their new electric vehicle's front trunk (frunk) to store enough shrimp cocktail to feed a small army (with lemons, natch).
To be completely clear, it is possible. Instead of having an internal combustion engine and all the parts that are needed to make that run up in front of the driver under the hood, the Mustang Mach-E, like Teslas before it, has a storage area that can be used for a variety of things.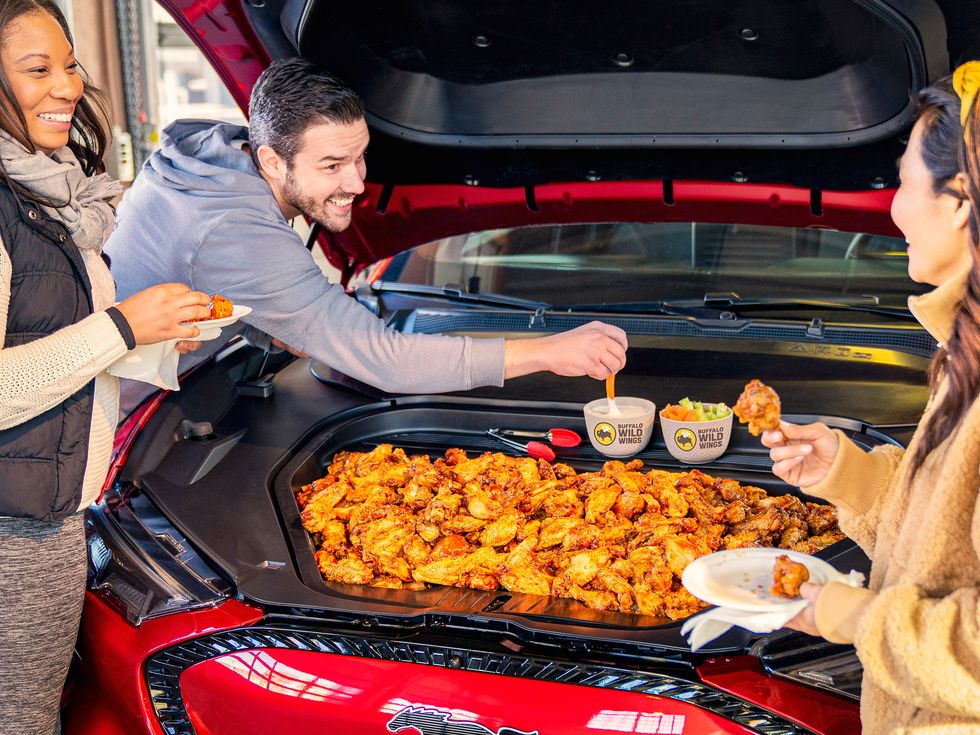 Ford says that 1,000 chicken wings fit in the Mustang Mach-E's front trunk.Photo courtesy of Ford Motor Company
The space is a 4.8-cubic-foot plastic bin, which is equivalent to a 36-gallon cooler. That's about the same size as the Yeti Tundra 35.
In addition to the frunk, the model has performance-focused features, which were sussed out during and engineering process when Ford president and CEO Jim Hackett tasked the R&D team with making the Mustang Mach-E more exciting than it was originally intended to be.
If shrimp isn't up your ally, Ford would like to suggest perhaps you fill the space with buffalo wings (they say 1,000 fit) or soda.
The point is, that you can do it when you own a Mustang Mach-E. However, as mothers all around the country say, "Just because you can doesn't mean you should."
The Mustang Mach-E enters the market when many car companies are changing over to selling EVs yet the automaker's own survey showed that over one-third of the population has no interest in electric vehicles.
AutomotiveMap's Chad Kirchner has ridden in the new crossover but was not able to secure the time with the model needed to fill the frunk with any culinary delights.
Deliveries of the electric SUV begin late 2020. Reserve the Mustang Mach-E to secure yours for next season.