I rode in the 2021 Ford Mustang Mach-E to find out if it's worthy of the Mustang name
Nov 17, 2019, 9:30 pm
Photo courtesy of Ford Motor Company
There are no coincidences in the automotive world, so it was no surprise that I found myself riding shotgun in a 2021 Ford Mustang Mach-E electric vehicle prototype in front of SpaceX and Tesla's offices in Los Angeles. Ford's all-electric crossover is their most ambitious electric vehicle project to date. With styling, range, and debut location, they proved that they are targeting Tesla and their customers.

The Mustang Mach-E is, according to Ford, 100-percent Mustang. For those who are used to seeing the Mustang as a sports coupe with rear-wheel drive, an electric crossover with available all-wheel drive bearing the Mustang name might be eyebrow raising.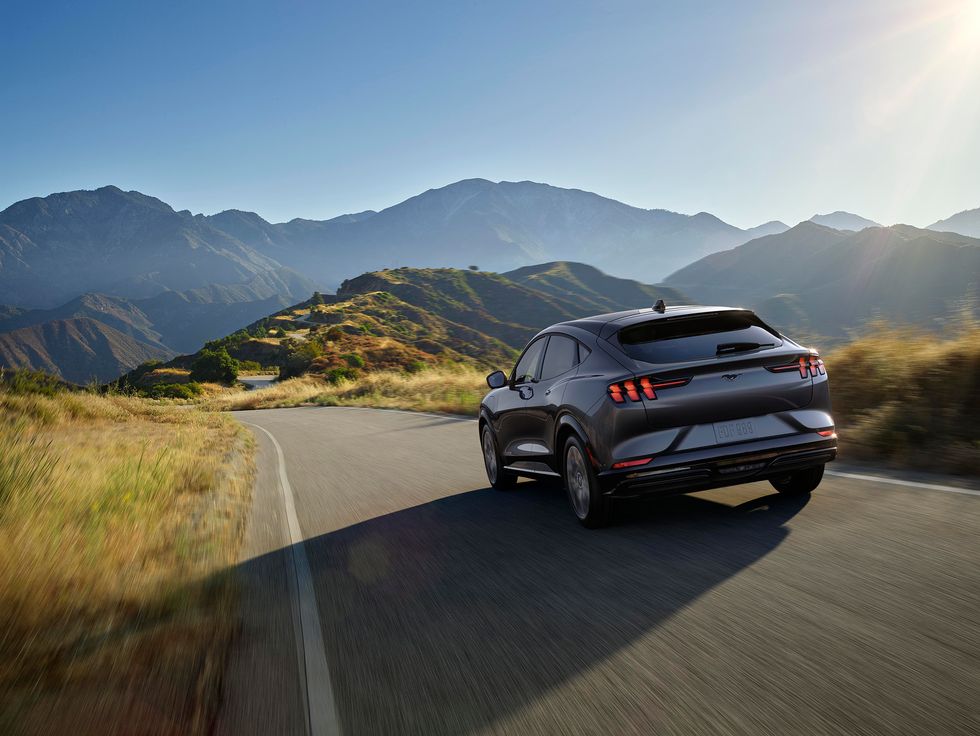 The Mustang Mach-E has many exterior design attributes usually reserved for the Mustang coupe.Photo courtesy of Ford Motor Company
That skepticism is one of the many reasons why, during a secret reveal ahead of the global debut, Ford shuttled me around Hawthorne, California in one of the Mustang Mach-E prototypes. The company was out to prove to me that they built a vehicle worthy of the Mustang name.
The model Ford put me in was the Mustang Mach-E Premium all-wheel drive, extended range model. That EV runs to 60 mph from a standstill in a hair over 5 seconds. Because electric motors make torque immediately, the car pushes the driver and passengers relentlessly back in their seat as they make that run. The torque makes the car feel faster than it is.
For folks who want to go faster, the Mustang Mach-E GT Performance trim should do that same run in around 3 seconds. When the GT Performance goes on sale in early 2021 (late 2020 for the other models), the quickest accelerating Mustang you'll be able to buy will likely be electric.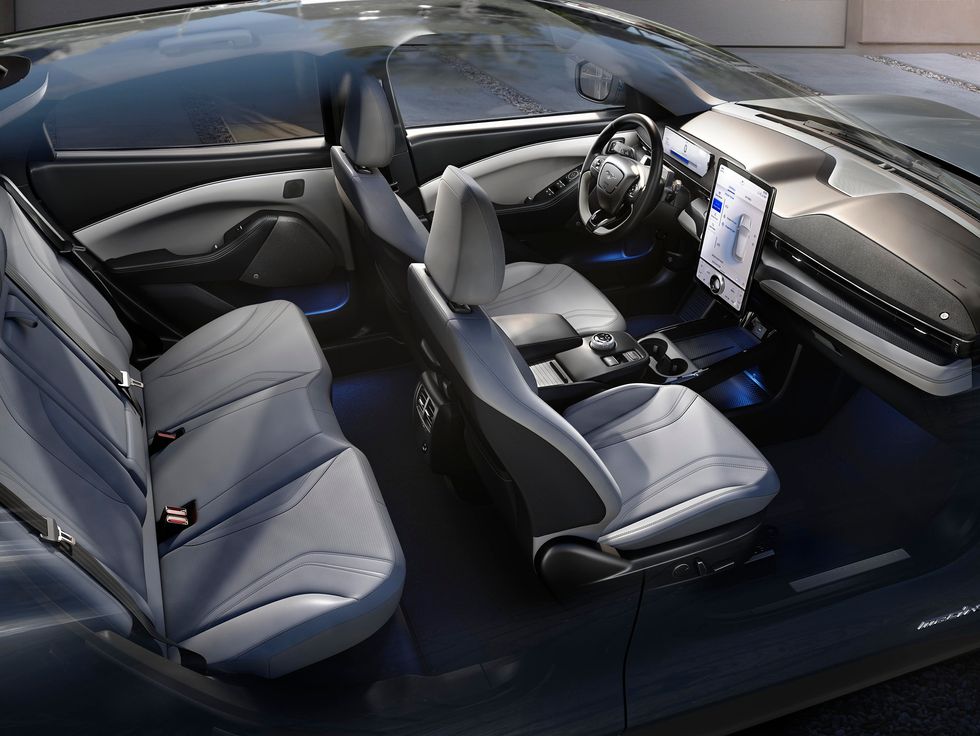 The cabin of the new model is spacious.Photo courtesy of Ford Motor Company
On a route around Hawthorne, I was able to experience the car's on-road manners. Even though it was an early prototype, the cabin was quiet. That's in part due to the lack of a motor but also because of the car's three performance modes for the Mach-E – Whisper, Engaged and Unbridled. In Unbridled mode, which is what I experienced, the car allows computer-generated internal combustion engine-like sounds to flow into the cabin when accelerating hard.
Unlike the Jaguar I-Pace's piped-in growl, the Mach-E's sounds natural for a performance car. It doesn't exactly sound like a gasoline-powered car, but it adds a soundtrack to the spirited drive that this author doesn't find obtrusive. In Whisper mode, the car is relatively silent.
Cornering, at least from the passenger seat, felt relatively flat. The low center of gravity of the battery pack helps a ton. Right now, there is no adjustable suspension system, like MagneRide, that is available on other Mustang models.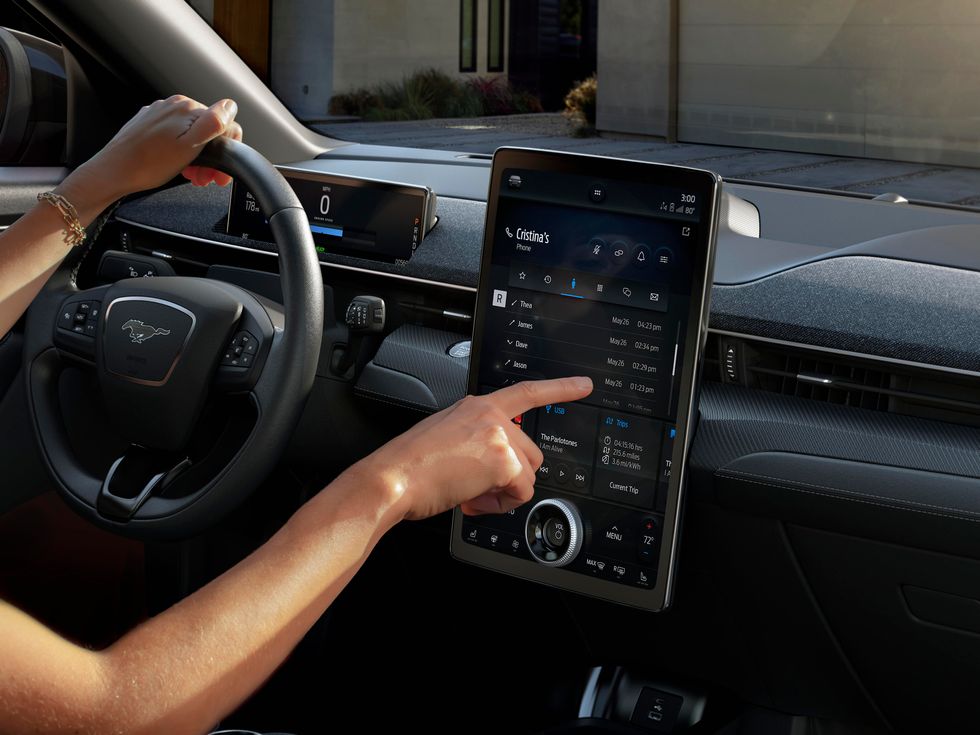 Ford has simplified the interior of the car in a very Tesla-esque fashion.Photo courtesy of Ford Motor Company
The Mustang Mach-E takes many interior cues from Tesla design though many elements are unmistakably from the Ford team. There is a large, center-mounted screen that handles most of the controls of the infotainment system and vehicle functionality. Interestingly, while the center screen handles most of it, there still is an instrument cluster to provide vitals – something Tesla has done away with.
Display vehicles had gobs of space inside, including numerous of storage cubbies for nearly everything. Fit and finish were solid for vehicles this far along in the process and it felt more Tesla Model 3 inside than Mustang.
The new infotainment system supports routing based on how long you'll sit at a charger and which chargers you need to stop at – basically what a Tesla does. Another first for Ford is support for both wireless Apple Car Play and wireless Android Auto.
Additionally, the Mustang Mach-E has truly hands-off Level 2 semi-autonomous driving. It'll be an over-the-air update after launch for customers, but there are cameras in the car that watch the driver to make sure they are paying attention. If they are, and the roads are digitally mapped, the Mach-E will handle most of the driving duties for the driver. The system is very similar to how Cadillac's Super Cruise technology works and is not hands-off.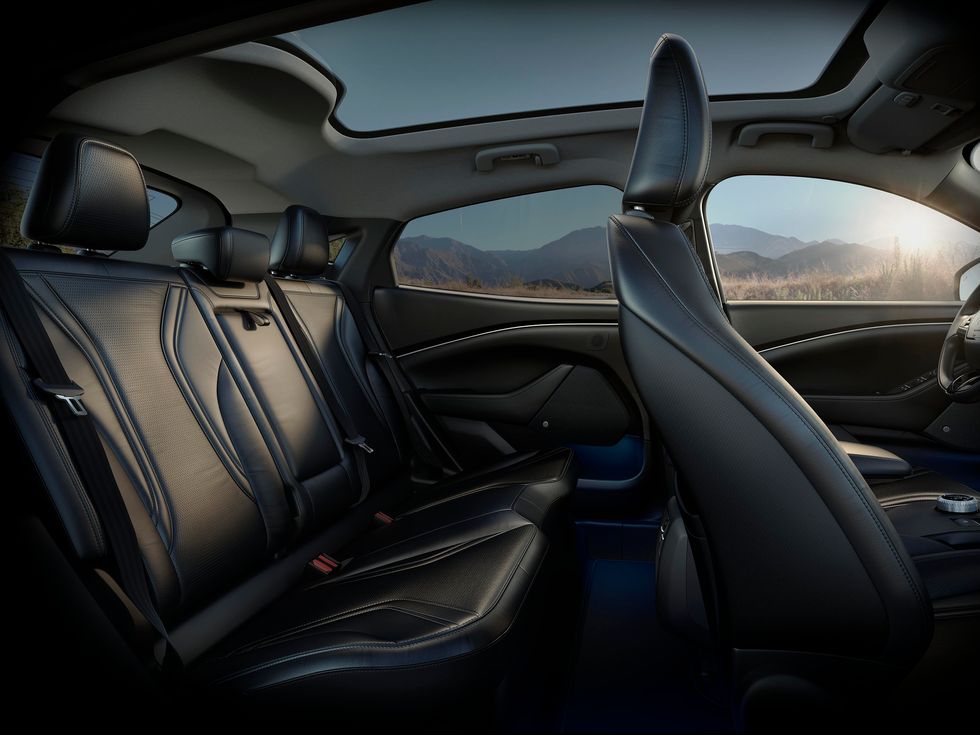 The rear seats of the Mustang Mach-E offer more legroom than what you'll find in the Jaguar I-Pace.Photo courtesy of Ford Motor Company
It's difficult to determine how good a car is going to be based on a ten-minute ride in the passenger seat. However, it is obvious even after that little time that Ford checked all the right boxes during the development of their new EV. This is likely the first viable mainstream competitor to Tesla, and Tesla should consider themselves put on notice.
In short, the Mustang Mach-E should have performance similar to the Jaguar I-Pace or Tesla Model 3, but with more rear seat headroom than the I-Pace, and better reliability. It looks far more attractive than the Nissan Leaf or anything the Korean automakers are doing, and since it'll be available in all 50 states, you'll be able to purchase and repair it in a town near you, just like what you could do with an F-150.