Everything you want to know about Ford's 2021 Mustang Mach-E
Nov 17, 2019, 9:31 pm
Photo courtesy of Ford Motor Company
After years of development, test mules, and spy shots, Ford has finally pulled the wraps off its long-awaited Mach-E all-electric crossover. Set to go on sale in late 2020 and early 2021, the Mach-E made its debut in Los Angeles just days before the 2019 L.A. Auto Show. Here's a quick look at everything you need to know.
There will be five variants (and lots of numbers).
Select: Available in early 2021, this base model will start at $43,895 (all prices exclude $1,100 destination and any state or federal tax incentives). The Select will come with rear-wheel-drive and 230 miles of range, while the AWD will have 210 miles of range. Both versions will have 255 horsepower; RWD will have 306 pound-feet of torque and AWD will have 417 pound-feet of torque. It's worth noting that this is the only Mach-E variant that will not allow for 150kW DC fast-charging so beware if fast-charging is your jam.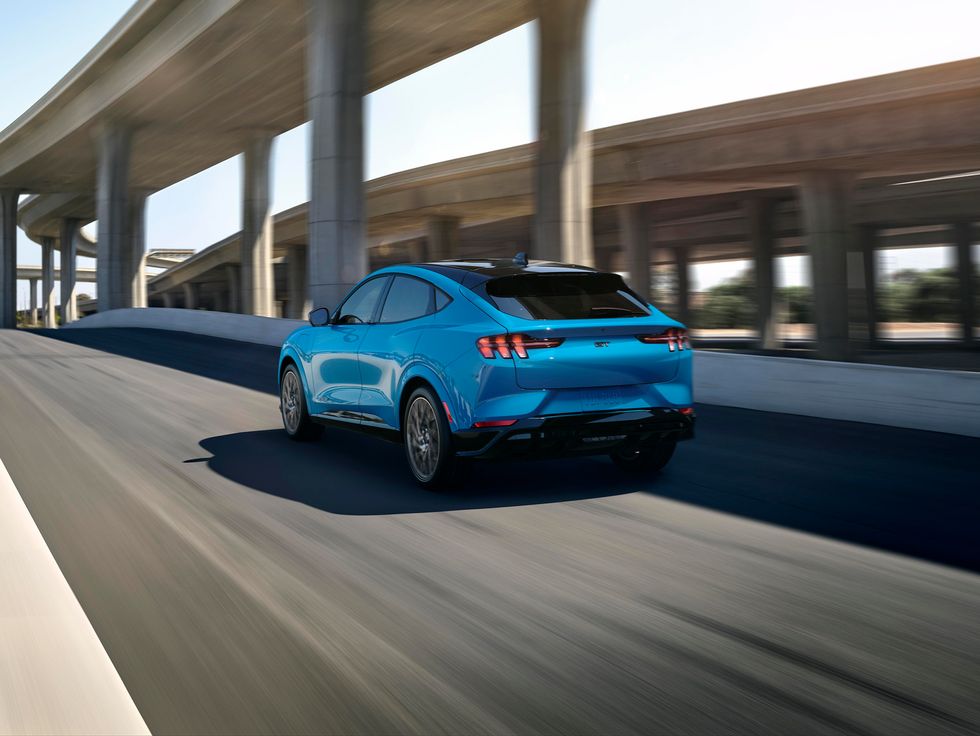 The rear of the Mustang Mach-E has some of the design hallmarks of the Mustang coupe.Photo courtesy of Ford Motor Company
Premium: This second-tier version will be available in late 2020 and will start at $50,600. It will come in standard range or extended range as well as RWD or AWD. Standard range will have 230 miles of range in RWD guise; 210 miles in AWD. Extended range will have 300 miles of range in RWD, 270 miles in AWD. Standard-range models will have 255 horsepower, extended-range RWD will have 282 horsepower and extended-range AWD will have 332 horsepower.

California Route 1: This trim level is essentially the Premium Extended Range RWD plus some added options, so its number line up: 300 miles of range and 282 pound-feet of torque. It will start at $52,400 when it goes on sale in early 2021.
First Edition: This limited-edition model starts at $59,900 and will be available in late 2020 (order soon). It features similar specs as the Premium Extended Range AWD: 270 miles of range and 332 horsepower. It also adds a variety of interior and exterior trim upgrades and limited availability to the mix.
GT: It's the big daddy of the Mustang coupe lineup (excluding Shelby versions) so it's the big daddy here. For $60,500 buyers get AWD, 235 miles of range and a healthy 459 horsepower and 612 pound-feet of torque, good for 0-60 runs in the mid-three-second range. This version adds the requisite 20-inch forged wheels, Brembo brakes, an adaptive Magnaride suspension, and exterior trim upgrades.
Gobs of tech will be standard.
This includes a 15.5-inch touchscreen infotainment system (ala Tesla) that will run Ford's Next-Generation Sync operating system and will feature over-the-air updates (also ala Tesla). Drivers will have the option of using their smartphone as a key; the Mach-E will detect phones paired via its bluetooth system and unlock and adjust settings to that driver's preference.
The Mach-E Premium and GT models also come pre-hardwired with a driver-monitoring system, which Ford will activate at a later date to provide a hands-free driving system. The system uses an infrared camera mounted on top of the steering column to watch the driver's attentiveness.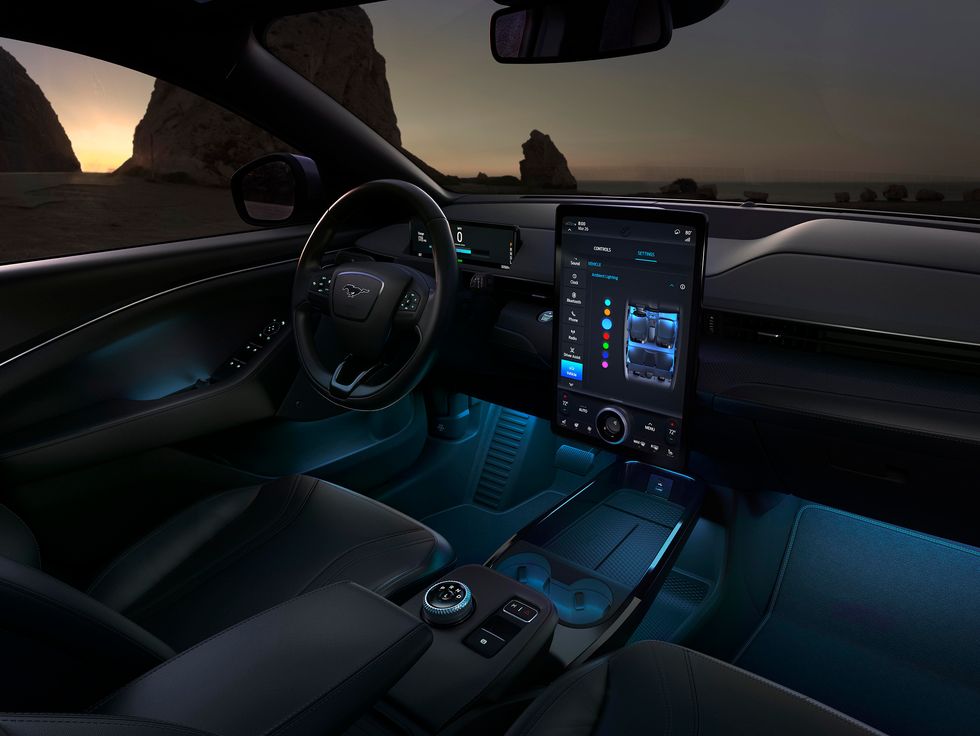 The interior is sparse in design but full of high-tech features.Photo courtesy of Ford Motor Company
Three drive modes are included.
Here's another Tesla-inspired feature: three drive modes that alter the nature of the Mach-E's performance. 'Whisper,' 'Engage' and 'Unbridled' will each allow increasingly aggressive performance and handling features. Not unlike Tesla's well-documented Ludicrous mode. Fun fact: the 'Unbridled' mode in the Mach-E was originally to be called 'Stampede' and one of the test-mules we rode in on a media briefing in LA last week still had this setting name. Within each drive mode, numerous elements of the Mach-E will be configurable, including regen levels for one-foot driving, if drivers so choose.

Yes, there's a Frunk.
Would it be an EV without one? But Ford says theirs is better since it has a drain plug at the bottom; apparently owners of other EVs told Ford researchers that they often found themselves wanting this.

Room for everyone.
The Mach-E seats five adults comfortably, with plenty of legroom and headroom for the six-footers out there (we know since we've sat inside). This, despite the sloping, coupe-like profile of the crossover. Most models also come with a fixed panoramic glass roof that does wonders for opening up the cabin.