Talus Expedition Gear's CampPack Camper is an RV in a box
Oct 6, 2020, 4:45 am
Photo courtesy of AutoNXT
For those who appreciate adventuring off the beaten path, a pickup truck can be a great mode of travel. Current models offer comfortable, roomy interiors combined with impressive off-road capability. But getting away for more than a day hike requires roughing it on the ground or scaling back the adventure by hauling an RV.
Talus Expedition Gear of Boise, Idaho, has devised an ingenious solution. This small outfitter takes RV amenities — such as electrical power, running water and sleeping off the ground — and incorporates them into — and above — the bed of a pickup truck.
Here's a quick overview of the CampPack Camper, a unique camping solution.
RV lite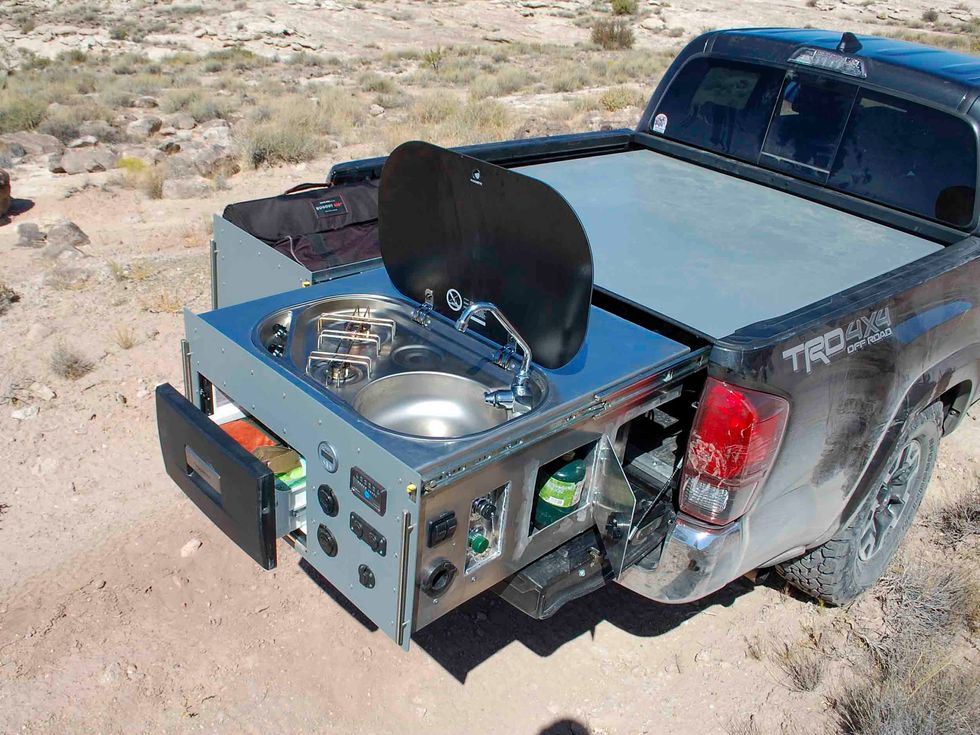 Photo courtesy of AutoNXT
Adopting the concept that getting away from civilization doesn't mean leaving all creature comforts behind, Talus Expedition Gear created a modular RV-lite package that installs in the bed of a compact or full-size pickup. Unlike conventional truck campers, the Talus VenturePack Camper and CampPack Camper packages fit flush with the top of the pickup bed and allow the tailgate to be closed, preserving the truck's ability to venture off the beaten path unhindered.
Solid construction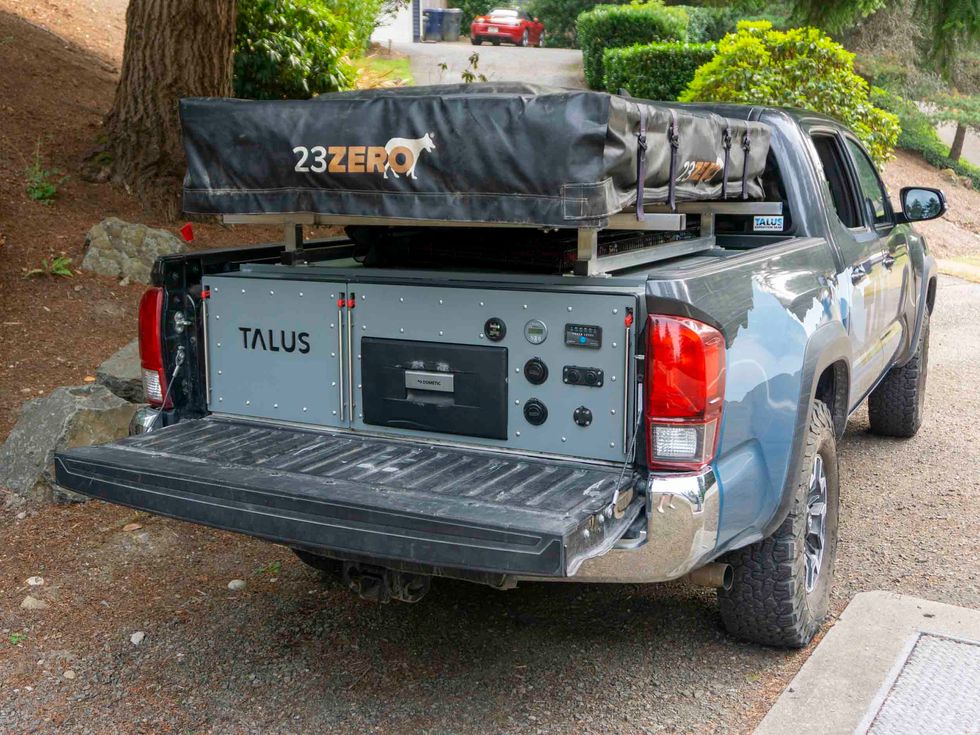 Photo courtesy of AutoNXT
Each Talus camper features solid aluminum construction fastened with aircraft-grade rivets and TIG welding. Weighing around 500 pounds (700 pounds with tent), the Talus camper gets attached to the truck bed via tiedowns at the front and bolts in existing holes near the tailgate — on most trucks no alteration is necessary. The camper designs fit in both compact and full-size pickup trucks with short or long beds. Using all available space, larger trucks get more storage; however, the kitchen module remains primarily unchanged no matter the truck size.
The ultimate kitchen drawer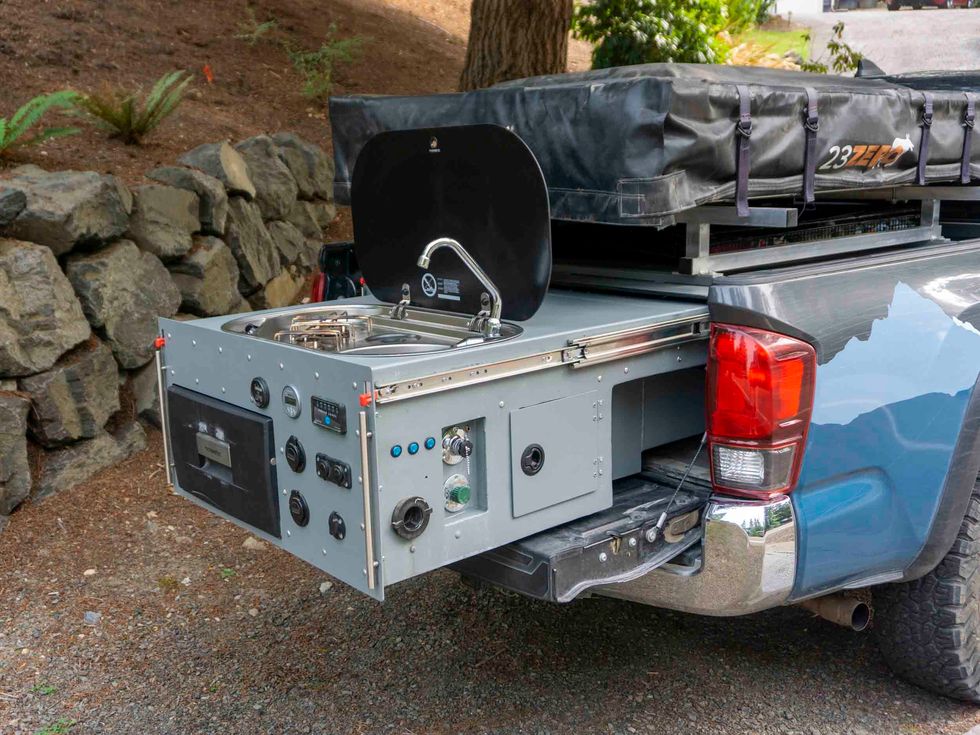 Photo courtesy of AutoNXT
The Talus camper gives a whole new meaning to kitchen drawer — in this case the drawer is the kitchen. Sliding out (like a drawer) from the back of the truck, the kitchen unit features a refrigerator, propane stove, electrical connections, storage — even the kitchen sink. The drawer is easily unlatched and pulled into position for use.
Good old H2O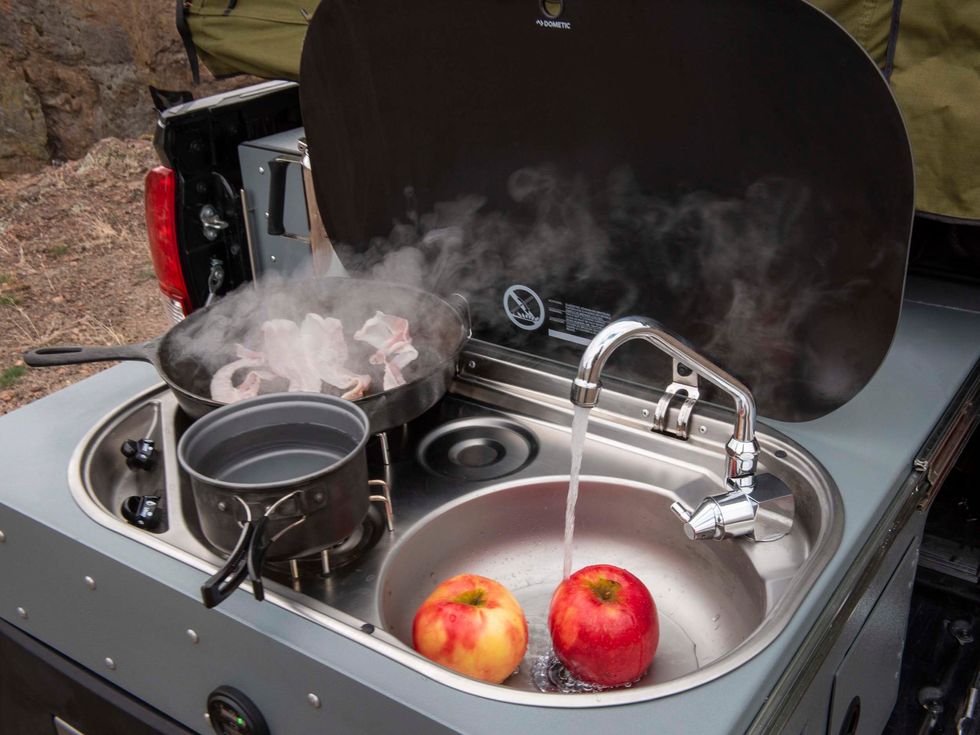 The Talus contains a 16-gallon tank that provides water via a 1-gallon-per-minute electric pump. The camper unit also has a pressurized external hose connection — a great feature for cleaning muddy boots or filling a water jug. The higher-end VenturePack also includes a pump-style portable water filtration system that uses a silver-impregnated ceramic filter capable of filtering at 0.5 microns with better than 99.9% efficiency at 0.2 microns. This means water can be drawn from any source to further extend a camping trip. The pump easily stows in the main storage area.
Plugged in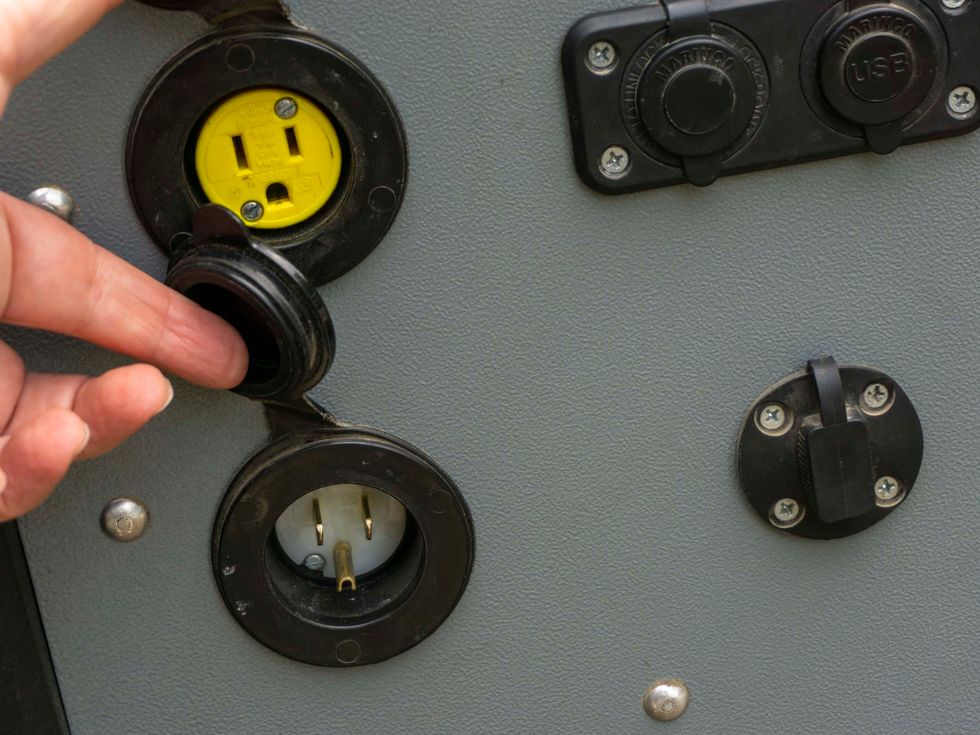 Photo courtesy of AutoNXT
The basic CampPack Camper gets a 100aH battery that powers the water pump, a night-sky compliant light under the drawer, a standard 120-volt outlet, a 12-volt auto auxiliary power outlet and two USB ports. The up-level VenturePack upgrades with a larger 200aH battery and a 2,000-watt power inverter that can run power tools or kitchen accessories such as a coffeemaker or blender.
According to Talus, with careful use the larger battery can last up to a week while powering the refrigerator, light and water pump. Obviously, powering other items will diminish the time off grid.
With a 30-amp rapid battery charger built in, charging the Talus's battery is as easy as plugging an extension cord into an outlet. Even the larger battery recharges to full power in seven hours when plugged into a standard 110-volt outlet. For those who would rather not return to civilization for a charge, there is another solution — solar power.
Solar charger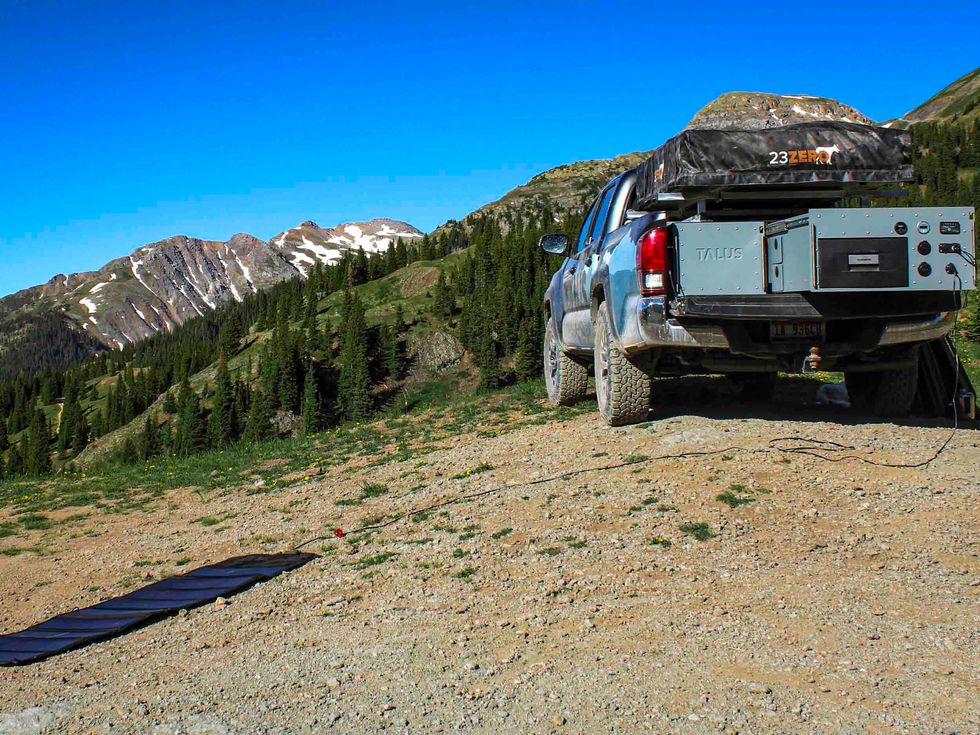 The Talus VenturePack comes with a portable solar panel — the Bugout Solar Charger sourced from Overland Solar. The 120-watt solar charger takes considerably longer to charge the battery to full power — about 20 hours. The charger can be set on the ground, on the hood of a truck or on the truck's roof, and left there for the duration of the camping trip, constantly keeping the battery charged. Given the solar panel's flexible construction and long cord, camp can be set up in the shade while the charger stays in direct sunlight. When not in use, the charger folds up for easy storage.
Tailgate as a kitchen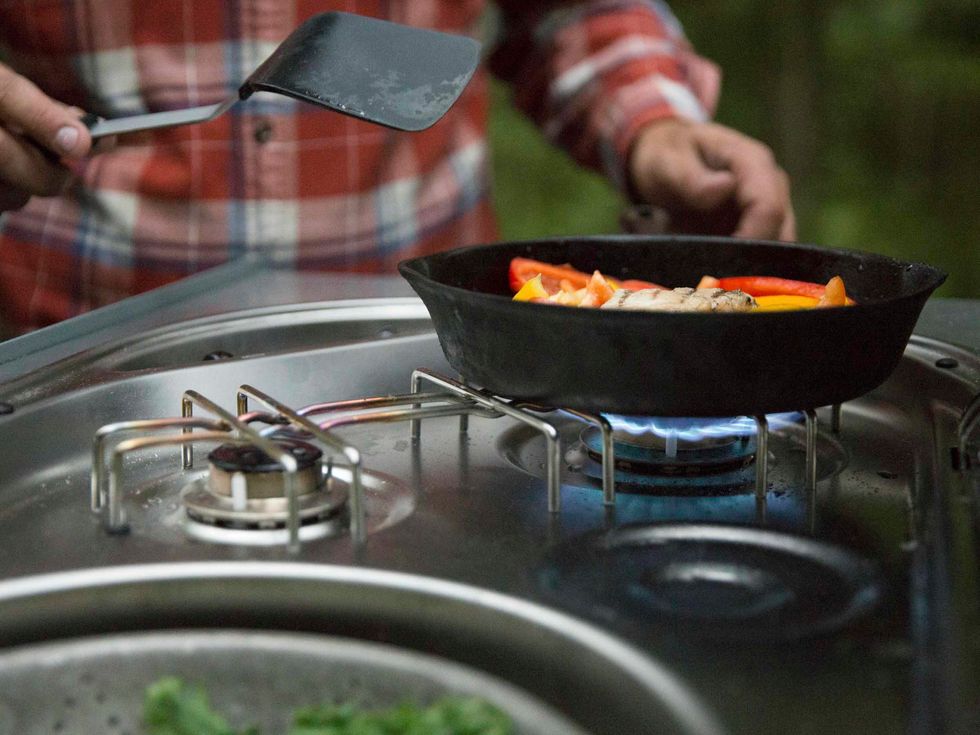 Although cooking over an open fire seems like an iconic camping experience, it's often outlawed or dangerous, so it's easier and safer to cook dinner on a stove. The Talus has a propane stove with 5,900 BTU and 3,700 BTU burners. The unit has storage space for two standard one-pound propane bottles — an available universal propane adaptor hooks up to a larger propane tank. When not in use, the stove's cover can be closed to provide additional counter space.
Top rack system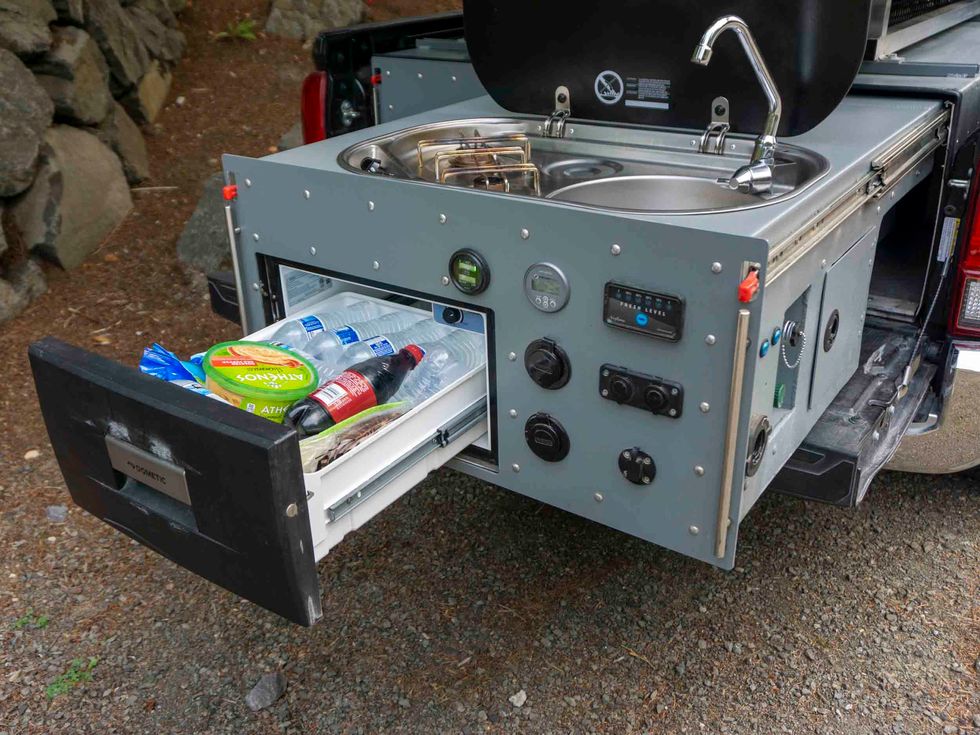 Photo courtesy of AutoNXT
The Talus Camper box features integrated rails that can be used to mount a rack for carrying equipment and accessories such as bicycles, kayaks or an additional storage box for extended adventures. But the best use for the rails is a rooftop tent, and Talus takes care of that as well.
Kitchen use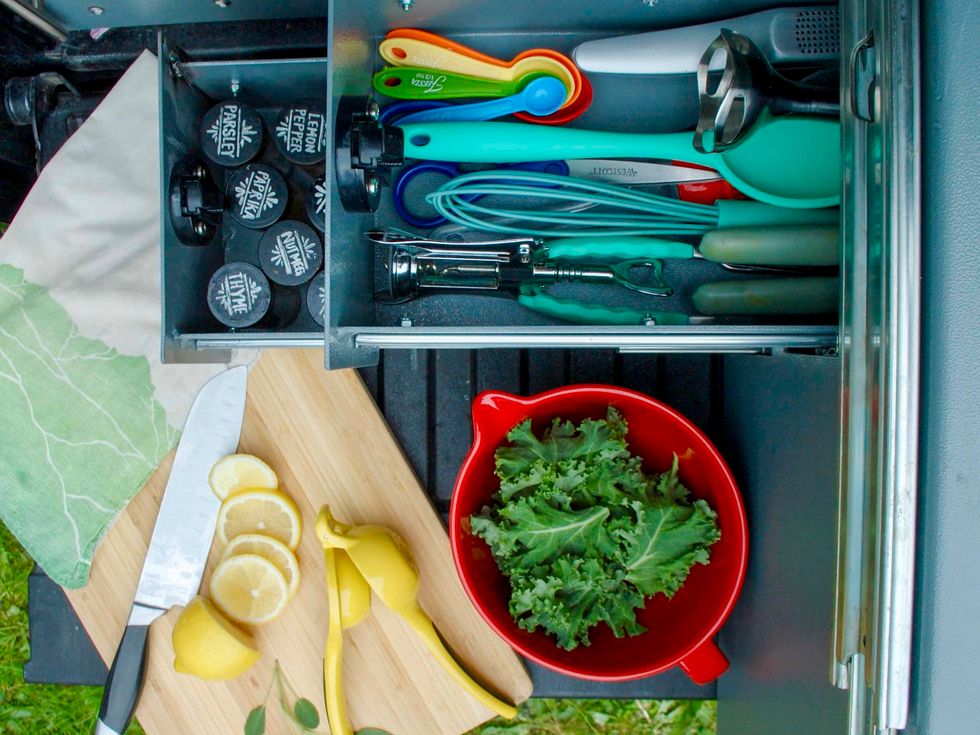 When in use, the kitchen drawer only takes up a portion of the truck's tailgate, so the remaining horizontal surface provides a convenient workspace. Also handy are storage drawers at the end of the kitchen module — a great place for storing dry goods as well as utensils. Trucks with shorter beds get two drawers; trucks with longer trucks have space for four drawers.
Storage drawer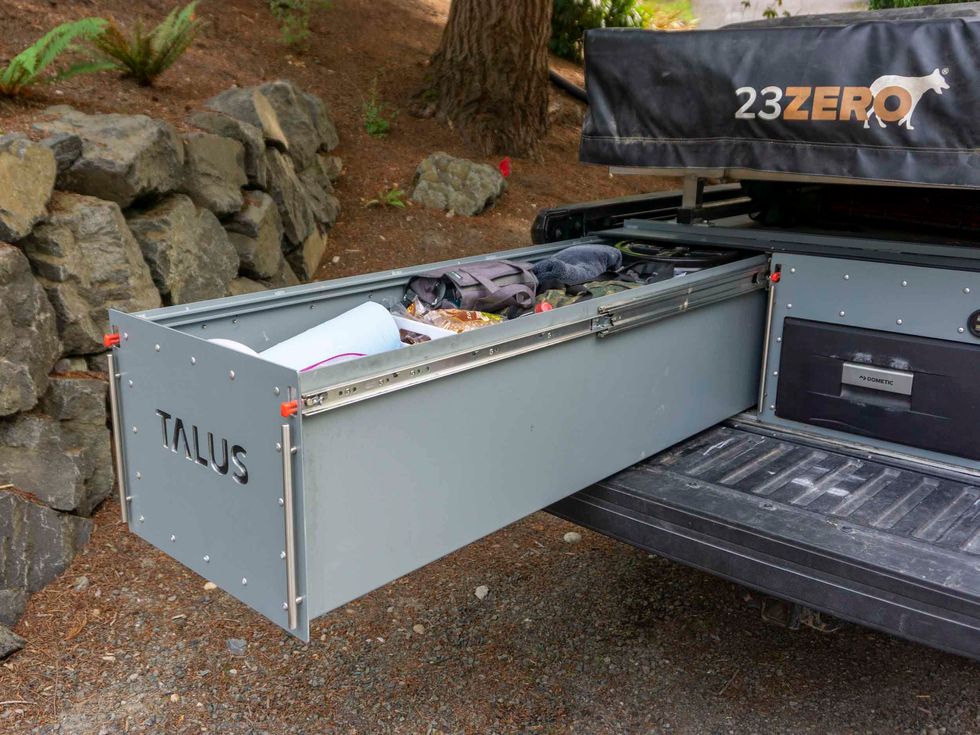 Photo courtesy of AutoNXT
Next to the kitchen drawer sits a longer one for gear storage. The all-weather space provides up to 17 cubic feet of real estate for clothes, food and other supplies. Dividers are available for easier organization. Whereas the kitchen module remains primarily the same size, the main drawer size depends on truck size — a short-bed compact pickup will get about 6 cubic feet, while space gets maximized in a full-size pickup with a larger bed.
Top track system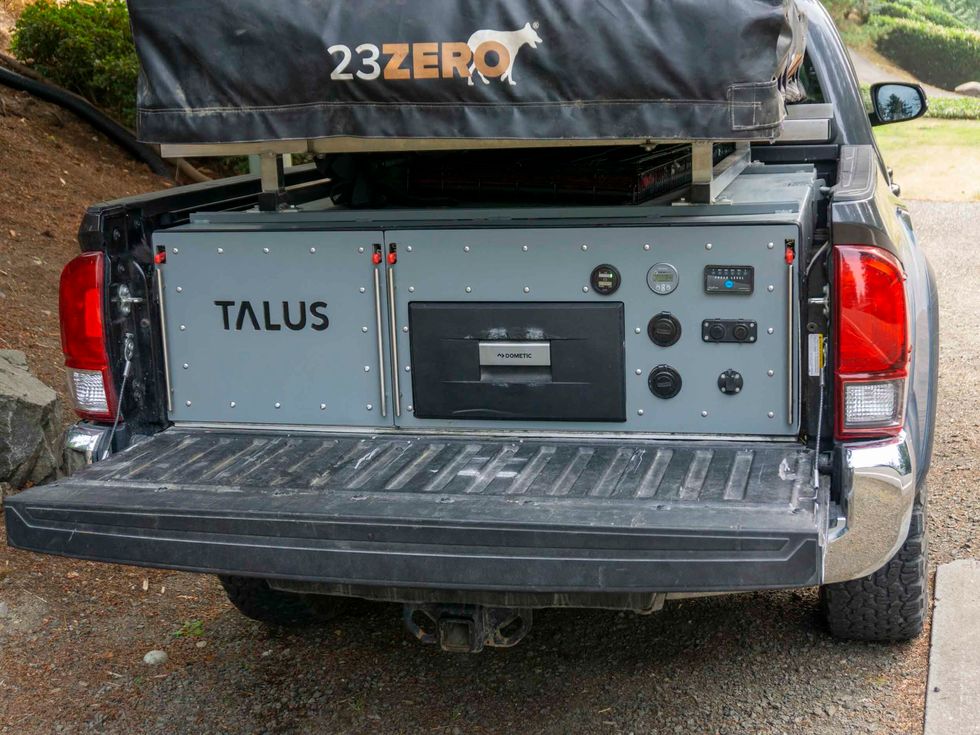 Photo courtesy of AutoNXT
The Talus Camper box features integrated rails that can be used to mount a rack for carrying equipment and accessories such as bicycles, kayaks or an additional storage box for extended adventures. But the best use for the rails is a rooftop tent, and Talus takes care of that as well.
The tent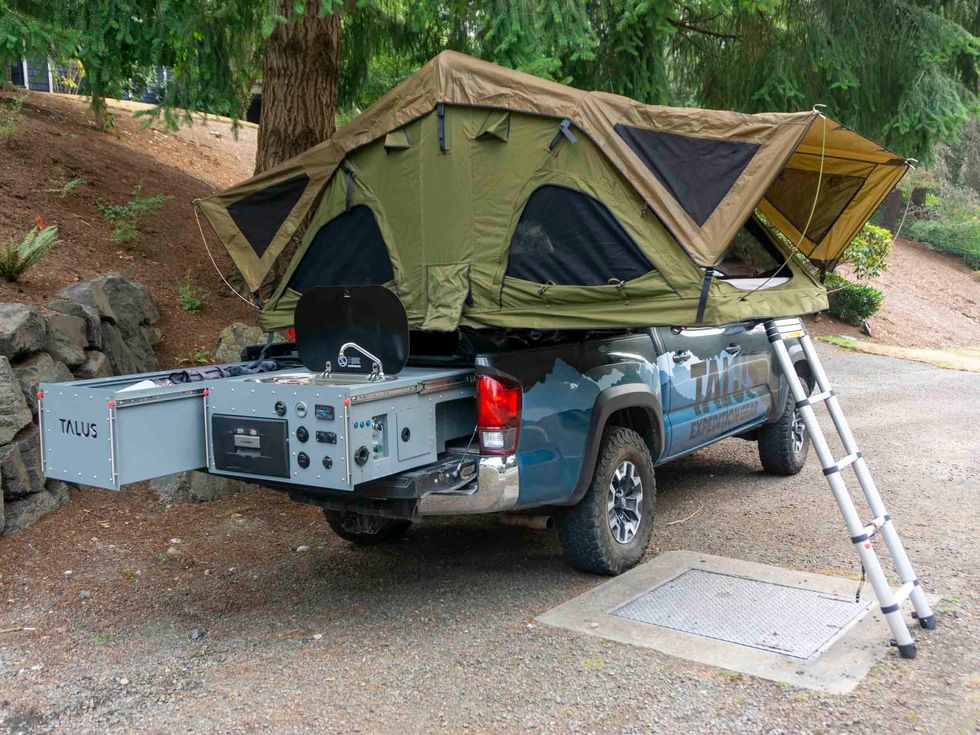 Photo courtesy of AutoNXT
Talus Expedition Gear partners with 23ZERO to offer a selection of tents that can be mounted on top of the camper box. Tents range in size from the 56-inch-wide Breezeway that can sleep two comfortably to the 87-inch Walkabout that has space for up to five. These 4-season tents have a 3-inch-thick foam cotton-top mattress with a waterproof base and a built-in rain fly. The 23ZERO tents also feature Light Suppression Technology — with all windows and door closed, practically no light infiltrates the tent, so there's no need to wake up at the crack of dawn.
Out of the way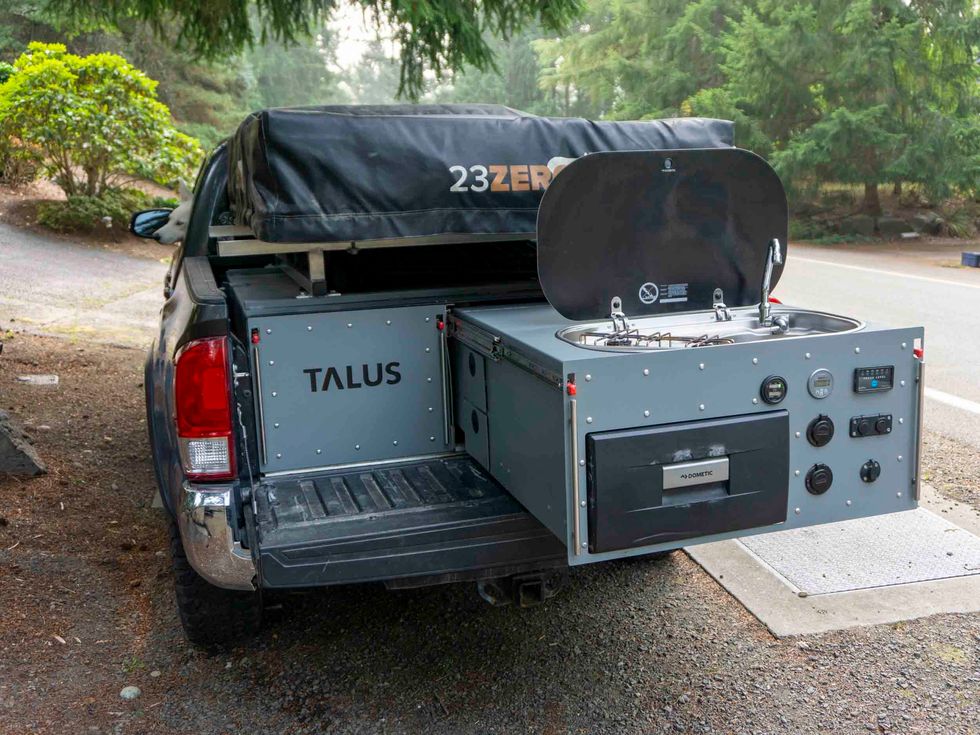 Photo courtesy of AutoNXT
With the Talus tent folded it takes up little space, and its low mounting position keeps it behind the cab of the truck, thus reducing wind resistance while driving. That being said, Talus does offer a high-mount configuration for the tent — for those who need additional storage beneath.

Easy setup and take down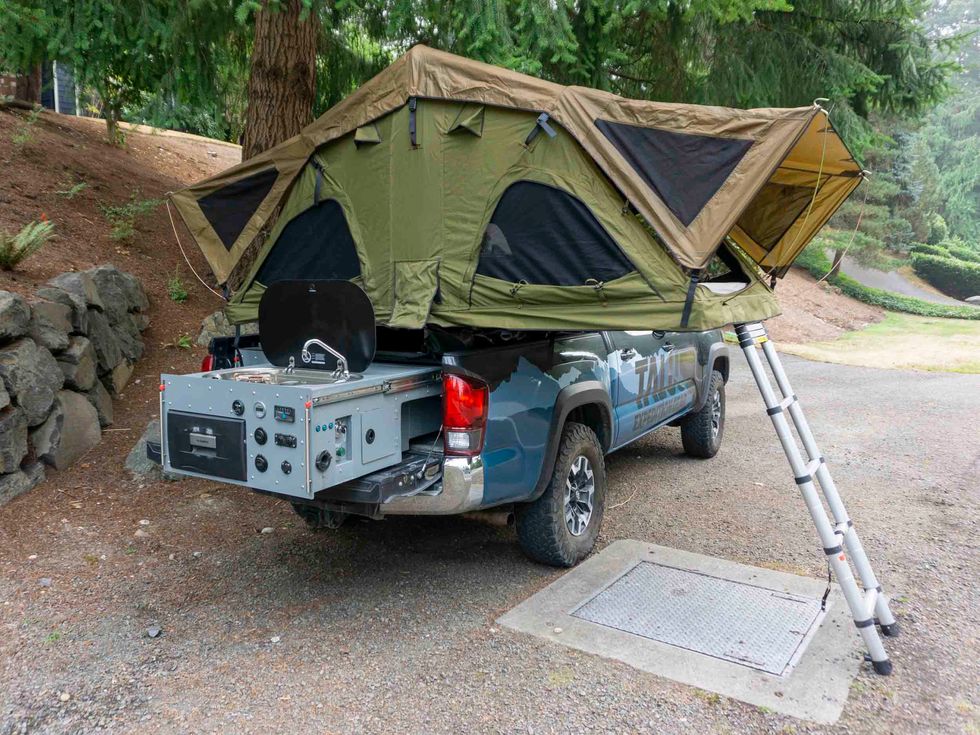 Photo courtesy of AutoNXT
One of the most desirable aspects of the Talus camper is its quick setup time. Unstrapping and unfolding the tent takes about five minutes, and kitchen setup takes about 30 seconds. This rapid setup is especially appealing after a long day of trekking overland. Everything packs up easily as well, meaning daily adventures begin more quickly. And heading off on an adventure may mean discovering a new location for camping that night. With the Talus, there's no need to go back for the gear — it's always in the truck.
How much does the Talus CampPack Camper cost?
The Talus CampPack Camper starts at $11,900, while the top-line VenturePack starts at $13,750. The 23ZERO tent options start at $1,369.