New report scores states on the steps taken to reduce barriers for EV adoption
Feb 3, 2021, 7:00 am
Photo by Sebastian Rothe/EyeEm/Getty Images
A new report by the American Council for an Energy-Efficient Economy scores U.S. states and the District of Columbia based on their readiness for enabling electric vehicle (EV) adoption amongst its residents and businesses.
The State Transportation Electrification Scorecard rates each state giving up to 100 possible points. State actions on incentives amounted to a score of up to 30 points. Planning and goal setting was worth up to 17 points. States could earn up to 12 points to by having policies at the intersection of electrification and transportation system efficiency. Grid optimization was assigned 10 points. Up to 21 points were possible as the Scorecard take a close look at how policies and regulations have impacted life following adoption. One bonus point was available for states that have vehicle-to-grid pilot programs.
The Scorecard found that California was the leader amongst the states, earning 91 out of a possible 100 points. The Council found that California is the only state that has set deadlines for electrifying transit buses, heavy trucks, and commercial vehicles, and is one of the few that offers assistance to lower-income drivers to replace their high-polluting cars with zero- or near-zero-emissions vehicles.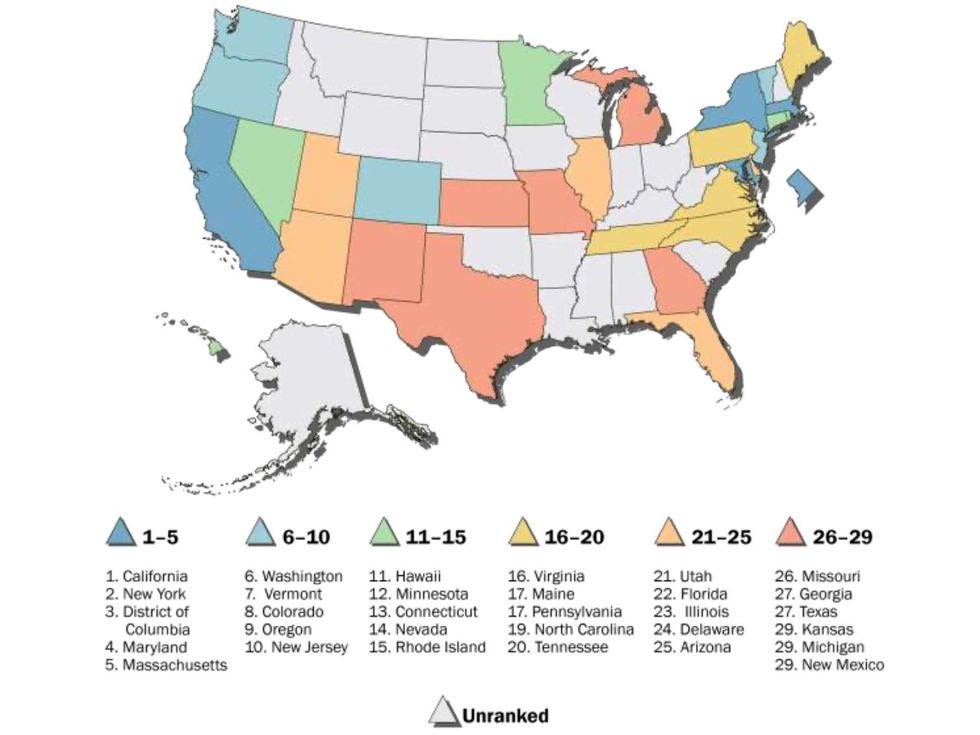 Twenty-eight states and the District of Columbia were ranked as part of the report.Photo courtesy of the American Council for an Energy-Efficient Economy
"I'm thrilled that California is being recognized with top honors for our leadership efforts, especially at a time when Governor Newsom is doubling down on our commitment to ensuring all Californians can participate in the transition to clean transportation," said California Energy Commissioner Patty Monahan. "Our experience shows transportation electrification is a win-win: good for the economy and most importantly for the health and well-being of those affected most by air pollution from tailpipe emissions."

New York (63.5 points), Washington, DC (59), Maryland (56), Massachusetts (54.5), Washington (54), Vermont (54), Colorado (48), Oregon (47), and New Jersey (44) round out the top 10. Twenty states earned 15 points or fewer.
Outside the top 10, Colorado was recognized for its efforts to meet their goal of having 940,000 EVs on the road by 2030. Minnesota was the top scorer in the Midwest (39.5 points). Virginia lead scores in the Southeast (36 points).
Twenty-three states have begun planning for more EVs and EV charging options. Twenty-seven states offer incentives for purchasing EVs including rebates, tax credits, and grants to buy large electric pickups and delivery trucks. Nearly every state (48) is planning to use federal funds to buy electric transit buses and 36 states offer lower electric rates at preferred times for Level 2 charging. Fifteen states have invested to fund utilities to spur EV and EV charging adoption in low-income areas and environmental justice communities.
Full results of the Scorecard can be found here.