8 Easy-to-follow rules to ensure your dog is safe in your car
Aug 26, 2020, 5:08 am
Photo courtesy of Nissan North America
Whether you're hitting the road to head to grandma's house or just popping by the V-E-T, it's important that man's best friend rides safely in your automobile.
Since the pandemic took hold, there has been a large rise in pet adoptions. According to Rover.com, more than 60 percent of those have been done by people who have little or no previous pet experience.
The American Automobile Association recently reported that 84 percent of Americans have driven with their pet in the car, yet only 16 percent use any form of restraint. In the same study, one in six admitted to driving with a dog on their lap.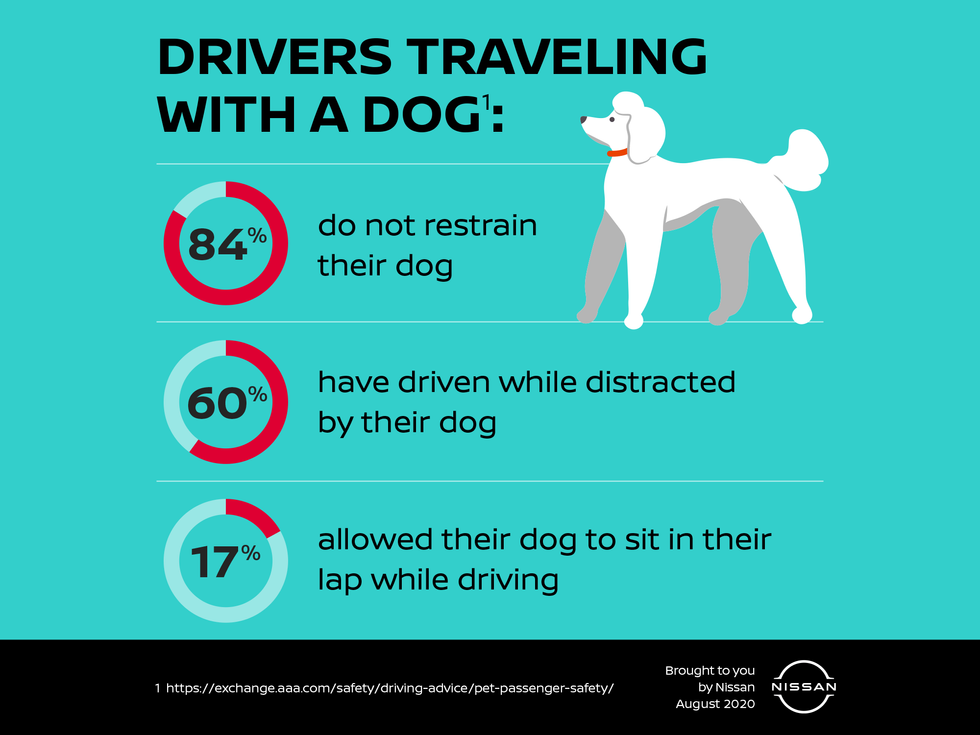 Photo courtesy of Nissan North America
In a recent study, Nissan found that, due to COVID-19, 71 percent of consumers are more comfortable traveling by car than airplane this summer.

That's a lot of numbers that could all amount to one thing - a disaster. That is, unless you follow some rules that will help ensure that your dog is safe in your car.
Rule 1: Buckle up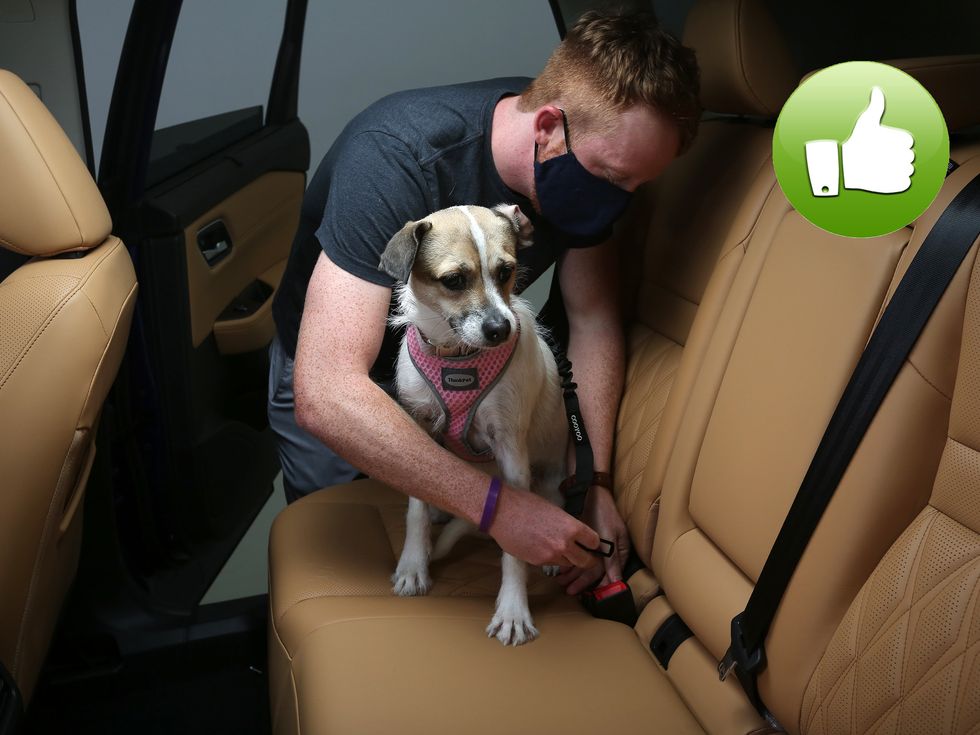 Photo courtesy of Nissan North America
It isn't just humans that need to be buckled in the car. Nissan offers some great advice for owners regarding securing a dog in a car:
'"One recommended way to secure a pet is to use a chest-style harness in the rear seating position. Run a seat belt through a loop on the back of the pet harness, or under the back or the harness itself. Always consult the pet harness information manual for instruction on proper vehicle use. This is an excellent solution to ensure that medium- to large-size dogs stay seated during a trip.

"Another option is using a pet restraint tether, often referred to as a pet seat belt. This type of restraint offers an inexpensive and quick solution for securing pets. As the name implies, this restraint clips to the pet's collar or harness and is often affixed to your vehicle by either clipping into the seatbelt buckle or child-seat anchor to help keep your dog from moving around the vehicle.

"Utilizing a secured pet carrier or kennel is another way to travel safely with pets. Smaller dogs can be housed in portable-style carrier that can be secured in the vehicle's second row using seat belts or pillows to help limit movement. Smaller carriers can also be placed on the floor behind one of the front seats. Medium and large-sized pets should be placed in a sturdier kennel secured to the vehicle cargo area in SUVs or trucks. In either instance, the kennel should be fastened to the vehicle as securely as possible."
Rule 2: Set boundaries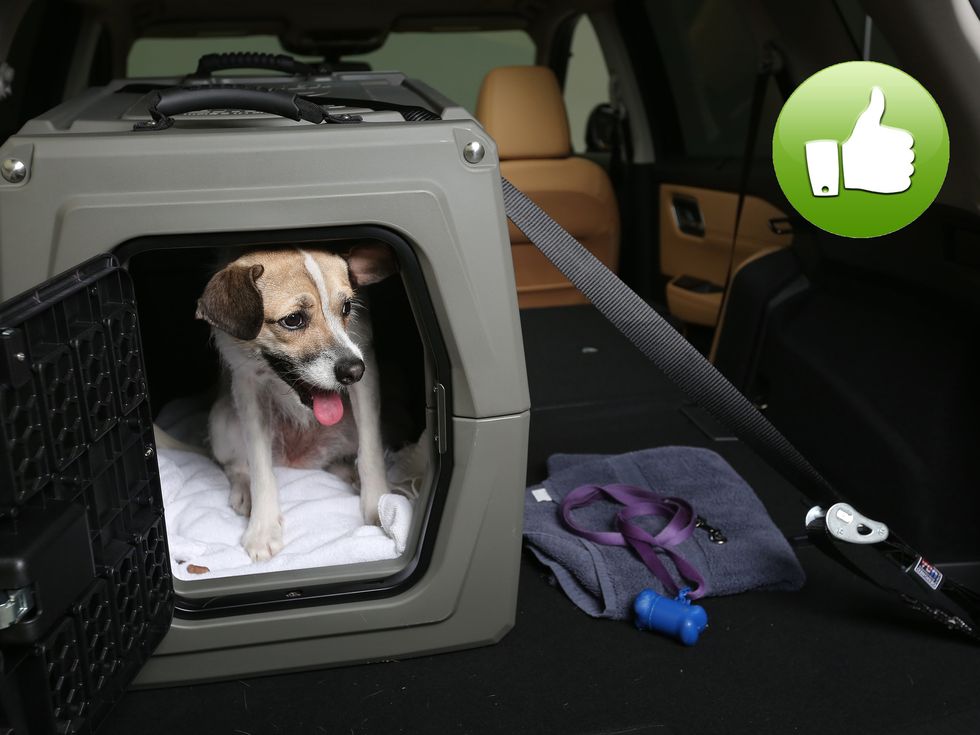 Photo courtesy of Nissan North America
According to Nissan, "Cargo area dividers can be used to help keep pets behind the last row of an SUV. These are a great way to keep large dogs out of the occupant space when traveling. It's best to still secure the pet in the cargo area."
Rule 3: Adjust climate control accordingly
How hot is it in the cargo area versus the driver's seat? Second row? Is the sun pouring in through the sunroof on your dog but they don't have vents to aim at them to keep cool? It's important to monitor the changing heating and cooling situation where your precious cargo is seated to ensure that they're safe.
Rule 4: Never leave pets in the car on a hot day
According to an expert with Nissan, cracking the windows of a car has a negligible effect on keeping down the temperature inside a car on a hot day. Don't leave your kids or your dog in a hot car.
Rule 5: In the event of a crash, secure your pet as quickly as possible
It's important to make sure that you and any others involved in a crash are safe and administer any first aid while complying with commands given by first responders. To that end, you'll need to secure your dog while giving them a thorough once-over for injuries.
Keep in mind that your dog may be frightened, especially of strangers - they don't understand that first responders are there to help them too. You may not be able to completely calm them, but you can take steps like using soothing tones, petting them, and holding them close.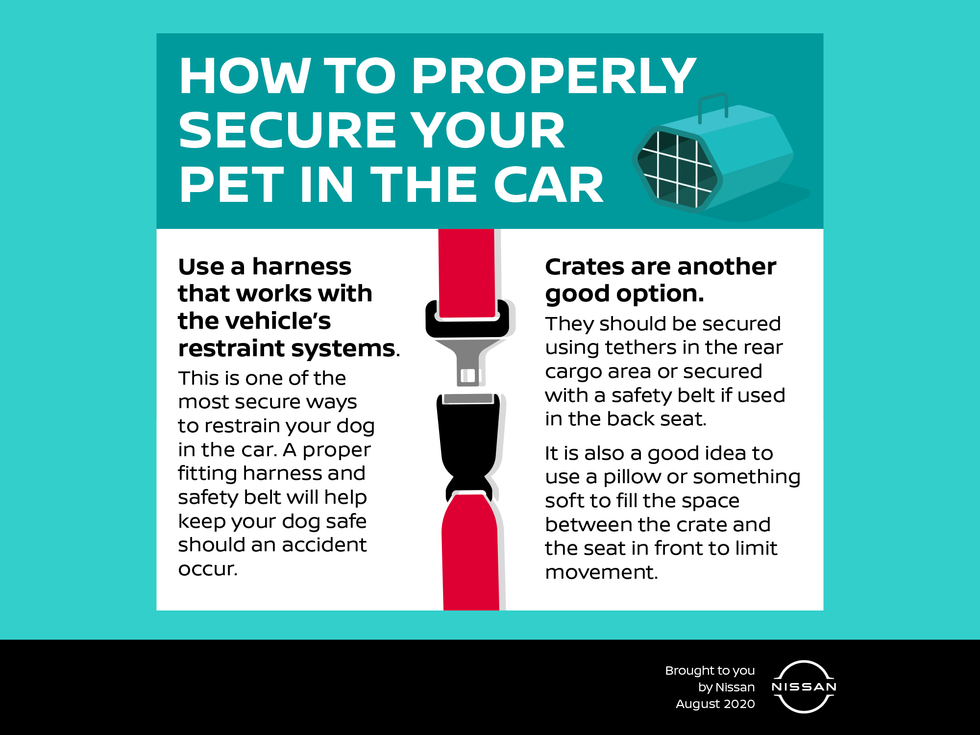 Photo courtesy of Nissan North America
Rule 6: Bring water along on trips
Sure, the more water you give your dog, the more often they're going to need to go out, but you don't want to starve them of water for the sake of a quieter road trip. Bring fresh water with you, Many vehicles, like the 2021 Nissan Rogue, have cutouts in the rear cargo area where you can store a gallon of fresh water.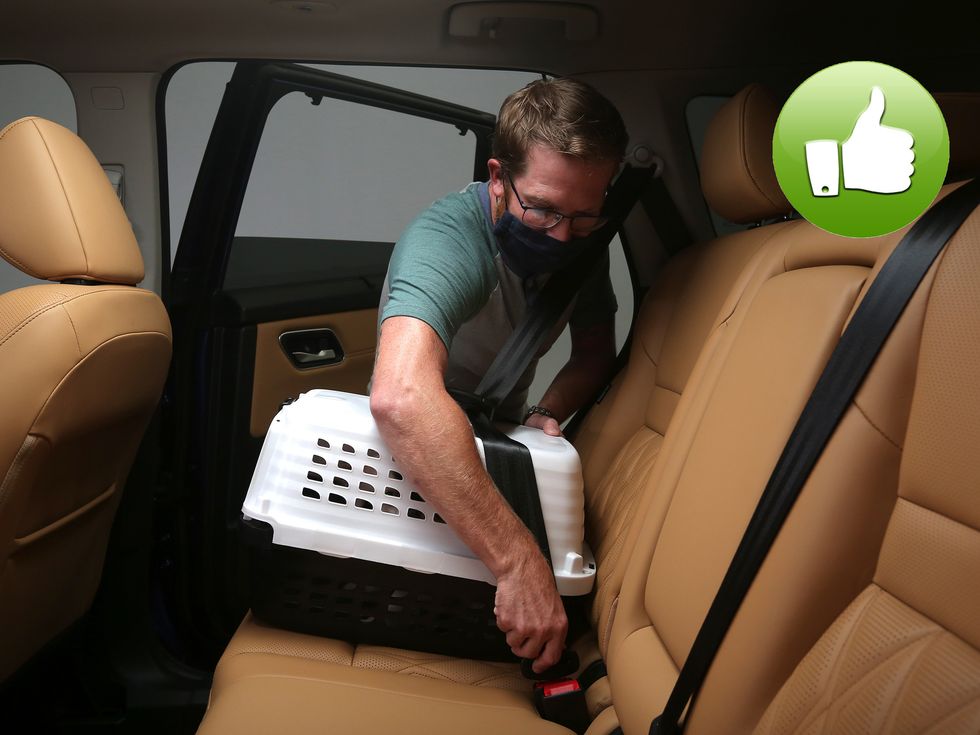 Photo courtesy of Nissan North America
Rule 7: Get out and stretch
It's not just humans that need a pit stop during a road trip. Pets need to get out and utilize green space, whether it's to use the bathroom, get some energy out, or just enjoy not being cooped up. Once they do, they're likely to be less restless in their crate or seat, allowing for more safe travel. Build in stops to your itinerary taking advantages of towns with dog parks or public green spaces.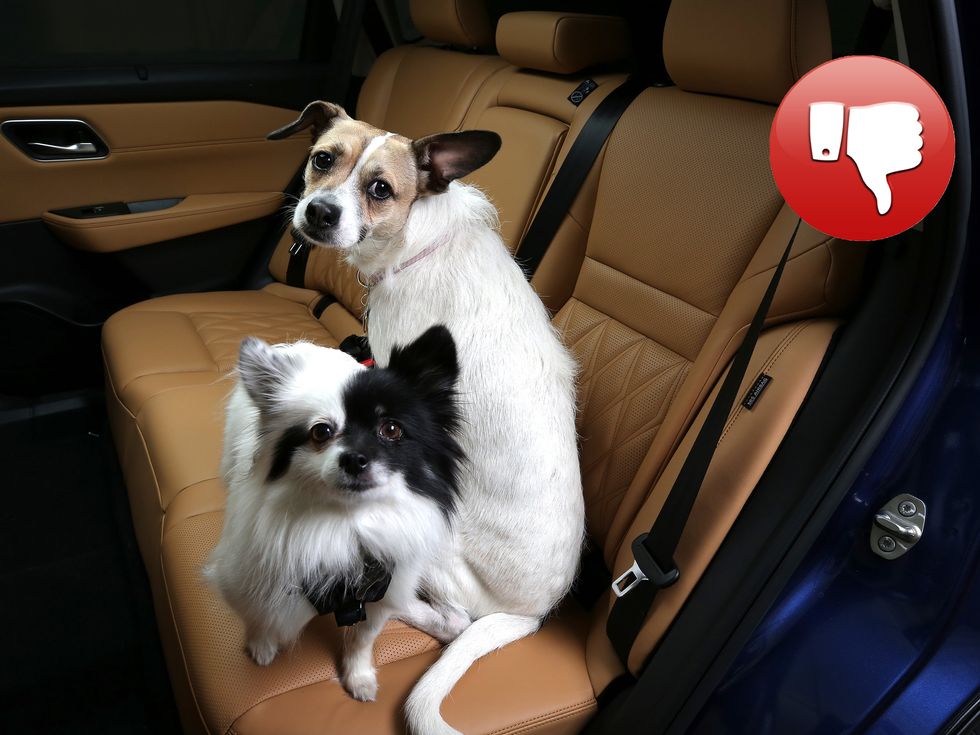 Photo courtesy of Nissan North America
Rule 8: Practice makes perfect
Not every dog likes going for a ride. It will help them (and you) to break up the routine. Don't always follow the same pattern to get them ready for the ride. Get them used to being in the car by sitting in your driveway with the engine running before you take off. Once they're used to being in a car, get them used to being in there with a tether on or in their crate.
You can get your pup used to wearing a harness by putting it on them for a period of time at home, even when you have no plans to go anywhere.
Train them to be tolerant of the moving vehicle by taking them for short training rides. Slowly build up your time in the car with them.