INFINITI partners with world- famous furniture maker
Oct 1, 2019, 12:17 pm
Infiniti's first all-electric vehicle is coming but first the QX Inspiration Concept is here. The all-electric concept crossover shows the design and engineering progression the automaker is taking as they move toward electrification. To help show that off, Infiniti has enlisted the help of world- famous furniture maker, Tendo Co.
Tendo was founded in 1940, a full 49 years before Infiniti was born, in Japan's Yamagata Prefecture. It is heralded for its artisan woodworkers and craftspeople. The company's business includes working alongside architects and designs to create timeless products. It was because of this heritage that Infiniti went to Tendo for its interior design.
"Our first ideas and sketches for the interior were founded in this notion of creating a space that was more akin to a lounge or living space. We took advantage of the spacious layout enabled by the electric powertrain, and created a furniture-like expression for every element of the interior. At the same time, we wanted to explore a Japanese sense of beauty, tying the car to our cultural roots," said Mie Tanaka, color design assistant manager at Infiniti Motor Company.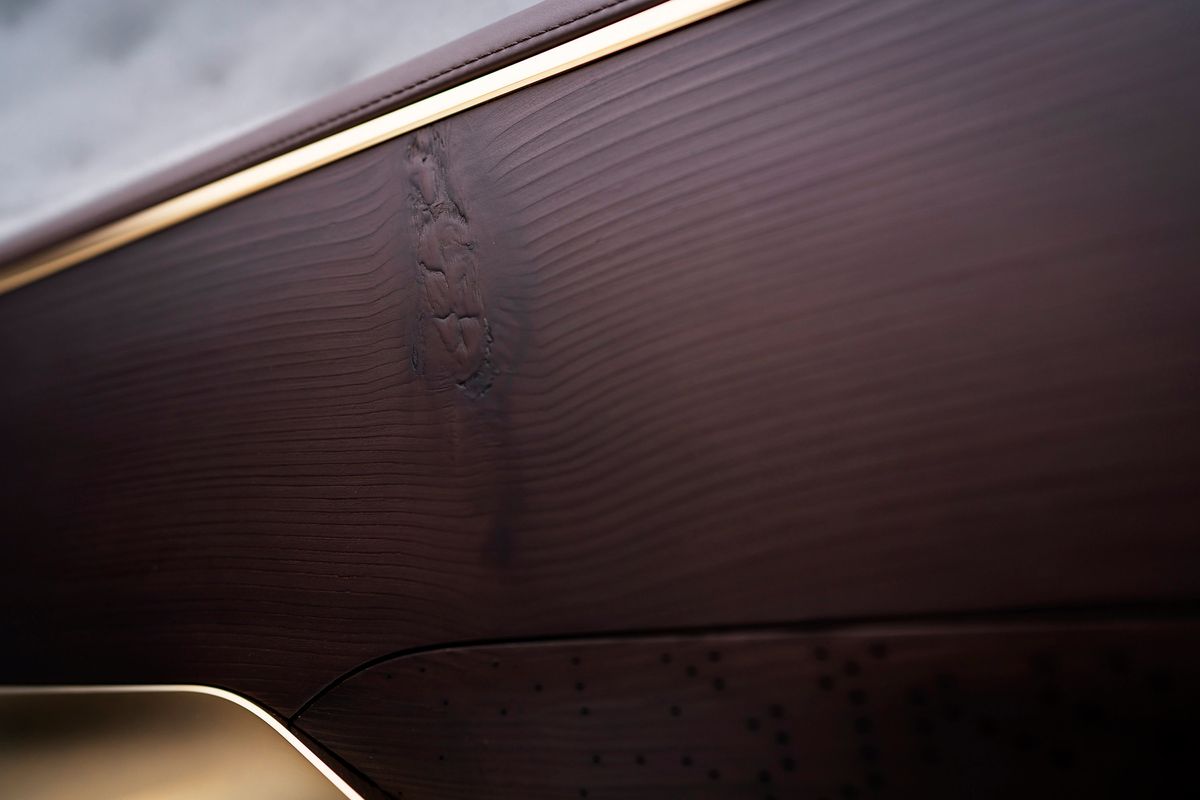 Infiniti used sugi, a Japanese cedar tree, to give the interior of its concept crossover a warm hue. Photo courtesy of Infiniti Motor Company Ltd.
"We approached Tendo with this, and, while we had our own idea about how the QX Inspiration's 'furniture' could look, Tendo's many decades of experience in wood-working and design helped us to create something really special. The result is a beautiful, relaxing space that is rich in Japanese craftsmanship and materials. It is unlike anything we have been able to produce before."
With a design directive that included the use of organic materials and subdued colors, the two teams decided to use sugi, a cedar tree from Japan, for wood accents in the cabin. Its natural coloring and soft, light grain project warmth. The Sufi used in the car was grown in the Yamagata Prefecture and can be found on door panels as well as woodwork throughout the cabin.
Our team values the Japanese notion of 'monozukuri' – an appreciation of making things – so we have handcrafted each part of the Infiniti QX Inspiration's interior with care," said Sakae Igarashi, assistant manager, Tendo Co. "We are proud with what we have created and achieved with INFINITI. It is always a pleasure to work with fellow designers who can imagine beautiful things and create wonderful features. It has been an honor to work on this project."
The QX Inspiration Concept is just the first hint at the future of electrified mobility for Infiniti. Plans call for electric, hybrid, and performance hybrid vehicles to enter the lineup soon.