Need help? Here's how to fix your chipped, cracked, or shattered windshield
Sep 30, 2019, 9:30 am
Chipped. Cracked. Shattered. Whatever the ailment, it's likely that at some time during the life of your vehicle, you will have to change out its windshied. Here's what to do if your windscreen suddenly needs to be replaced.
Contact your insurance company. Have photos of the damage ready and your story straight. Often, your insurance company will authorize a repair without any cost to you or waive the deductable if you opt for a chip repair, which costs them less than replacing an entire windshield. Insurance companies will likely have a preferred vender for a repair, and it might not be your dealership.
Will your insurance cover it? When looking for an automotive glass installer, call your insurance company for a recommendation. At the same time, inquire about making a claim for the repair. They usually treat a glass repair claim differently than other comprehensive claims. A different deductable usually apply in this situation.
Move quickly. If you just have a small chip, it can usually be easily repaired and you won't have to replace the entire windshield. However, you need to act quickly to prevent the chip from turning into a crack or worse.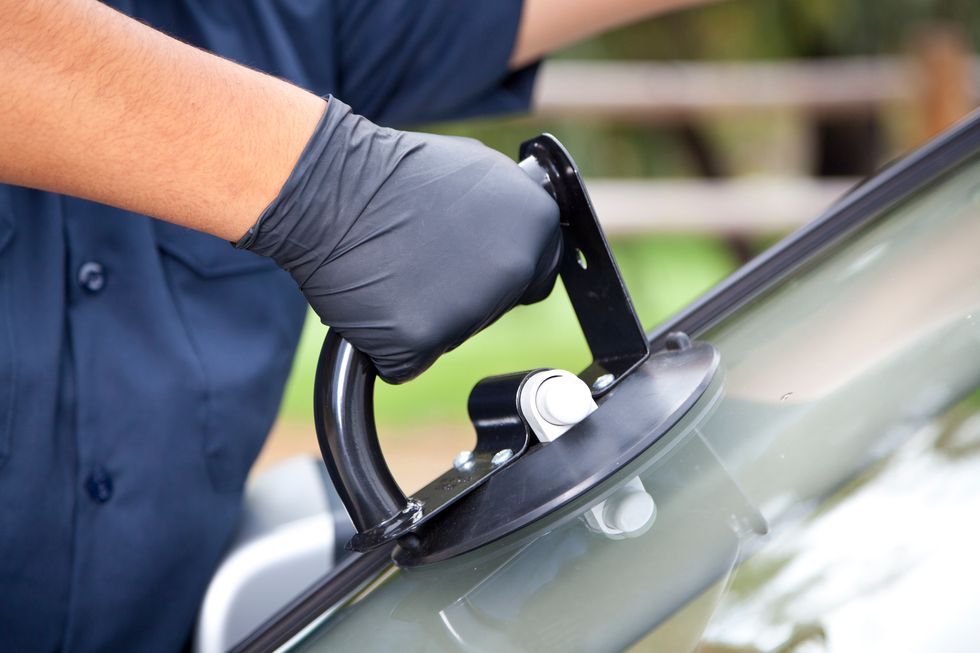 There's a lot to consider when you think you need to have your windshield replaced.Photo by Getty Images
Not all windshields are created equal. If you do not get a chip repaired in time and the crack spreads, you will need a replacement windshield. You may think that all replacement windshields are the same, but they are far from it. Calling around, you might find a replacement windshield for only $150, including installation. A call to another automotive glass specialist reveals that company charges $375, including installation.

What is the difference?
There are numerous types of replacement windshields on the market but they aren't all good quality. Some are thin while others are thick. Some may not contain the tinting you are used to or distort your view.
Find the right replacement. When you contact a glass installer, ask for a price of OEM (original equipment manufacturer) DOT replacement glass. To obtain a U.S. Department of Transportation (DOT) certification, the glass must pass strict quality standards.
Automakers have specifications regarding the shape, size, and thickness of the windshields in their vehicles when the car is originally produced. Most new cars and trucks use laminated, acoustic glass. An acoustic glass windshield has an layer of soundproofing insulation between the two layers of glass.Replacing any of your glass with standard glass, which is not laminated, will make your previously quiet vehicle more susceptible to wind and road noise.
Is it safe? According to the Auto Glass Safety Council, the windshield provides significant structural support strength to the cabin of the vehicle. According to their research, in the event of a front end collision, a windshield provides up to 45 percent of the structural integrity of the cabin of the vehicle. During a rollover crash, the amount increases to 60 percent. It is not an exaggeration to say that choosing the right windshield could be the difference between life and death.
Make sure the job is done right the first time. To ensure that your windshield is being replaced by a certified technician who knows what they are doing, ask if the shop/operation is AGRSS (Automotive Glass Replacement Safety Standards) certified. To obtain this accrediation, a repair shop and its installers must have specialized training and the equipment to perform a professional replacement.
Get schooled on the stipulations of your service. It there a warranty? Even great shops make a mistake sometimes. A warranty may ensure that you will not have to pay again for something that should have been done right the first time.
Not all replacement windshields are the same. Using this information to choose the right installer and the right parts can ensure that you get the quality replacement you need to keep you safe on the road.