What is the Dakar Rally? These are the ins and outs of the 2021 off-road contest
Jan 3, 2021, 6:21 pm
Editor's Note: AutomotiveMap's Sue Mead is among those in Saudi Arabia right now taking part in the 2021 Dakar Rally, as team manager/media support for American Amy Lerner's Team AL. This is Mead's sixth participation in the Dakar Rally. In 2011, she drove a T2 Raptor (No. 374) across the finish line in Buenos Aires and won the stock production class, the first North American class win in Dakar history.
The Dakar Rally is one of the world's best-known off-road challenges. It ranks right up there with ones held in Baja, Morocco, and beyond. You may have heard about it in passing, scrolled past the live coverage listing while looking for something to watch, or read it as a line item in a racer's biography. Perhaps you first learned about it after binge watching "The Crown" over the holidays. No matter how it happened, the Dakar, as the in-crowd calls it, has piqued your interest and now you want to know more.
Scroll down to learn more about the 2021 Dakar Rally.
What is the Dakar Rally?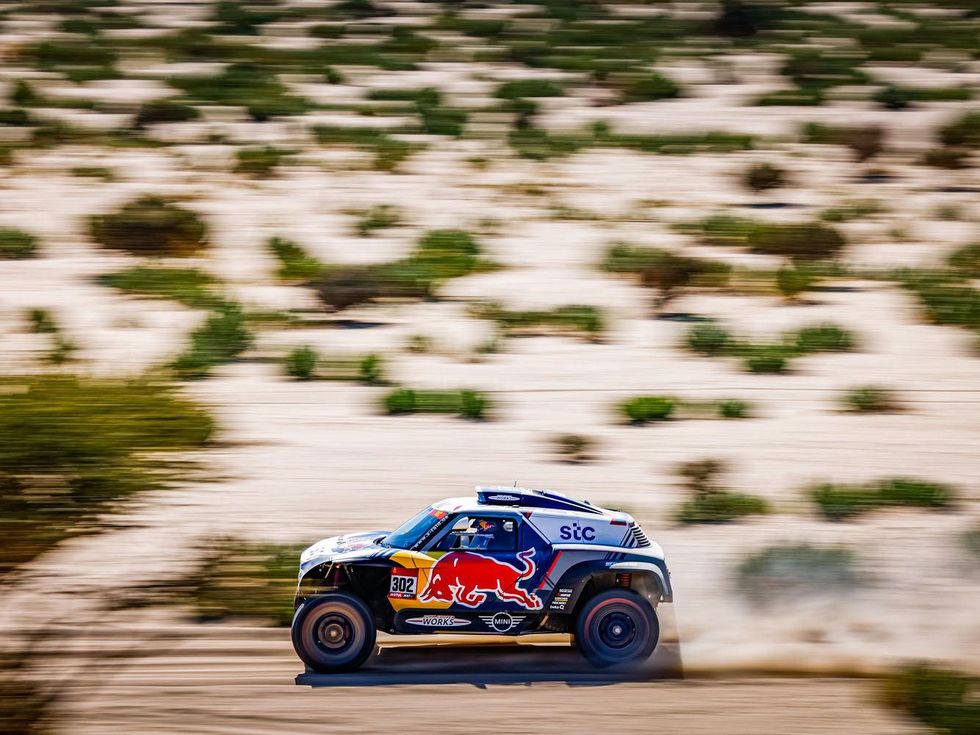 Photo by Frédéric Le Floc
The 2021 Dakar Rally is an off-road challenge that crosses some of the most treacherous, wild terrain in the world. It was formerly known as the Paris–Dakar Rally. The annual rally raid is organized by the Amaury Sport Organization (ASO) and most of its events have been ongoing since the event's inception in 1978.
Throughout its history, one of the rallies has been cancelled (2008) due to security threats. From 2009 to 2019, the rally took place in South America. The organizing body held the 2020 contest in Saudi Arabia for the first time and it returns there for the 2021 edition.
What are the dates of the 2021 Dakar Rally?
The 2021 Dakar Rally begins with the Prologue on January 2 then continues through January 15, 2021.
How long is the Dakar Rally?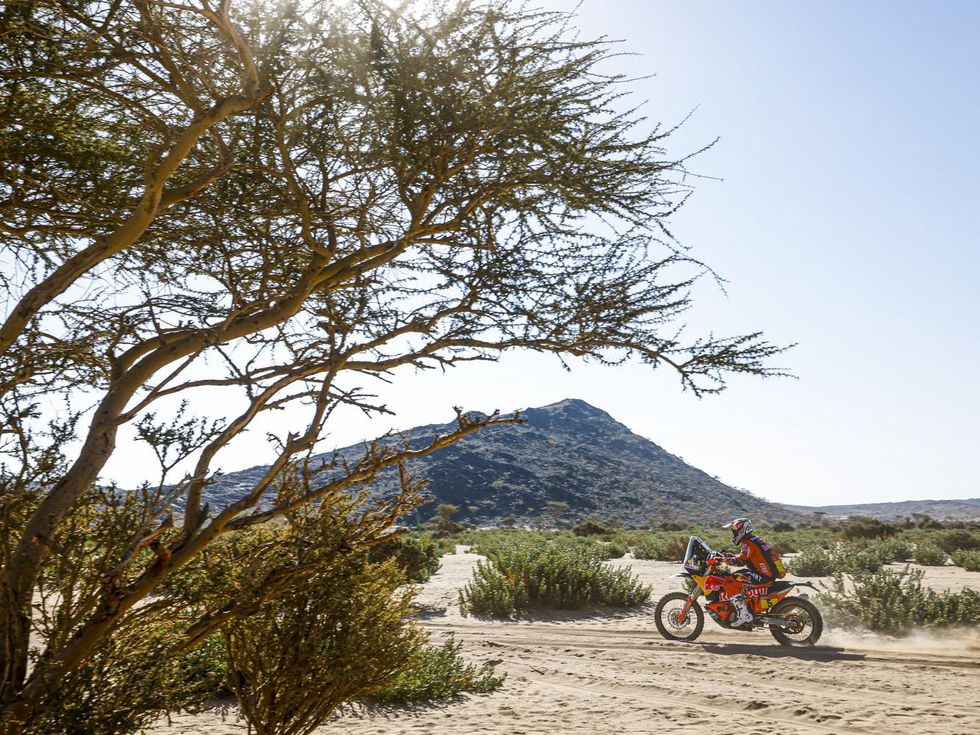 Photo by F. Gooden
The 2021 Dakar Rally consists of 12 stages. The length of each stage of the rally varies. Some are short while others are over 500 miles.The event ends in Jeddah on January 15, after traveling along a nearly 5,000 mile-long loop through desert landscapes and along the shores of the Red Sea.
Most of the competitive special sections are off-road, crossing dunes, mud, camel grass, and rocks. The 2021 Dakar blends a rich tapestry of landscapes in Saudi Arabia. For its first edition in Saudi Arabia, the 2020 rally was called "a quest of discovery"; the 2021 edition is being billed as a "journey of exploration".

Who participates?
The rally is open to amateur and professional entries, with amateurs typically making up about eighty percent of the participants. There are 555 competitors this year and 321 vehicles in total. A whopping 83 of those participants have raced in at least 10 other Dakar races. The racers represent 49 different nationalities. There is one all-female team.
Are there different classes the vehicles compete in?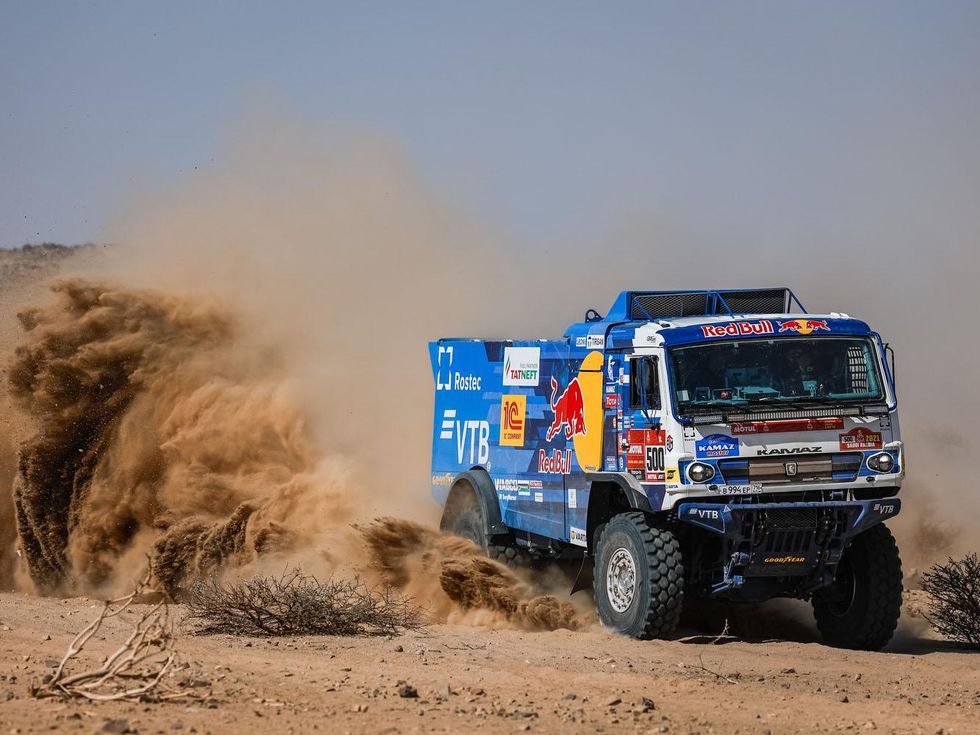 Photo by F. Gooden
Yes, there are several different competition categories based on the type of vehicle racing.
In the Motorbike class, there are 142 participants registered originating from mainly European countries.
The Quad class has 16 entrants driving mostly Yamahas. In the Auto - Car class there are 65 entries originating from a wide variety of nations.
Competing in the Auto - Standard Classic Car class are 14 teams, racing a variety of vehicles by Volkswagen, Porsche, Skoda, Peugeot, Mercedes, Land Rover, Toyota, Nissan, and Mitsubishi.
Seven teams are competing in the Auto - Classic Confirmed Car category.
Can-Am and Polaris models make up the vehicles list of the 45 teams competing the T4 class.
Teams 500 through 551 compete against each other in the Trucks category.
The T3 class is made up of primarily PH-Sport, Can-Am, OT3, and Yamaha side-by-sides.
What is the Classic Class and a regularity rally?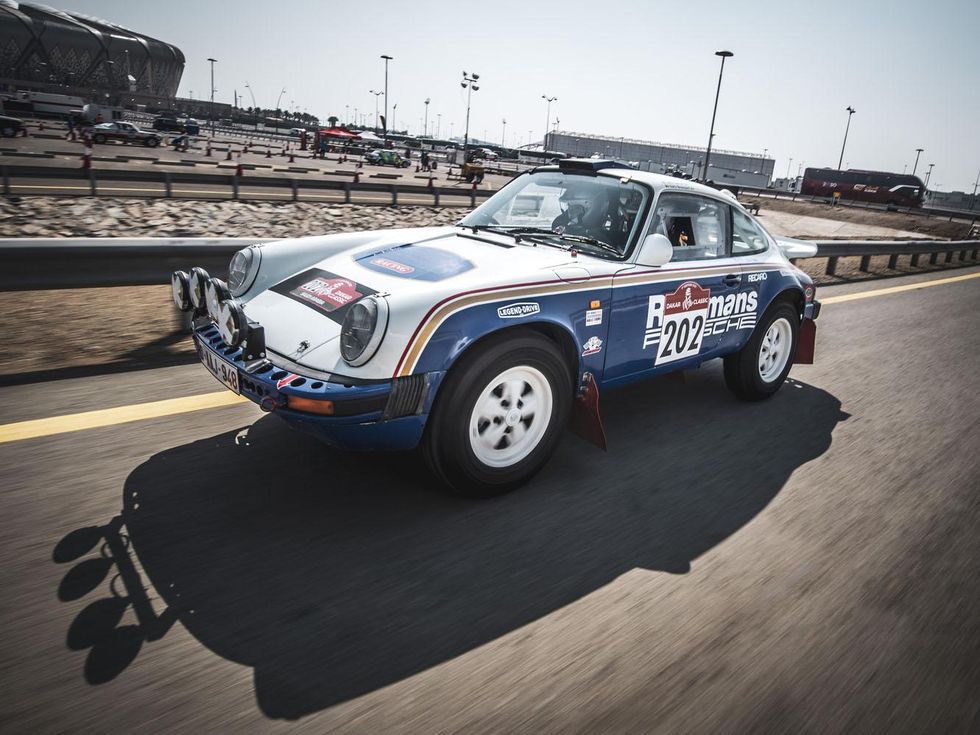 Photo by C. Lopez
The Dakar's regularity rally is new and is for rally-raid vehicles built before 2000. It runs in parallel to the main Dakar Rally following the same direction, with the same starting and finishing points, as well as the same bivouac. This test of endurance, vehicle management, and mental will give vintage rally buffs an opportunity to compete.
Is anyone famous racing in Dakar Rally?
The 2021 contest entry roster includes a number of notable names you may recognize. Romain Dumas (Porsche factory driver, winning endurance racer, multiple Pike's Peak International Hill Climb championships), Carlos Sainz (two-time World Rally Cross drivers champion and record holder), Stéphane Peterhansel (13-time Dakar winner), and Sébastien Loeb (most successful driver in World Rally Cross history) are all competing in the Auto - Car class. Many other drivers are widely known within their respective racing class.
Can the vehicles receive service?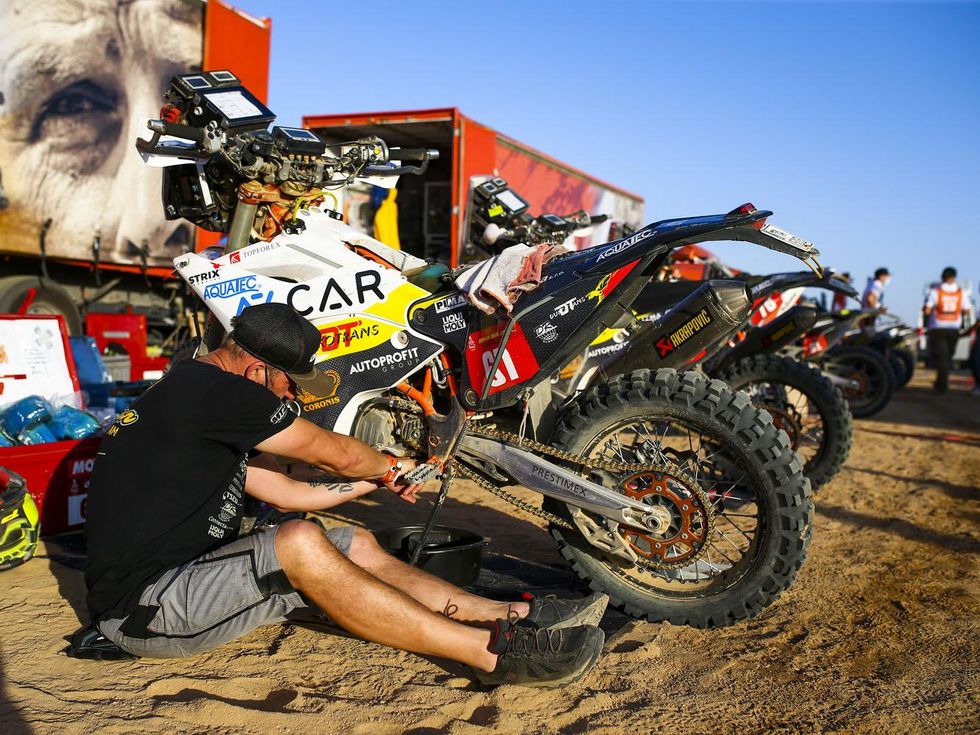 Photo by J. Delfosse
Yes, the Dakar Service Center includes the Motul Racing Lab and tire fittings by BF Goodrich experts. Participants can perform repairs to their vehicles, including tire changes, while en route.
Are the vehicles tracked?
Yes, all vehicles are tracked during the competition, and you can watch the tracking live online here. The tracking can be sorted by the following categories: Moto, Car, Truck, Quad, and Lightweight Vehicle.
What is the race terrain like? What is the route?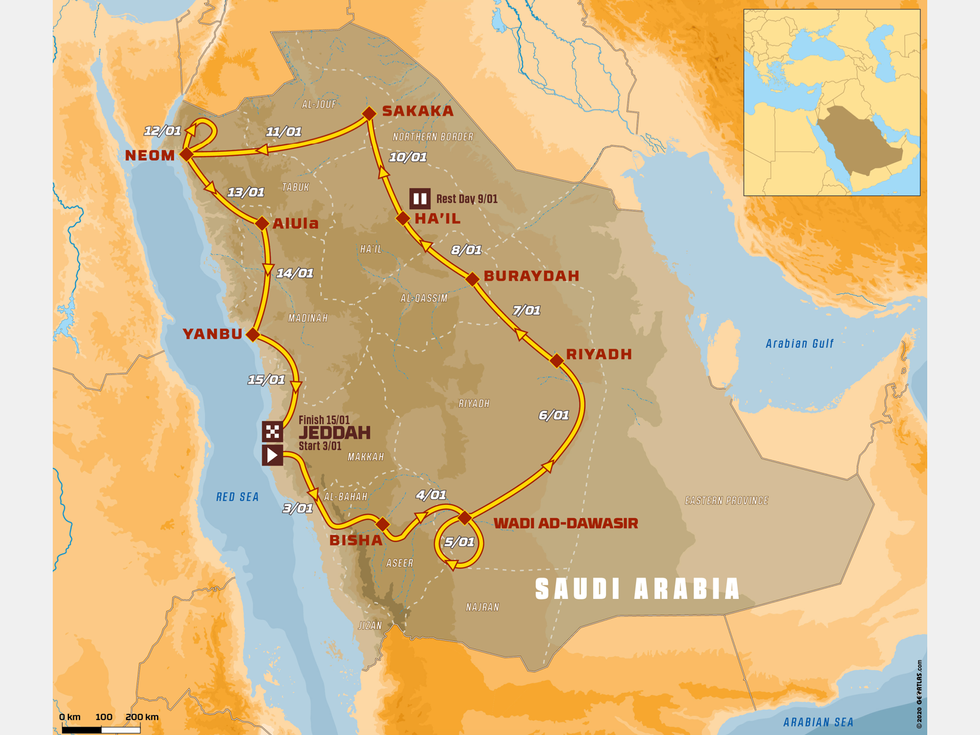 Image courtesy of Amaury Sport Organization
Stage 1, Jeddah to Bisha is entirely driven on tracks through valleys with rocks and stones that are a hazard for tires and windscreens. Several intersections also are considered hazardous.
The rally's Stage 2, Bisha to Wadi Al Dawasir, features yellow and white sand dunes with a lengthy off-track area near the end. Stage 3 is a pure desert stage in the gateway to the Empty Quarter where the route is in a loop that begins and ends in Wadi Al Dawasir. On this stage, speed racers will get their first real opportunity to cut loose.
The fourth day of competition is the longest. Stage 4, Wadi Al Dawasir to Riyadh, offers winding tracks while Stage 5 switches it up with a difficult section of dunes and stoney tracks as racers move from Riyadh to Buraydah.
Things get slightly easier for tires on Stage 6 where a variety of smooth sand dunes move the race along from Buraydah to Ha'il. Bikes will have their hardest day on this stage. There is a rest day between Stage 6 and Stage 7.
The terrain switches for Stage 7, moving to sand mountains and stony plateaus as the races move from Ha'il to Sakaka. There's over 100 kilometers of up and down racing.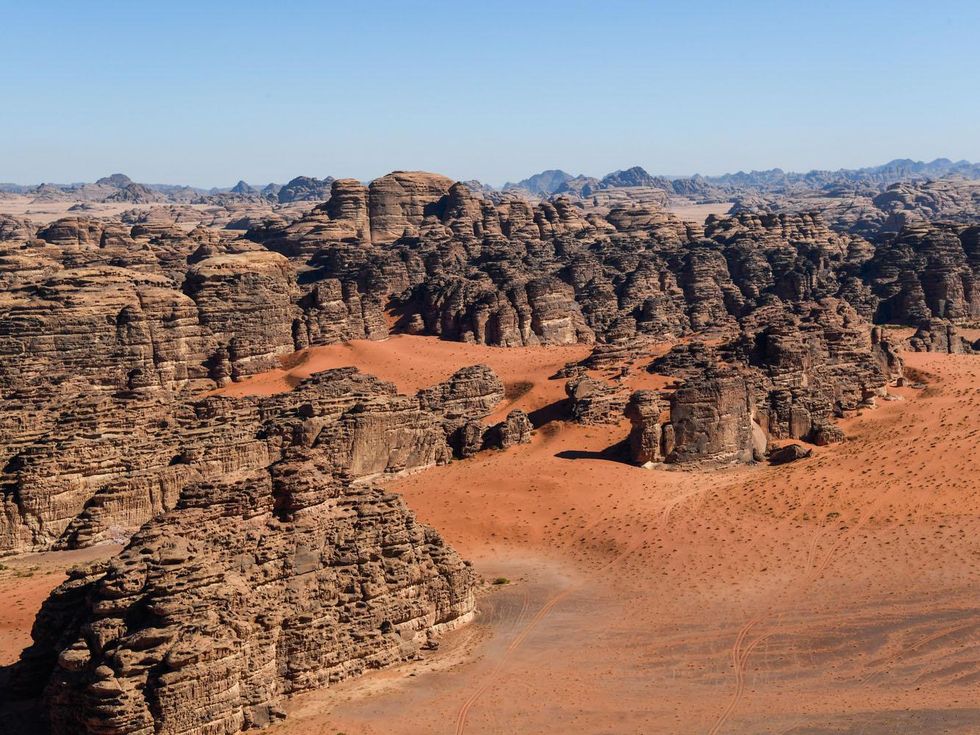 Photo by E Vargiolu
Stage 8 crosses the northern part of the country moving west to east beginning at Sakaka to and heading on to Neom (shown above). It is another very long stage. This is the stage where competitors will likely have their cameras out.
The race features another loop stage for Stage 9, this time in Neom. The stage starts at the seafront but quickly turns difficult as soft sand fills in tracks preventing speed. Organizers say that this may be the most difficult stage of the entire rally.
Stage 10 moves the race south over hills and vistas from Neom to Al- 'Ula. The dunes return for Stage 11 as racers go from Al- 'Ula to Yanbu on terrain described by ASO as "an ocean of sand".
The final stage, Stage 12, features more dunes as the race returns to its start point in Jeddah.
How do I track/watch the rally in the U.S.?
You can watch the tracking live online here. The tracking can be sorted by the following categories: Moto, Car, Truck, Quad, and Lightweight Vehicle.
NBCSN will be airing the race in the U.S. on cable television. Here are the watch times for each stage by date:
Sunday, January 3 - Stage 1 - 7:30 p.m.
Monday, January 4 - Stage 2 - 6:30 p.m.
Tuesday, January 5 - Stage 3 - 6:30 p.m.
Wednesday, January 6 - Stage 4 - 6:30 p.m.
Thursday, January 7 - Stage 5 - 6:30 p.m.
Friday, January 8 - Stage 6 - 6:30 p.m.
Sunday, January 10 - Stage 7 - 11:00 p.m.
Monday, January 11 - Stage 8 - 6:30 p.m.
Tuesday, January 12 - Stage 9 - 6:30 p.m.
Wednesday, January 13 - Stage 10 - 2:30 a.m.
Thursday, January 14 - Stage 11 - 9:30 p.m.
Friday, January 15 - Stage 12 - 6:00 p.m.
The race is also being broadcast online on Red Bull TV, MotorTrend On Demand, and Motorsport.com.
Viewers in Africa, Asia, Europe, Australia, and South America should check with their local outlets for coverage information.
How has COVID-19 effected the Dakar Rally?
Threatened with cancellation due to the pandemic, the Amaury Sport Organization (ASO) has put in place strict sanitation protocol. The organization also requires a series of negative results from COVID PRC tests from all participants ahead of the start. Additionally, ASO scheduled a number of charter flights from European locations, when flights into Saudi Arabia were halted two weeks before the start of the rally.