Volvo, Uber proclaim today as first National Seat Belt Day
Nov 14, 2019, 11:36 am
Photo courtesy of Volvo Car USA
Do you always buckle up when you're in a car? What about in a taxi or Uber? According to the Insurance Institute for Highway Safety, four out of five adults say they don't always use a seat belt when taking short trips or when in the backseat of a taxi or ride-share vehicle.
Volvo Car USA, Uber, and the Governors Highway Safety Association have joined together to proclaim November 14 as National Seatbelt Day, in an effort to bring awareness to the benefits that seats belts provide.
"The safety belt is still among the most important safety features in the car today," said, Jim Nichols, Product and Technology Communications Manager, Volvo Car USA. "We are proud that the three-point safety belt has endured over the years and is now featured in every vehicle sold."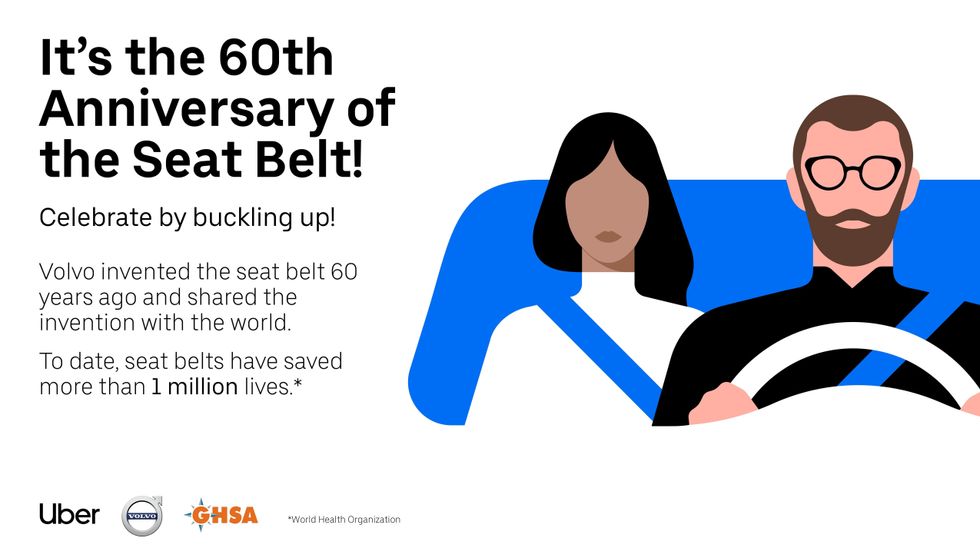 Volvo, Uber, and GHSA are using this ad to help make riders aware of the benefits of using a safety belt.Image courtesy of Volvo Car USA
The three-point safety belt was launched by Volvo in 1959 and celebrates its 60th anniversary this year. Volvo estimates that the belt has saved a million lives since it debuted but notes that, " its effectiveness is only as good as its use."
In 2018 the rate of seat belt use in the U.S. was 89.6%, according to the National Highway Traffic Safety Administration. Of the 37,133 people killed in motor vehicle crashes in 2017, 47% were not wearing seat belts. NHTSA research indicates thatbuckling up is the single most effective thing you can do to protect yourself in a crash.
It's important to remember that air bags are designed to work with seat belts, not replace them. Safety belts and air bags, as well as modern safety and driver assistance technologies and strong frame materials, are all part of a modern safety system that works together to keep vehicle occupants safe.