Study: Unrestrained pets cause heart rate spikes, increase likelihood of a fatal car crash
Oct 17, 2019, 2:12 pm
Fido may love to hold his head out the window and sniff every passing car and yard as you drive by, but this is not safe for you, him, or anyone else on the road. A new study provides quantifiable proof of the hazards of driving with an unrestrained pet.
Volvo Car USA and The Harris Poll conducted an online survey in March 2019 and an observational study from June-July 2019 to assess the impact of unrestrained pets – pets not restrained with a seat belt or harness or in a crate or carrier while in a moving vehicle. For the study, 15 licensed drivers who each drive with their dog at least 25 minutes per day were observed for an average of 2 hours each, for a total of about 30 hours of total study time.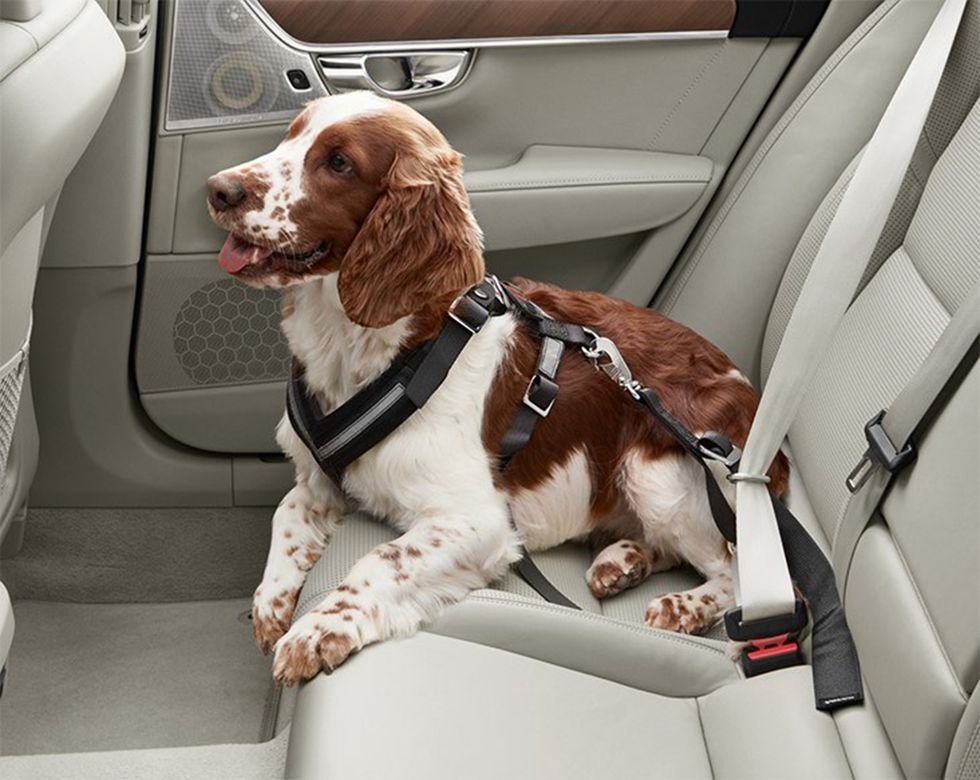 Pets that were restrained while in the car proved less of a hazard to drivers, the study found.Photo courtesy of Volvo Car USA
The dogs were restrained for 56 percent of the time and unrestrained the rest of the time.
The results of the survey and study were published in Volvo Reports: Keeping Pets Safe on the Road. The study found three reasons why not restraining your pet is detrimental.
It increases unsafe driving behaviors.
During the half of the study when the dogs were restrained, 16 hours 48 minutes, there were 274 instances of the dogs doing something unsafe such as putting their head out the window or climbing on the driver's lap. This comes out to an average of 16.3 instances of unsafe driving behavior per hour – about once every 3.5 minutes.
For 13 hours 12 minutes of observation time the dogs were unrestrained and racked up 649 instances of the dogs doing something unsafe – an average of 49.2 instances of unsafe driving behavior per hour, nearly once every 1.2 minutes.
This showed that unrestrained dogs were three times more likely to exhibit unsafe behaviors than restrained dogs while riding in a vehicle.
It increases driver distraction.
When not restrained, dogs can do things such as jumping from one seat to another, which often results in the driver focusing on their pet and not the road. Unrestrained dogs resulted in 3 hours 39 minutes of distracted driving over the course of the 13 hours 12 minutes (27.7% of the time).
Restraining dogs cut distracted driving to 1 hour 39 minutes over the course of the 16.8 hours (9.8% of the time).
The results indicated that drivers whose pets are unrestrained are 2.8 times more likely to be distracted are drivers whose pets are restrained.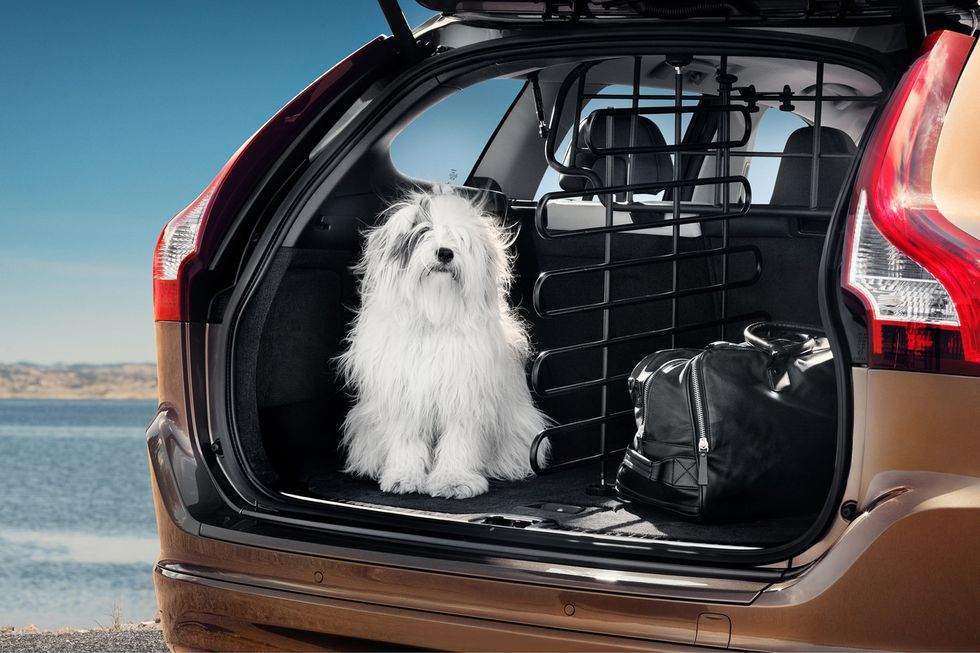 Unrestrained pets cause a major distracted driving hazard, a new study has revealed.Photo courtesy of Volvo Car USA
According to the National Highway Transportation Administration 3,000 people die each year from distracted driving. Erie Insurance, in conjunction with the Insurance Institute for Highway Safety, analyzed 2010 and 2011 Fatality Analysis Reporting System (FARS) crash data and found that a moving object (such as a pet) is one of the top ten distractions involved in fatal car crashes.
It increases stress on dogs and drivers.
According to the website Dogtime: "Puppies can have resting pulse rates of 160 to 200 beats per minute when they are born, which can go as high as 220 beats per minute at two weeks of age. Up to 180 beats per minute may be normal until a year of age. Large adult dogs can have a resting heart rate of 60 to 100 beats per minute, while small adult dogs can have a normal heart rate of 100 to 140 beats per minute."
When not restrained, dogs' heart rates were faster than their normal heart rates by 7 beats per minute. This may not seem like much, especially for puppies who already have high resting pulse rates, but why add stress to your pet unnecessarily?
Likewise, drivers were also more stressed when their dogs were not restrained. The average human heart rate is 60-100 beats per minute. When their dogs were not restrained, the drivers' heart rates increased by 28-34 per minute, as much as 1.5 times higher than normal.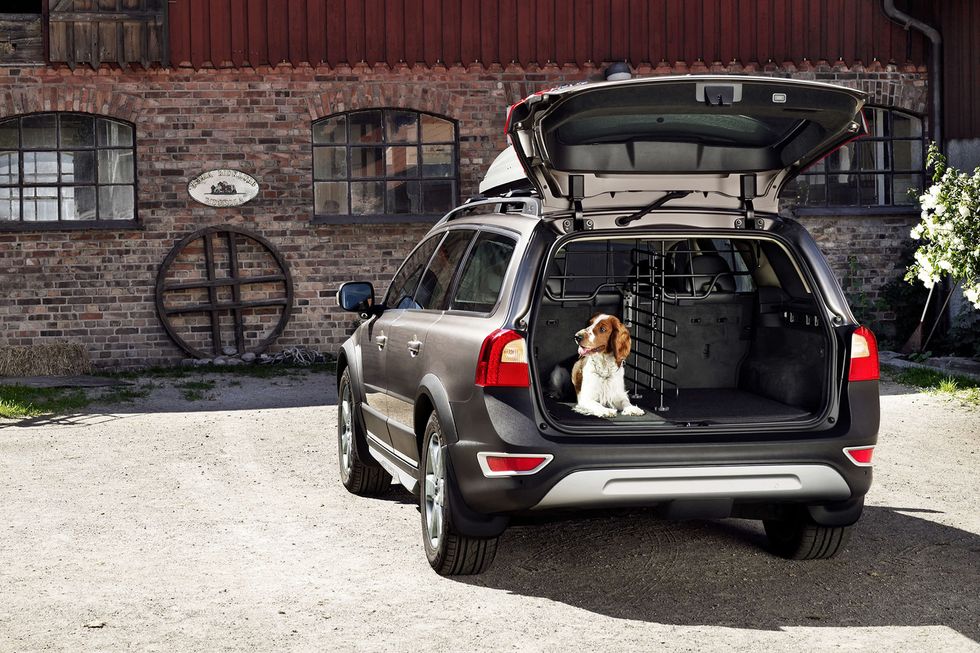 Volvo is one of the auto manufacturers now offering pet-specific restraint systems that can be purchased with and installed in a new vehicle.Photo courtesy of Volvo Car USA
In a press release, Dr. Elisa Mazzaferro, Staff Criticalist at Cornell University Veterinary Specialists, urges the importance of restraining your pets in the car.
"While pets roaming around the car can be cute and convenient, it poses a serious risk for both drivers and their pets, both in terms of causing distractions and increasing the chances of serious injury in the event of an accident. Unfortunately, in my field, we see the potential devastating consequences regularly, many of which can [be] avoided by simply ensuring our animals are safely secured."
The Volvo Car USA/The Harris Poll report found that "32% of pet owners have left a dog at home because they felt their car was not safe enough" and "77% of Americans says people don't vehicular dog safety seriously enough".
Lindsey Wolko took her pet's safety in the car seriously – she bought her dog Maggie a safety harness. Maggie was wearing this safety harness when Wolko was driving and had to brake suddenly, but the harness didn't work properly and Maggie was injured. Through this experience, Wolko was inspired to found The Center for Pet Safety (CPS), a non-profit research and consumer advocacy organization, in July 2011.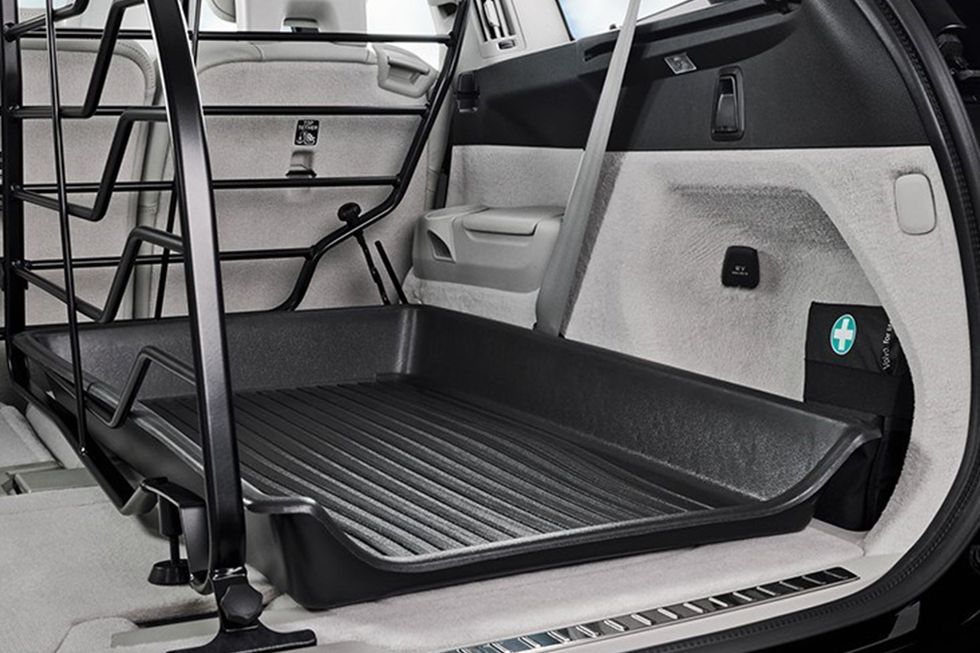 Volvo's pet safety system is mounted directly to the frame of the vehicle giving it a high level of structural integrity.Photo courtesy of Volvo Car USA
CPS crash tests pet car safety restraints. Restraints which meet CPS's standards are approved as CPS Certified. CPS has only third-party restraints on its list, yet some vehicle manufacturers are also creating pet car safety restraints.
Volvo has a line of pet safety accessories which includes a dog gate, dog harness, load compartment divider, and protective steel grille. These accessories integrate into the car's safety system. For each one of these accessories sold, Volvo donates $10 to The Petfinder Foundation, which promotes pet adoption.