Vanwall continuation cars usher in a new era for the legendary Formula One team
Oct 19, 2020, 9:26 pm
Photo by Keystone/Hulton Archive/Getty Images
In the early 1950s, Tony Vandervell took the considerable money he made producing thin-wall bearings and his passion for speed, marrying them together and forming Vanwall. The racing team constructed their first Formula One cars for the 1954 season and achieved their first win at the 1957 British Grand Prix, becoming the first British-built car to win a World Championship race. The company won the first F1 Constructors' Championship in 1958 with six wins.
In those days Vanwall cars, with Stirling Moss behind the wheel, were known for their unique engineering. Colin Chapman, the founder of Lotus Cars, designed their chassis. Famed automotive engineer Frank Costin, best known for his advancement of monocoque chassis design, created the car's aerodynamics.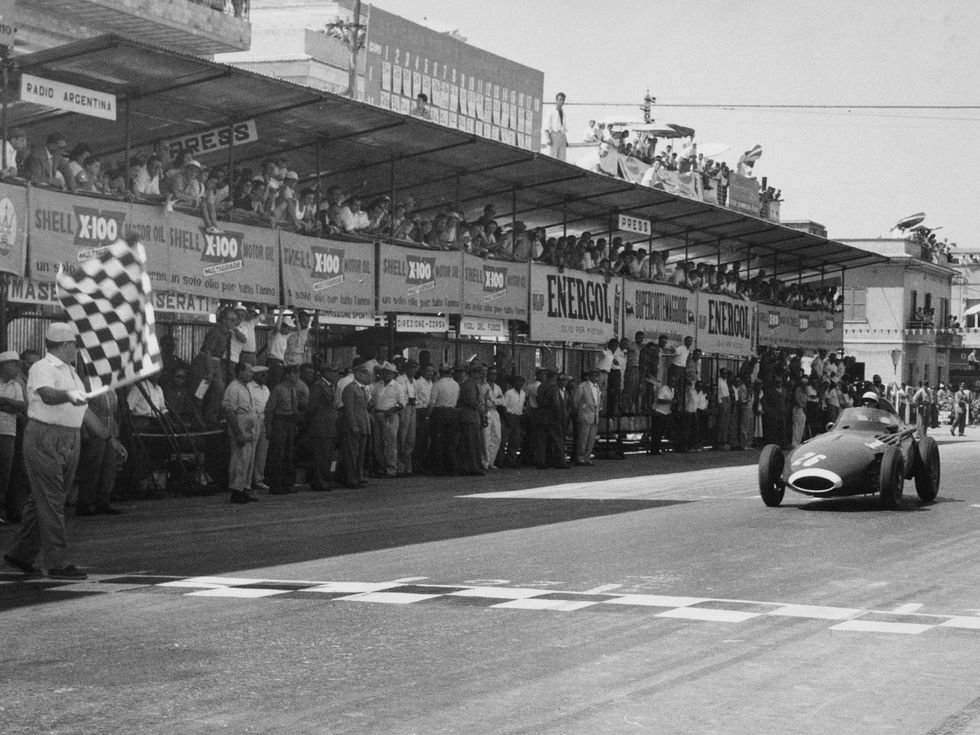 Stirling Moss of Great Britain driving the #26 Vandervell Products Vanwall VW5 takes the checkered flag to win the Pescara Grand Prix on August 18, 1957 at the Pescara Circuit near Pescara, Italy. Photo by Keystone/Hulton Archive/Getty Images
Their cars used disc brakes rather than the drum brakes that were popular in F1 at the time. This is cited as the main advantage Vanwall had over Ferrari on the track.
By late 1959, the failing health of Vandervell caused the team to pull out of racing. The Vanwall name was dormant until 2013 when Iain Sanderson purchased the trademark.
Sanderson will now offer five continuation cars for sale out of six constructed. The remaining car will be heart of a Vanwall Historic Racing Team.

"The Vanwall name is too important to consign to history," said Sanderson. "The Vanwall story is untold to many, but it is a great British tale of innovation and achievement and shows what happens when the right team come together and push themselves fearlessly to reach a clearly defined goal. On this anniversary, we think the time is right to celebrate this great British story of success. Faithfully recreating the iconic 1958 championship winning car with six 100-percent accurate and authentic continuation cars is a fitting tribute to their historic success. The DNA that made those cars so successful also serves as an inspiring foundation for the future of the Vanwall marque, which I look forward to sharing in due course."
The vehicles will take thousands of hours to build and will be crated by historic racing and vehicle restoration experts from Hall and Hall in Lincolnshire, England. The continuation cars will have a 270 brake horsepower 2,489cc Vanwall engine powering them. Each engine has been engineered using original drawings and blueprints from the 1950s.
The cost of each car is £1.65 million excluding VAT.