U.S. Presidents and their cars: These vehicles carried the most powerful men in the world
Feb 16, 2020, 2:59 pm
President William McKinley has the distinction of being the first U.S. leader to ride in a car. The year was 1901 and that summer he briefly rode in a Stanley Motor Carriage Company steam car. Since then, presidents have gone from carriage rides to full armored limousines. Here's a look back at the history of the presidential limousine.
President Theodore Roosevelt (1901-1909)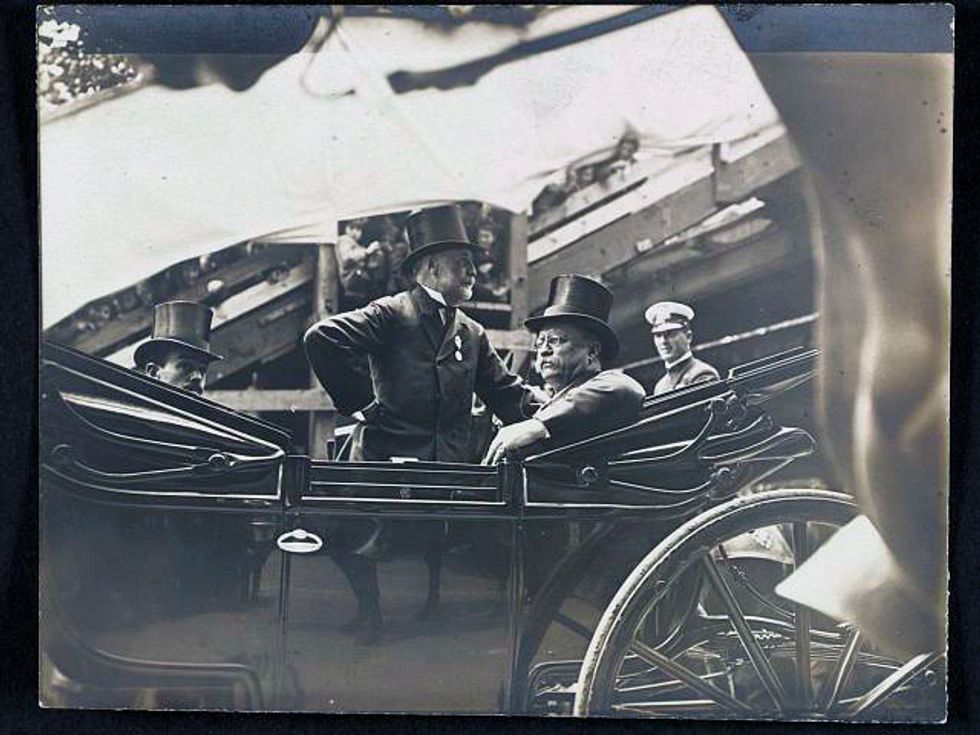 President Theodore Roosevelt sitting in an open carriage, accompanied by two other men.
Photo courtesy of the Library of Congress
Theodore Roosevelt served two terms as President of the United States, from September 14, 1901 to March 4, 1909. He succeeded McKinley to the office. He did not use a motor car to get around, instead opting for a horse drawn carriage. As the automobile rose in popularity during his administration, the Secret Service saw the need to get one, purchasing a 1907 White Motor Company steam car to use to ride near Roosevelt's carriage.
President William Howard Taft (1909-1913)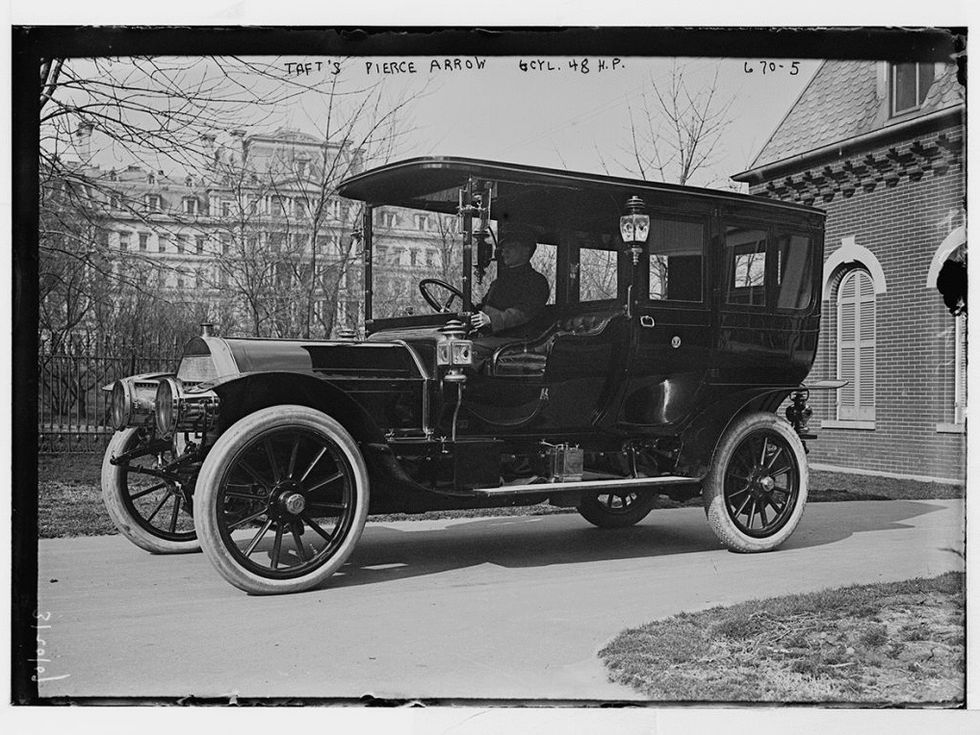 A chauffeur drives a Pierce Arrow outside the White House garage in 1909.
Photo courtesy of the Library of Congress
Taft was a remarkable man who is the only person in history to serve as both the President of the United States and Chief Justice of the U.S. Supreme Court. He was a noted automobile enthusiast.
After heated debate, in 1909, Congress appropriated $12,000 for the purchase of motor cars for use by the White House. Taft had the White House stables converted into a garage in preparation for the cars' delivery.
A company from Taft's native Ohio, The White Motor Company, delivered its Model M, a seven-passenger touring car for use. The car had 40 horsepower and was painted "subdued greens" according to the company. The U.S. coat of arms was painted on each of the doors.
Two Pierce-Arrow models also made it into the garage alongside a Baker Electric car. The Pierce-Arrows were built in Buffalo, New York. White House chaffer Abe Long described the model as a, "six cylinder 48 horsepower suburban car, the main color of which is blue, with the door panels a rich russet and a single narrow stripe of the same color following the lines of the molding ... Naturally a facsimile of the great seal of the United States is emblazoned on the doors of the car."
The Baker Electric, made in Cleveland, Ohio, was driven by the president's wife, Helen Taft, and later by Edith Bolling Wilson, the wife of President Woodrow Wilson.
In 1910, Taft was the first president to attend an auto show. The Washington D.C. show hosted the President.
President Woodrow Wilson (1913-1921)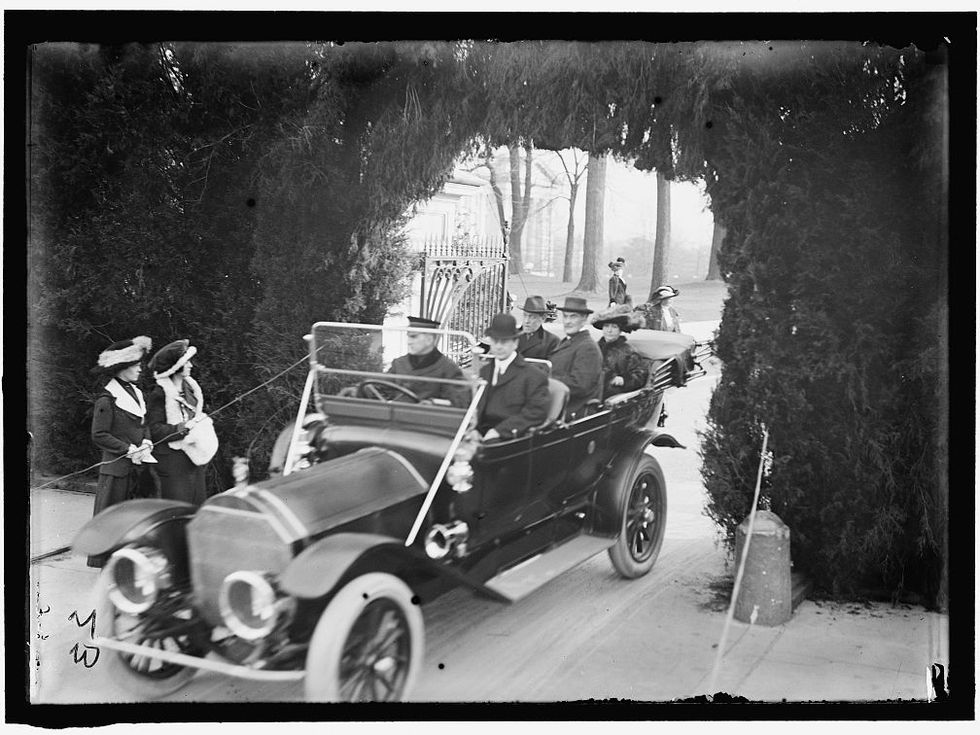 President Woodrow Wilson and wife Ellen Axson Wilson leaving the White House by car, Washington, D.C.
Photo courtesy of the Library of Congress
During this years in office, President Woodrow Wilson saw the auto industry begin to boom as vehicles became attractive to larger and larger numbers of people. President Wilson and his wife, First Lady Edith Wilson, used the White House's fleet of automobiles during the time period.
Though he chose to ride to his inauguration in a horse-drawn carriage, Wilson became an automobile enthusiast, purchasing three Pierce-Arrow models during this tenure. This marked the beginning of Pierce-Arrow's 17-year dominance as the presidential vehicle of choice. Wilson especially like one particular car, a right-hand drive 1916 Pierce-Arrow sedan, so much that he purchased it from the government for $3,000 when he left office.
In 1919, Wilson test drove a Pierce-Arrow Series 51 limousine when he returned from France after negotiating the Treaty of Versailles. His friends bought him the limousine when his second term ended. The five-seater measures 16 feet long and has a body made of cast aluminum. Its steering wheel is on the right.
In1925, the year after President Wilson's death, his wife donated the car to a group of citizens working to arrange a Wilson memorial. It was recently restored and is currently on display at the Woodrow Wilson Presidential Library and Museum in Staunton, Virginia.
President Warren G. Harding (1921-1923)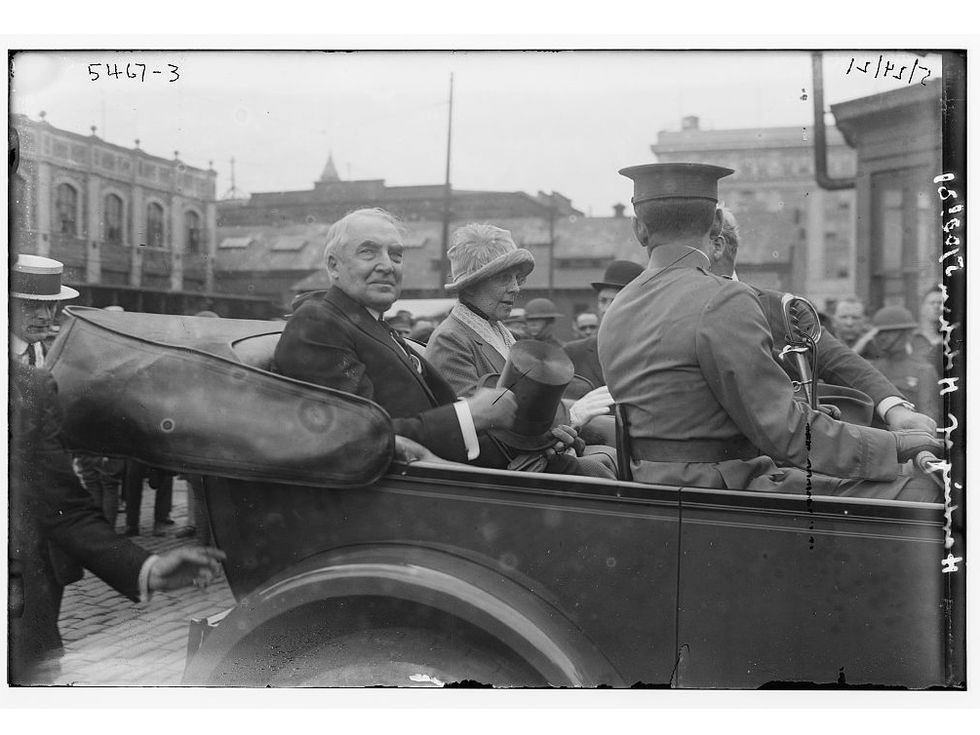 Warren G. Harding and his wife in a car in 1921.
Photo courtesy of the Library of Congress
President Harding's legacy hasn't fared well since his passing, but one positive aspect of his presidency is that he was the first person to hold the office to ride to his inauguration in an automobile. The car was a Packard Twin 6 that was supplied by the Republican National Committee for the occasion.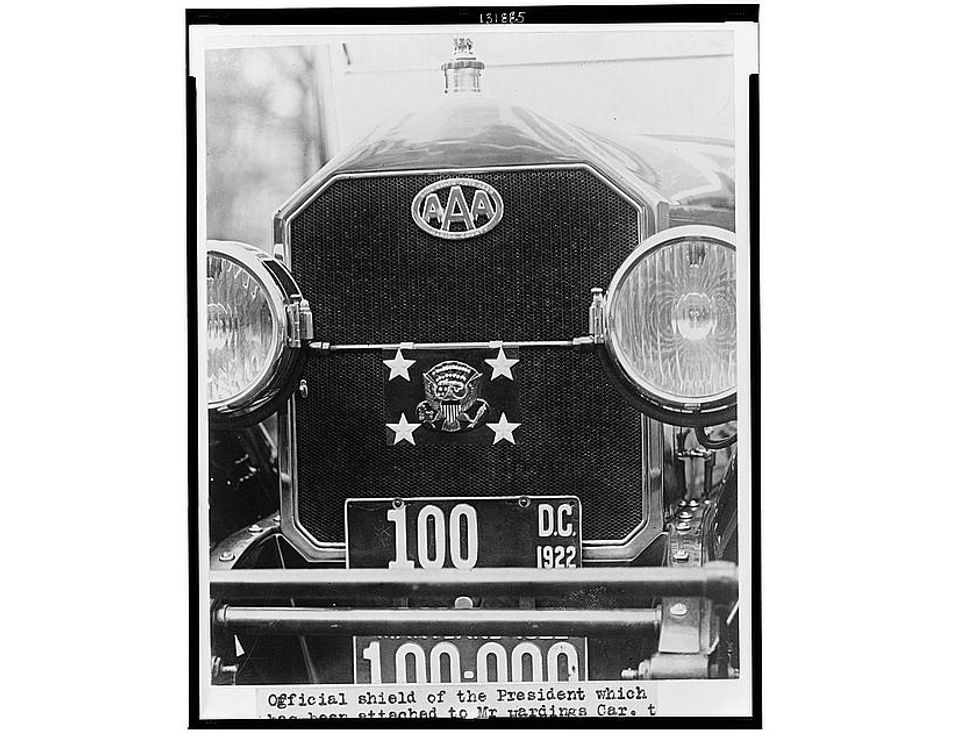 The original caption of this historic photo reads, "Official shield of the President which has been attached to Mr. Harding's car."
Photo courtesy of the Library of Congress
In 1922, the American Automobile Association (AAA as it is now more popularly known) had their insignia positioned above the Presidential Coat of Arms on the front of Harding's Pierce-Arrow. He was the first president with a driver's license.
President Calvin Coolidge (1923-1929)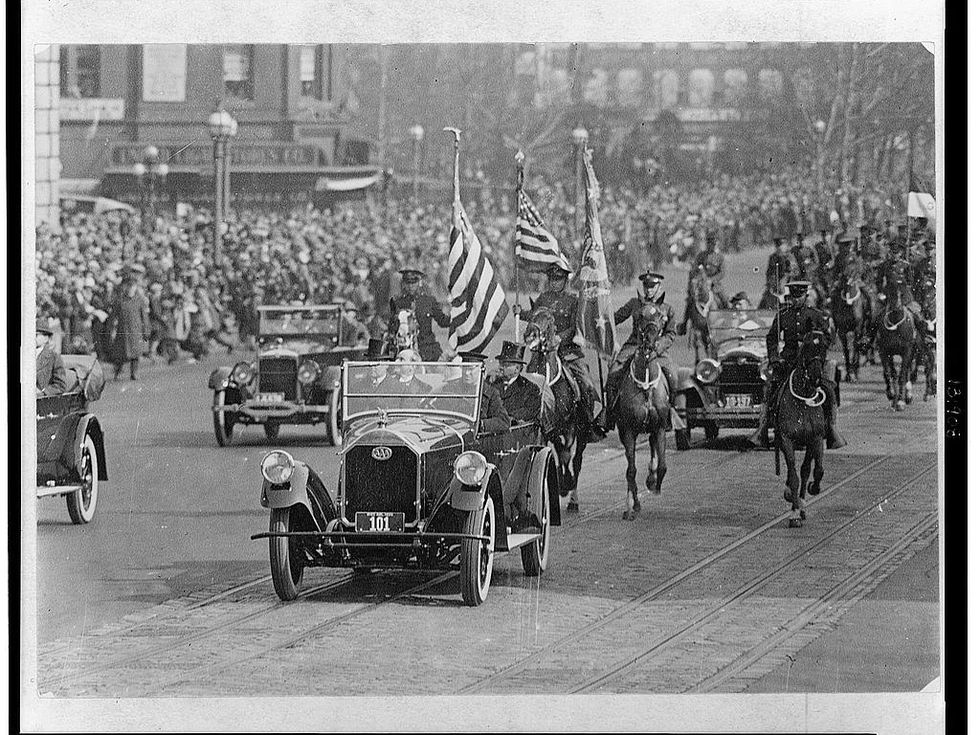 President Coolidge and others riding in a car during the inaugural parade on March 4, 1925.
Photo courtesy of the Library of Congress
Calvin Coolidge became president when Harding passed away relatively unexpectedly in 1923. Coolidge was visiting his parents in Vermont when the news broke and his father, a notary public and justice of the peace, administered the oath of office. Coolidge faced an election in 1924 and was finally able to celebrate his victory in 1925 with an inauguration parade.
Coolidge was known as a man who appreciated only moderate speed rides in autos. Silent Cal, as he was known, infrequently spoke with his chauffer.
President Herbert Hoover (1929-1933)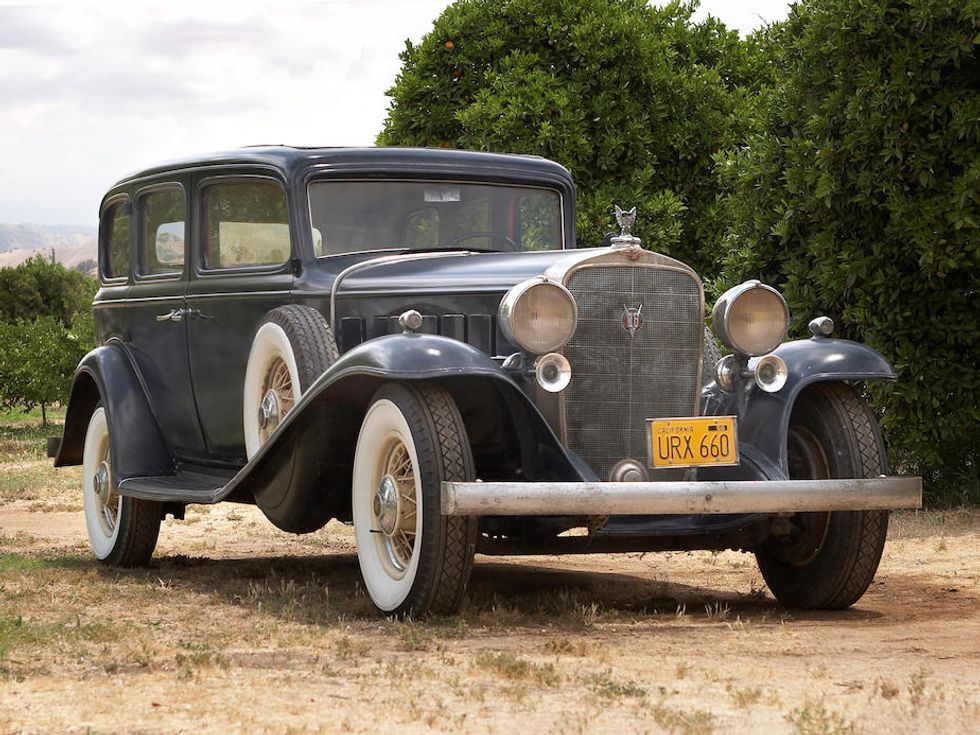 Hoover's unrestored Cadillac was sold at auction in 2007.
Photo courtesy of Bonham's
Hoover became president at a time when the automobile was being adopted for use by the average family. Hoover had the unique pleasure of serving as the Secretary of Commerce and working to adopt the nation's first traffic codes during the Harding administration.
Hoover rode in a Pierce-Arrow to his inaguration but soon replaced it with a Packard and a Cadillac V-16. The Cadillac V-16 was the automaker's top-of-the-line model from 1930-1940. It was known for being expensive and therefore exclusive, built as a custom order. By the time the model's run was over, kist 4.076 had been made.
The 1932 Cadillac V-16 Imperial Limousine Hoover purchased for use was not the property of the U.S. government. It featured was a Fleetwood-bodied car of Style 5175 that Hoover continued to use after her left the White House. When the car was sold by Bonham's at auction in 2007, it had just over 2,000 miles on the odometer.
By the end of the Hoover administration, there were a reported 25 cars in the White House's fleet. Hoover's successor would add to the collection.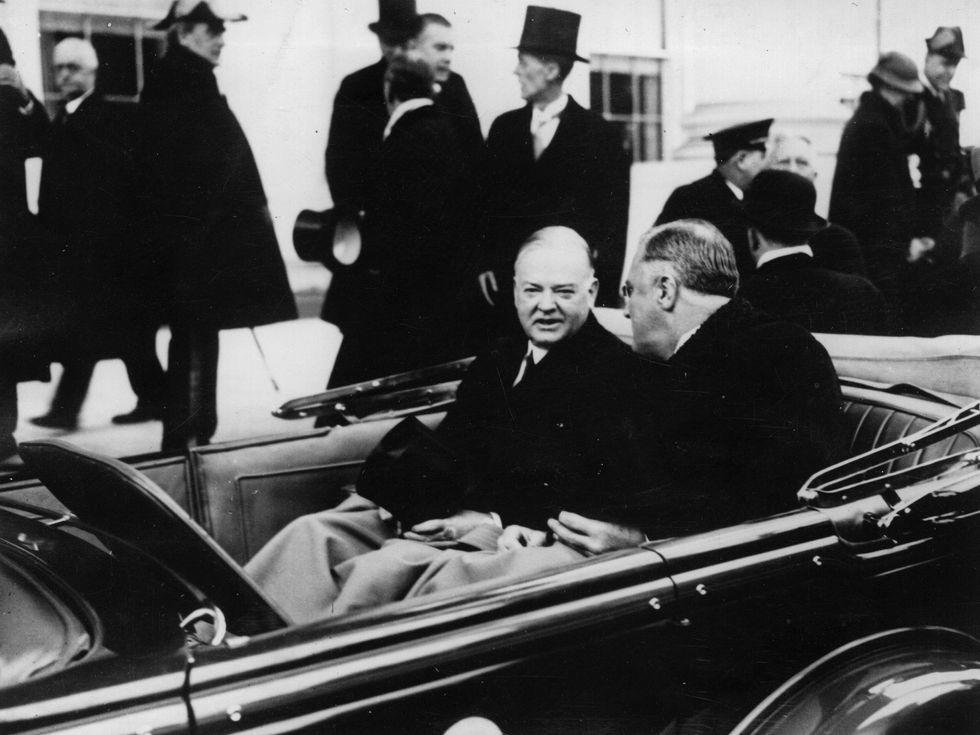 Franklin Roosevelt leaving the White House for the Capitol on his inauguration day, with Pres. Herbert Hoover beside him.
Photo by Getty Images
By the end of the Hoover administration, there were a reported 25 cars in the White House's fleet. Hoover's successor would add to the collection.
President Franklin Delano Roosevelt (1933-1945)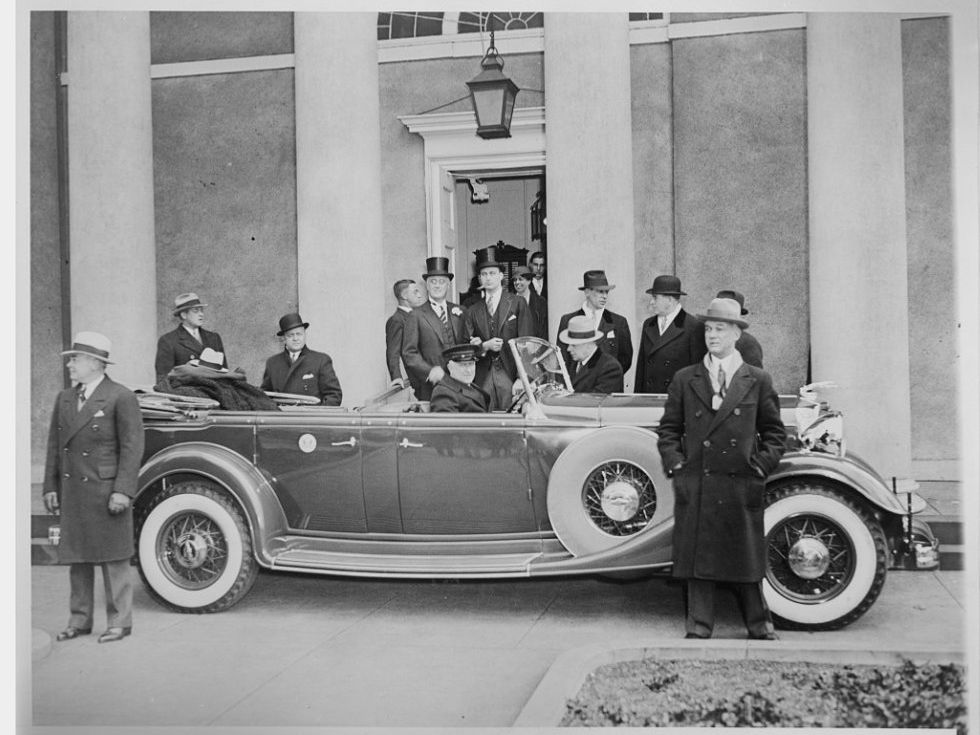 President-elect Roosevelt leaves St. John's Church on the morning of his inauguration, March 4, 1933.
Photo courtesy of the Library of Congress
When President Roosevelt was 39, in 1921, he contracted polio which, by the time he became President in 1933, had made him mostly unable to use his legs. As a result. he was unable to drive a vehicle the traditional way. His cars were outfitted with hand controls that allowed him to still enjoy his time behind the wheel.
Roosevelt's family fortune meant that he had the means to purchase a large number of automobiles and did just that, including a 1938 Ford Convertible Coupe. In 1936, Roosevelt went against Secret Service rules and purchased a Ford Phaeton, modified with hand controls, so he could drive himself around. He used the cars when at his home in Hyde Park, New York, or at the Little White House in Warm Springs, Georgia. F.D.R. was especially fond of convertibles.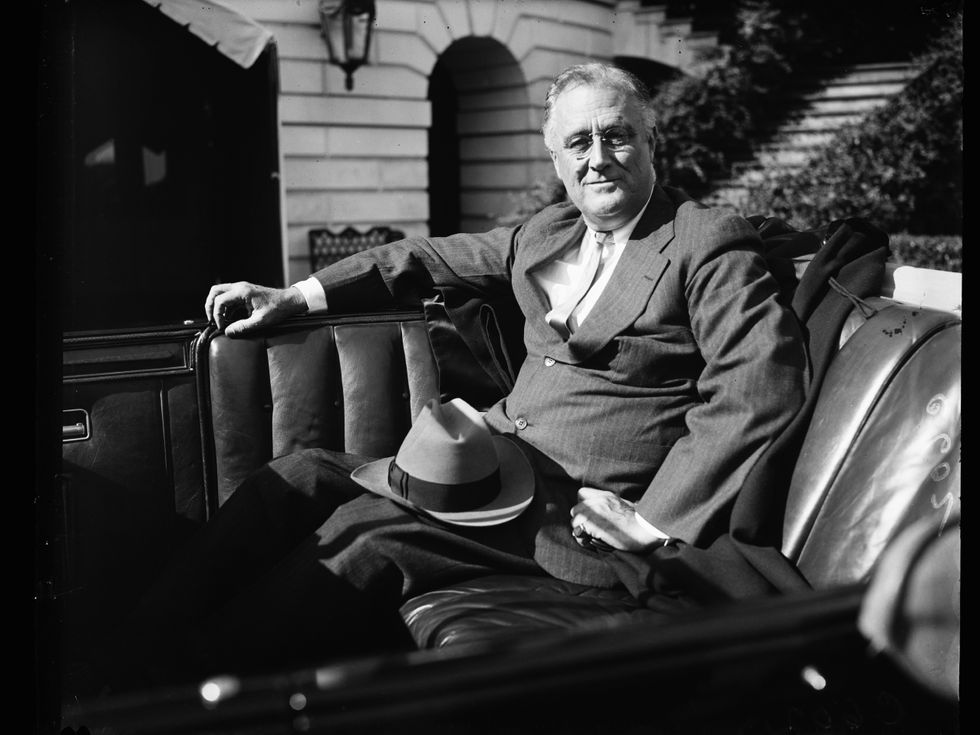 Roosevelt sits in a car at the White House in 1936.
Photo courtesy of the Library of Congress
In 1937, at the time of Roosevelt's second inaugural, the government accepted bids from Ford Motor Company, General Motors, and Packard Motors for vehicles built to the standards set forth by the Secret Service. A pair of 8,000-pounnd 1938 Cadillacs V-16s were leased from GM during this time. The Caddies were nicknamed "Queen Mary" and "Queen Elizabeth".
In 1939, the White House leased a Packard limousine but Roosevelt had a hard time getting in and out of the seven-passenger model in due to his disability and the Packard's narrow doorways.
With the president's mobility in mind, the government also leased a 1939 Lincoln K Series limousine from Ford Motor Company. It was nicknamed the "Sunshine Special" and was the first vehicle modified for use by a U.S. president. Speciality coach builder Brunn & Company, Inc. out of Buffalo, New York had the honors. Modifications included wider rear doors, forward-facing jump seats, step plates where the Secret Service could ride along, a police siren, and emergency lights. The car's convertible roof made it easy for crowds to get a peek at their president.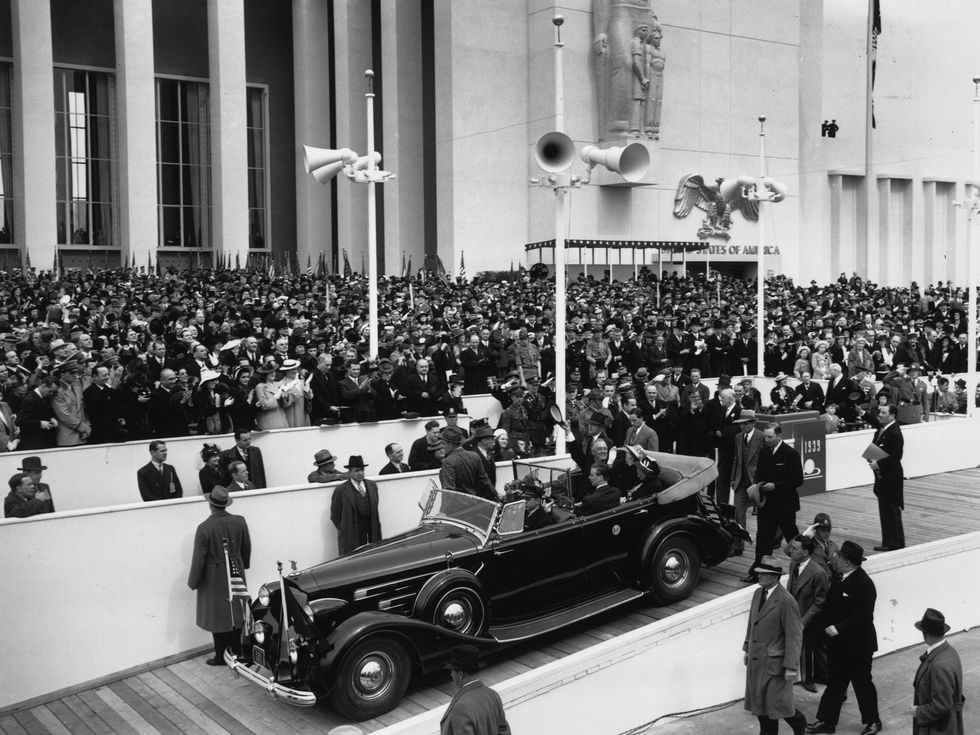 From his car drawn up at the entrance, President Roosevelt waves to the crowds at the opening of the 1939 World's Fair
Photo by Getty Images
The massive car had a 160-inch wheelbase - that's 30-inches longer than a 2020 Chevrolet Suburban - and could seat up to 11 people. In 1941 the body of the car was lowered an additional three inches.
Following the attack on Pearl Harbor in 1942, the Secret Service saw the need to modify the President's fleet with armor, bullet-resistant glass, steel armor, a gun case, a radio system, and special rear bumpers. The Sunshine Special got the full treatment. Following the modifications, the car was six feet longer than before and weighed in at 9,300 pounds.
The government also ordered a new, armored 1942 Lincoln H-Series limousine and retrofitted the rest of their fleet with armor and bullet-resistant glass.
While rumors have circulated for decades regarding Roosevelt's use a car owned by Al Capone that was seized during a raid, photographic evidence appears to prove that the rumors are unfounded.
President Harry S. Truman (1945-1953)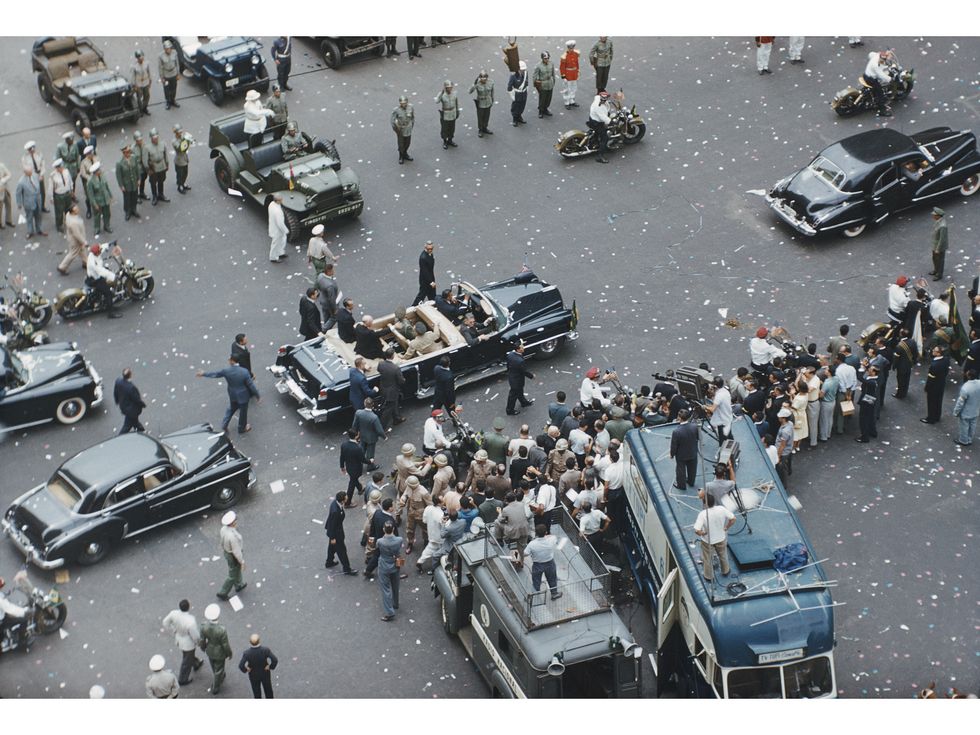 Truman and Eisenhower used a fleet of Lincoln Cosmopolitans as their mode of transportation.
Photo by Getty Images
Upon the death of F.D.R., Harry Truman became the 33rd President of the United States. He inherited the Sunshine Special and used it in the early part of his administration. In its 11 years of service, the car racked up 55,000 miles on the odometer.
Truman rode to his 1949 inauguration in a Lincoln Cosmopolitain. Following the inauguration, the government leased a fleet of 10 custom-built 1950 Lincoln Cosmopolitans. All the cars featured armor as well as expanded height to accommodate the silk hats that were popular at the time. They were all painted black and nine of the ten were hardtops. The tenth was a convertible.
The Cosmopolitan was 20 feet long and 6.5 feet wide. It weighed in at 6500 pounds, with 1700 of that coming from body armor.
President Dwight D. Eisenhower (1953-1961)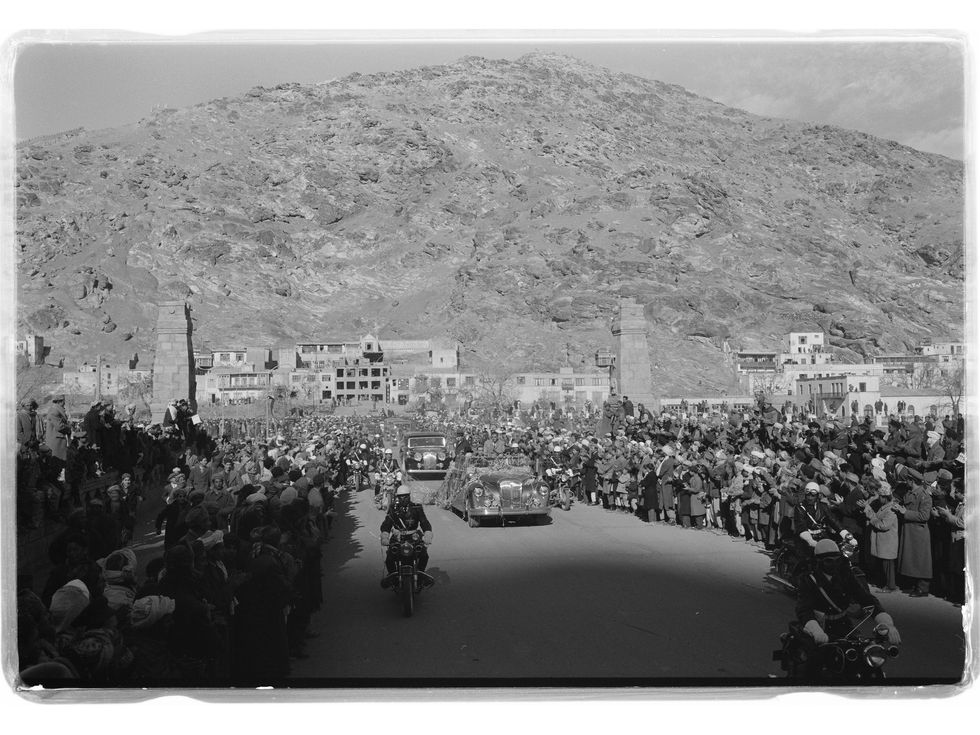 Motorcade for President Eisenhower's visit to Kabul, Afghanistan.
Photo courtesy of the Library of Congress
Eisenhower rode from his 1953 inauguration in a Cadillac Eldorado convertible.
The fleet of Cosmopolitans was used during the Eisenhower administration as well. They traveled the world with the president, including a trip to Rio de Janeiro, Brazil and Kabul, Afghanistan.
At Eisenhower's suggestion, the Cosmopolitan convertible was outfitted with a plexiglass roof, known as the "Bubbletop". In 1956 he rode in the Bubbletop at Ebbetts Field during the World Series. That Yankees vs. Dodgers series featured some of the most famous names in the sport including Casey Stengel, Yogi Berra, Whitey Ford, Mickey Mantle, Roy Campanella, Don Drysdale, Sandy Koufax, Pee Wee Reese, and Jackie Robinson.
On a 1959 visit to the U.K., Eisenhower was driven around London in a Rolls-Royce with a "USA 1" numberplate.
President John F. Kennedy (1961-1963)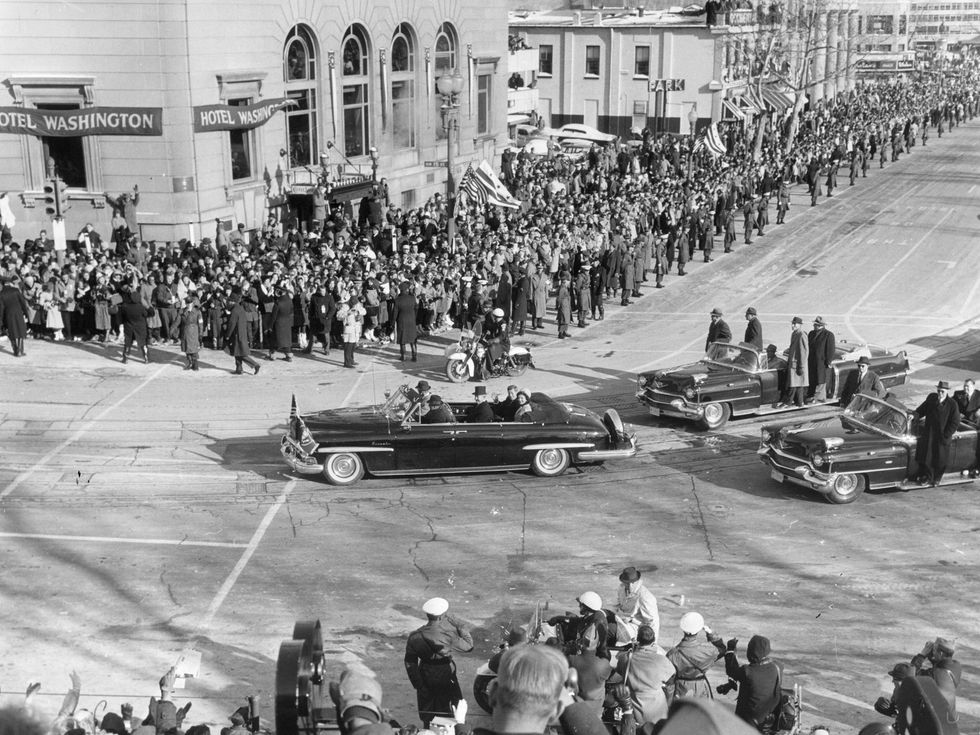 President John F Kennedy is driven through the crowded streets with his wife Jackie on the day of his inauguration.
Photo by Getty Images
President Kennedy rode in the Bubbletop to his inauguration in 1961 and the car remained in service util 1965.
In June 1961, the White House took delivery of a modified 1961 Lincoln Continental at the cost of $200,000. At the time it was delivered, the Continental was the most sophisticated presidential limo ever made. It was dark blue and assigned the Secret Service code name X-100.
The car was fully armored and came with a heavy-duty air conditioner and heater, telephones, fire extinguisher, first-aid kit, and police siren. Retractable foot stands and detachable grip handles were standard equipment as well as lights on the front fender and bumper. It had three different removable tops.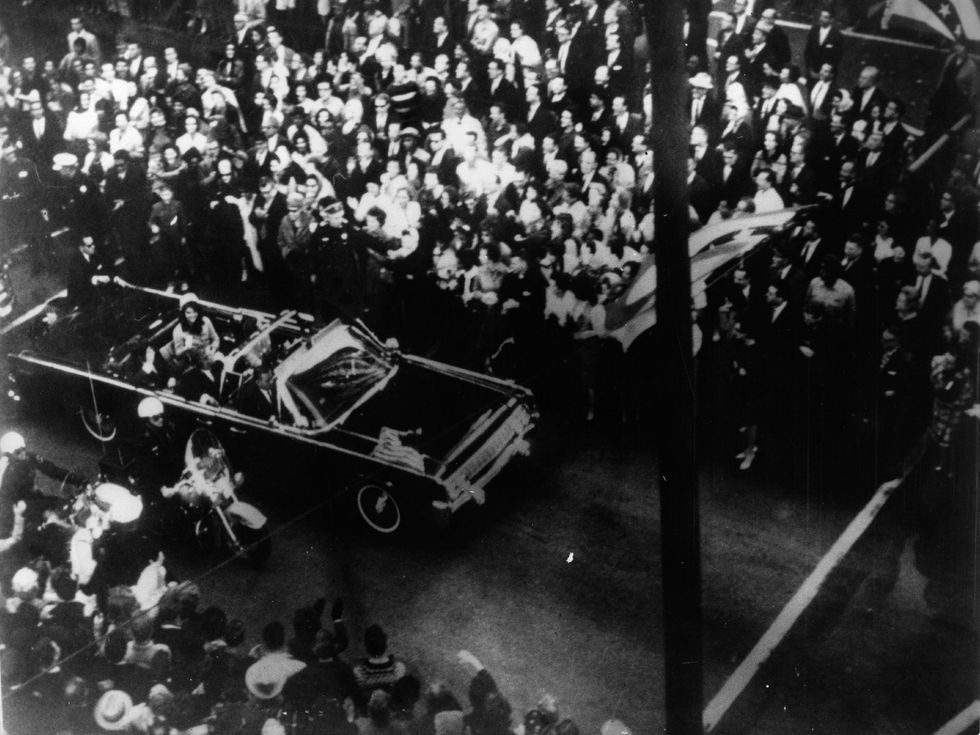 John F Kennedy and his wife Jackie Kennedy travel in the presidential motorcade at Dallas, before his assassination.
Photo by Getty Images
Kennedy rode in that Lincoln with a number of world leaders including Shah Mohammed Reza Pahlavi of Iran, Greek Cypriot leader Archbishop Makarios, and Guinean president Sekou Toure.
The Continental carried Kennedy to his famous "Ich bin ein Berliner" speech and on a tour of Berlin with West Berlin mayor Willy Brandt and West German chancellor Konrad Adenauer.
On a trip to England in 1961, Kennedy rode with British Prime Minister Harold Macmillan in a Bentley Continental.
Kennedy was riding in a Continental on November 22, 1963 when he was assassinated in Dallas, Texas.
President Lyndon B. Johnson (1963-1969)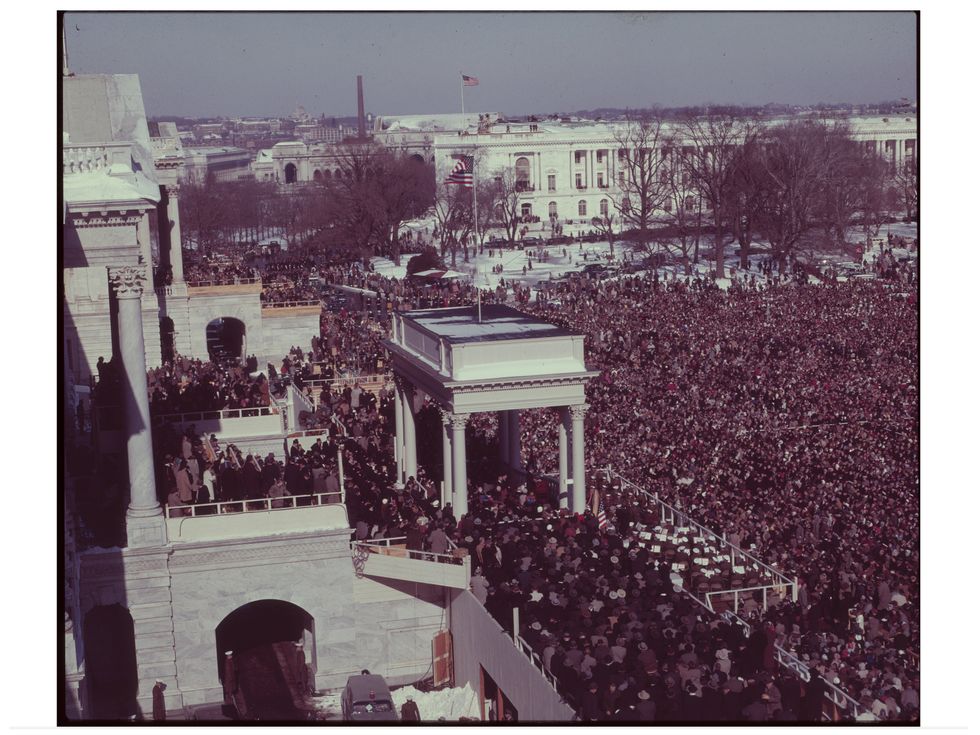 Crowd on Capitol grounds, attending inauguration of Lyndon B. Johnson.
Photo courtesy of the Library of Congress
Following the Kennedy assassination and during the administration of President Johnson, the X-100 was redesigned. It would end up costing more than $500,000. The modifications included a fresh black paint job, new telecommunications equipment, a more powerful engine, and aluminum-coated run-flat tires. Engineers had protected the gas tank against an explosion by filling it with porous foam.
The rear seat passengers were now surrounded by 1,600 pounds of armor. The thickness of the car's glass was improved with the result being 13 different pieces of glass that were over an inch thick. The rear window alone weighed 1,500 pounds. According to Popular Mechanics, at the time, that window was the single largest piece of bullet-resistant glass ever produced.
Johnson rode in that '61 Lincoln to his 1965 inauguration and in 1965 he playfully kept on the back deck of the car causing it to collapse. The car then received service including structural reinforcement. It was retired in 1977 after occasionally being used by Presidents Johnson, Richard Nixon, Gerald Ford, and Jimmy Carter.
A new Lincoln parade car was delivered to the White House in 1968 with an updated roster of technological upgrades. Though it was a '68 underneath, it appeared as a '69 thanks to fresh trim. Though Johnson openly preferred white cars, the Secret Service insisted on a black paint job. That car cost Ford Motor Company about $500,000 to make. The U.S. government leased it from them for $1 per year.
In addition to its 4,000 pounds of armor the model had a bubble top thicker than the protective cockpit on an F-16 fighter plane. Modern F-16 canopies are over 1/8 of an inch thick. Powering the state car was a 340-horsepower V8 engine. Despite its 11,000 pound weight, the car could go 100 mph on traditional tires and 50 mph on run-flats. That car served the Nixon, Ford, and Carter administrations and traveled to 32 countries before it was retired in the late 70s.
The 36th president was known to favor Ford products and didn't shy away from speeding down roads near his Texas Hill Country ranch about 50 miles outside of Austin.
President Richard Nixon (1969-1974)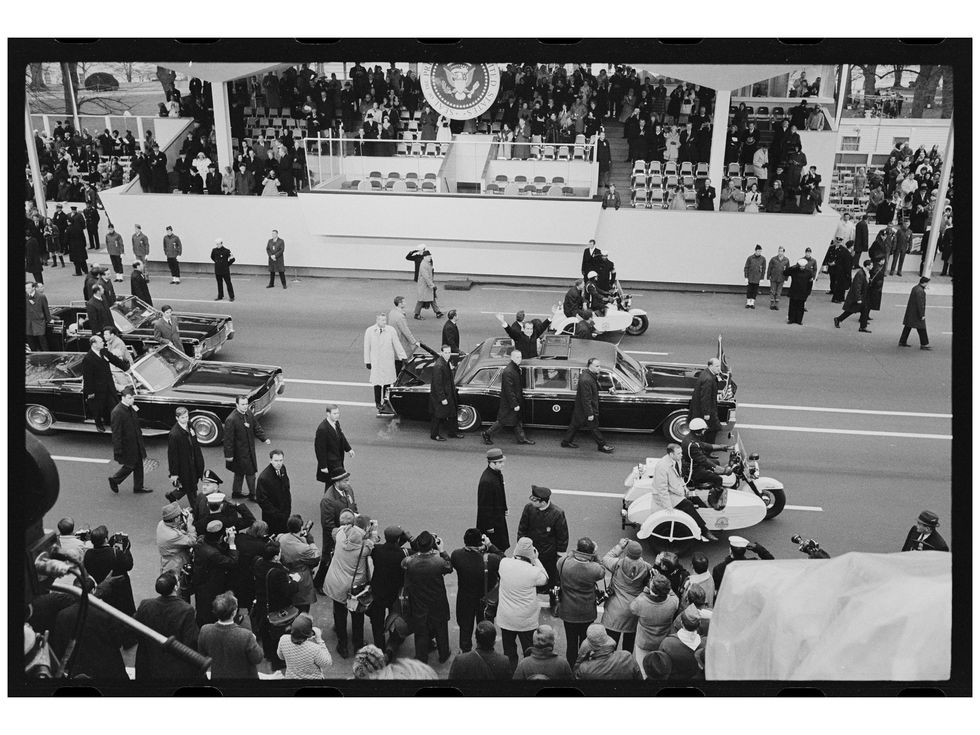 President Richard Nixon celebrates his inauguration with a parade down Pennsylvania Avenue in 1969.
Photo courtesy of the Library of Congress
President Richard Nixon traveled to his 1969 and 1973 inaugurations in a Lincoln. The 1967 limousine that was used by Nixon is owned by the Peterson Museum in Los Angeles but is on display at the Nixon Presidential Library and Museum via a loan.
Post-resignation, Nixon drove a modified Chrysler Imperial that retired Chrysler Chairman Lee Iacocca had to owned.
President Gerald Ford (1974-1977)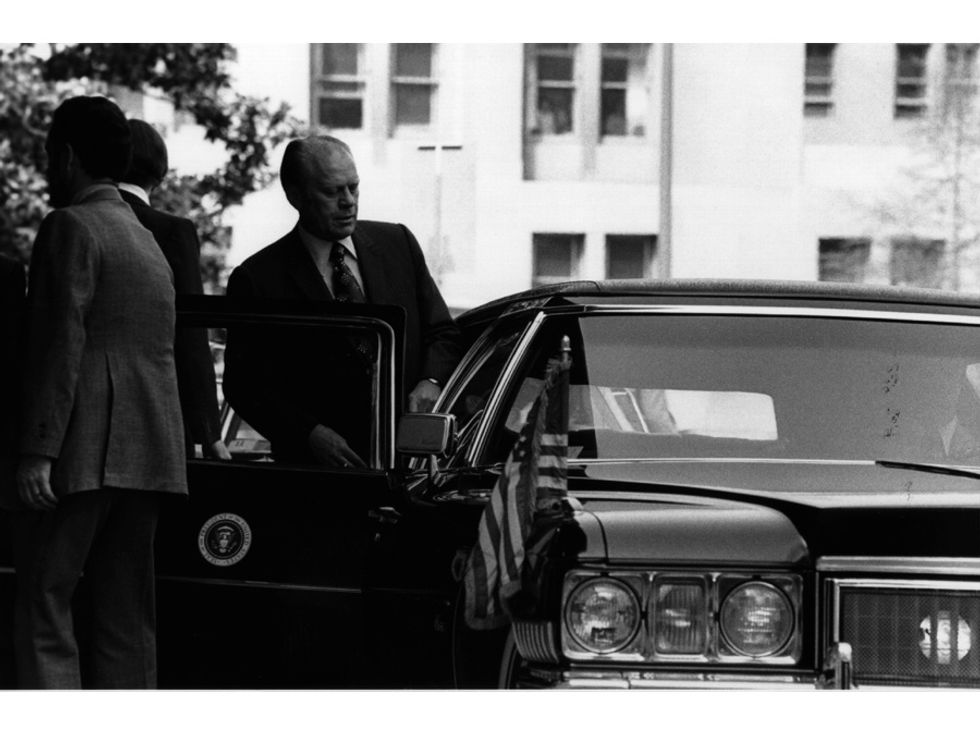 President Ford climbs into the state car in 1975.
Photo courtesy of the Gerald R. Ford Presidential Library & Museum
In 1974, the White House took delivery of a 13,000-pound, modified 1972 Lincoln Continental for use as the state car. The six-passenger model was leased from Ford at the rate of $5,000 per year. Under its hood was a 214-horsepower V8 engine.
The car had a number of high-tech upgrades for the time including external microphones that allowed cabin occupants to hear what was going on outside and low-tech options like racks where the Secret Service could store submachine Gunns.
Gerald Ford never had an inaugural parade, but he used the Nixon-era Lincoln for public appearances.
On September 22, 1975, Sara Jane Moore attempted to assassinate President Gerald R. Ford in San Francisco, California. A series of photos captured the crowd, Ford, Secret Service agents, and the President's limo in the aftermath.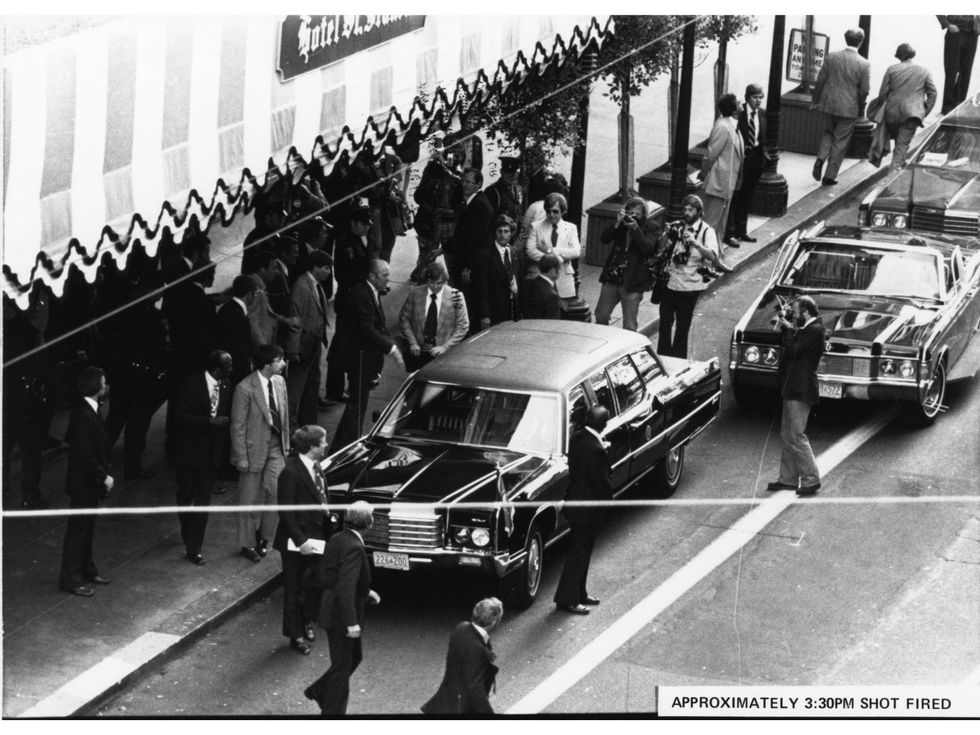 The photo captures the moment Sara Jane Moore fired the shot.
Photo courtesy of the Gerald R. Ford Presidential Library & Museum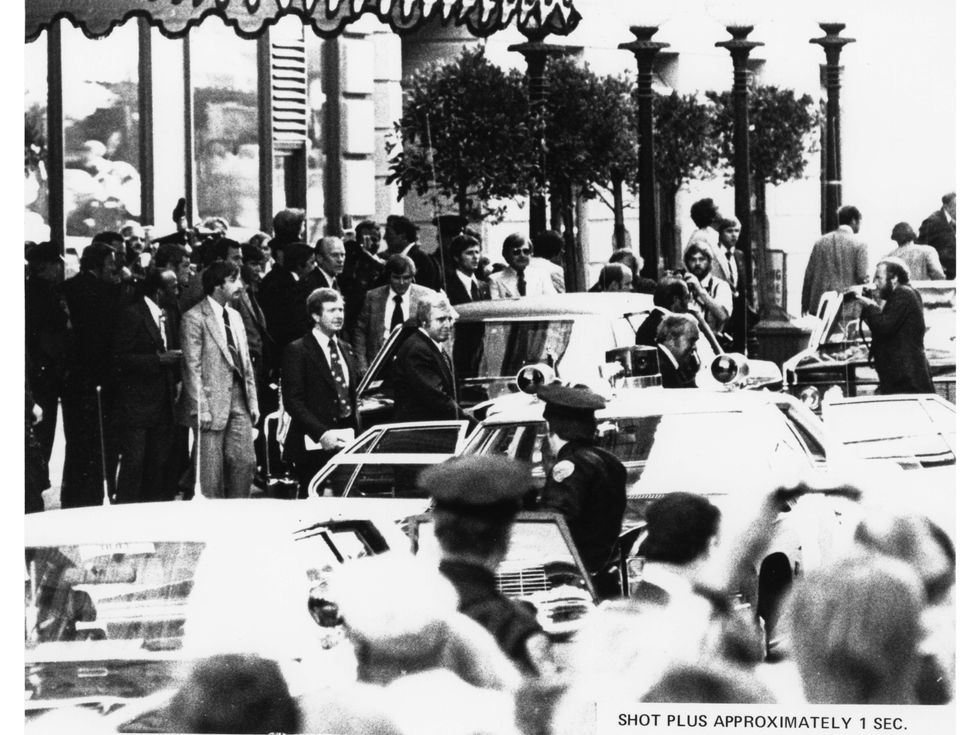 This is approximately one second after the shot was fired.
Photo courtesy of the Gerald R. Ford Presidential Library & Museum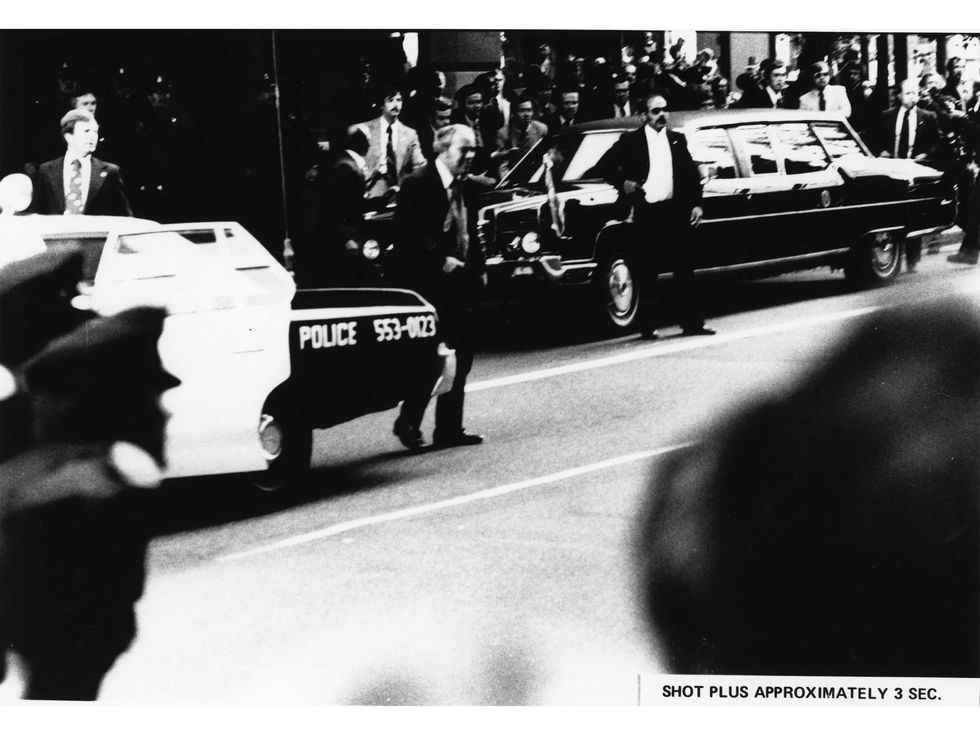 This photo captures the scene three seconds after the shot was fired.
Photo courtesy of the Gerald R. Ford Presidential Library & Museum
President Jimmy Carter (1977-1981)
President Carter was the recipient of the leftover vehicles from the previous administrations. He was taken to his inauguration in Kennedy's 1950 Lincoln and used it frequently during appearances. Unlike most other presidents, Carter opted to walk back to the White House from the Capitol following the inauguration ceremony.
President Ronald Reagan (1981-1989)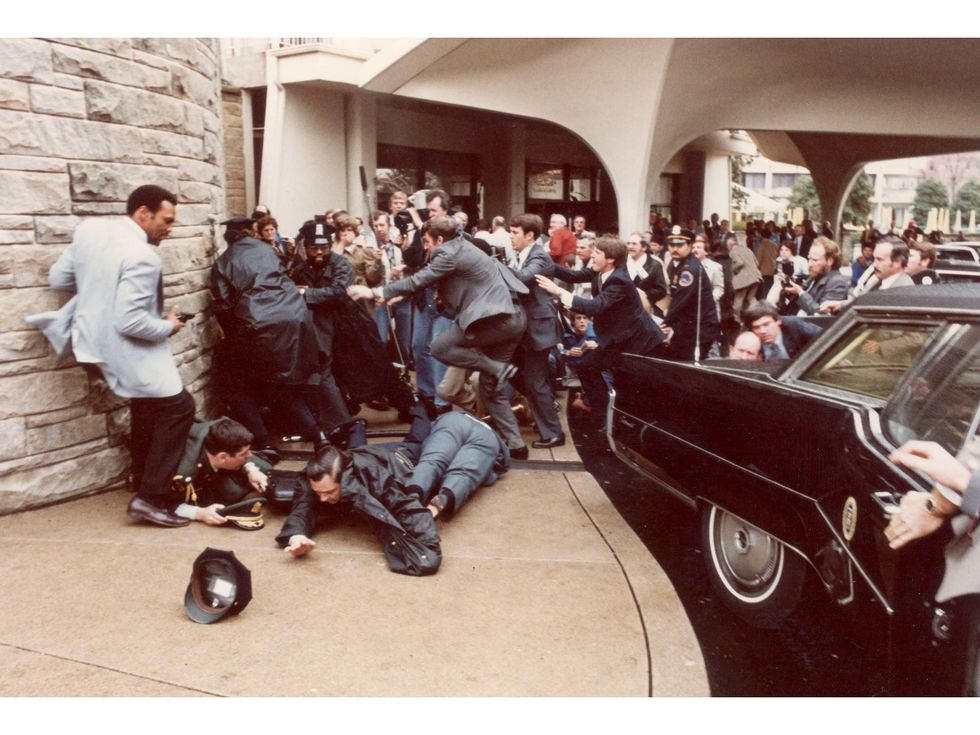 Police and Secret Service agents diving to protect President Ronald Reagan amid a panicked crowd during an assassination attempt.
Photo by Getty Images
Ford's long run supplying presidential limousines ended when President Ronald Reagan, a known fans of General Motors, got into office. For his inauguration he chose to ride in a 1980 Cadillac limousine. Later, he used a 1984 Cadillac limousine as his chosen state car.
Due to the armored doors allegedly sagging on the Cadillac, Reagan sometimes had to be driven in the Lincoln that was still on hand from previous administrations.
On March 30, 1981, John Hiknley Jr. shot President Reagan as he walked out of the Washington Hilton Hotel and toward his awaiting Lincoln limousine. Reagan was rushed to George Washington Hospital in the car where he lingered near death for several hours before recovering.
In addition to Reagan, three others were shot by Hinkley, White House Press Secretary James Brady, Secret Service agent Tim McCarthy, and police officer Thomas Delahanty.
President George H.W. Bush (1989-1993)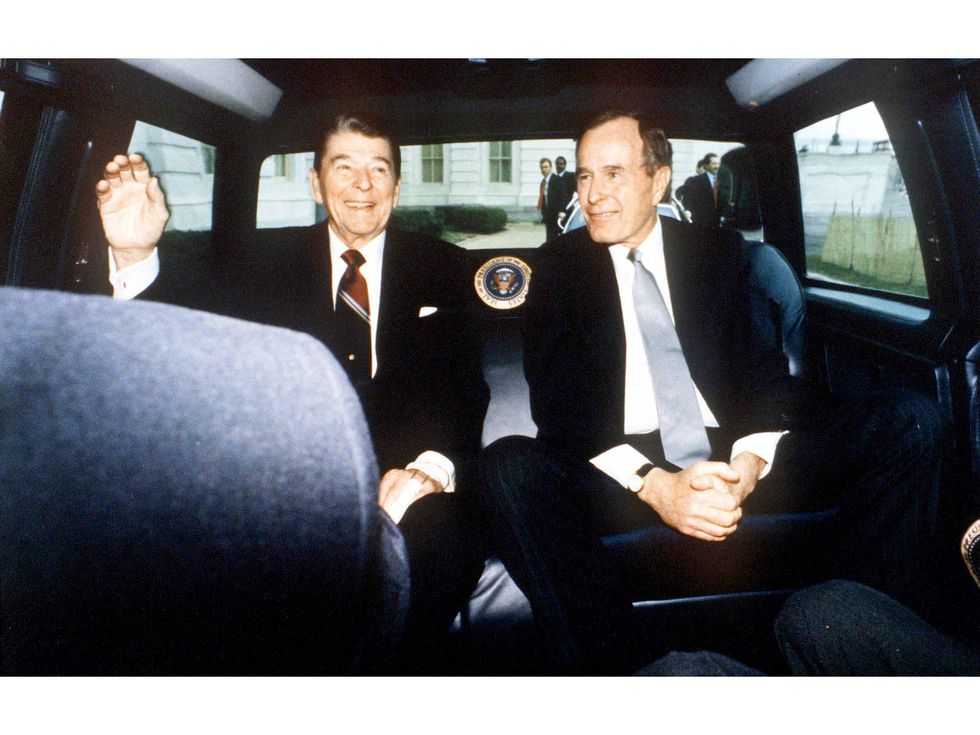 President Ronald Reagan and Vice President George Bush on Reagan's last day as president.
Photo by Getty Images
In January 1989, the White House took delivery of a new presidential method of conveyance, a Lincoln Town Car. The Lincoln took three years to build and cost around $600,000.
Measuring 263.7 inches long, the model that chauffeured President Bush around was 44 inches longer than the mass production model. It wheelbase was extended 44.7 inches but the width was kept identical.
Its 7.5-liter engine powered the car and it had a similar foam-lined fuel tank as previous presidential limousines.
The car had significantly upgraded technology from the previous state car including a multifunction message center control module, relay controls and separate fusing for added electrical circuits, a twin two-way communication system, and a public address system.
After Bush left office, he tooled around in his 1987 Ford Bronco and a pickup truck, among other vehicles.
President Bill Clinton (1993-2001)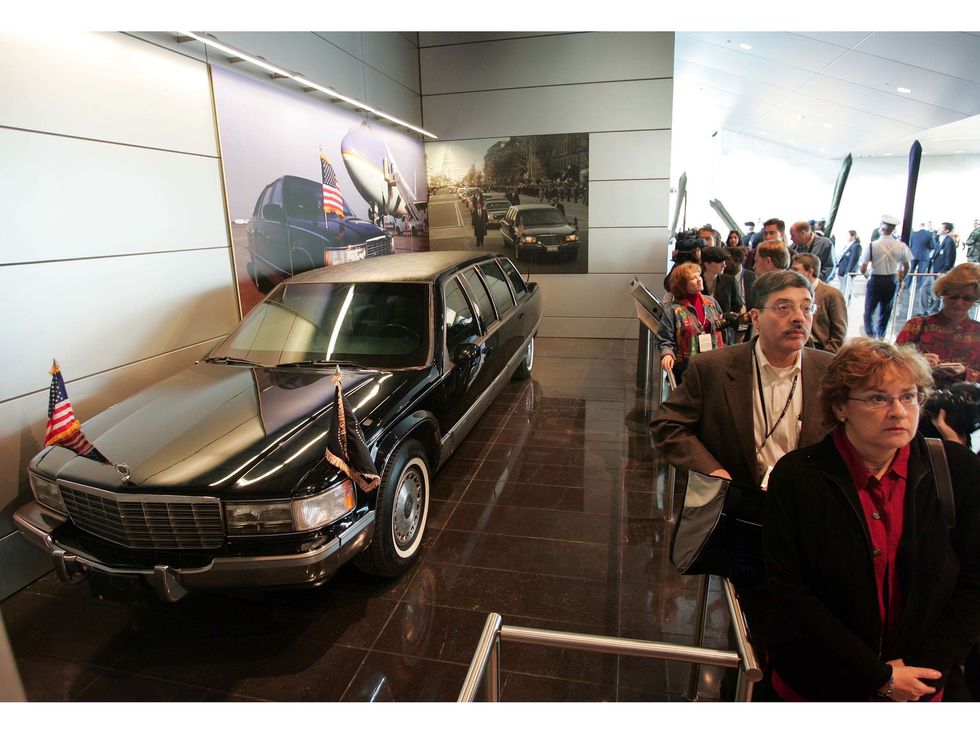 Reporters and photographers pass a Presidential limousine during a tour of the William J. Clinton Presidential Library.
Photo by Getty Images
In 1993, the 1989 Lincoln Town Car that Bush used was replaced by a 1993 Fleetwood Brougham. The Caddy was the first purpose-built state car. Up until this point, all other cars used by the President had been modified from mass market cars. Today, the car resides at the Clinton Presidential Library
President George W. Bush (2001-2009)
President George W. Bush rode in a completely redesigned Cadillac Deville during his tenure. The car was built on a Chevrolet Suburban platform and featured five-inch thick armored doors, bullet-resistance glass so thick that it blocked out parts of the light spectrum, and other components that the Secret Service was keen to keep hush-hush. On the list of rumored components were a sealed passenger component with its own air supply, and run-flat tires.
Confirmed parts of the car included a 10-disc CD changer, foldaway desk, and reclining rear seats with massage functionality and adaptive cushions.
It is estimated that the car weighted 14,000 pounds, making it the first presidential car to earn the nickname, "The Beast".
In 2005 the White House took delivery of a second limousine, a 2005 Cadillac DTS. This model received the nickname "Cadillac One".
Embarrassingly, on a 2007 trip to Rome, the car stalled for five minutes on a street. It was eventually restarted and replaced by a backup model.
When it was logistically sound practice, President Bush would often use motor pool cars or military assets instead of the presidential limousine when present as his destination.
President Barack Obama (2009-2017)
The 2009 iteration of the presidential limousine was designed for use by President Barack Obama. The model, also called "Cadillac One", has many security features that still remain classified. A few things are known for sure like the fact that the car's ultra-thick doors cannot be opened from the outside and that only the driver's window opens.
Rumors persist that the car is equipped to fire grenades, operate in a blacked out stealth mode, and sustain an explosion.
This Cadillac ran into some trouble while President Obama was visiting Ireland in 2011. The car got stuck on a ramp at the U.S. Embassy in Dublin. Luckily, it was a spare used to transport agents, but it was nonetheless an embarrassing moment for all parties.
President Donald J. Trump (2017- present)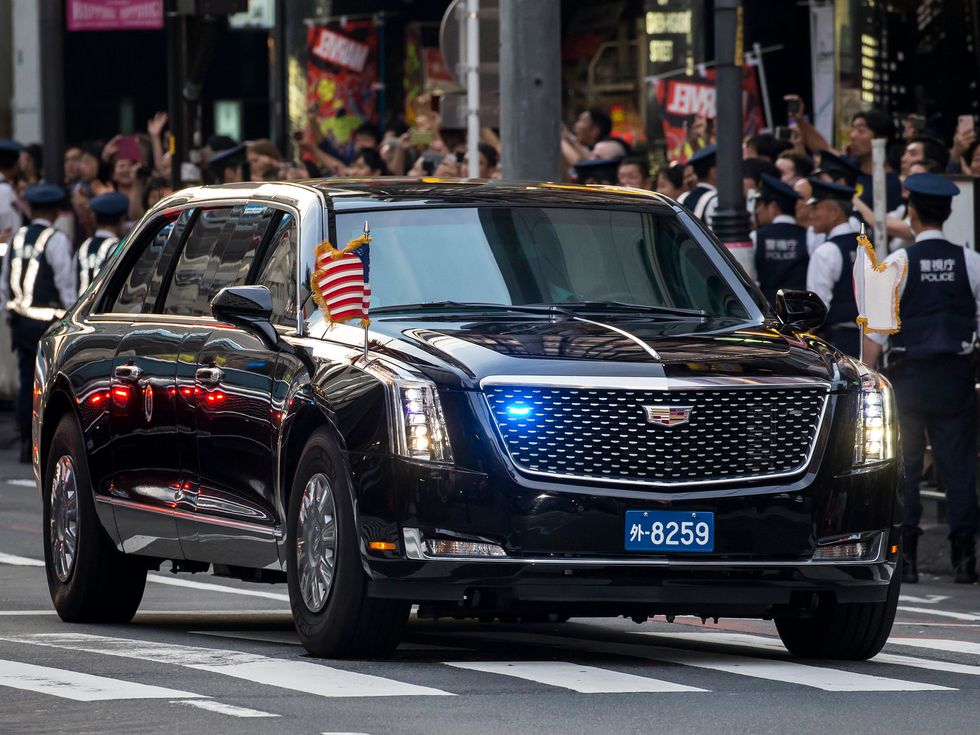 U.S. President Trump Makes State Visit To Japan
President Trump is driven around in a new version of The Beast that went into operation in 2019. We cover the new Beast pretty extensively here.
Want to see the presidential limousines? The Henry Ford Museum in Dearborn, Michigan has an extensive collection including the Kennedy assassination car, Eisenhower's Bubbletop, and FDR's Sunshine Special. There's also a pair of Chrysler limousines from the 1940s and 50s that were kept in New York City for presidential parade use and Theodore Roosevelt's horse-drawn carriage.