Convertible Toyota GR Supra, TRD Sport Trailer among freshly-debuted SEMA builds
Dec 22, 2020, 5:59 pm
Photo courtesy of Toyota Motor Sales U.S.A. Inc.
Earlier this year, Toyota revealed some unique builds around the time of year when SEMA would traditionally be held. The company is now revealing a second set of builds designed around on- and off-road performance.
"Our wave one reveals whet Toyota fans' appetite with four creations – a bold, hand-painted GR Supra, two GR Supra drift cars, and an outrageous overlanding-ready Tacoma pickup," said Ed Laukes, group vice president – Toyota Division Marketing. "But we saved the best for last, and today we're proud to show off our latest creations, the 2021 GR Supra Sport Top and the TRD-Sport Trailer, among some additional content as well."
Highlights from Toyota's second wave of SEMA360 Showcase creations include:
2021 GR Supra Sport Top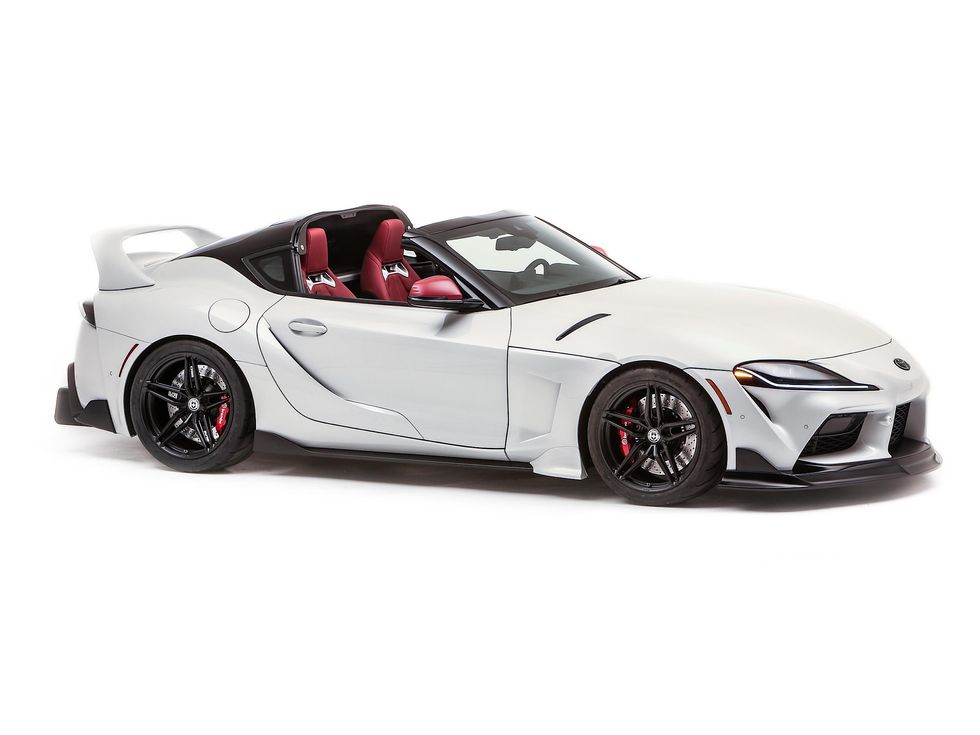 Photo courtesy of Toyota Motor Sales U.S.A. Inc.
The new 2021 GR Supra Sport Top concept is a fresh take on the 2020 GR Supra Heritage Edition (see the 2020 version below) that debuted at Toyota's 2019 SEMA Show display, which included nine unique models. It has custom visual and performance upgrades that pay homage to the MKIV Supra from the late 90s.
This new model is a convertible that features much of the a reinforced frame, which allows two composite roof panels to be removed then stored in the car's trunk leaving no structural support in the cabin. Toyota's upmarket arm, Lexus, recently achieved similar with the 2021 LC 500 Convertible.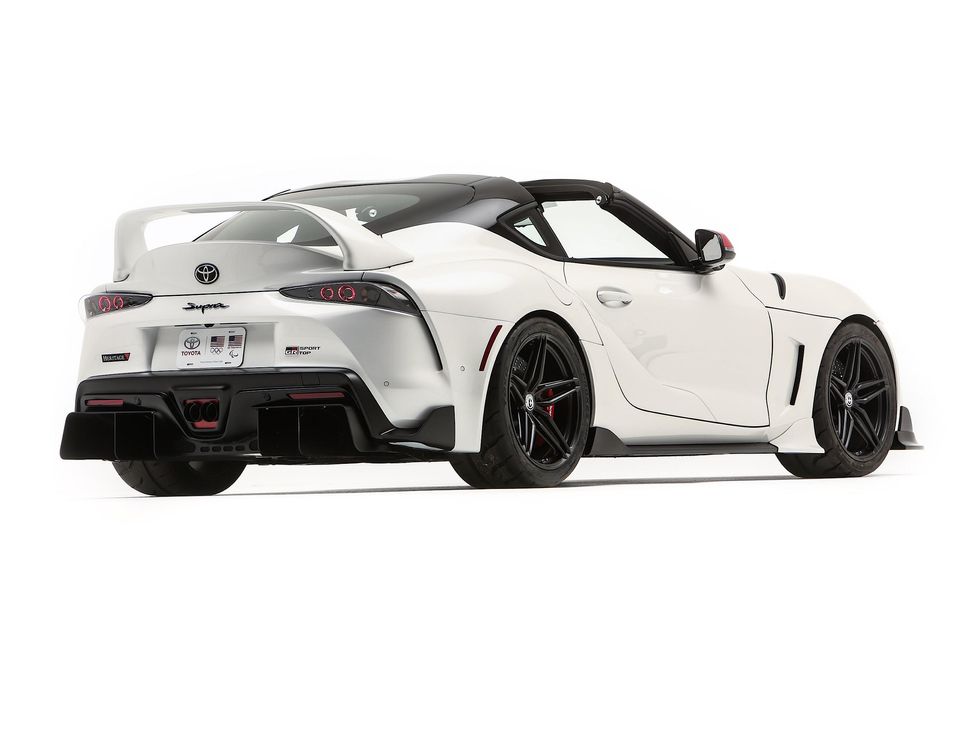 Photo courtesy of Toyota Motor Sales U.S.A. Inc.
Brand enthusiasts will note the car's MKIV-inspired basket handle wing and round taillights, which accent the modern profile of the car's piano black finished canopy.
Further, the white-painted car has black gloss wheels, darkened headlight and taillight housings, red mirror caps, and a black splitter.
2020 Toyota GR Supra Heritage Edition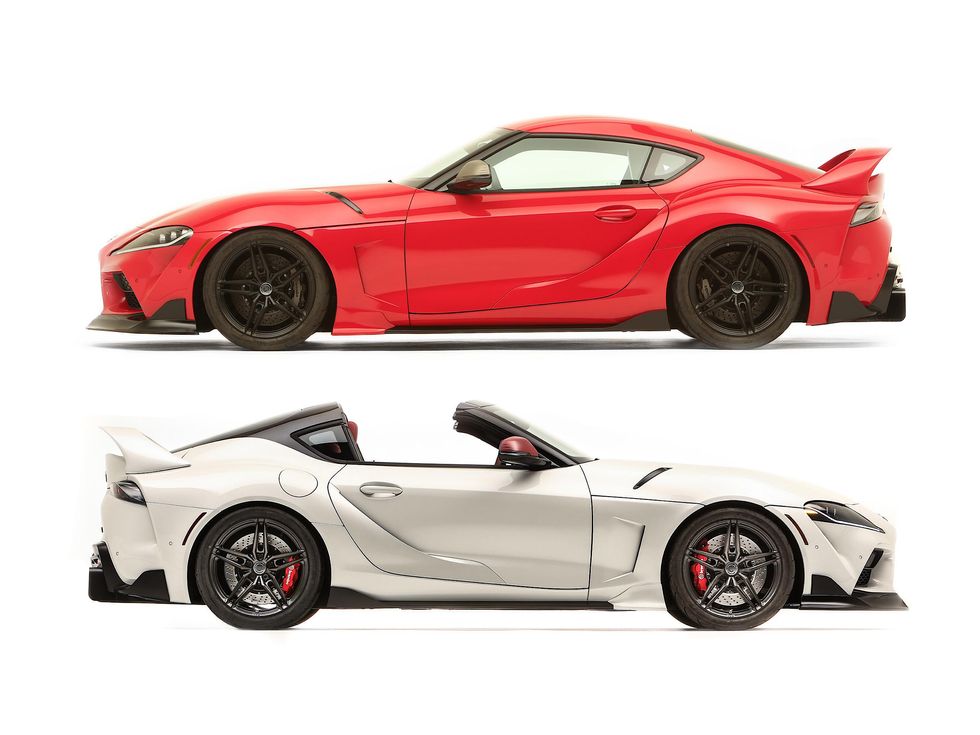 Photo courtesy of Toyota Motor Sales U.S.A. Inc.
The 2020 version of this car picks up where the 2019 left off. It still makes over 500 horsepower, and now its appearance has been kicked up a notch, with design inspiration coming from its topless fraternal twin, the 2020 GR Supra Sport Top.
The 2020 GR Supra Heritage Edition is a one-off that is painted in Re-entry Red, has custom headlights, taillights, and a MKIV-style rear wing.
Toyota has paired the car's 500+ horsepower with bigger brakes as well as a tuned engine, turbocharger, and ECU. It has gotten a new front and rear suspension, adding to its performance capability.
Toyota TRD Sport Trailer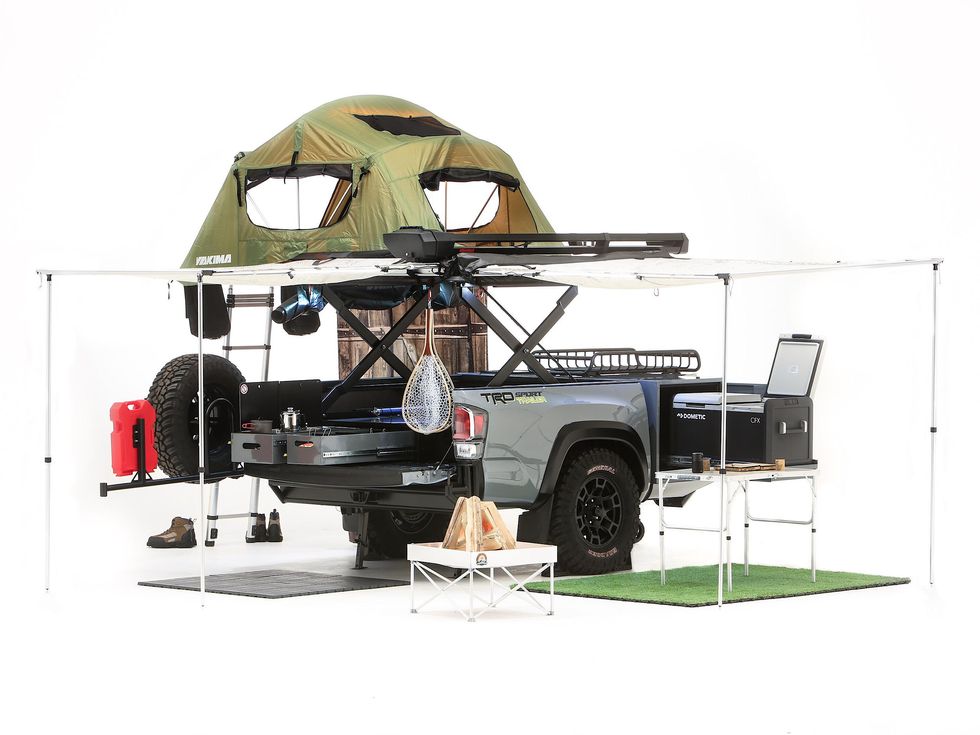 Photo courtesy of Toyota Motor Sales U.S.A. Inc.
Your truck might be getting two beds soon. Inspired by the adventurers at overlanding expeditions across the U.S., Toyota has turned a Tacoma midsize pickup truck bed into a fully working trailer concept.
Designed to be a basecamp, the TRD Sport Trailer is able to be pulled by Toyota trucks and SUVs. It features a remote-operated scissor-lift that raises a platform several feet out of the bed. There's a Yakima four-person tent with an awning and fly fishing-pole holders, a custom-built toilet and trash can, a refrigerator, a hot water heater, fresh and gray water holding tanks, a slide-out sink and stove, and efficient campsite lighting.