Rolls-Royce takes inspiration from world's fastest bird for new bespoke design
Nov 27, 2019, 10:06 am
Photo courtesy of Rolls-Royce Motor Cars
A new bespoke Rolls-Royce Wraith is inspired by the fastest bird in the world, the Peregrine Falcon. The creation of Rolls-Royce Bespoke Collective, the vehicle features a number of design nods to the bird and unique detailing that cannot be found on any other vehicle in the world.

The Wraith is a two-door hardtop coupe that was first introduced in 2013. This model features a Bala Blue and Andalusian White exterior with an Arctic White coachline that was painted by hand using a fine squirrel hair paintbrush. A wing motif features on the coachline.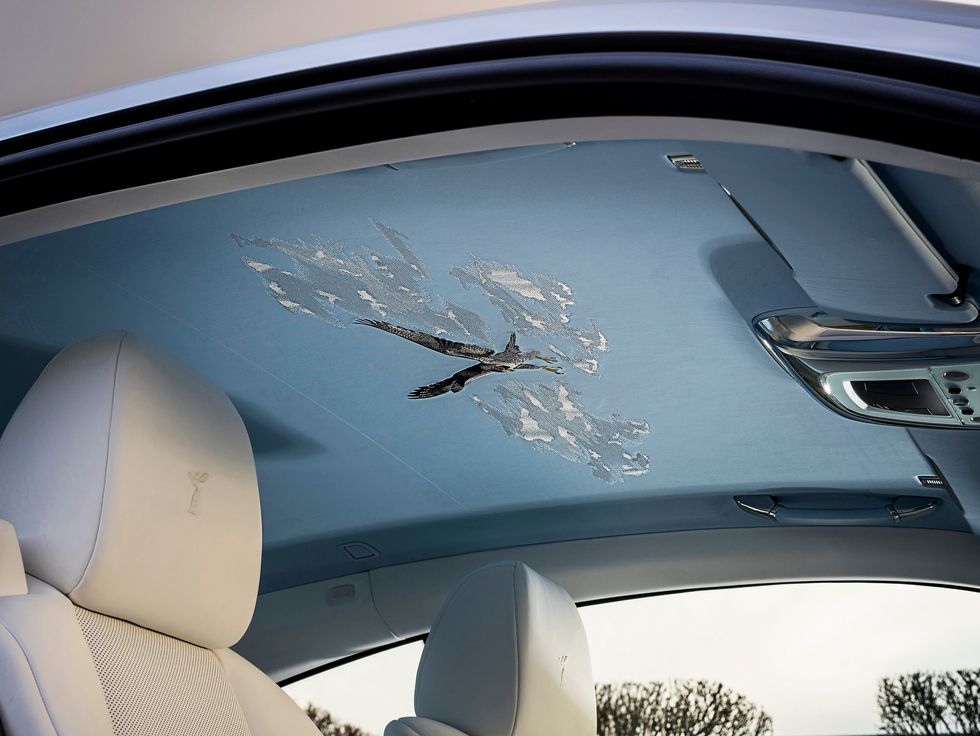 The falcon was made to look realistic rather than like a cartoon or imagined drawing.Photo courtesy of Rolls-Royce Motor Cars
Nearly 250,000 stitches make up the photo-realistic embroidered bird on the Wraith's headliner. It took the Rolls-Royce Bespoke Design Team, craftspeople, and engineers over one month to develop.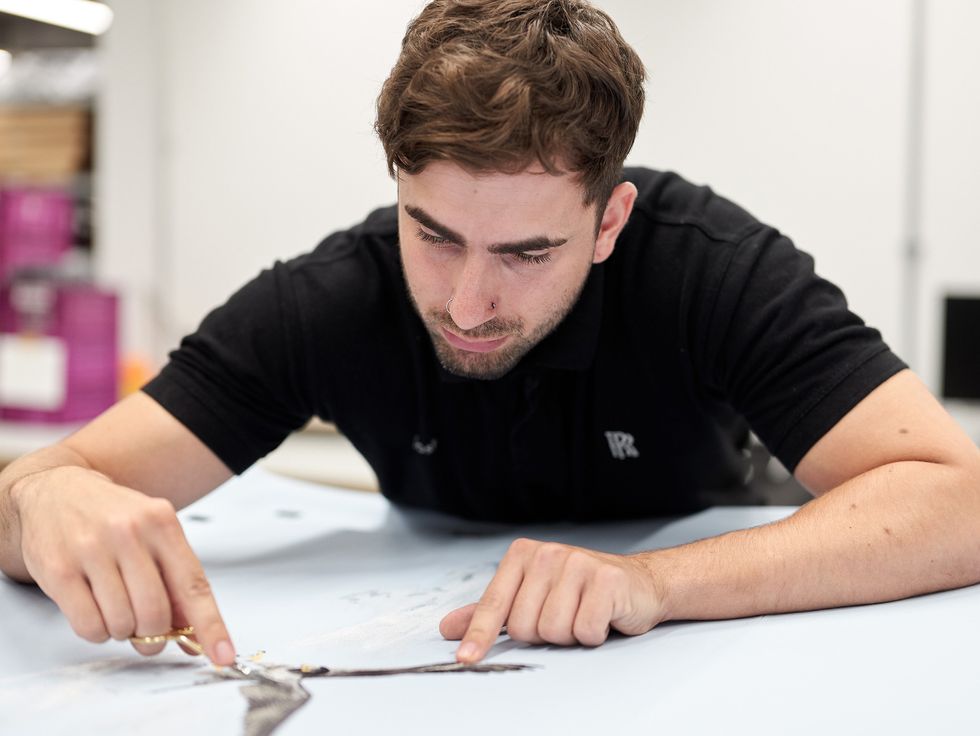 Josh Liles, Rolls-Royce Motor Cars Bespoke Embroidery Specialist is highly skilled at interpreting clients' wishes and translating them into embroidery.Photo courtesy of Rolls-Royce Motor Cars
"The design required hours of observation of a Peregrine Falcon – we needed to understand the musculature, the movement, the shading of the feathers," said Josh Liles, Bespoke Engineering Specialist, Rolls-Royce Motor Cars. "We wanted the bird to adopt an alert and predatory stance. We created multiple iterations of the embroidery – the direction, length and spacing of the stitch can have a great impact on the final image. We purposefully shaped the beak and angled the eye to create a sense of aggression."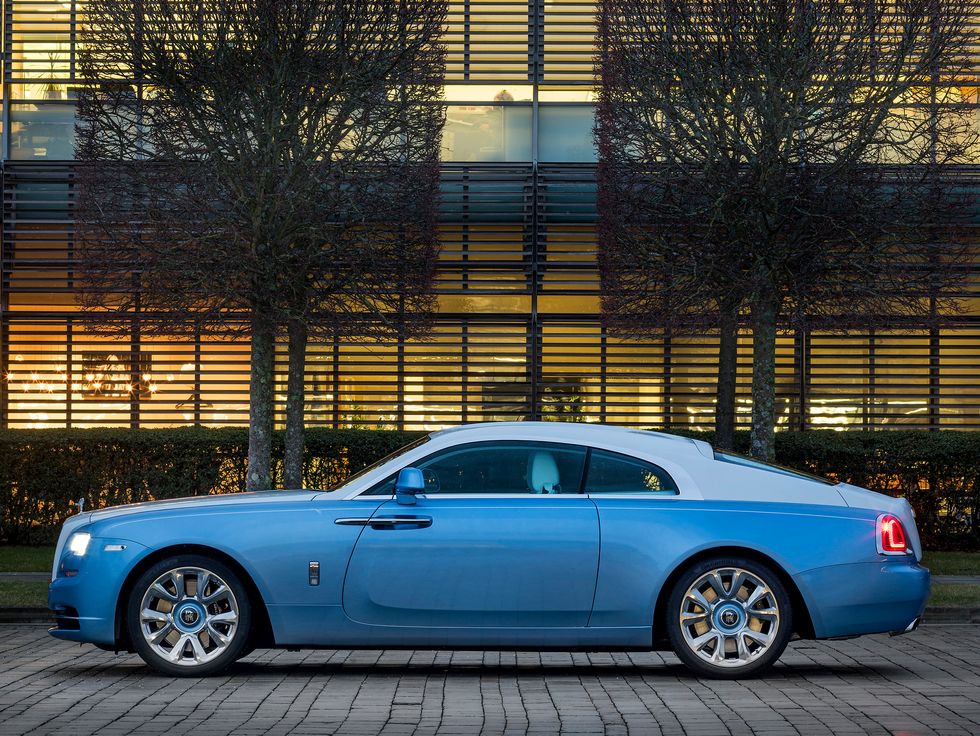 The car features a two-tone paint job and a custom coachline.Photo courtesy of Rolls-Royce Motor Cars
He continued, "The Falcon embroidery became a labour of love. Technically, it is exceptionally difficult to embroider this density of stitches onto leather. Embroidery puts stress and tension on leather causing a physical wave in the material, which naturally, is unacceptable in a Rolls-Royce."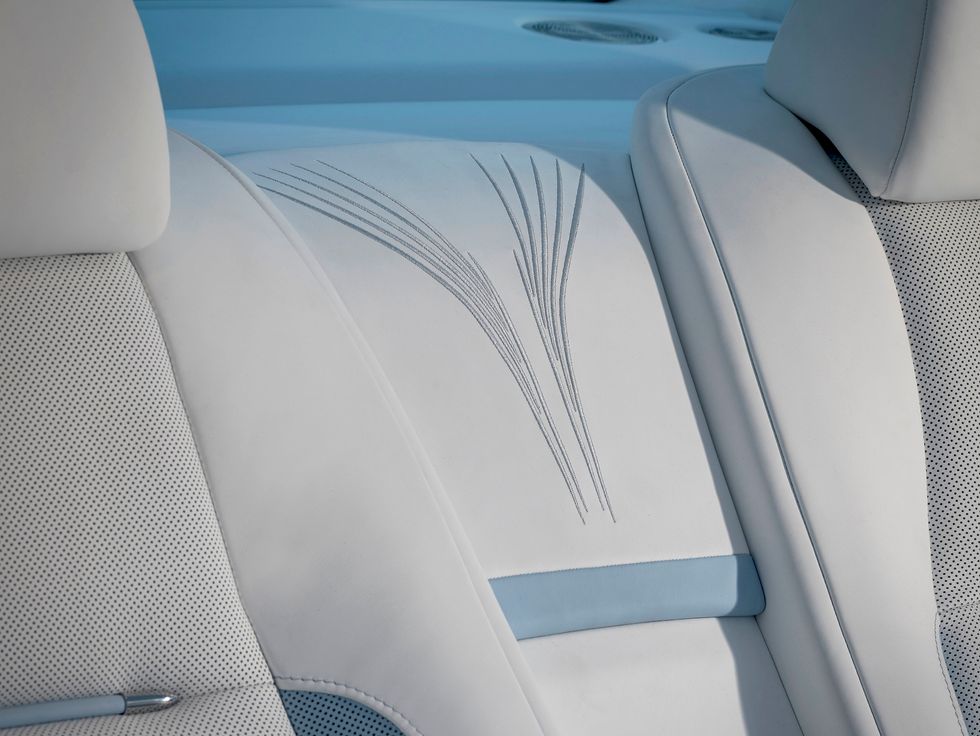 The falcon theme carries over to the interior.Photo courtesy of Rolls-Royce Motor Cars
Specialized embroidery can also be found between the rear seats. A Bespoke Rolls-Royce clock in Baby Blue, with guilloché inspired detailing features on the inside.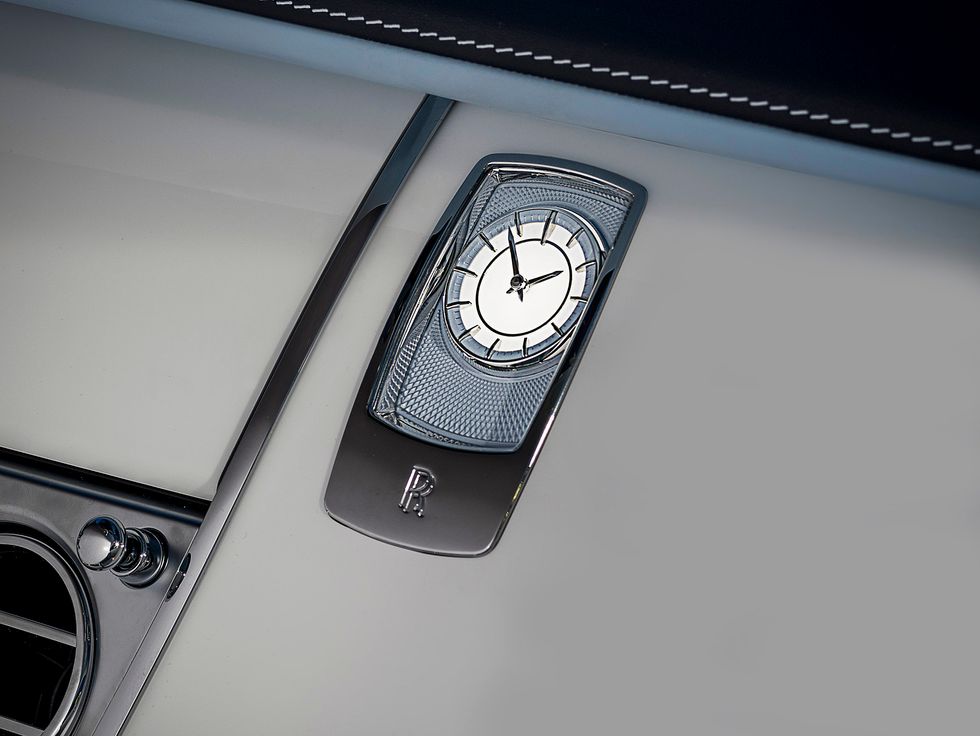 Blue accents dominate the interior alongside traditional leathers and wood appointments.Photo courtesy of Rolls-Royce Motor Cars
The car's connection to sky and flight continues throughout the vehicle with blue and wing accents alongside the typical Rolls-Royce finery. The Charles Blue leather on the interior accents the exterior paint job.
The Rolls-Royce Wraith starts at $320,500 but bespoke models sell for tens of thousands of dollars more.