Metallica, Radiohead help Rolls-Royce take bespoke to new decibel levels
Oct 30, 2019, 12:22 pm
Photo courtesy of Rolls-Royce Motor Cars
Rolls-Royce cars are the epitome of bespoke luxury automobiles. They can be completely custom crated or, for the more pedestrian buyer, they can simply be customized.
Before buyers place hands on the their new Rolls-Royce Phantom, the company has already tailored its audio system to create an encompassing audio experience for driver and passengers.
Unlike premium automakers who tout available systems from JBL, Bose, Harman Kardon, and B&O, Rolls-Royce prefers not to name its sound system suppliers, letting the system's engineering speak for itself.
It all starts with the car's frame. The Architecture of Luxury is made of aluminum, which was selected, in part, because it has a higher acoustic impedance than steel. This reduces the amount of noise that is passed on to the cabin. Engineers also gave the model a double-skinned bulkhead and floor sections to help keep road and tire noise permeation at bay.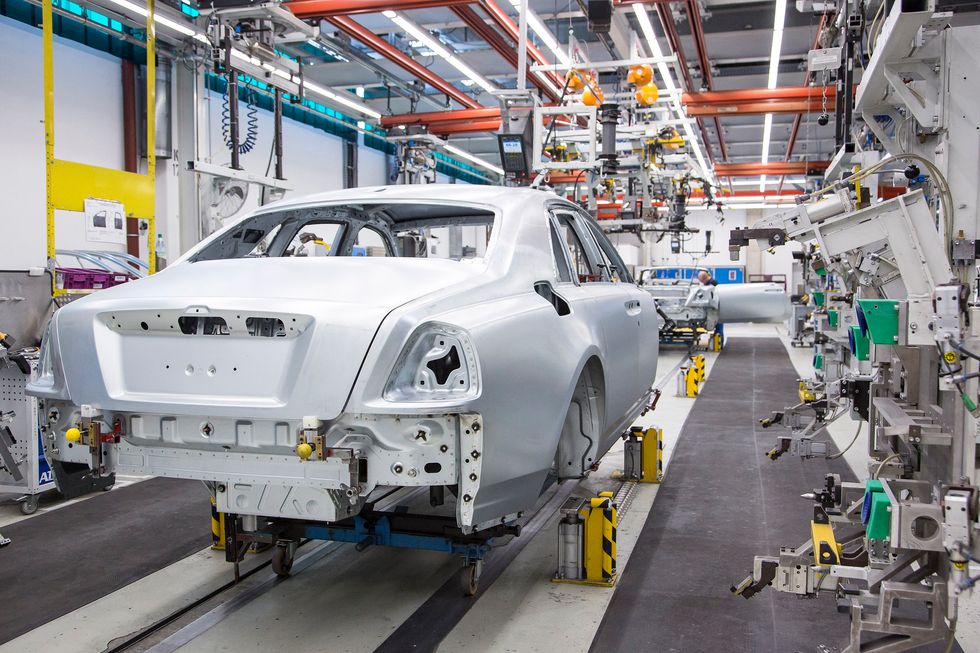 The Phantom is crafted at the company's Goodwood manufacturing facility in England.Photo courtesy of Rolls-Royce Motor Cars
Designers took note of the car's bass speaker size and let it define a resonance chamber in the car's sill section resulting in the car's materials working to turn the entire Phantom into, basically, a subwoofer.
The windows of the Phantom feature 6mm of double-pane acoustically dampened glass. It also has 130 kg of sound insulation throughout the car with a special focus on the headliner, designed to minimize reverberation.
Engineers even went so far as to work with their tire partner to invent "Silent-Seal" tires, which feature a layer of foam inside the rubber that reduces tire noise by 9 decibels compared to a standard tire.
Rolls-Royce audio experts drove thousands of miles in the Phantom before releasing it for public consumption. To determine the parameters in which to tune the system. Here's what they listened to:
Wish You Were Here – Pink Floyd, Wish You Were Here [1975]
From Here to Eternity – Giorgio Moroder, From Here to Eternity [1977]
Across the Lines – Tracy Chapman, self-titled [1988]
Sad But True – Metallica, self-titled [1991]
Bembe / Abakwa – Terry Bozzio, Solo Drum Music II [1992]
Klangfarben Melodie – Terry Bozzio, Solo Drum Music II [1992]
Know Your Enemy – Rage Against the Machine, self-titled [1992]
Fistful of Steel – Rage Against the Machine, self-titled [1992]
Passion - Gat Décor (Naked Edit) [1992]
Where Did You Sleep Last Night? – Nirvana, MTV Unplugged in New York (Live) [1993]
Stimela (The Coal Train) – Hugh Masekela, Hope (Live) [1994]
Hotel California – The Eagles, Hell Freezes Over (Live) [1994]
Paranoid Android – Radiohead, OK Computer [1997]
Lyric Lickin – Del The Funky Homosapien, Future Development [1997]
Insomnia – Faithless, Insomnia [1995]
Raining in Baltimore – Counting Crows, Across a Wire: Live in New York City (Live) [1998]
Safe in New York City – AC/DC, Stiff Upper Lip [Deluxe Edition] [2000]
Scrappy – Wookie, Wookie (Deluxe Edition) [2000]
Marionette – Matthew Jonson [2004]
Intro – Nemesea, Pure: Live @ P3 (Remixed & Remastered) [2012]
Bass Solo – Nemesea, Pure: Live @ P3 (Remixed & Remastered) [2012]
Drum Solo – Nemesea, Pure: Live @ P3 (Remixed & Remastered) [2012]
The Rolls-Royce Phantom is handcrafted upon order in England and on sale now.
From Your Site Articles
Related Articles Around the Web