Houston dealership earns prestigious Rolls-Royce honor
Apr 21, 2021, 6:38 pm
Photo courtesy of Rolls-Royce Motor Cars Houston
Rolls-Royce boutiques have been thriving even as the world went into lockdown due to the COVID-19 pandemic. Its award ceremony at the virtual Rolls-Royce World Dealer Conference featured a number of North American dealerships, including one from Texas.
"Our dealer partners are the foundation of our extended worldwide Rolls-Royce family," said Torsten Müller-Ötvös, Chief Executive Officer, Rolls-Royce Motor Cars. "They are the face, voice and living proof of our brand and its promises to our customers. These global awards recognise and celebrate their outstanding achievements, and inspire greatness in all of us. I extend my congratulations to all the winners, and my personal thanks to every individual in our dealer network around the world."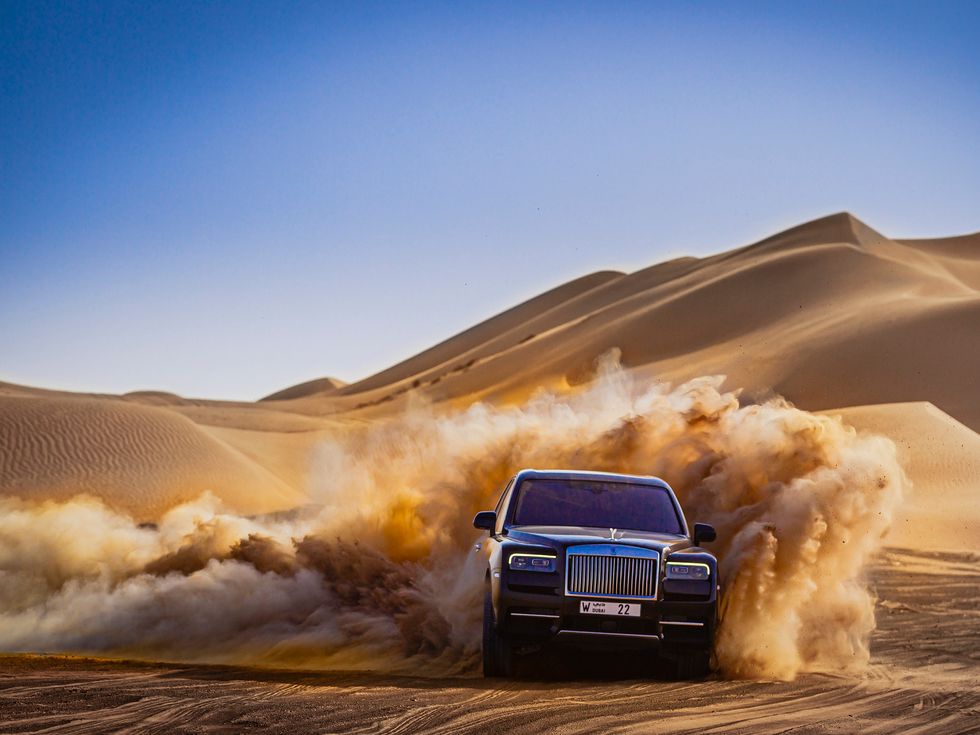 A Rolls-Royce Cullinan took on desert terrain in the United Arab Emirates in October. Photo courtesy of Rolls-Royce Motor Cars
Rolls-Royce dealerships in Munich, Germany; Abu Dhabi, United Arab Emirates, Tokyo, Japan; Houston, Texas; and Shanghai Pudong, China received Regional Dealer of the Year awards. Rolls-Royce Motor Cars Houston is part of the larger Post Oak Motor Cars boutique. Post Oak Motor Cars is owned by businessman Tilman Fertitta, CEO of Fertitta Entertainment. It is the Gulf Coast's largest authorized Rolls-Royce dealership.
In 2018, Post Oak Motors began accepting bitcoin cryptocurrency as payment for vehicle purchases. This month, the company announced that it would begin allowing payments made in dogecoin.
Other Rolls-Royce award winners include:
Global Sales Dealer of the Year: Rolls-Royce Motor Cars Shanghai Puxi (China)
Global Most Improved Dealer of the Year: Rolls-Royce Motor Cars Saint Petersburg (Russia)
Global Ownership Services Dealer of the Year: Rolls-Royce Motor Cars Seattle (United States)
Global Provenance Dealer of the Year: Rolls-Royce Motor Cars Beverly Hills (United States)
Global Bespoke Dealer of the Year: Rolls-Royce Motor Cars Sunningdale (United Kingdom)
Global CRM Excellence Award: Rolls-Royce Motor Cars Fort Lauderdale (United States)
Social Media Excellence: Rolls-Royce Motor Cars Doha (Qatar), Rolls-Royce Motor Cars Busan (South Korea), Rolls-Royce Motor Cars Hangzhou (China)