These all-electric pickup trucks are coming to a parking lot near you starting this year
Mar 18, 2021, 2:39 pm
Pickup trucks are more popular than they've ever been. They're also more capable, comfortable, and expensive. You can now walk out and buy a full-size hybrid pickup truck, trucks with massaging seats, and heavy-duty trucks that can tow heavier loads than most people will ever need.
Soon, though, we'll see something completely different. Electric pickup trucks are coming, but don't worry. The first crop of electric trucks will still be every bit as capable as your old gas or diesel truck – even more so in many cases.
There are plenty of reasons to be excited about electric pickups, but it can be hard to figure out which models will show up and when. EV pickups will start hitting driveways across the country in 2021, and the market will expand quickly from there, as large automakers jump into the electric truck game with both feet.
Why will electric pickup trucks be great?
Torque, Instant Torque
You may have seen ads for diesel trucks with torque numbers in excess of the 1,000 pound-feet mark. That's because torque is a major player in how well a truck can tow a trailer or haul a heavy load. Gas engines produce peak torque somewhere deep into their RPM range, which means peak pulling power doesn't show up for a while after the pedal is pressed. Electric vehicles are famously known for their immediate torque, which means that it's all available to the driver from a dead stop. Electric motors produce their peak torque at zero RPM, which means that EVs are better "off the line" than vehicles with traditional internal combustion engines.
Quiet Ride
Some people love the roar of a diesel at full chat, but many are put off by excess noise, especially when it's not their truck making it. Electric vehicles, even trucks pulling heavy loads, don't make anywhere near as much noise. There may be a whine from the motors and there will always be tire, wind, and road sound, but an electric truck will never have the groan of a diesel under stress.
Extra Storage
Because there's no engine under the hood, EV owners get the benefit of a "frunk," or front trunk. With electric trucks, this is on top of the utility that the bed brings, and offers a more secure and dry location to store sensitive items that aren't well-suited to being hauled in the open-air bed.
Who's making an electric pickup truck?
What the electric truck market will look like by the end of 2021 is still very much anyone's guess thanks to the pandemic, though we can say with certainty that the year is shaping up to be a big one for EVs in general.
Several companies have shown off prototypes and raised big bucks on their way to building an electric truck, but to date none have actually delivered. That's not a knock against any of them, but it's important to note that startups have a much more difficult road ahead of them than legacy automakers do. Engineering, safety, and design costs are astronomical, and that's before any vehicles actually roll off the assembly line.
Here's the models that have been promised.
Rivian R1T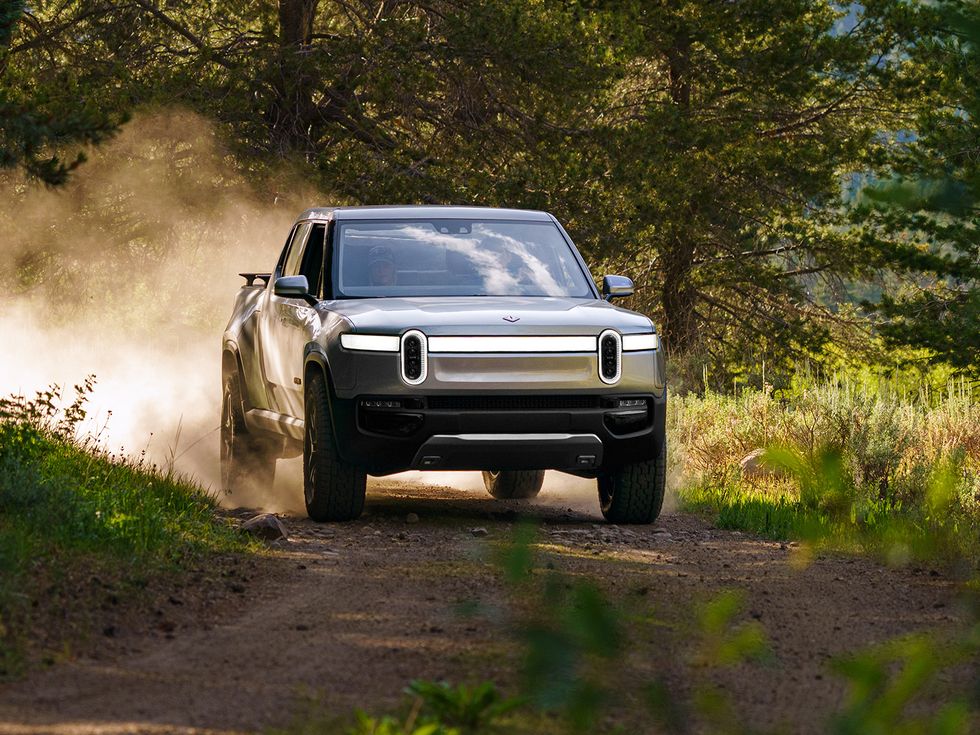 Photo courtesy of Rivian
Rivian's on track to build a couple of vehicles in the coming year based on the same platform. One of those is the all-electric R1T pickup truck. The truck's starting price of $67,500 is in line with what many people already spend on pickups, and over 300 miles of range means that it'll keep on trucking for as long as a Tesla – or longer - as long as you're not towing.
The usual eye-popping EV specs are present here, too, though there's more in the way of truck capability. The R1T will get a quad-motor powertrain that Rivian says will push it to a three-second zero to 60 mph time. It's also expected to deliver a towing capacity of up to 11,000 pounds, have a water wading depth of over three feet, and wear specially made tires. That's on top of the fact that it is capable of a tank turn and just looks cool.
Lordstown Endurance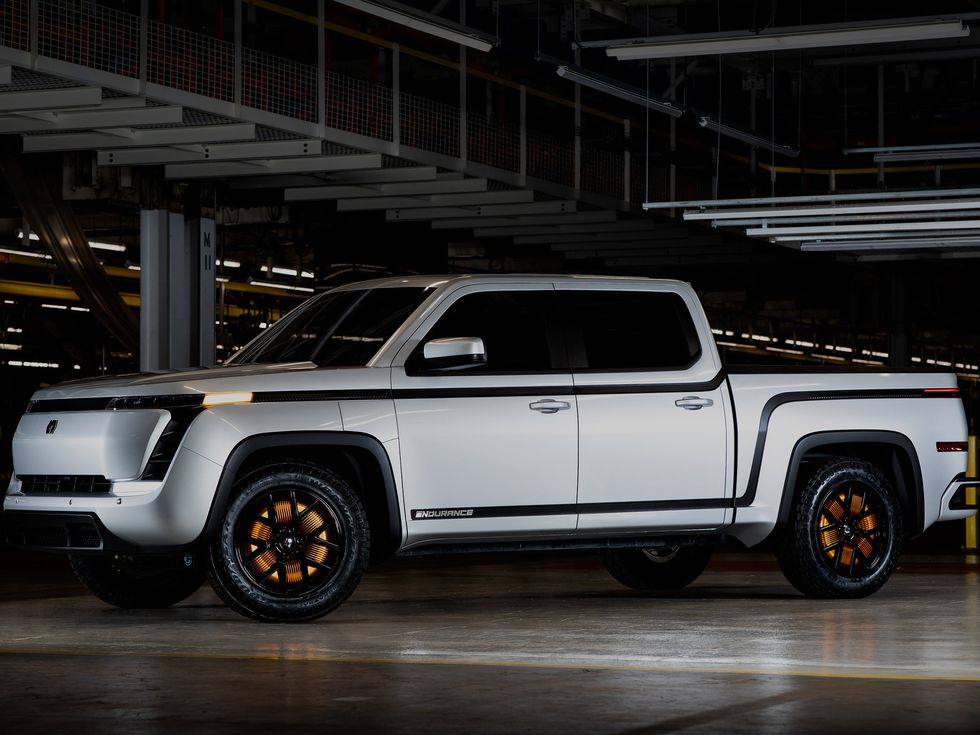 Photo courtesy of Lordstown Motors
Lordstown is a unique company, in that its trucks are being designed primarily to compete in the commercial and fleet space, which means that we'll likely see a ton of them being made but few will make their way into the hands of everyday buyers. It's also got a different idea of how EV propulsion should work, opting for in-wheel motors instead of the typical setup with motors placed on or near the axles. The company says it expects to begin production of the Lordstown Endurance in late 2021, and has announced partnerships with high numbers of reservations flowing in.
Tesla Cybertruck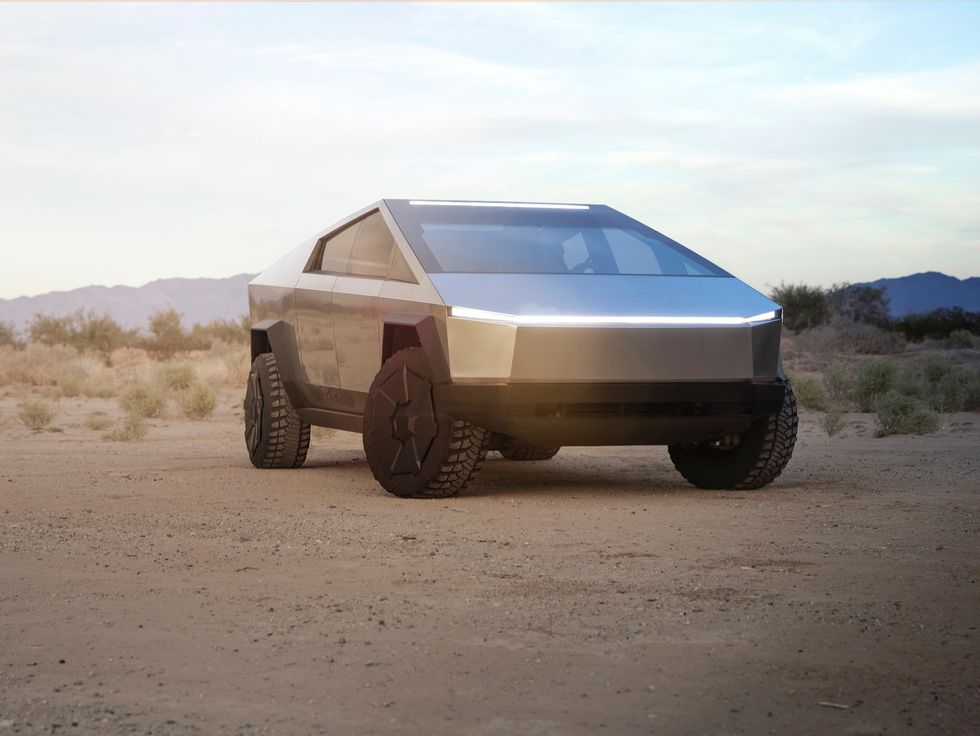 Photo courtesy of Tesla
The house that Elon built is responsible for kicking off the EV craze with its Roadster over a decade ago, but the vehicle that has made the most noise in recent times is the Cybertruck. The super-funky electric pickup sports sharp lines and harsh angles that look like they'd be much more at home in a "Bladerunner" movie than in anyone's driveway.
The Cybertruck will allegedly deliver towing of up to 14,000 pounds in the most capable configurations, and up to 7,500 pounds as standard. If the actual production trucks get anywhere near those numbers, it will be impressive, but it's hard to know where the final vehicle will end up given homologation requirements.
GMC Hummer EV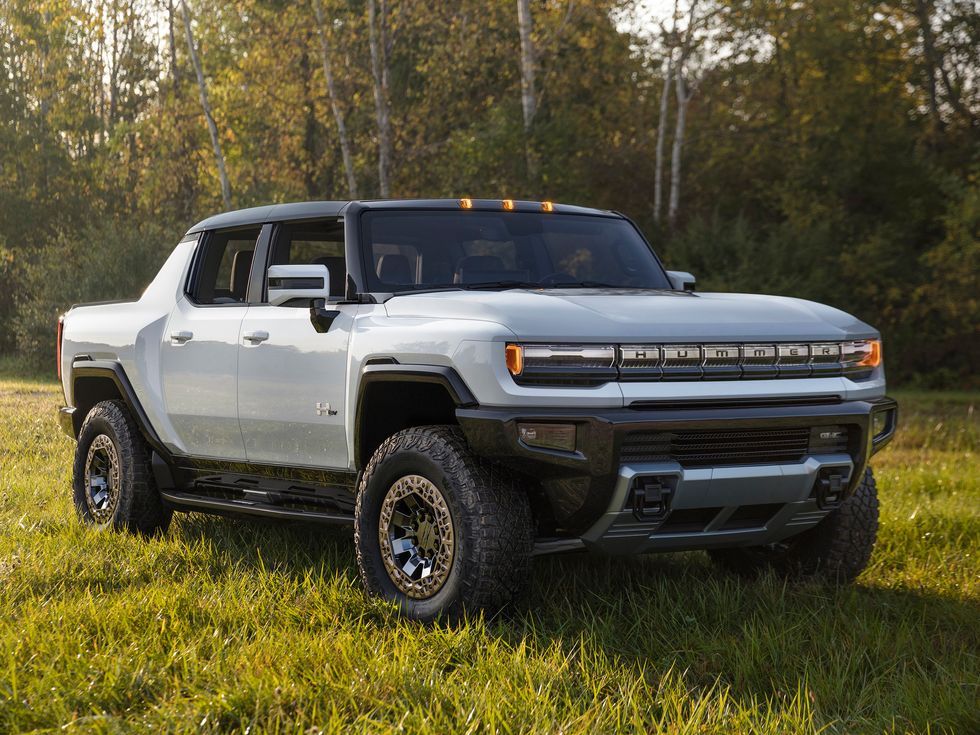 Photo courtesy of GMC
This isn't the big, gas-guzzling Hummer we last saw in the mid-2000s, this is an advanced, tech-forward off-road monster. Oh, and let's not sidestep the fact that the Hummer's return will be under the GMC banner, not the nameplate it wore in its prior decades of service. The Hummer electric pickup will come sporting up to 1,000 horsepower and a range somewhere well north of 300 miles in its First Edition variant. You'll have to pay for those niceties, however, as the new Hummer's price tag will start at around $80,000 and head skyward from there.
Bollinger B2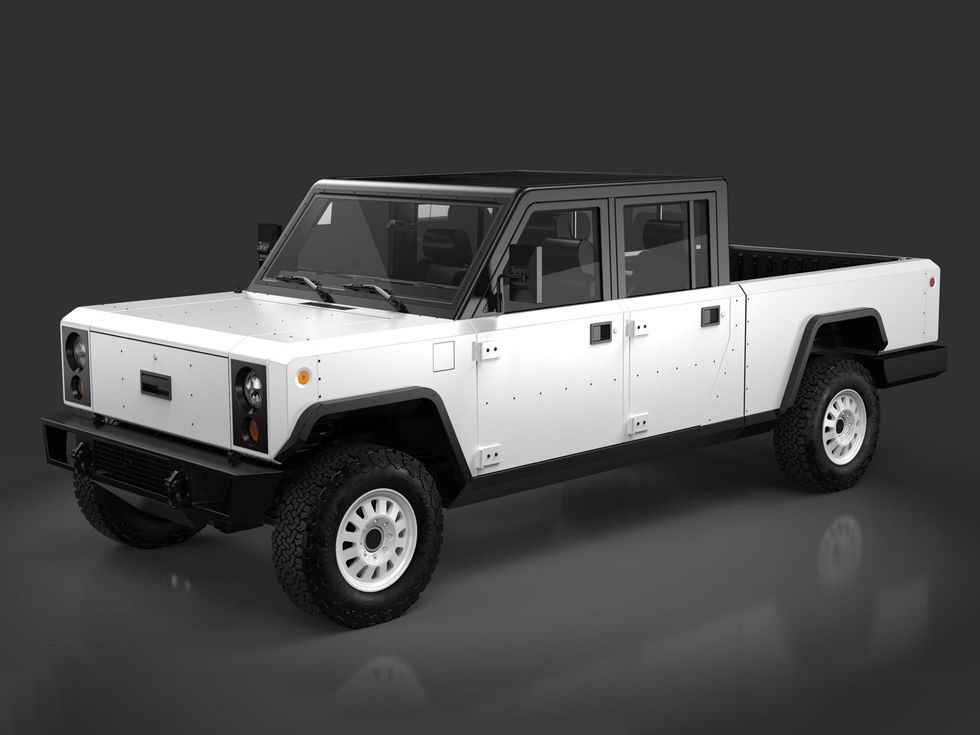 Photo courtesy of Bollinger
Bollinger's pickup looks almost as radical as the Tesla Cybertruck, but in a boxy, rough kind of way. The company announced its plans for both a pickup and SUV in 2019, but production of the vehicles isn't expected to begin until later in 2021. When we do see the Bollinger B2 pickup, it'll be a 600+ horsepower dual-motor workhorse. It will have a price tag of $125,000, but that number should include all of the tech and safety goodies the company offers.
Canoo pickup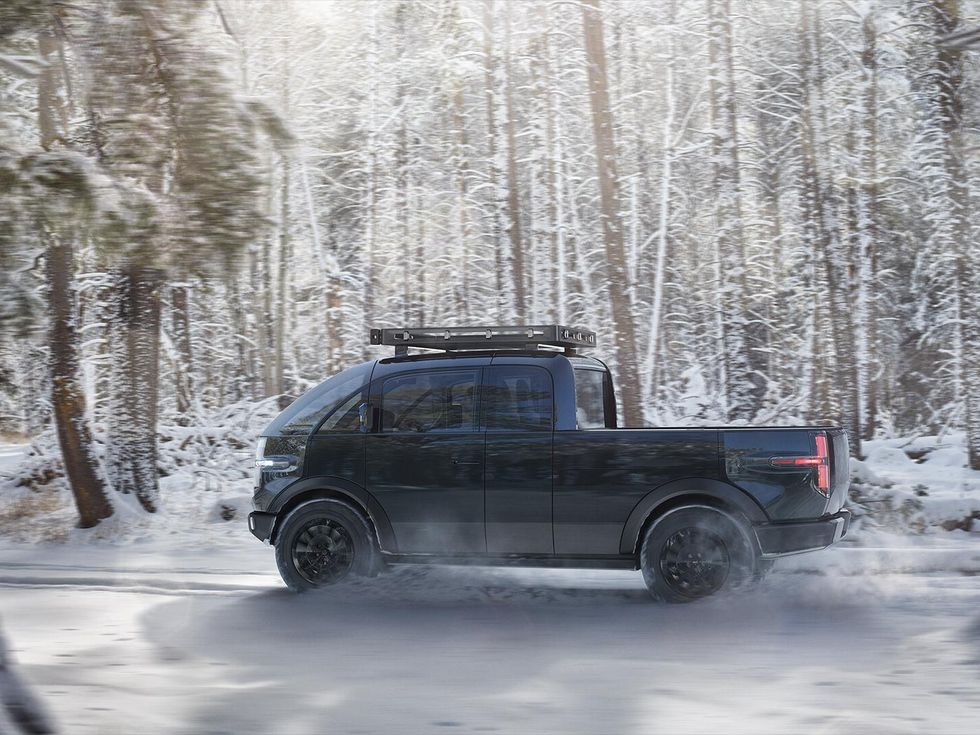 Photo courtesy of Canoo
Canoo has just released the first photos of its all-electric pickup truck. The quirky people and parcel mover is said to deliver up to 600 horsepower and 550 pound-feet of torque. It has a 1,800-pound payload capacity and offers 200+ miles of all-electric range.
The body of the truck is small in size but big on space Compared to the Ford Ranger, it's nearly a foot shorter in length and it has several external storage spaces and work tables.
Ford F-150 EV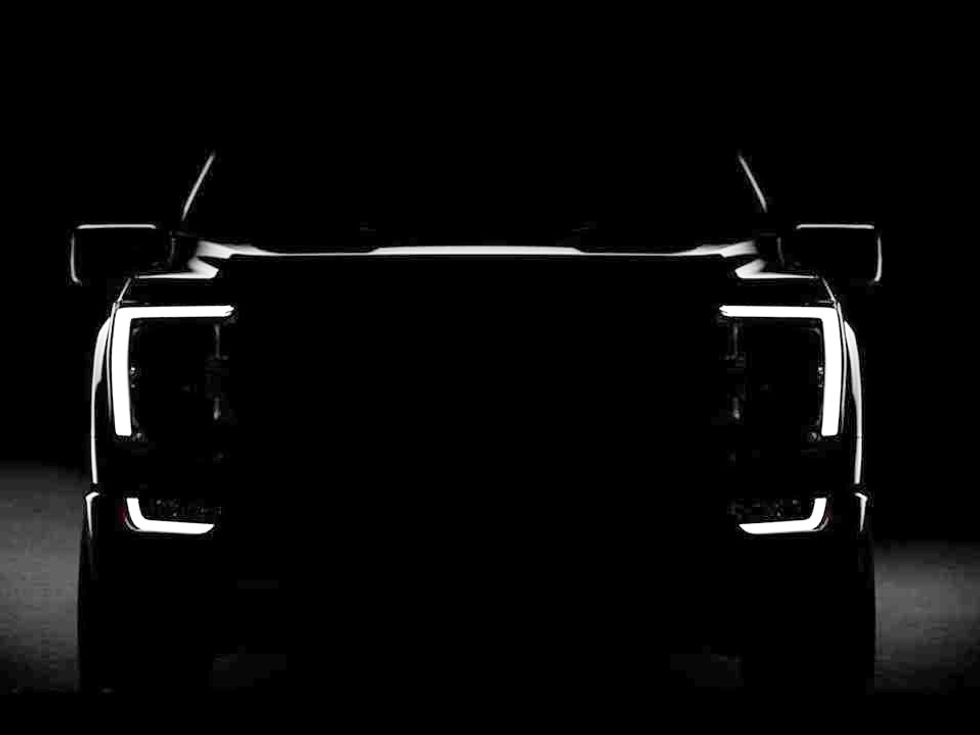 Photo courtesy of Ford Motor Company
Ford sells more pickup trucks than many other automakers' entire annual sales numbers, so it's no surprise it has announced plans to release an all-electric version of its massively popular F-Series trucks.
Details are scant so far, but we've seen a prototype towing big loads on film, and have seen The Blue Oval's EV-building prowess on display in the surprisingly excellent Mustang Mach-E. After the release of the redesigned 2021 F-150 with an available hybrid powertrain, we're excited to see what Ford has up its sleeve for the upcoming all-electric truck, which is expected to enter production in mid-2022.