2,500-km Rebelle Rally will be a proving ground for 6 fresh off-road vehicles
Oct 6, 2020, 8:24 pm
Photo courtesy of Nissan North America
As the 2020 Rebelle Rally prepares for its 5th annual running that begins this week, founder Emily Miller and her support staff of more than 70 couldn't be more thrilled. There are 36 teams registered to participate in the country's longest competitive off-road navigation rally that will take place over 10 days along nearly 2,500 kilometers of spectacular backcountry. The only all-female rally in the U.S. will travel along a mix of dirt roads, off-road trails, and on sand dunes from Nevada to southern California.

One of the most exciting elements to this year's event is the sextet of new vehicle entries that join the lineup from nine auto manufacturers. New are the all-electric Rivian R1T, 2020 Mitsubishi Outlander PHEV, 2021 Infiniti QX80, 2020 Nissan Frontier, 2021 Kia Telluride, and three 2021 Ford Bronco Sports.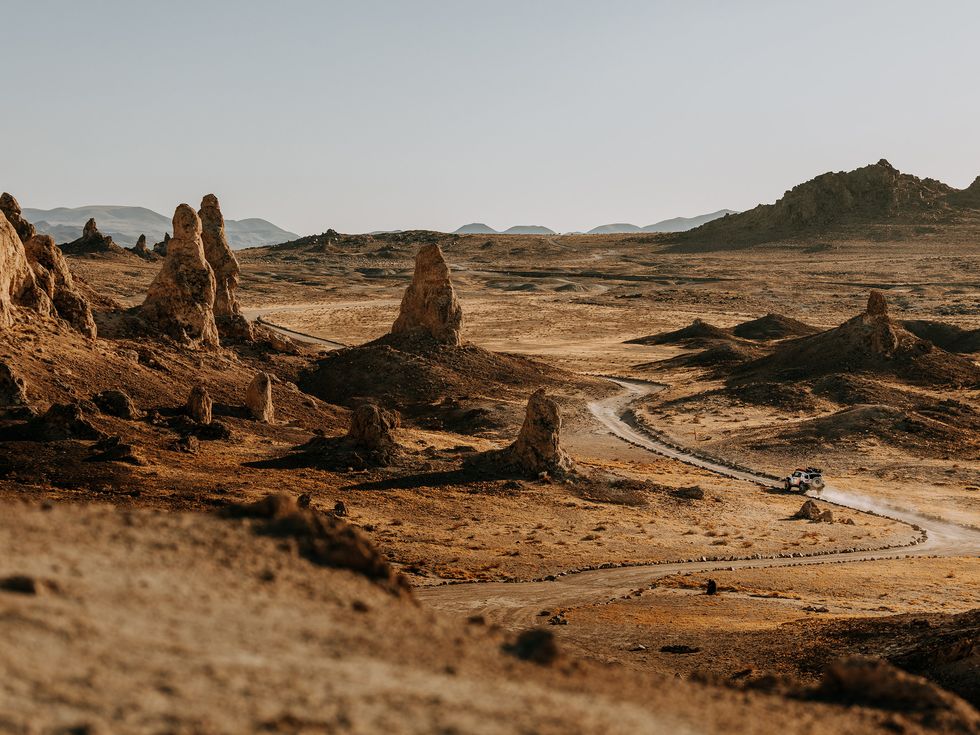 The vehicles that participate in the Rebelle Rally are required to traverse a wide variety of terrain.Photo courtesy of Rebelle Rally
There are two classes – 4×4 and Crossover—and, while it's no surprise that Jeep vehicles have been the top model represented since the rally's inception, a variety of different vehicles have been showcased at the rally, such as the Rolls Royce Cullinan, which took home a first-place finish in the Crossover class last year, with co-pilots Emme Hall and Rebecca Donaghe at the wheel.
"We are very grateful for such strong participation this year," enthused Miller, who has added an Electrified Designation "test program" to the rally. "The world has been anxiously awaiting an opportunity to see the new Bronco line-up in action, and we're excited to have three Bronco Sports showcasing their capabilities this year along with the five other new vehicles to the rally."
Click here to read more about the Rebelle Rally, including an insiders look at the schedule of the drivers and details of the competition.
Rivian R1T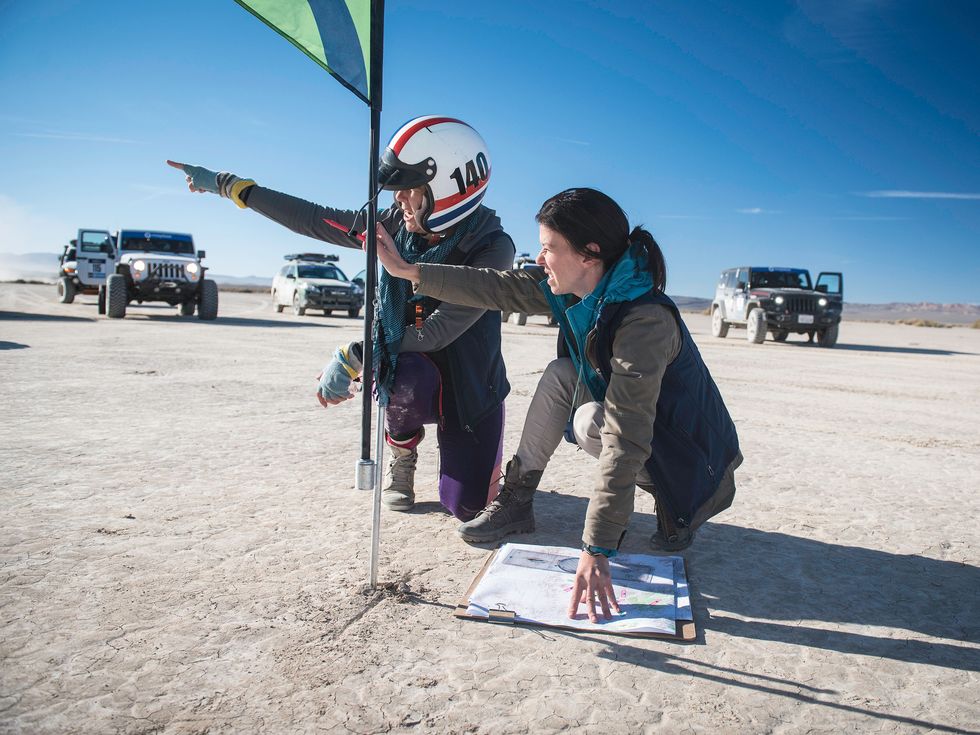 Photo courtesy of Rebelle Rally
Making its debut at the Rebelle, the all-electric Rivian R1T is entered in the 4×4 class and will be piloted by two-time Rebelle Rally champions Emme Hall and Rebecca Donaghe.
"Adventures like the Rebelle Rally are what Rivian vehicles are made for. It's meaningful to join as the rally's first all-electric vehicle," said Rivian Creative Director Larry Parker.
The Rivian R1T is an battery-powered electric truck that can get up to 300 miles of range and 750 horsepower from its four electric motors and 135 kilowatt-hour battery. It will be the first to roll off Rivian's Normal, Illinois, assembly line, with the serial No. 1.
The R1T will not be fitted with additional features or special equipment, according to Brian Gase, chief engineer of special projects at Rivian. Even the on-board air compressor is stock equipment.
Mitsubishi Outlander PHEV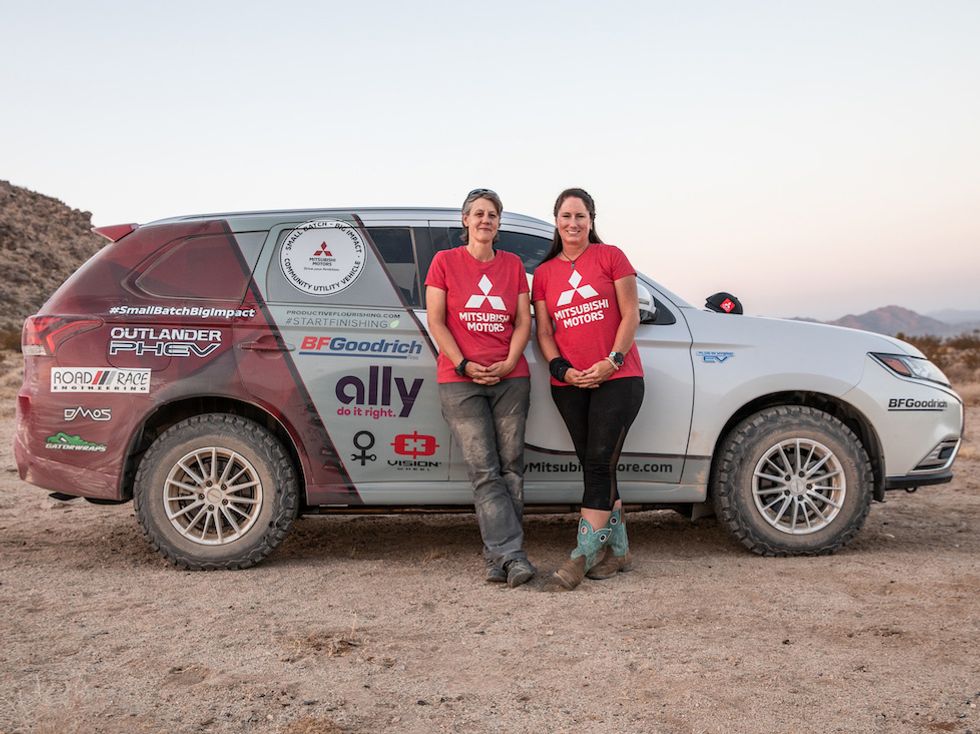 Photo courtesy of Rebelle Rally
Mitsubishi returns to the Rebelle for its second year fielding the 2020 Outlander PHEV in the Crossover class; it is the first hybrid electric vehicle to compete in the event.
"Rebelle Rally shows us what is possible when we have the courage and ambition to do more with the cars in our driveway, and we need that inspiration now more than ever," said Mitsubishi Motors North America Chief Operating Officer Mark Chaffin. "We are thrilled to continue our support for Team Record the Journey (RTJ) this year with the world's best-selling plug-in hybrid electric vehicle, the Mitsubishi Outlander PHEV, and to continue to prove our legacy of quality, dependability and reliability."
RTJ founder and team navigator Sergeant Major Rachael Ridenour, a 32-year U.S. Army combat veteran, will pair up with driver Master Sergeant Kristie Levy, a 25-year U.S. Army combat veteran and current federal law enforcement officer. Last year, the team piloted a minimally modified Mitsubishi Eclipse Cross to second place in the Crossover class.
Ford Bronco Sport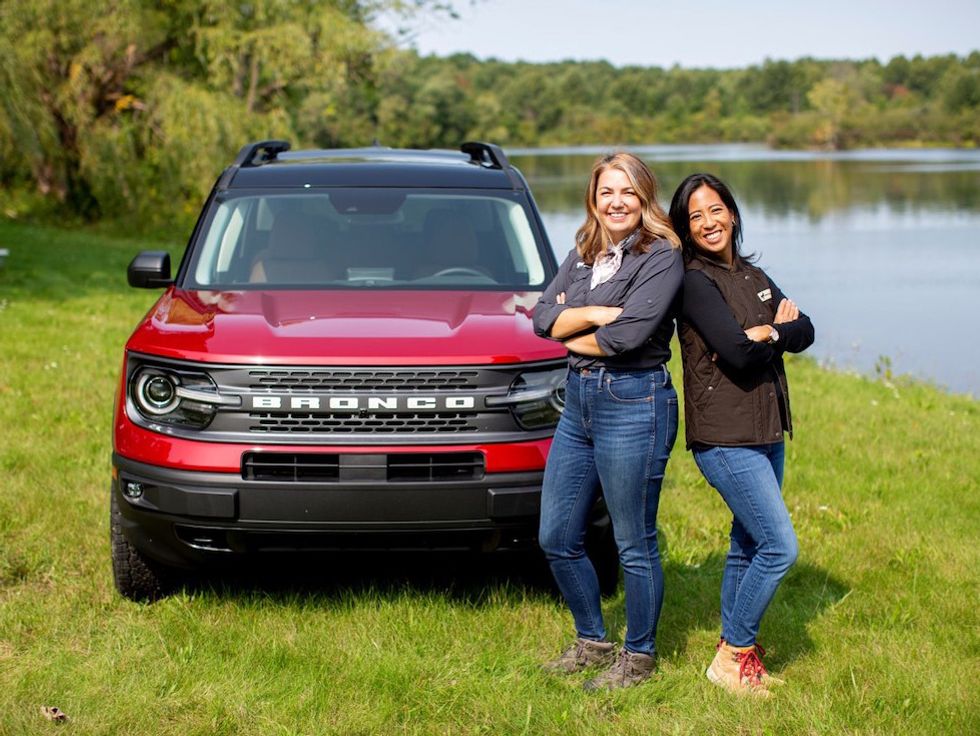 Photo courtesy of Rebelle Rally
Ford has joined the Rebelle Rally for the first time this year fielding three teams in stock Bronco Sport Badlands models. Competing in the Crossover class are teammates Shelby Hall and Penny Dale, experienced off-roaders and navigators; freelance automotive journalist Elana Scherr, who has covered off-roading for many years, and Betsy Anderson, an experienced off-road racer; as well as Ford employees Jovina Young, Brand Manager of Bronco Sport, and Erica Martin, Ford's Marketing Communications Manager for SUVs (shown above); both are novices to off-roading and rallies.
"The Rebelle Rally is a great match for Bronco Sport – with proven high-speed, off-road capability and best-in-class features to enable our teams to have the adventure of a lifetime," said Adrian Aguirre, Bronco Sport Project Manager. "Bronco Sport is designed for just that--to enable adventures in the outdoors and nothing says adventure more strongly than a rally raid event. You are heading out with nothing but instructions on how to get to that next waypoint, your thirst for overcoming challenges and confidence that your equipment is up to the task of getting you there.
"With Bronco Sport's twin-mechanical rear-drive unit, we are able to tailor the vehicle's behavior to different off-road conditions. This makes driving off-road easier and safer, and for the Rebelle Rally ultimately faster as a result. By using the GOAT modes, the driver will be able to select the appropriate drive mode and have the RDU adjust its behavior to match the terrain."
Infiniti QX80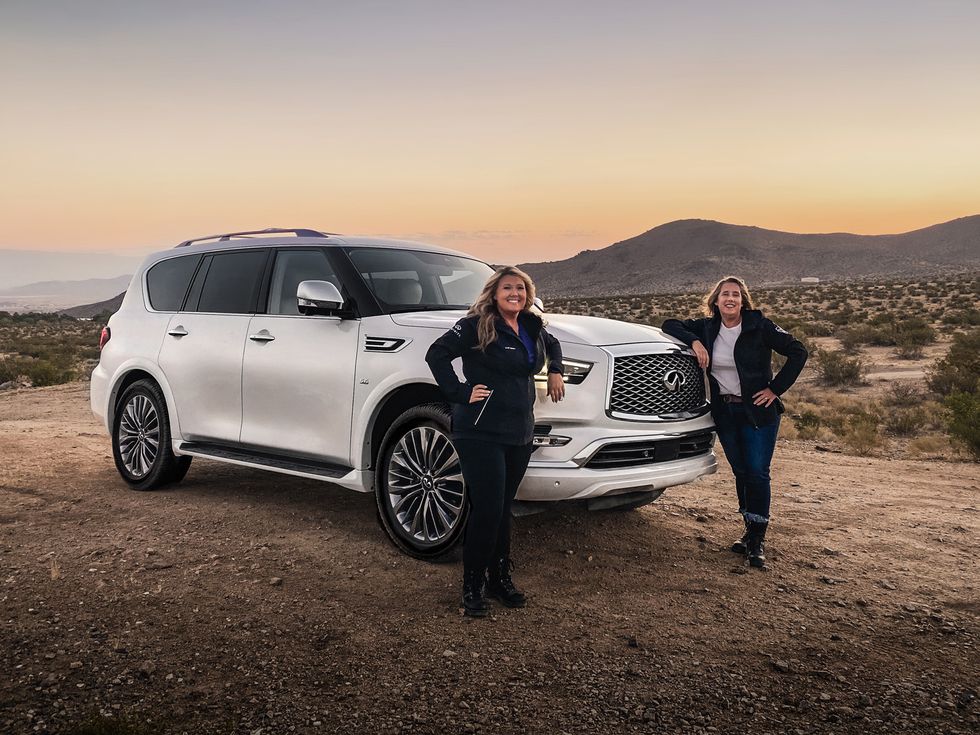 Photo courtesy of Infiniti Motors
Nicole Wakelin, a writer who covers the auto industry, and her navigator Alice Chase, will be in command of the 2021 Infiniti QX80 - the company's first entry into the Rebelle.
At Infiniti, we believe that luxury should be lived in and there are few who will test that theory more than our team in the Rebelle Rally this year," said Phil York, Infiniti General Manager of Global Marketing. "Ten days of navigating the desert in a QX80 will certainly showcase that our flagship SUV has as much grit as it has grace."
Nissan Frontier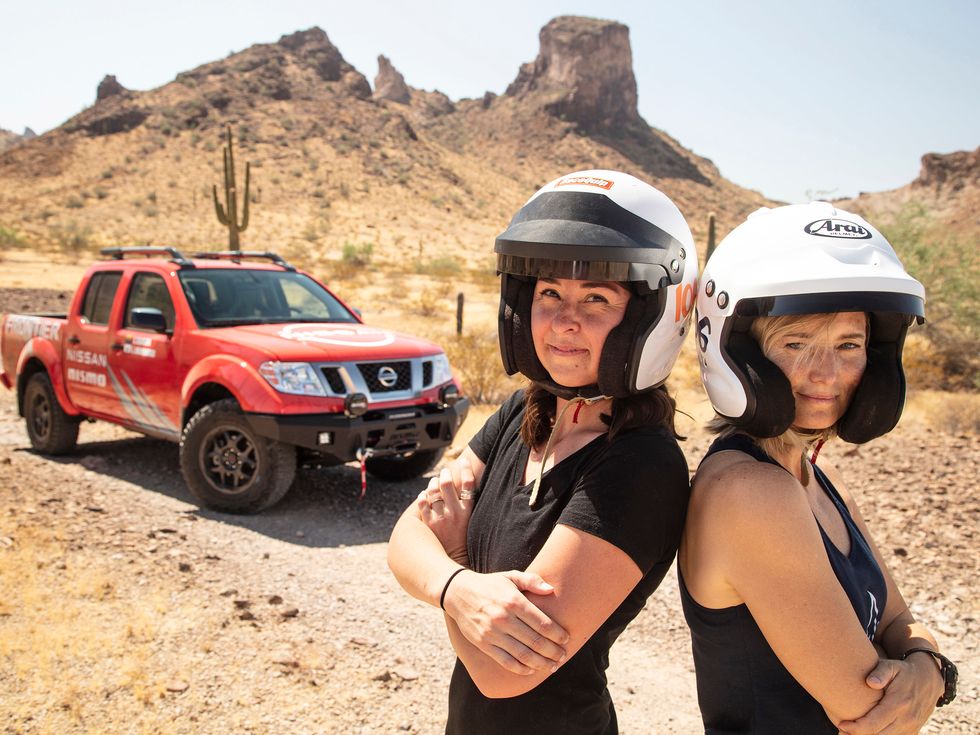 Photo courtesy of Nissan North America
This updated pickup makes a debut at the Rebelle with a new 3.8-liter V6 engine that gets 310 horsepower and 281 pound-feet of torque; its new automatic nine-speed transmission is borrowed from bigger brother Titan but geared specifically for the midsizer.
"The 2020 Frontier focuses on the needs and demands of midsized truck owners in the U.S.," offered Melaina Vasko, Vehicle Program Development Manager. "Featuring the heart of the next-generation Frontier, it is the beginning of the end of an extraordinary era and the start of a new exciting era to come. Customers will notice more power, quicker gear shifts, and improved fuel economy making for an enjoyable ride whether on the highway or off the beaten path."
The legendary off-roader, will also get a boost from Nissan's aftermarket performance brand - NISMO. Frontier will showcase a new line of off-road parts, including a high-performance suspension kit, an off-road bumper, off-road lighting and off-road wheels.
"We are fired up to watch Team Wild Grace show current and future Nissan Frontier owners what this beast can do on some of the most extreme terrain in the country," said Michael Soutter, vice president, Nissan Aftersales U.S. "These new NISMO off-road parts, created by people who deeply understand trucks and the desire for ultimate off-road performance, will elevate Frontier to a new level of capability."
Nissan is the only automaker to sponsor a team every year since the Rebelle began in 2016. Team Wild Grace, with co-captains Sedona Blinson and Lyn Woodward, will pilot the vehicle.
Kia Telluride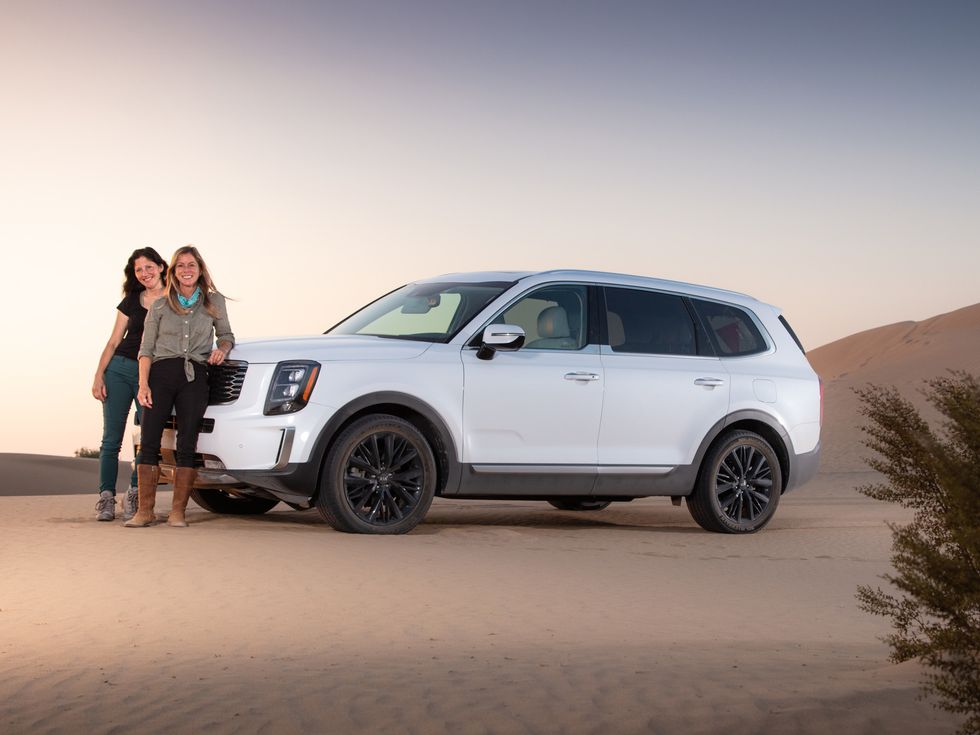 Photo courtesy of Kia Motors
The Kia Telluride is one of the most popular three-row SUVs in America. The 2021 version of the model will be the mode of transportation for Team Telluriders, a duo made up of Alyssa Roenigk, a senior writer at ESPN, and actor Sabrina Howells.
Sean Yoon, president & CEO, Kia Motors North America & Kia Motors America is also looking forward to following the Telluriders team. "This is a significant event for Kia," he said. "The Telluride is one of our most successful vehicles ever and the Rebelle Rally is a real test of its capability, durability and versatility. We expect it to perform extremely well and will be cheering on Alyssa and Sabrina as they take on this tough challenge."
The Telluriders are used to winning. Roenigk was part of the first U.S. team to win the Aïcha des Gazelle Rally in Morocco, and to-date, is the only American driver to win. Howells has competed in four consecutive Rallye Aïcha des Gazelles in Morocco, including the Expert Class in 2015. She competed in the Rebelle Rally in 2016, taking 1st place in the crossover class, and again in 2017, placing second.