New Pirelli tires connect to the 5G network
Dec 8, 2019, 7:03 pm
Photo courtesy of Pirelli
Pirelli is the first company in the world to transmit the information collected from smart times via a 5G network. During a display of the technology at The 5G Path of Vehicle-to-Everything Communication event, the tire transmitted information about the road surface and the risk of hydroplaning via the network.
The tire is the only point of contact between a vehicle and the road. The manufacturer aims to have its technology in the Pirelli Cyber Tire be able to relay information about road infrastructure, distance driven, dynamic load, and the dangers of the road surface in real time to the car the tires are on. In turn, the car will be able to adapt the way it drives given that information.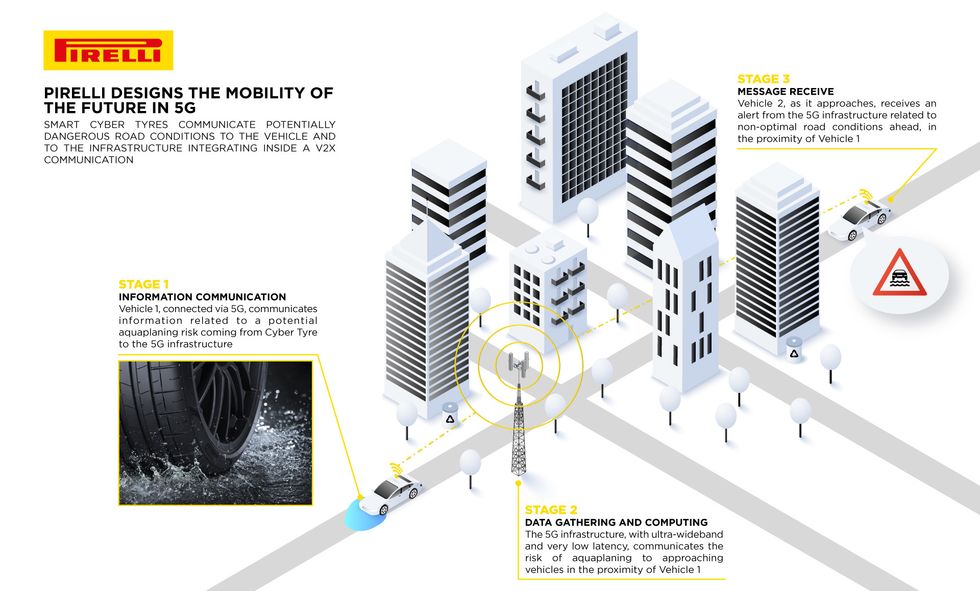 Graphic courtesy of Pirelli
Current technology allows sensors and cameras on a car to read the road ahead and adjust the suspension accordingly. Rolls-Royce employs this technology to allow for a smooth Magic Carpet Ride in its Cullinan and Lincoln has similar technology in the Aviator.
Pirelli sees the technology as having the potential to be part of a larger communication context with regard to the larger space of transportation and the future of mobility solutions and autonomous driving. It would could potentially relay information vehicle-to-vehicle (V2V) as more vehicles become connected to the network.
As part of the demonstration, Pirelli also showed off its Italia Track Adrenaline tire, which is designed for track days. The P Zero Trofeo tires that are part of the time are fitted with sensors that monitor tire pressure and temperature in real time. Software combines those measurements with telemetric data giving drivers detailed information about conditions that may effect their on-track performance.
The Cyber Tire and Italia Track Adrenaline line are part of Pirelli's larger Perfect Fit product development strategy which sees the company develop tailor made products and services to meet the needs of carmakers, fleets, and drivers with an eye toward the future.