Take a right-hand drive JDM minivan into Death Valley? Sure, why not?!
Jun 15, 2020, 10:55 pm
Photo by Mercedes Lilienthal
Trekking through California's Death Valley on paved roads in a family car isn't as treacherous as it might have been a generation ago. Modern technology has made air conditioning and engine cooling much more trustworthy.
Venture off of the scorching pavement and the Great Basin Desert can exact a toll upon human and machine alike. A properly prepared vehicle outfitted with skilled, resourceful drivers is a must.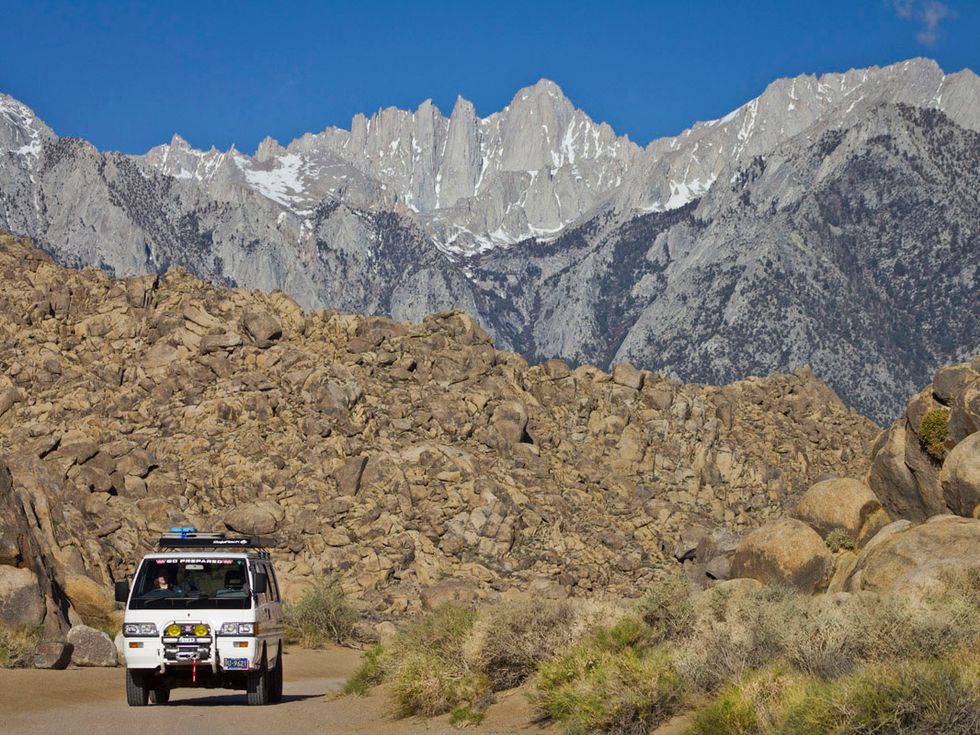 Andy Lilienthal drives the Space Tractor through California.Photo by Mercedes Lilienthal
There are precious few vehicles sold in the U.S. market that can handle the sort of overlanding that Mercedes and Andy Lilienthal want to do. That's why they chose to tackle the lowest point in North America with a right-hand drive minivan that was never sold in the U.S.

Indeed, the 1989 Mitsubishi Delica Star Wagon (nicknamed by the couple as the "Space Tractor" for the sci-fi inspired styling) may look like a van that was briefly sold Stateside – its L300 chassis was sold here as the creatively named Mitsubishi Wagon. While the US market model was rear-wheel drive and powered by a four-cylinder gas engine, in Japan the Delica was offered with myriad trims and drivetrain options.
For Andy, the Delica obsession started in New Zealand, where he'd driven one for a week – "I knew I had to have one at some point," he said. Six months later, he found an importer with this Delica in stock rather close to his work. The van was lightly rusted making the original asking price too high. The van sat and the price sank to an acceptable price for both parties - $8,750.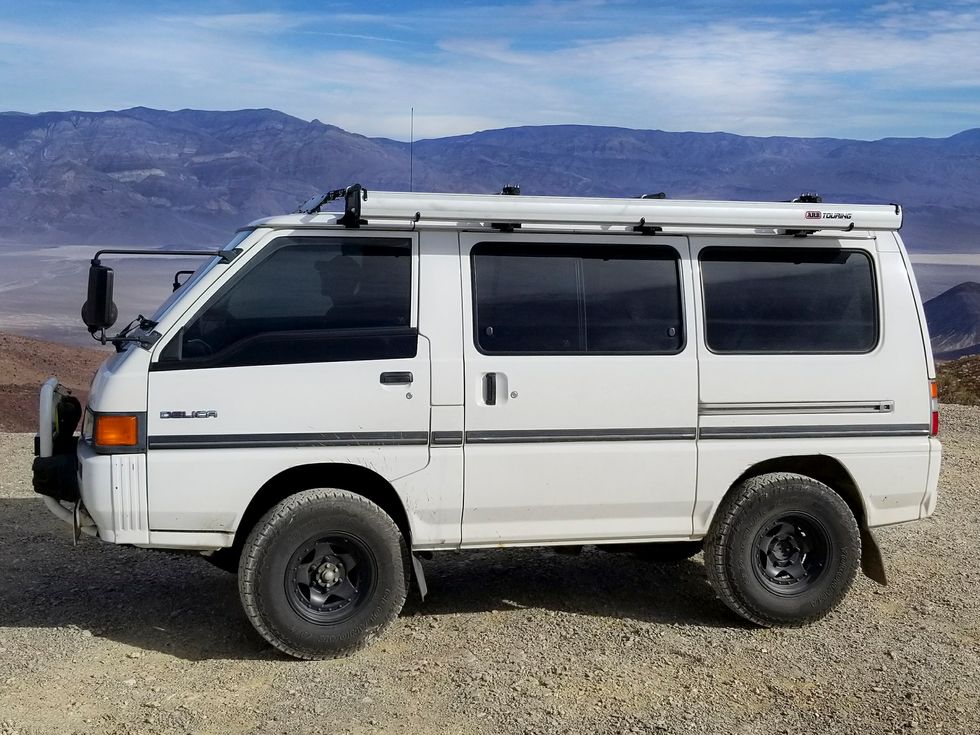 The Space Tractor sits preparing to take on Death Valley below.Photo by Mercedes Lilienthal
The Lilienthal's Delica Star Wagon rolled off the line with a 2.5-liter turbodiesel four-cylinder engine that powers all four wheels via a five-speed manual transmission and a two-speed transfer case. When pushing a vehicle far from what most would consider civilization, chasing gremlins caused by haphazard engine modifications can be dangerous. The Lilienthals kept the Space Tractor's engine completely stock, in order to deliver "maximum reliability." Stock doesn't mean the original parts, however – all of the consumables under the hood have been replaced, including the glow plugs, and a strict regimen of oil and filter changes have kept the 90-horsepower oil-burning power plant churning like new.
Ninety horsepower is all that the Space Tractor has on tap to motivate its blunt body down the road. The Lilienthals limit the Delica to 65 mph. "It'd go faster, but just wasn't happy," Andy shared. The couple simply got used to the slow lane, especially in those places with higher freeway speed limits. They found – by necessity, of course – that life in the right lane is simply less stressful.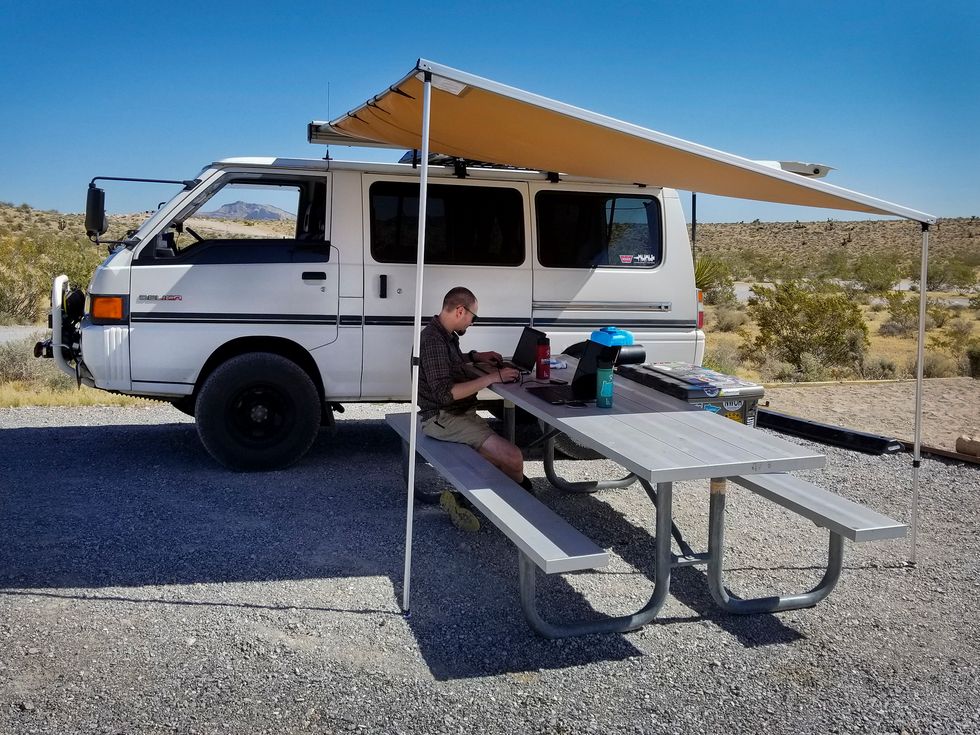 Andy Lilienthal sits under the Space Tractor's ARB awning at Red Rock campground.Photo by Mercedes Lilienthal
Designed for the narrow streets of Japan, the Delica didn't arrive on U.S. showroom floors ready to take the kind of punishment a typical overlanding journey can inflict. The Lilienthals made upgrades. Yokohama all-terrain tires give significantly better traction and sidewall protection from sharp stones. An ARB awning turns a parking spot into a shady picnic area. A BajaRack roof rack gives plenty of extra stowage space. The couple even added custom curtains to make sleeping a bit more comfortable and private.
Overlanding holds a special place in the hearts of the Lilienthals, who met on a road trip. For them, it's a peek back to the days when families almost exclusively traveled cross-country in cars. "Traveling this way gets you away from the masses … [to see things] that haven't been invaded by scads of tourists," said Andy.

They haven't just taken the Space Tractor to Death Valley. Mercedes was partial to camping in California's Alabama Hills, surrounded by "[r]ounded terra-cotta colored boulders and an intricate web of dirt trails." Andy, on the other hand, recalled the treacherous crawl down Lippincott Mine Road in Death Valley, an 8.2-mile long trail with extremely rough terrain – without the extra vehicle preparation they'd add later. No winch, no extra fuel. "The van would go up on three wheels on occasion as we'd traverse bigger rocks and washouts," Andy said.
As much fun as it is, the Space Tractor is only a temporary addition to the Lilienthal's garage. They bought the van as a test to see if they wanted to live with this type of vehicle. While the duo has found that this is exactly what they want, they also came to the realization that the van has some corrosion that will be expensive to fix.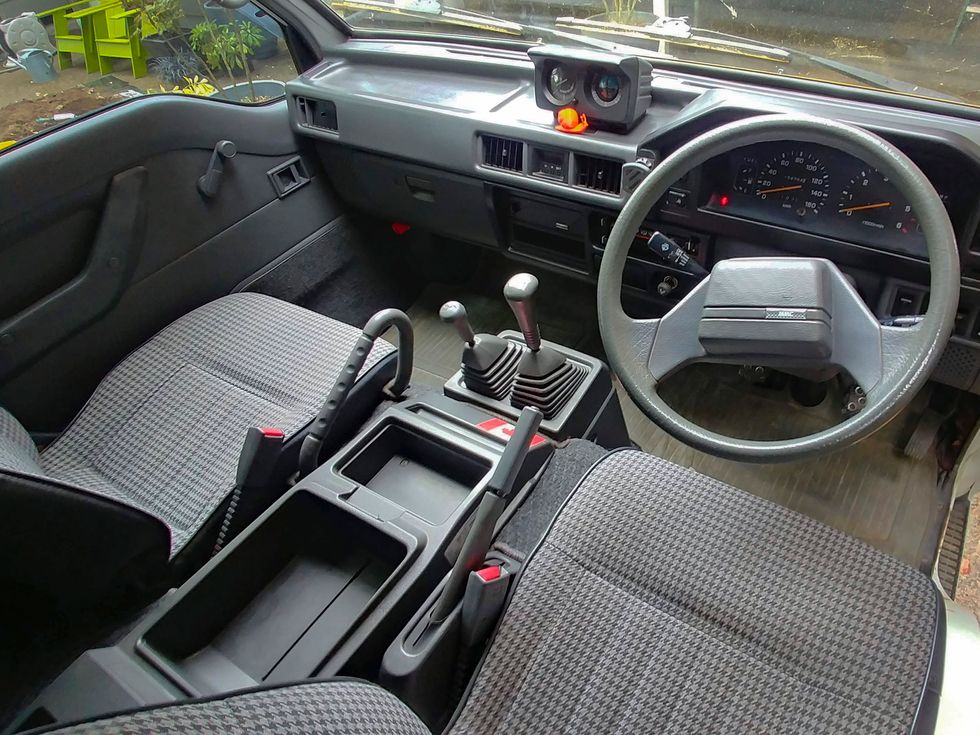 The interior of the model is well-kept.Photo by Mercedes Lilienthal
So they decided to sell. Mercedes said that in the three years they've had the Space Tractor, the market has become stronger. $11,000 seems to be the entry price, she said, "We've seen several priced recently around $15-16k, and they are all bone stock."
In their time with the Delica, the Lilienthals found themselves interacting with two new automotive subcultures: Japanese domestic market (JDM) fans of anything forbidden fruit from The Land of the Rising Sun, and van fanatics. Beyond these two subsets, the off-road community further welcomed them with curiosity about their unusual rig.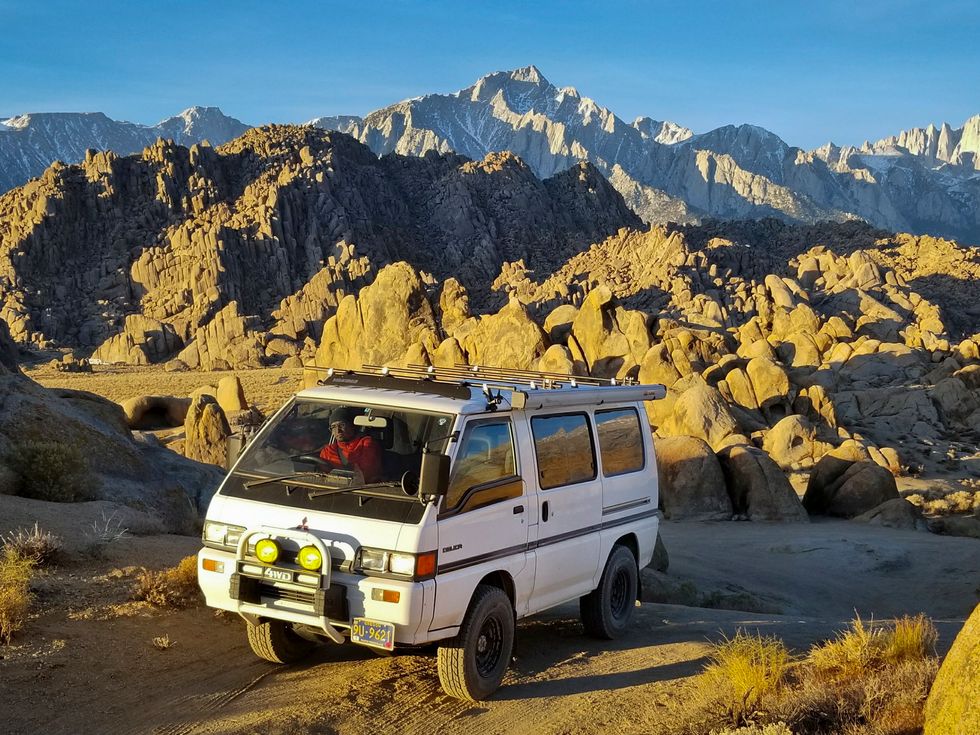 The Lillienthals have taken the van to Alabama Hills, California.Photo by Mercedes Lilienthal
After quickly selling the Space Tractor, the Lilienthals purchased their next rig, a 1994 Mitsubishia Delcia L400 Space Gear, which comes with a more powerful diesel engine than the Space Tractor, and a manual transmission.