OnStar adds fleet telematics solution for managers and drivers
Nov 11, 2019, 2:13 pm
Photo courtesy of General Motors
Ford Commercial Solutions already offered connected fleet telematics insights to owners and now General Motors is getting in on the game with OnStar Vehicle Insights. The software solution has just become available and relays real-time vehicle data.
"We listened to our fleet customers' feedback and have created a turnkey telematics solution," said Ed Peper, U.S. vice president, General Motors Fleet. "OnStar Vehicle Insights helps simplify the fleet management process, allowing our fleet customers, large and small, to save time and money."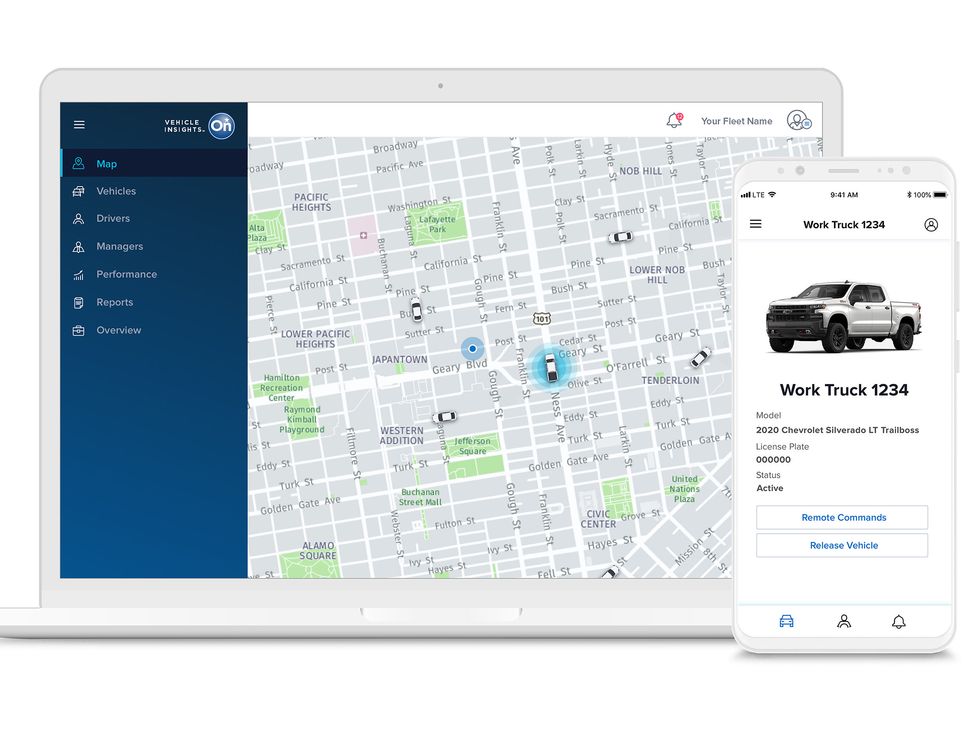 OnStar Insights allows fleet managers to have the tools that they need at their fingertips.Photo courtesy of General Motors
The OnStar system features a number of insights designed to give business owners and fleet managers a better understanding of their fleet's operational efficiency.
Features include:
Vehicle Locator - View the location of all fleet vehicles in real time.
Vehicle Health - View vehicle mileage, oil life and fuel efficiency, as well as receive preventative service prompts and maintenance notifications.
Driver Performance - View driver behaviors and trips taken, and receive safety alerts around specific events, like exceeding a specified speed limit.
Business Insights - View a simplified performance dashboard that aggregates data and presents trends that are helpful for business operation.
There are also a number of tools available:
Remote Commands - Lock, unlock and remote start a vehicle from the OnStar Vehicle Insights website instead of waiting on a locksmith.
Trip Summaries - Maintain and reference trip history in an organized manner.
Driving Performance - Drivers can view their driving behaviors, like hard-braking events, as well as their driver performance score, so they are aware of any behaviors that need improvement.
"This is just the beginning for OnStar Vehicle Insights," said Michelle Calloway, head of OnStar Vehicle Insights, GM Global Innovation. "We plan to expand our service offerings over time, including the addition of mixed fleet compatibility, so even more customers will have the ability to experience the benefits of our telematics solution in the future."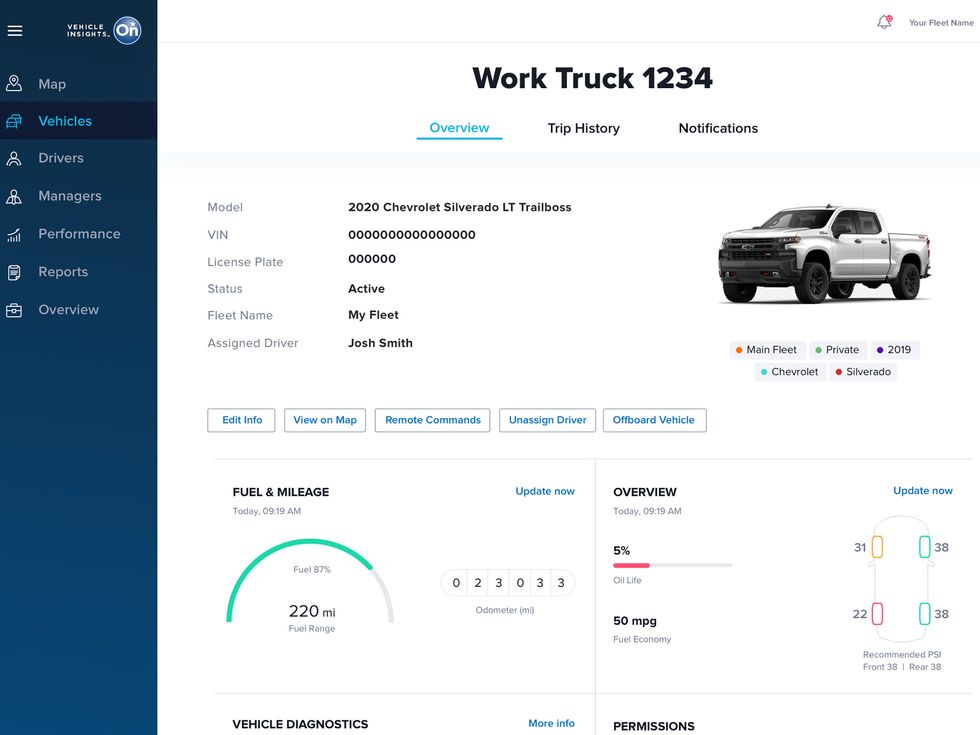 Fleet mangers can see what their vehicles are doing at any time.Photo courtesy of General Motors
OnStar Vehicle Insights is compatible with most 2015 model year and newer Chevrolet, Buick, GMC and Cadillac vehicles. This does not include the Volt, City Express vans, Low Cab Forward Trucks, and GM vehicles built without OnStar hardware including some base Chevrolet and GMC truck models.
OnStar Vehicle Insights costs $15.99 per vehicle, per month. No long term contract is required. The cost does not include OnStar emergency or security services.