TITAN of the Community's legacy lives on through The Send It Foundation
Oct 22, 2019, 7:12 am
Photo courtesy of Nissan North America
In 2012, 33-year old Jamie Schou was living in Truckee, California, spending time outdoors, working as a realtor, and driving around in his beloved 2006 Nissan Titan. To the casual observer, he was the picture of health.
That March he found a lump in his back. It was diagnosed as synovial sarcoma, a cancer that primarily affects young adults near their joints. It's rare – each year one to three people per 1 million are diagnosed.
The 6'8" former collegiate rower was not about to let cancer stop him from the things he loved the most.
Schou grew up three hours southwest of Truckee in Mill Valley, California, the oldest of four siblings. He loved exploring the nearby mountains with his three younger sisters – Katie, Caroline, and Margot. After graduating, he moved back to his home state, and soon purchased a 2006 Nissan Titan.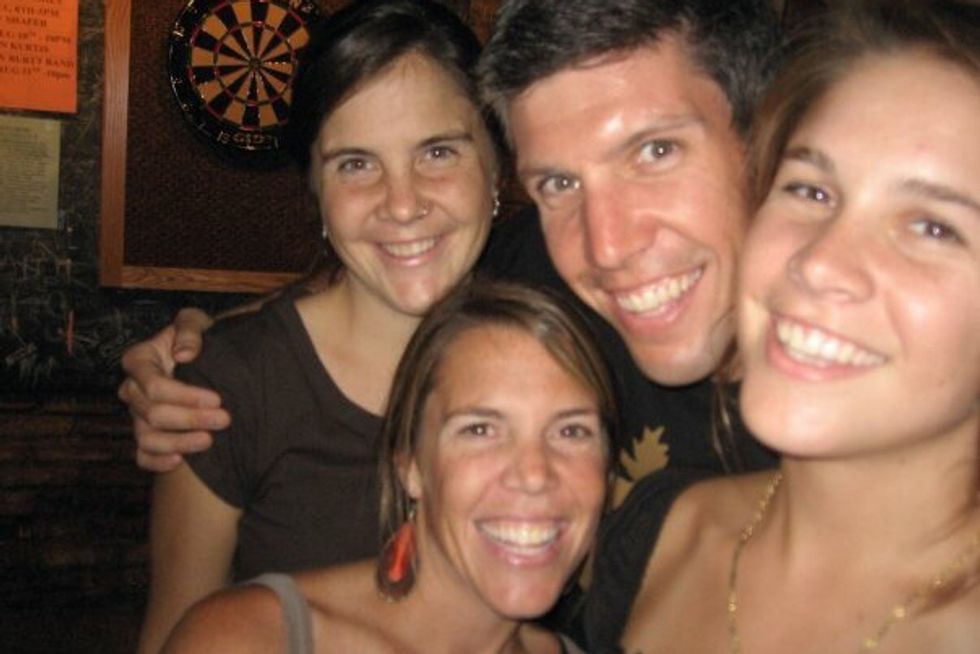 Jamie Schou with sisters (from left to right) Margot, Katie and Caroline.Photo courtesy of Nissan North America
"I have so many memories of Jamie showing up with this truck, piling in a bunch of our friends and heading to the hill or the trail," said his sister Katie Schou. "Every time I or anyone saw this truck roll up, you knew – Jamie's here! And it'd make you so excited."
Schou and his truck were there during the less enjoyable parts of life too.
"Any time anybody needed help with a move – help with anything – Jamie would show up with this truck," Katie reminisced. "He was always there to help at the drop of a hat. Jamie and his truck were there not only for adventures, but life changes. The truck was always part of it."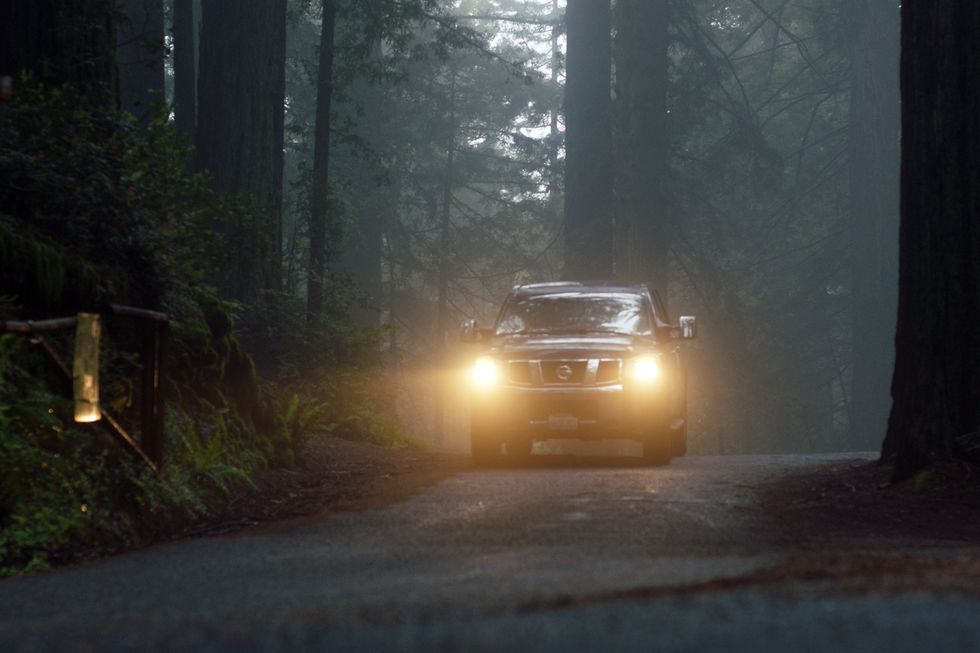 Jamie's 2006 Nissan Titan has over 200,000 miles on it.Photo courtesy of Nissan North America
This was the case for Schou himself. After his diagnosis, Schou began treatment at Stanford University Medical Center. He did not allow cancer to slow him down – he faced the disease head-on and continued his outdoor pursuits. Driving his trusty Titan around the state, Schou climbed Half Dome in Yosemite, went skydiving, and skied Mt. Lassen.
Despite his supportive family and friends, Schou began feeling isolated, Katie explained. Most other young adults were figuring out careers and relationships, not fighting cancer.
Schou channeled his desire for a like-minded community and his love of the outdoors into creating a clothing brand, Send It, and a nonprofit, The Send It Foundation. A portion of the proceeds from the clothing brand benefit the foundation. The clothing brand and foundation both embody Schou's desire to live life full throttle.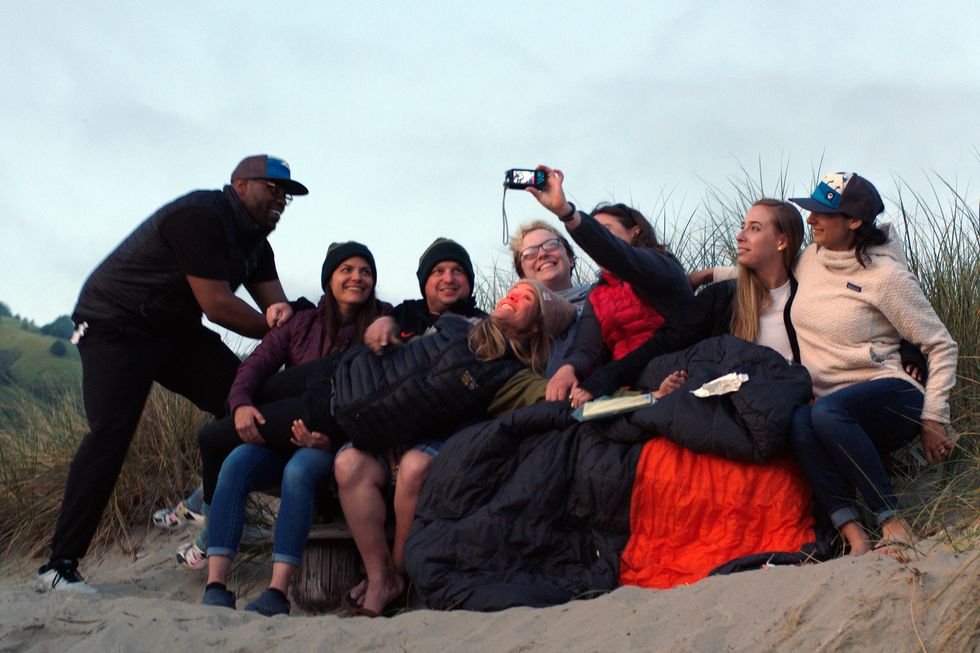 Caroline Schou (front) grabs a photo with the Send It Surf & Ride group on the final night of the program.Photo courtesy of Nissan North America
The foundation allows young adult cancer fighters and survivors (ages 21-40) to experience deep friendships and fun outdoor adventures away from the daily grind of life with cancer. Through the foundation, young adult cancer fighters and survivors enjoy the great outdoors through a sport such as skiing or surfing and bond with others who have gone through similar experiences. To this day, Schou's Titan is used to help transport participants and gear on these trips. Schou's three sisters are all involved with the foundation.
May 2019 Send It Surf & Ride participant Alexandra Fine, who survived Hodgkin's lymphoma, says, "Nothing you say here surprises anybody. You can just be open and honest and be yourself, and I think that's important for everybody."
Tragically, Jamie passed away, at age 35, in July 2014. The Schou family kept Jamie's Titan and continued using it for Send It trips, but by summer 2018, the 12-year-old truck needed expensive repairs. The family had an emotional decision to make. One of their last tangible attachments to their son and brother needed to be either sold or fixed.
In the midst of making their decision, in September 2018, Katie met employees from Nissan North America at an outdoor lifestyle trade show. Katie mentioned the story of her brother and the "Send It Titan" to the Nissan team.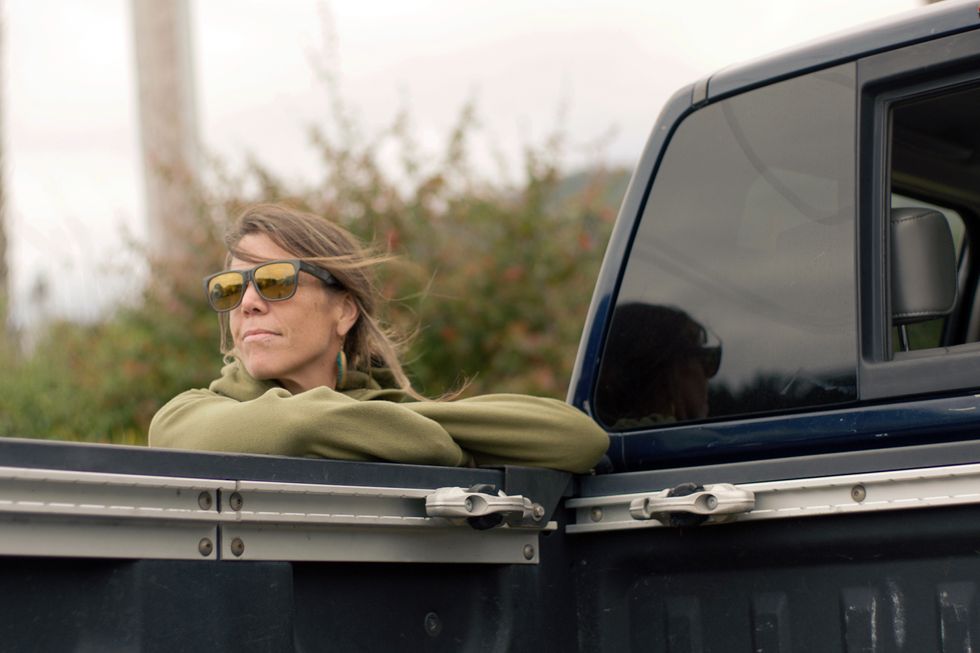 Katie Schou still uses Jamie's Titan for foundation business.Photo courtesy of Nissan North America
That month, Nissan had announced its Calling All Titans campaign, which "celebrate[s] people using their trucks to help those around them". Jamie's mission fit the spirit of the campaign, and as a way to honor the legacy of this titan of his community, Nissan elected to assist the Schou family in keeping Jamie's Titan road-worthy, ensuring Jamie's legacy and mission are able to continue many more years and miles.
The Send It Foundation has served 150 cancer survivors and completed 31 programs in the last four years. Schou himself summed it up best in a journal entry written before his passing:
"Send It was formed by my story and my joys, but I hope the future is written by all that choose to wear it, share it, and find experiences from it. The terrors of this diseases have provided me with the wonderful opportunity and desire to create something greater that I know will benefit so many! I leave it in your hands."