Nissan teams with Turo for first-of-its-kind test drive program
Dec 11, 2019, 10:48 am
Photo courtesy of Nissan North America
The dealership model isn't changing, it's evolving. Cadillac recently announced the launch of Cadillac Live, a virtual vehicle shopping experience. Nissan has just launched a first-of-its-king test drive experience in partnership with Turo, a car sharing marketplace.
Consumers in Los Angeles, Northern New Jersey, and Salt Lake City can now experience extended test drives of new and late model Nissan models by reserving a model through Turo.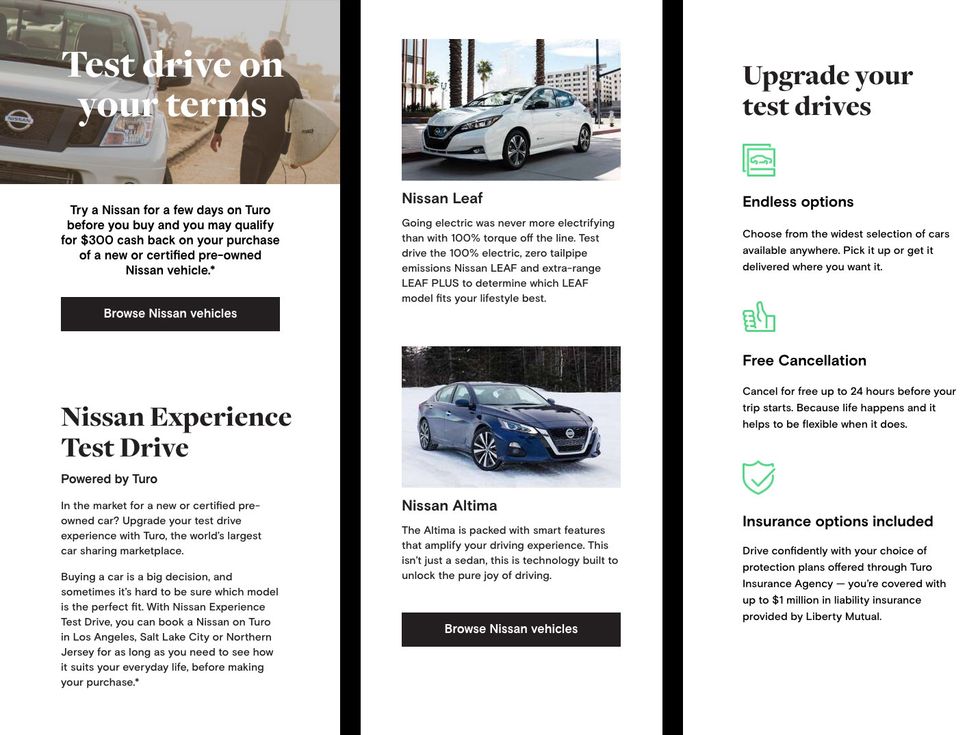 Nissan has its own landing page on the Turo website.Photo courtesy of Nissan North America, Turo
"This gives shoppers a different way to experience a Nissan vehicle and all of its innovative technologies within the framework of their lives — driving the roads they frequently travel, running errands, and getting input from their family and friends," said Dan Mohnke, Vice President, Customer Journey & Data Innovation, Nissan North America, Inc. "Now you don't have to go to the test drive, the test drive can come to you. Today's consumers have new expectations for shopping and service."
Here's how it works:
Customers visit the Nissan landing page on Turo.
Customer schedules a booking that last for a few hours, a day, a weekend, or longer.
Independent Turo hosts as well as participating Nissan dealerships provide the like-new or late-model vehicles.
Eligible consumers who participate will be offered bonus cash of $300 toward the purchase of a new or certified pre-owned Nissan vehicle within six months of their test drive.
To be eligible for the bonus cash offer, renters must be Turo Approved Drivers who are legal U.S. residents age 25 and older with a valid driver's license. Renters must book on Turo and complete a trip in an eligible Nissan model year 2016 or newer vehicle between December 10, 2019 and June 30, 2020. Limit one offer code per household. Only residents of select counties in Ne Jersey are eligible. Those counties are Sussex, Passaic, Bergen, Hudson, Essex, Morris, Warren, Hunterdon, Somerset, Middlesex, Mercer, and Monmouth.
The bonus cash offer expires six months after receipt of offer code. The code is valid at participating Nissan dealers for $300 bonus cash on purchase of one eligible new or Certified Pre-Owned Nissan vehicle in dealer stock.