New Nissan concept reveals future Rogue, Murano design, EV plans
Oct 24, 2019, 9:44 am
Photo courtesy of Nissan North America
It's called the Ariya Concept. The electrified SUV with twin electric motors and driver assistance technology doesn't break the Nissan mold. It evolves it.
Appearing first at the 2019 Tokyo Motor Show, Nissan's Ariya Concept furthers the design language first shown in the IMx concept at the 2017 Tokyo Motor Show. Its expressive and electrified V-motion signature front shield (where a grille would typically be), angular rear light blades, short overhangs, a fastback-style roofline, and a supple interior were hallmarks then and continue into this new vehicle. It also has wide front fenders, rear fender flares, a high-mounted rear wing, and super-thin LED headlights. The body's paint job is called Suisei Blue.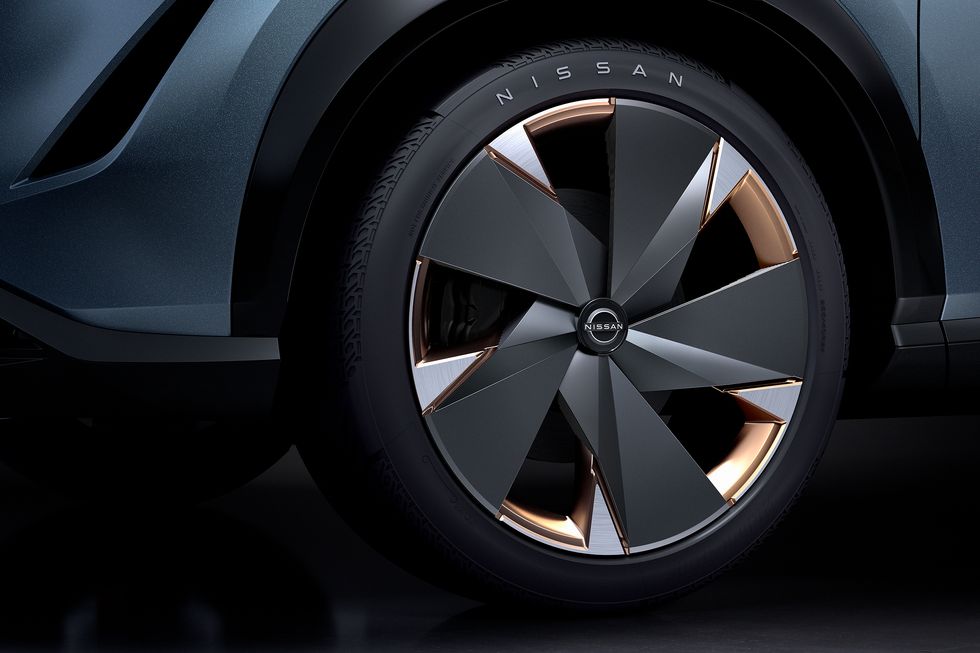 Nissan is infused copper design elements throughout the vehicle and says that the color will become a hallmark for the company in the coming years.Photo courtesy of Nissan North America
"The exterior strikes a balance between dynamic beauty and 'tech sharpness,' with proportions that show what's possible with Nissan's 100% electric vehicle platform," Albaisa said. "The surprisingly short overhangs, large cabin, large wheels and tailored two-tone paint scheme provide an elegant appearance that balances sport and luxury."
The Ariya Concept rides on 21-inch aluminum wheels with custom tires. Its wheels and roofline are painted a copper color, which Nissan says will be a signature color in the company's lineup in the future.
"A new vehicle architecture means fresh opportunities to redefine how vehicles interact with society, how an EV paired with advanced driving capabilities can offer a new perspective," said Alfonso Albaisa, Nissan's senior vice president of global design. "With this vehicle ... we wanted to ensure that the soul of every Nissan car possess a distinctive Japanese DNA conveyed in a simple-yet-powerfully modern way, something we call 'Timeless Japanese Futurism.'"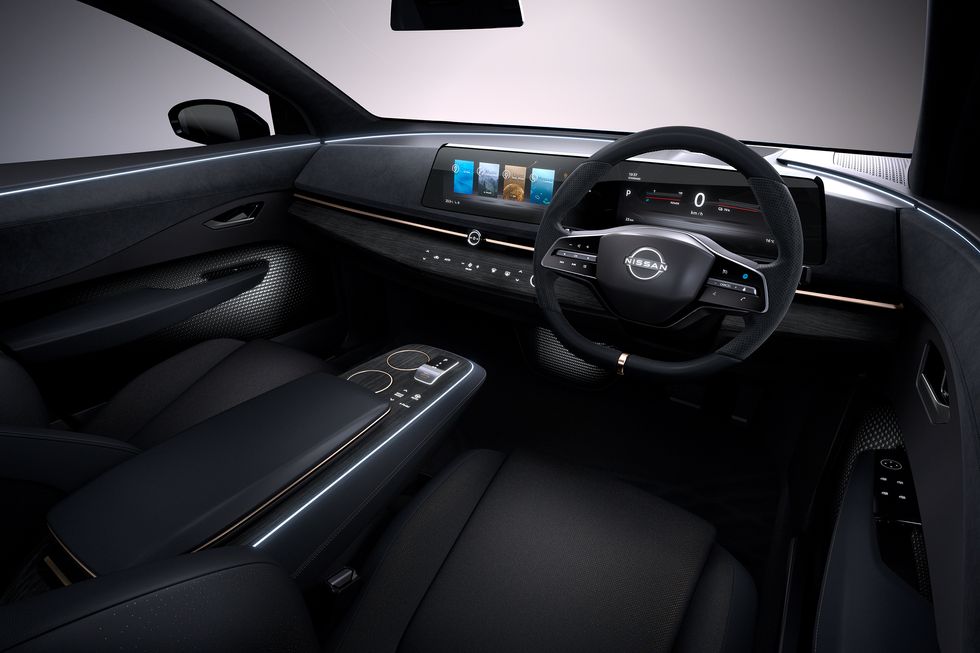 The interior of the Nissan Ariya Concept features minimalist design.Photo courtesy of Nissan North America
The Concept is based on new vehicle architecture, which is EV-ready, something that other automakers, like Volvo, have already switched to and implemented in their lineup.
Nissan's new concept car has the futurist hallmarks most brands are flaunting these days. Its minimalist dashboard shuns buttons for haptic touch functionality. Its only physical controls are a start button, a single knob ghat operates the 12.3-inch display monitor, and climate controls.Super thin seats are designed to help create a feeling of spaciousness throughout the cabin while the flat load floor (possible because of the lack of exhaust system and other traditional powertrain components), leather upholstery, copper fabric, and aluminum and real wood accents.
Guiding the car's design is Nissan's commitment to safety technology. It features ProPILOT 2.0, the next-generation of Nissan's driver assistance and safety technologies. It works by, "engaging the vehicle's navigation system to help maneuver the car on a predefined route on designated roads, the system can assist the driver with passing, lane diversions and lane exiting on multi-lane highways."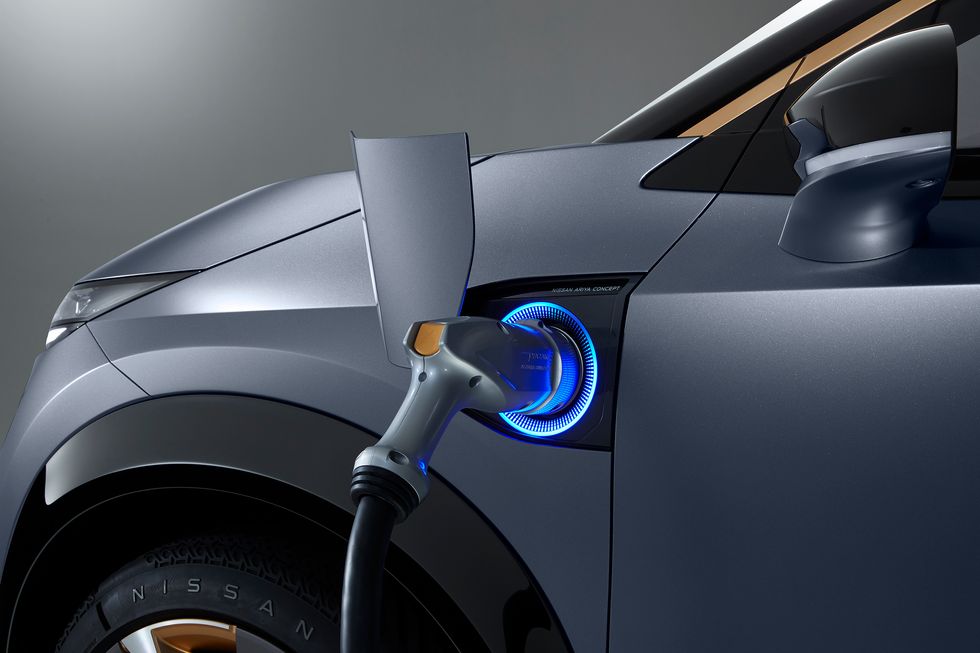 The Ariya Concept is an electric vehicle.Photo courtesy of Nissan North America
The system allows for hands-off driving while cursing in a given lane. This is different than autonomous technology, which is traditionally defined as allowing a camera and sensor system to drive a vehicle for its passengers. ProPILOT 2.0 can give a driver audio and visual guidance, and prompts them when they need to put their hands back on the steering wheel.
The car's electric drive system features a dual front/rear motor drive configuration with power to all four wheels. Nissan developed the all-wheel drive system using years of research from other vehicles, including the Nissan GT-R and Patrol. It uses CHAdeMO quick charging technology on the go and supports Nissan Energy technology at home, which uses the vehicle's battery as a backup to the home's power system in the event of an emergency.
Nissan has employed smartphone data transfer, remote preference honing, parking locator, and phone as key technology in the concept.
All of these enhancements give key clues to what buyers will be able to expect from Nissan's coming SUV design. With a new Nissan Rogue, Rogue Sport, and Murano on the horizon in the coming years, we're likely to see many of these technologies in the vehicle. Also, it's probable that Nissan's fresh design language will be translated to the new model, so expect to see thin LED headlamps, a more coupe-like rear, and a larger grille.