Texas Mercedes-Benz dealership helps teens learn to navigate risky driving situations
Feb 10, 2020, 11:47 am
Photo courtesy of Mercedes-Benz of Sugar Land
The entire car shuddered as the Mercedes-Benz skidded over the large puddle. My head hit the roof of the car, nearly breaking my sunglasses (and yes, I was wearing my seatbelt). My phone went flying. The high-end camera of the journalist sitting next to me flew out of his hands and landed at my feet. Thankfully this didn't happen on the open road, but in a controlled environment created for teen drivers to learn, among other skills, how to regain control of a car when it hydroplanes.

After pulling the car to a stop, driver Winnie Chang, a 17-year-old senior at Clements High School, turned to Kory Enders, an Indy Pro 2000 driver, who was sitting in the front passenger seat, for his advice on how to improve the next time she drove around the skid pad. Meanwhile, the other passengers and I gathered our belongings off the floor of the backseat.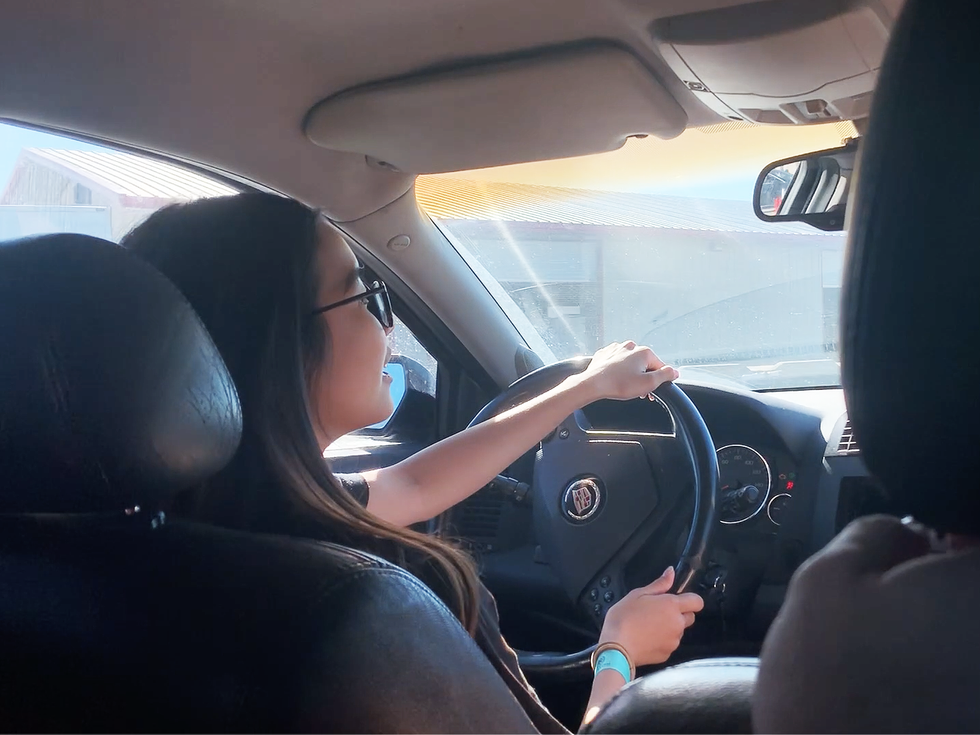 Winnie Chang, 17, learns how to pilot a car through a skid.Photo courtesy of Mercedes-Benz of Sugar Land
Mercedes-Benz of Sugar Land (MBSL) has been offering a quarterly Teen Driving Safety School at the Motor Speedway Resort (MSR) Houston for the teen children of its customers for about four years now. Prior to December 2019, MBSL had trained about 275 teen drivers. That month, for the first time, MBSL held an additional event for twenty Clements High School students.
Like the others, this event was co-sponsored by MBSL and Enders. Enders' father, Kenneth, owns MBSL, for which Enders is a brand ambassador. Influenced by his father, who wanted to be a professional racecar driver himself, Enders has been part of the racing world since childhood. Enders began club go karting at age six. While a student at Clements High School in Sugar Land, Enders began driving cars at MSR Houston.
Although he now travels the world racing, Enders has not forgotten his roots. Enders graduated from Clements in 2016 and has been working for several years to coordinate this event with the high school, which has about 2,500 students from 9th-12th grade. Clements High School students were invited to apply for the opportunity to participate in the Teen Driving Safety School. Fifty students applied and about 20 were randomly selected to attend at no cost.
Seeing some teens' incorrect and even illegal driving habits compelled Enders to give back to the community by helping teens learn to drive correctly. Enders wants "to give kids a toolbox." His two pieces of advice to teen drivers? "Don't text and drive," and "Understanding the core fundamentals of how a car functions and drives could save your life one day."
After a morning of classroom instruction, the students headed outside to test their skills. The high schoolers beelined to the group of waiting cars hopping into either the driver or passenger seat. To get the full experience, I knew I needed to be a passenger, yet was a bit hesitant to ride in a car with a teen driver who may have only recently gotten their license.
At the signal of a Teen Driving Safety School instructors, the teen driver of the car I was riding in gunned the engine and drove as fast as she could towards an orange cone directly in front of her. The objective was for her to drive as close to the cone as possible, but brake before hitting it. This seemed counterintuitive to me – why practice a dangerous driving maneuver like this? According to the instructor, it's good for the teens to practice in a safe environment how to react when faced with a risky road situation.
For about an hour, the teens continued doing drills, then slowly trickled back inside to the classroom to use a Comcast Distracted Driving Simulator. Comcast originally created this simulator to train its technicians and kindly gifted one to the MBSL Teen Driving Safety School to enhance its programming.
I got to try the simulator too. I sat down in the plastic seat and took the wheel. The simulator looks very much like one of those car video games you see at arcades. My goal was to drive through the course in a safe and timely manner. The game deducted points for traffic violations. I struggled to navigate the course – I accidentally rammed my pretend car into walls and ran red lights. I began doing even worse when Derek Brown, MBSL Vice President of Marketing & Business Development, began calling out prompts. "Take a selfie of the group." "Now text it to your boss."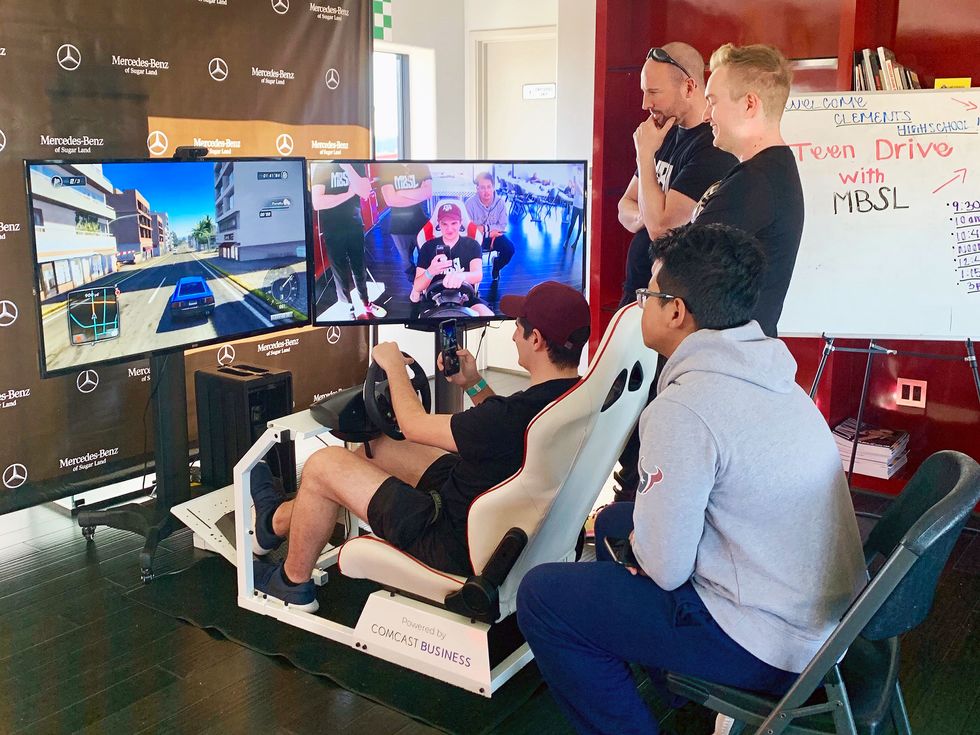 Teenns used a driving simulator to learn how distracted driving can impact their time behind the wheel.Photo courtesy of Mercedes-Benz of Sugar Land
By the time I finally finished the course, the group of us was in stitches over how poorly I had done, but we knew that safe driving, or lack thereof, was no laughing matter. Even now when I'm tempted to look down at my phone when I hear a text come in while I'm driving, I think back to this exercise and refrain.

I asked Clements student Haris Jhaveri why he applied to be part of the MBSL Teen Driving Safety School. "I follow Kory on Instagram. I've seen [the school] on his social media all over the place. People have talked about how it's a really nice experience and you learn from it. You get to drive a Mercedes… I also did this because my friend told me to. I like Mercedes, ok?". After participating in the training, Jhaveri noted "my driving is better".
That was the goal of all the adults in involved – improving teen driving. As Phil Morgante, Assistant Principal of Clements High School, noted "safety's number one with us – getting the kids to and from school".