McLaren, Castore collaborate on technincal sportswear collection for men
Nov 3, 2020, 7:06 pm
Photo courtesy of McLaren Automobile
Two British companies are combining forces to launch a new technical sportswear collection for men. McLaren Automotive and Castore will debut a limited edition collection that focuses on the training and lifestyle areas of the menswear spectrum.
The collection will include cotton t-shirts, performance tops, and outerwear. According to a release, bonded seams, a sonic welded construction, and heat transferred interior components "keep garments highly streamlined and near-weightless for optimal comfort and performance".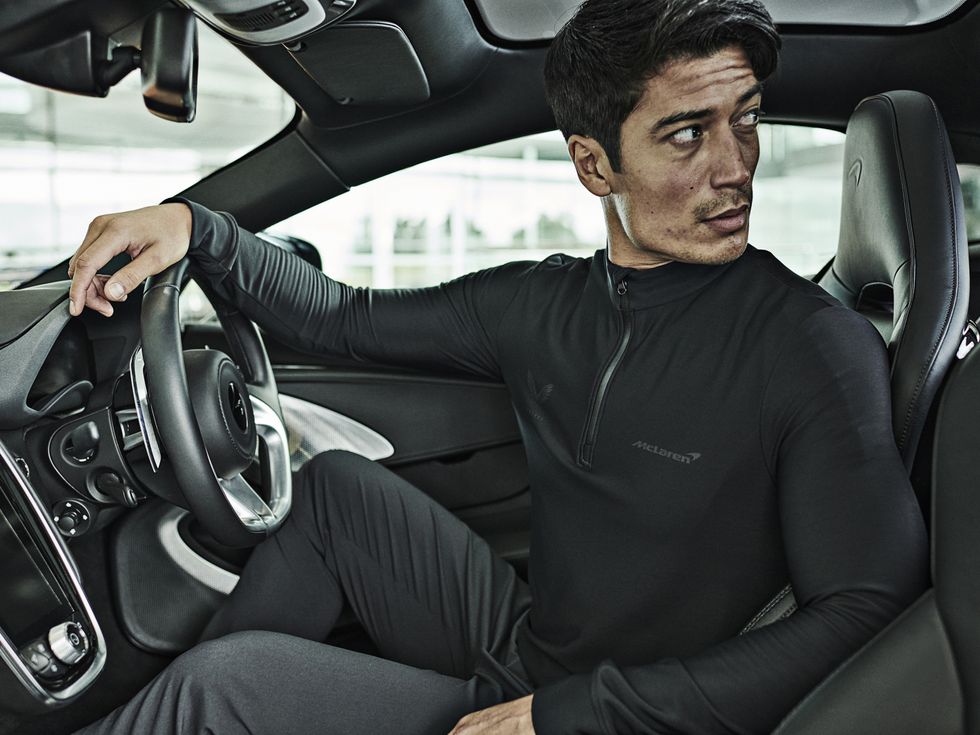 The McLaren-Castore collection arrives in stores November 3.Photo courtesy of McLaren Automobile
The collection features garments with sloping curves and hexagonal grid formations. The clothing is designed to be streamlined and have a flattering silhouette. Each piece is ergonomically cut for ease of movement and comfort, and offers wicking, odor-resistance, four-way stretch, and mesh construction.
The core of the collection are performance t-shirts. These tees feature thermo regulation properties through Coldblack technology. This tech allows the tee to reduce heat build-up while protecting the wearer from the sun's rays through a UVA and UVB protection textile finish. Sweat zones are targeted to increase airflow through the garment.
Style and engineering go hand in hand in the pieces. This is perhaps most apparent in the technical softshell jacket, which features a streamlined design and relaxed athletic fit. Still, it remains breathable and includes seal branding to reduce added weight. There are also water repellent zippers.
"We see long-term value in extending our brand to a wider audience beyond those who buy and drive our supercars while, at the same time, always being mindful to maintain our aspirational brand values in everything we do. In doing so, we build on our high brand standards and luxury positioning while collaborating to bring something unique to the product category and wearer," said Mike Flewitt, Chief Executive Officer, McLaren Automotive.
"Castore is delighted to be collaborating with luxury supercar maker McLaren, one of the most respected luxury and technology brands in the world, known for pushing the boundaries of innovation. McLaren Automotive and Castore share a deep commitment to technical and product excellence and our first exclusive capsule collection reflects both brands shared ethos," said Tom Beahon, Co-Founder, Castore
The Castore and McLaren collection drops exclusively at Castore stores and at www.castore.com starting November 3.