Meet Artura: McLaren's first series-production high-performance hybrid supercar debuts
Mar 2, 2021, 6:24 pm
Photo courtesy of McLaren
The McLaren Artura is the company's first series-production high-performance hybrid supercar and, like everything else McLaren does, they're not letting the natural forces of the Earth get into the way of a good time behind the wheel.
It's more than just a modern car. The Arturo is a way forward for McLaren. It's built on the McLaren Carbon Lightweight Architecture, a new platform that allows for engaging drive dynamics and a hybrid powertrain.
The car is designed to have a low-nose, cab-forward, high-tail stance. It has dihedral doors, a short wheelbase, and low stance. McLaren describes the car as looking "almost 'shrink-wrapped''.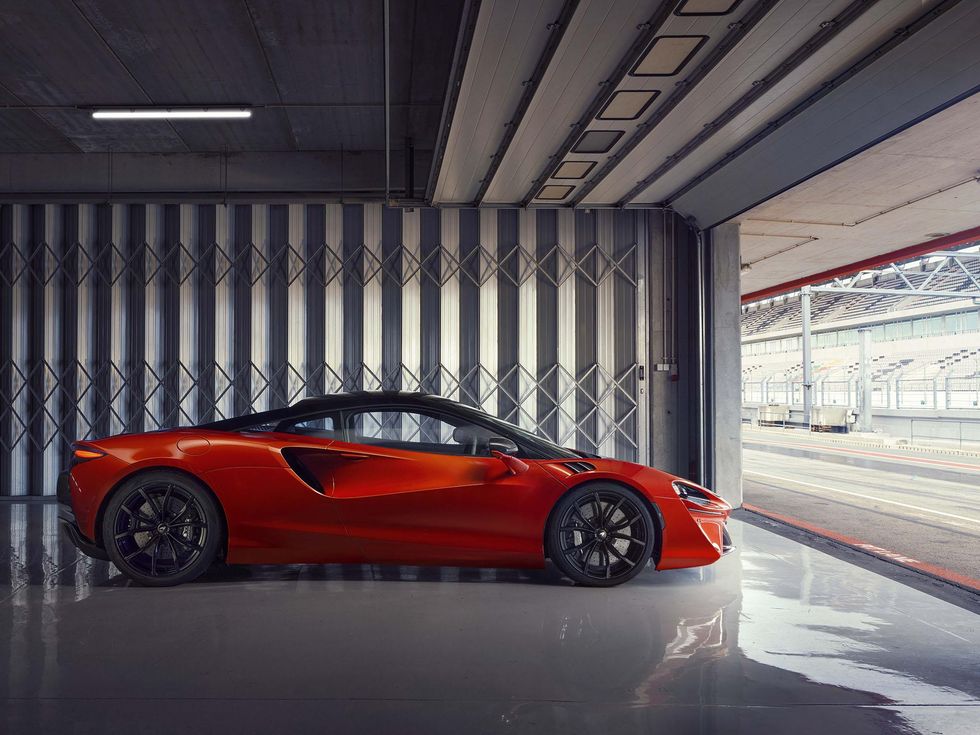 The Artura is ready for the track or street.Photo courtesy of McLaren
The Artura's powertrain features a twin-turbocharged 3.0-liter V6 engine that is paired with an electric motor and 7.4-kilowatt-hour battery pack. The power supply produces 671 brake horsepower and 531 pound-feet of torque. Up to 166 pound-feet of torque is available instantaneously, at the push of a throttle. That gets the car from zero to 60 mph in 3.0 seconds, zero to 124 mph in 8.3 seconds, and zero to 186 mph in 21.5 seconds.

The Artura's lithium-ion battery consists of five modules that are refrigerant called using cooling rails. The assembly is bolted onto the rear base of the monocoque. The car delivers 19 miles of all-electric range.
Owners charge the vehicle via a plug-in hybrid power outlet. It can be charged to an 80 percent level in just 2.5 hours with a standard cable. Batteries can harvest power from the V6 while the car is operational. That harvesting is tailored depending on the drive mode selected.
An eight-speed automatic transmission is standard. It pairs with McLaren's first electronic differential. It has an upgraded electro-hydraulic steering and Proactive Damping Control, which are deigned to enhance agility, stability, and dynamic performance.
The total weight of all hybrid components is 287 pounds (194-pound battery pack and a 34-pound electric motor). The car has a dry weight of 3,075 and a wet weight of 3,303 pounds. That all-in weight is on-par with other supercars that aren't hybrids.

Four Powertrain models, including an E-mode for all-electric driving, Comfort mode for range and efficiency, Sport for more aggressive driving, and Track for premium performance. Separate handling mode choices adjust damper firmness and the degree of Electronic Stability Control intervention to suit driver preference and weather and road conditions. Drivers can choose Powertrain and Handling modes via a steering wheel control without their hands leaving the wheel.
The car's wheels are wrapped in next-gen Pirelli P Zero Corsa tires. The Cyber Tires generate real-time data and relay it to the car's stability control systems to optimize tire performance.
The interior sports standard power-adjustable seats and Homelink. Vehicle nose lift, power folding mirrors, carbon ceramic brakes, and soft close doors are also standard.
U.S. customers get standard power-adjustable heated Comfort Seats with memory. They can upgrade to new Clubsport seats that deliver the support of a bucket seat with a moveable backrest. The car's structure means that a 97.5th percentile (6ft 4in) driver can fit behind the wheel.
There are three further core specifications: Performance, which has a sporting, functional aesthetic; TechLux, where the focus is on the technical luxury that the name suggests; and Vision, which displays a more avant-garde and adventurous look and feel.
McLaren presents the Artura with a completely new interior featuring control buttons on the steering wheel, a new 8-inch high-definition infotainment touch screen, Apple CarPlay, and Android Auto. Two high-definition screens include an interface that is built on all-new software. A stealth mode on the main binnacle hides non-essential content on the screens.
The vehicle is capable of over-the-air updates.
McLaren is equipping the car with a number of advanced driver assistance systems (ADAS) including adaptive cruise control, lane departure warning, auto high-beam assist, and road sign recognition.
McLaren backs the Artura with a five-year new vehicle warranty, six-year battery warranty, and 10-year body warranty.
The McLaren Artura is priced to start at $225,000. The first deliveries of the car will commence in the third quarter of 2021.