Is Lincoln designing a new pickup truck?
Jan 23, 2020, 9:42 am
Photo courtesy of Lincoln Motor Company
Before luxury pickup trucks became the staple that they are today on America's roadways, there was one company willing to attempt to capitalize on the premium buyer. Unfortunately for that company, they were too early. But they had the right concept. That company is Lincoln.
The Lincoln Blackwood was the company's first attempt at a proper luxury pickup. It was built for the 2002 model year and was based on Ford's F-150 platform. It shared the F-150's 5.4-liter V8 that made 300 horsepower and was only available in rear-wheel drive. It had luxury features like a power tonneau cover and a wood-lined bed.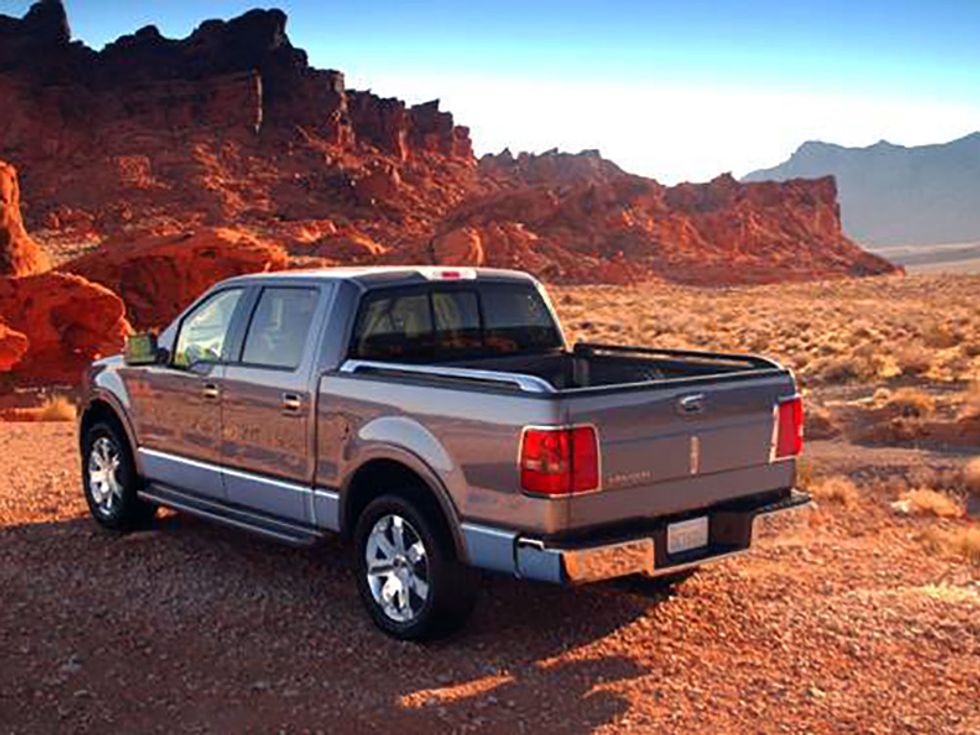 The Mark LT was a luxury level take on a traditional pickup but it may have been a little ahead of its time.Photo courtesy of Lincoln Motor Company
That truck made the way for the company's second attempt; the Lincoln Mark LT. That truck received the updated Triton V8 and was available with four-wheel drive. It was also a more practical truck, having a useful bed and other amenities. It was in production from 2005 until 2008 in the United States (yet carried on until 2014 in Mexico).
Nowadays, the F-150 Limited is nearly a $70,000 USD pickup truck – more than the Mark LT ever was – and people are buying them at a steady pace. It begs the question; is the Mark LT or other Lincoln pickup truck ready to make a return to the United States?
The answer is complicated. Officially, Lincoln is leaving the pickup trucks to Ford. They have their own things to worry about, such as a completely refreshed product line and paying Matthew McConaughey to not say his trademark phrase in commercials.
Unofficially sources have told AutomotiveMap that they aren't sure what a Lincoln pickup truck would even look like. How do you get more luxurious than the F-150 Limited that is already on sale?
That is, indeed, a fair question. The F-150 Limited has premium seats that are both heated and cooled. They have a massage function. The only thing that Lincoln offers above that in their vehicles is something they call "Perfect Position" front seats in the Navigator with dozens of different adjustment options.
The F-150 would benefit from a larger infotainment screen and a more attractive instrument cluster, which Lincoln could offer. But these upgrades are also likely to be attached to a refreshed F-150 that might debut as early as this year for the 2021 model year. That would negate the Lincoln benefit.
Lincoln could offer the truck with a plug-in hybrid, and we know Ford is working on electrification options for the F-150. Combine that with some other unique Lincoln features, like the Revel audio system and Phone as a Key and you might have something that stands out from the best Ford offering.
But would it be enough? The price ceiling on pickup trucks hasn't been reached, which is why manufacturers are able to charge $70,000 for a full-size, half-ton pickup truck. Globally, Mercedes-Benz built a luxury-minded pickup on the Nissan Navara platform but didn't see any sales success. Though the rest of the world does view the pickup truck differently than the United States. What we consider a midsize truck is about as large as they sell globally.
Ultimately, a Lincoln pickup truck revival is unlikely to happen due to differentiation. It's important for Lincoln to set itself from Ford, and like the Mark LT that came before, that is unlikely to happen. Yes, it'd be a different truck, but it wouldn't be different enough. Nor would it be a compelling enough reason for loyal truck buyers to buy a Lincoln instead of a Ford, even if they'd be built on the same assembly line.
There's space in the market for even more expensive trucks, but from Ford they'll likely carry the Ford Blue Oval on them.