Defender, Land Rover Defender: Go behind the scenes of new Bond film 'No Time to Die​'
Nov 15, 2019, 3:02 pm
Photo courtesy of Land Rover
When James Bond knocks, you answer. Whether it's Aston Martin or Land Rover, British auto brands have been well represented in the forthcoming James Bond movie "No Time to Die".
The new Land Rover Defender 110 appears alongside Daniel Craig, Rami Malek, Naomie Harris, Ralph Finnes, and Ben Whitshaw. It is featured in a change sequence that showcases the vehicle's prowess in extreme off road conditions. Behind the scenes photos of the action show stunt coordinator Lee Morrison, who has worked on Jason Bourne, Indiana Jones, and James Bond movies, and stunt driver Jessica Hawkins, who competes in the W Series, at work.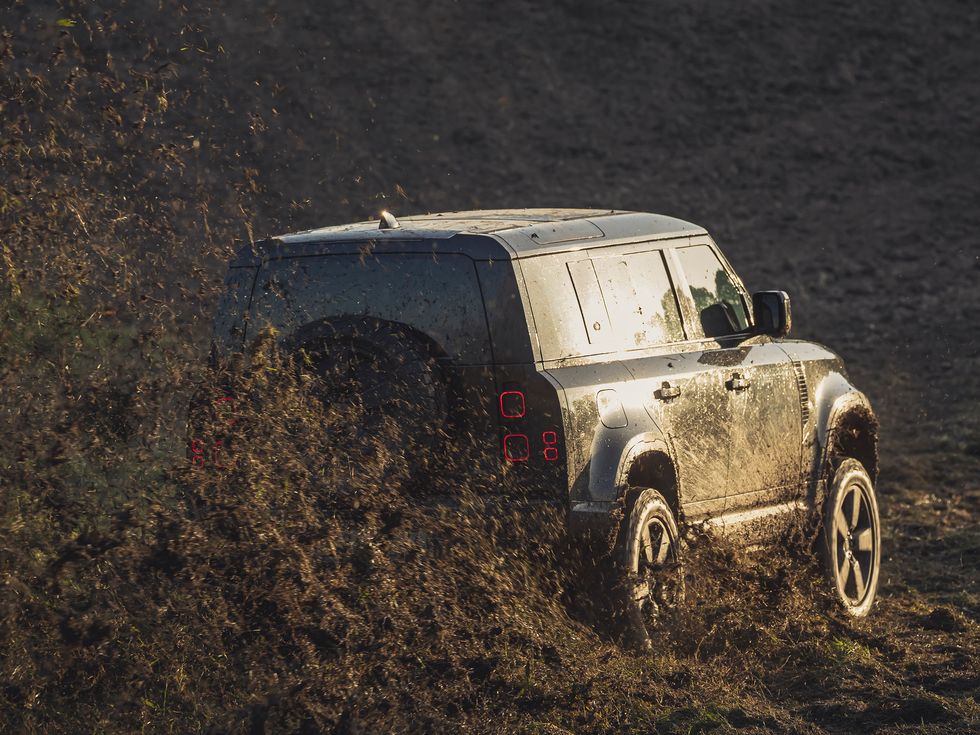 The Land Rover Defender 110 driving through thick mud during filming of "No Time to Die."
"Designing and coordinating the action sequences for the Bond franchise requires a non-compromising mindset." said Morrison. "We needed an unstoppable vehicle to help us battle against the elements, steep descents and river crossings so we chose the new Defender. I'm beyond impressed that the Defender is not only back but much, much better!"
The Defender appears alongside the Range Rover Sport SVR, Land Rover Series III, and Range Rover Classic as the Bond character, played by Craig, traverses the globe to rescue a kidnapped scientist.
Land Rover's design team worked closely with Special Effects and Action Vehicles Supervisor Chris Corbould to spec the Defender vehicles in the film. They are based on the Defender X model in Santorini Black, with darkened skid pans, 20-inch dark finish wheels, and professional off-road tires. The modes were the first Defender vehicles to be built at Jaguar Land Rover's new production facility in Nitra, Slovakia.
No Time To Die | Land Rover USAwww.youtube.com
Land Rover has had a long-standing partnership with EON Productions on the Bond films, going back to 1983 when a Range Rover Convertible appeared in "Octopussy".
The Land Rover Defender 110 featured in "No Time To Die" will be on display for the first time in Los Angeles during the Los Angeles Auto Show in November. Consumers can see the vehicle at the 2019 Los Angeles International Auto Show between November 20 and December 1, 2019.
"No Time to Die" will be released starting April 2, 2020 in the U.K. and in the U.S on April 10.
The Defender 110 will be priced from $49,900 in the U.S. and will go on sale in the spring.