Hyundai unveiling possible next-gen Tucson concept with a plug-in hybrid powertrain
Nov 16, 2019, 2:40 pm
Image courtesy of Hyundai
Next week, Hyundai will unveil a new plug-in hybrid SUV concept car. The model is the seventh in the automaker's series of Hyundai Design Center concepts that combines "emotional value" with "sensuous sportiness" in an application of the company's new design language.
"We pursue innovative solutions in design and add emotional value to our product experience through sensuous sportiness design language," said SangYup Lee, Senior Vice President and Head of Hyundai Global Design Center. The SUV concept is powered by a plug-in hybrid powertrain indicating its eco-lifestyle focus and its inherent balance with the environment in which it is driven.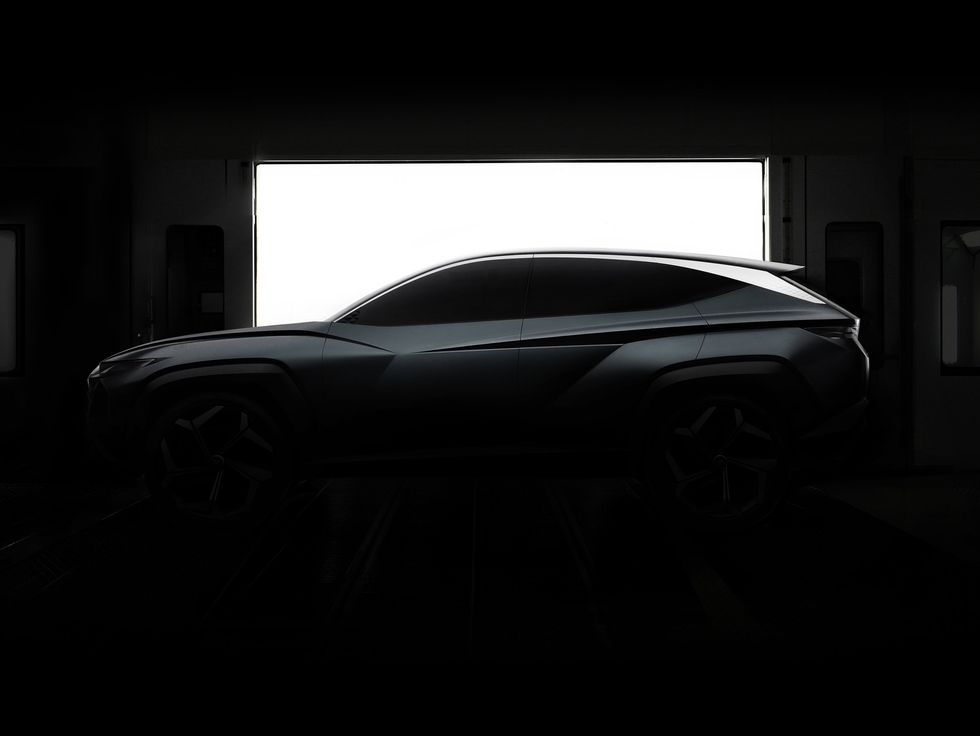 The side profile of the design shows off a new vision for Hyundai's compact SUV.Image courtesy of Hyundai
The SUV has a theme of parametric fantasy and transcendent connectivity. All of the concept SUV's body structures are connected from the body to light or trim features. The overall look is a seamless take on design boundaries, perhaps signifying the future seamlessness of home, vehicle, entertainment, and transportation spaces.
Ambient light reflects off concave and convex surfaces to create a sense of tension, according to Hyundai.
The vehicle features an evolution of the Hidden Signature Lamp (as seen on the new Sonata) and features a parametric air shutter that deploys to help adjust aerodynamics and design. The shutter is closed when the vehicle is stationary then moves to effect airflow, aerodynamics, and fuel efficiency.
Why might it be the next Tucson? Hyundai has already disclosed that this concept has the dimensions of a compact SUV. That ticks the Tucson box. There's also the name of the vehicle "Vision T" and the fact that nearly every SUV in the Hyundai lineup has either debuted or undergone a significant redesign in the last 18 months except Tucson. It's logical that Tucson would be up next and that it would evolve Hyundai's powertrain offerings given the success of the Kona EV.
Earlier, Hyundai announced that 13 new products would be making their way into the company's portfolio in the coming years including the Hyundai Santa Cruz truck.
No details about the car's plug-in hybrid powertrain are yet available. The full concept car will be revealed during AutoMobility LA.