High-Tech Problem Solvers
Hyundai's new next-level noise canceling technology to debut on new Genesis model
Nov 12, 2019, 6:30 pm
Photo courtesy of Hyundai Motor Group
Noise cancelling technology has been around for a while and is employed by nearly every automaker. Whether it's dense foam insulation, thick carpets, technological innovations, or recommending a certain tire compound, there are many ways automakers work to keep road and engine noise from permeating the cabin.
Hyundai is taking those traditional methods of sound-blocking even further with the world's first Road Noise Active Noise Control (RANC) system, which the company says "dramatically reduces" cabin noise.
RANC is the next step in active noise control technology and works by emitting sound waves that have been inverted to incoming noise. Think of it like two magnets repelling each other.
Previously, active noise control technology only allowed predicted noises to be able to be muted.
"RANC is a remarkable technology which takes existing noise, vibration, and harshness (NVH) technology to the next level," said Gangdeok Lee, a Research Fellow of NVH Research Lab, "We will continue to take the leading position of NVH highest level of quietness to customers."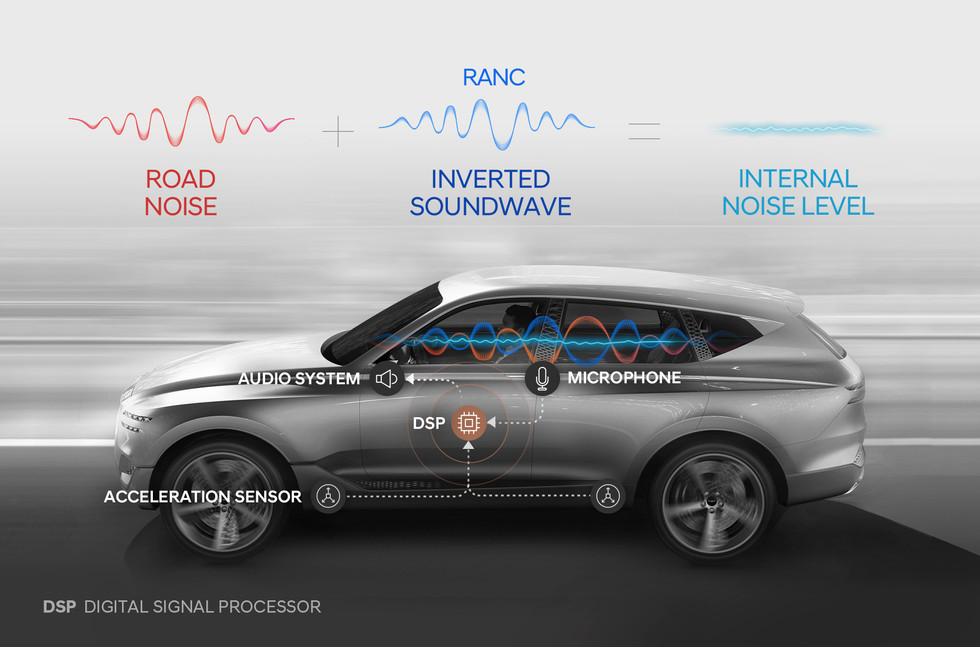 Hyundai has developed new noise cancelling technology that uses sound waves to repel incoming sound waves.Photo courtesy of Hyundai Motor Group
The new RANC technology, which took six years to develop, analyzes road noise in real time, using an acceleration sensor, and calculates the vibration from the road to the car. A computer analyzes the results and the system optimizes the signal in less than 0.002 seconds, adjusting accordingly.
RANC is able to calculate the sound independently for the driver, passenger, and rear seats.
Hyundai testing revealed that RANC is able to reduce in-cabin noise by 3dB, roughly half of what is currently experienced in Hyundai vehicles.
This technology has further reaching implications. Because Hyundai will not have to rely on heavy, dense foams and carpet to help with cabin noise, they are able to lessen the amount of or remove those elements from vehicles, allowing for more passenger space and less weight. In turn, this could make vehicles more fuel efficient.
The system will be mass produced by Harman.
Hyundai Motor Group has completed domestic and American patent applications for the location of sensors and signal selection method, the core technology of RANC.
The technology will begin to be applied to an upcoming Genesis model.
From Your Site Articles
Related Articles Around the Web