Hyundai adding 13 new products by 2022
Nov 10, 2019, 5:25 pm
Photo courtesy of Hyundai Motor America
Hyundai has announced that it will add 13 alternatively fueled vehicles by 2022. That number includes six sedans and seven SUVs.
"As the automotive industry evolves to meet the needs of a diverse customer base and environmentally-aware society, we will continue to provide alternative-propulsion options in a variety of product choices," said Mike O'Brien, vice president of Product, Corporate and Digital Planning, Hyundai Motor America. "For consumers seeking forward-thinking and eco-friendly personal transportation options, Hyundai's product line-up meets these criteria and more."
The first of those 13, the refreshed 2020 Ioniq Electric, Hybrid, and Plug-in Hybrid will debut at the Los Angeles Auto Show later this month. The Ioniq is already American's most fuel-efficient car. The 2019 Ioniq Hybrid gets 57 mpg and starts at $22,400. Hyundai's 2019 Ioniq EV has a 124-mile range and starts at $29,815. The 2019 Ioniq Plug-In Hybrid is the most impressive with 630 miles of combined electric and gasoline range. It has a starting price of $25,350.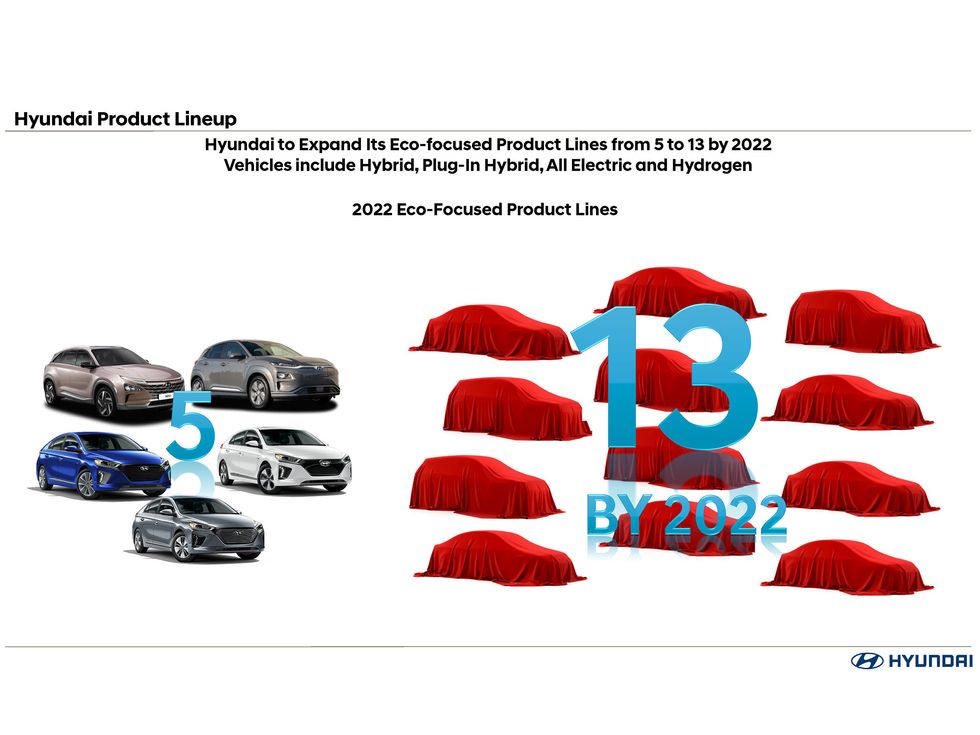 Hyundai is adding 13 vehicles to its already-expansive portfolio.Photo courtesy of Hyundai Motor America
Additionally, the 2020 Hyundai Sonata Hybrid will be launched next year. AutomotiveMap has already driven the new Sonata, albeit with the car's traditional gasoline-powered engines, and found it to be technologically advanced and finely appointed, especially at its low $23,400 starting MSRP.
Other sedans in the Hyundai lineup include the Elantra and Accent. Hyundai's SUV lineup includes the Venue, Kona, Tucson, Santa Fe, and Palisade.
In 2018, Hyundai announced plans to introduce eight new CUVs by 2020 saying that the vehicles would be powered by a variety of current and future Hyundai engines, batteries, and hydrogen fuel cells with both gasoline and diesel-powered engines. The already-launched Kona, Venue, and Palisade fit into those plans.