Is GM bringing Hummer back?
Jan 11, 2020, 9:20 am
The electric pickup truck wars appear to be getting reinforcements. The Wall Street Journal reported Friday that General Motors will revive the Hummer name and use it to launch new, all-electric pickup truck and SUV models under the GMC brand in 2022.
When AutomotiveMap reached out to GMC for comment, however, a spokesperson said, "The WSJ story is speculation and we don't have anything to confirm or comment on."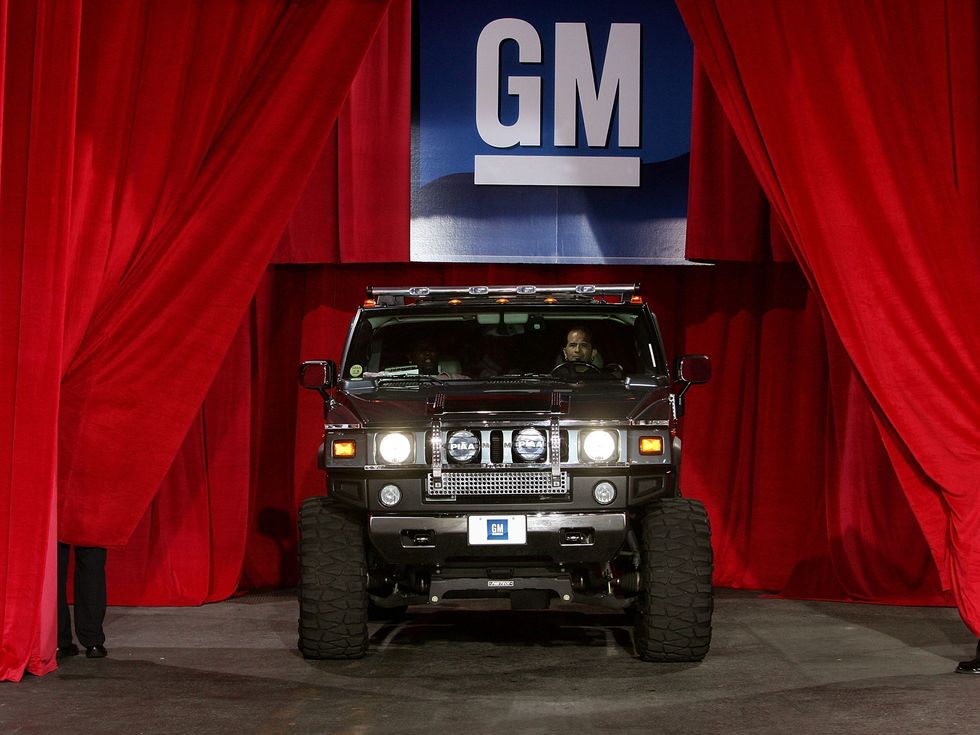 A Hummer is driven at the Annual Rollin' 24 Deep: GM All-Car Showdown held at Paramount Pictures on July 12, 2005 in Hollywood, California.Photo by Getty Images
Early in 2019, it appeared GM would be moving into this space with help from EV startup, Rivian. That deal fell through in February, however, and Rivian subsequently formed a partnership with GM's crosstown rival Ford. Ford is moving forward with an electric F-150 and Tesla reportedly received over 200,000 deposits for its Cybertruck just days after its unveiling. So it's no surprise that GM would build an electric pickup truck. What is surprising is the use of the Hummer name.
In the early 2000s, Hummer was the darling GM, selling over 250,000 high-priced, high-margin SUVs from 2002 through 2007. But, when gas prices spiked and the housing bubble burst sending the stock market tumbling, Hummer's sales followed suit. Just two years later GM sold fewer than 4,000 Hummers and pulled the plug on the brand.
The original Hummer H1 was a civilian version of the military-spec M998 Humvee, produced by AM General. Its very first customer was Arnold Schwartzenegger, who purchased two. GM expanded the line to include the H2, a full-size SUV built on its heavy-duty truck platform, and H3, basically a re-skinned and re-badged Chevy Tahoe.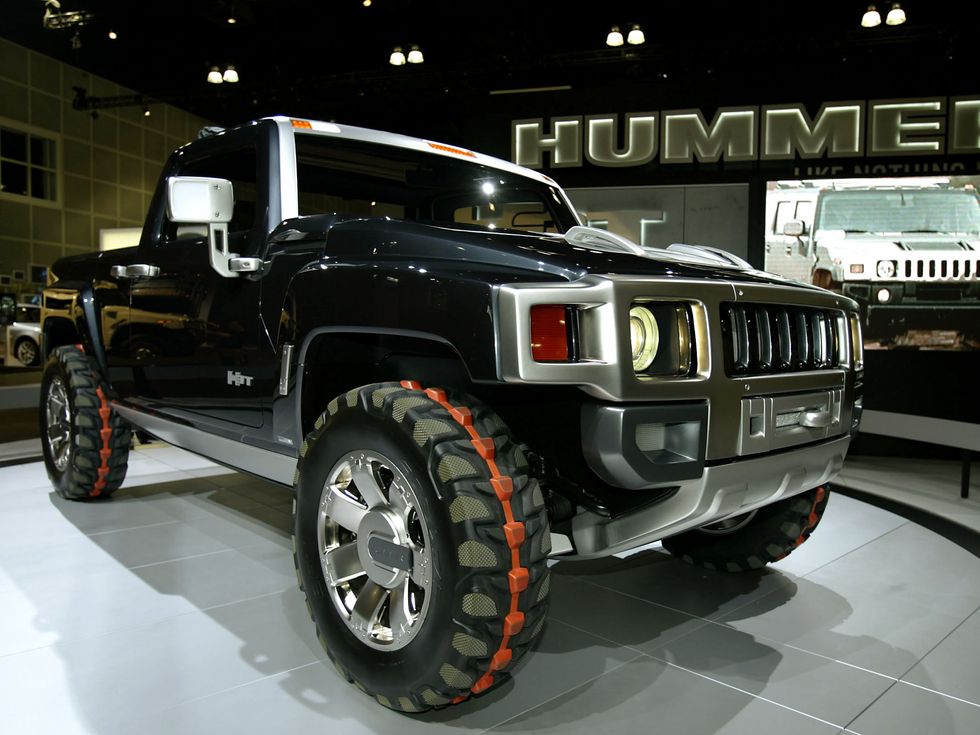 A Hummer H3T truck is displayed prior to the start of the 2004 Greater LA Auto Show at the Los Angeles Convention Center December 30, 2003 in Los Angeles, California.Photo by Getty Images
Rumors of a new Hummer have been around since 2018, but only gained traction in November of 2019 after the GM/UAW strike ended. In the settlement GM committed to keeping its Hamtramck, Michigan assembly plant open to build electric trucks for Cadillac, Chevy, GMC, and a mysterious "M-brand."
If ever there were a time to bring back the Hummer re-imagined as a high-end electric vehicle, this is it. Sales of luxury SUVs and trucks are at an all-time high as premium manufacturers flock to the segment. You can now get highly capable, high dollar SUVs BMW, Mercedes-Benz, Land Rover, Lexus, and even Bentley and Rolls-Royce. Mainstream manufacturers like Jeep, Hyundai, Ford, and Ram are expanding the availability of luxury features like heated and ventilated leather seats with contrast stitching, premium audio systems, and digital cockpits into their pickup trucks and SUVs.
Some have questioned the wisdom of reviving a name that is known for gas-guzzling as a brand for an electric truck. In an editorial just last week, Detroit Free Press auto critic, Mark Phelan wrote, "Not to put too fine a point on it, but a lot of people hate Hummer. Particularly the educated, wealthy, early adopters GM would want to attract with a line of electric luxury SUVs."
Will GM revive the Hummer? If the Wall Street Journal is correct, we'll know for sure on Super Bowl Sunday. They're reporting that LeBron James will star in a commercial for the Hummer during the big game. AutomotiveMap be keeping our eyes on this one and have more news on the new all-electric Hummer as it develops.