Meet Horacio Pagani, the man who changed supercars into hypercars
Nov 6, 2019, 3:00 pm
Photo courtesy of Pagani Automobili
Before the Pagani brand name became synonymous with supercars and hypercars, company founder Horacio Pagani had to travel many miles from the small town of Casilda, Argentina where he was born in 1955.
As a child Horacio would make miniature car models, read about exotic European motor shows, and study legends of the industry like Enzo Ferrari and the Maserati brothers. He dreamed of traveling to Modena, Italy, a town known for being the home of renowned tenor Luciano Pavoratti that would become better known as being the home to the Ferrari, De Tomaso, Lamborghini, Pagani, and Maserati automobile companies.
Horacio also learned about Leonardo Da Vinci, another famous Italian. He read a quote by Da Vinci that would set him on his path: "Art and Science are two disciplines that must walk together hand in hand."
Museo Horacio Paganiwww.youtube.com
By 1979, Horacio had spent two years crafting a Formula 2 single-seater racecar, working each bit of the car's minutiae except the car's engine, which was supplied by Renault. The detail work of the car attracted the attention of Oreste "El Mago" Berta, one of the world's leading automotive engineers, and five-time Formula 1 World Champion Juan Manuel Fangio.
This was his turning point.
A tent, a suitcase, and two bicycles are all that Horacio and his wife Chrisina left home with when they set off for Italy in December 1982. They didn't know if they would be able to find a job there once they arrived. The automotive industry in Italy was suffering from a slump during as the changing tides of buyer purchasing behavior moved quicker than brands like Alfa Romeo and Lancia were able to adjust. Letters of introduction and recommendation from Fangio did little to help his cause.
Despite living on a shoestring budget and making his wages doing odd jobs, Horacio never lost site of his dream.
UNSUNG HEROES #73 - The Lamborghini Countach Evoluzionewww.youtube.com
He was able to put together several solid months of employment at Automobili Lamborghini before the company moved to hire him as a mechanic. His passion burned so bright that Horacio quickly gained a reputation for his work ethic, being the first to arrive in the morning and the last to leave at the end of the day. After dinner he would delve back into sports car design and production issues.
In 1985, at 30 years young, Horacio was promoted to lead the new Composite Material department where he participated in the design of the Lamborghini Countach Evoluzione, a one-off prototype that was created to test multiple forthcoming designs that would be the basis for future Lamborghini product using technology usually reserved for the aerospace industry. Some of its attributes and features made their way to the Lamborghini Diablo, the automaker's first mid-engine model, when it debuted in 1990.

With his work on this prototype, Horacio learned that the future of sports cars would focus on efficiency, safety, and lightweighting. He took this knowledge and tried to convince Lamborghini to purchase an autoclave so they could make composite materials on a large scale. When he was turned down, he went to the bank, got a loan, and bought the machine himself, installing it inside a rented building near the Lamborghini plant. He used the autoclave to conduct research and development that he would harvest in the future.
The onset of a world economic crisis is not the time when many financial planners would advise to start a business, but it was then, during the late 1980s, that Horacio decided to strike out on his own, founding Modena Design, making leading-edge composite bodies for Renault, Daihatsu, Ferrari Formula 1, Aprilia and Dallara. In the overnight hours, he worked on his own car, soon to be known as the Fangio F1.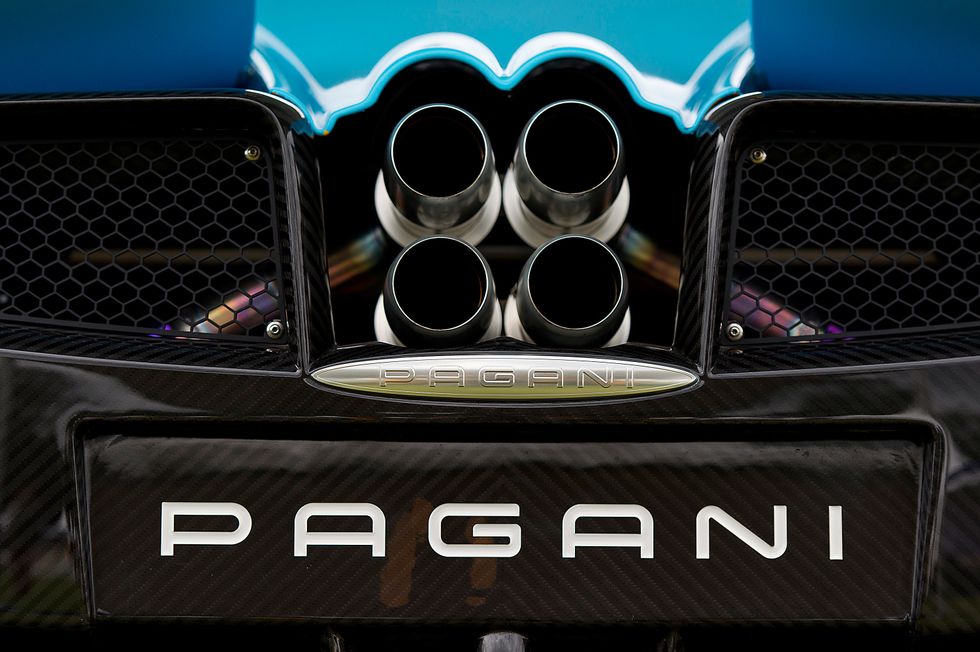 The company now known as Pagani Automobili started as Modena Design in the late 1980s.Photo by Getty Images
Following several years of development on the Fangio F1, Horacio met then-Mercedes-Benz chief engineer Dieter Zetsche, the man with a mustache the Lorax would envy who is affectionately known as Dr. Z, who would go on to be the Chairman of the Board of Management of Daimler AG and head of Mercedes-Benz. Horacio showed Dr. Z the Fangio F1 prototype he was working on and Zetsche exclaimed, ""It looks like a timeless car!" to which Horacio replied: "Thank God! Because I don't have any money and I'll need a lot of time to make it."
Months after their meeting, Zetsche agreed to supply Horacio with the 450-horsepower,12-cylinder Mercedes-Benz M120 engine that would help begin to make Horacio's dream a reality.
In March 1999, the car was officially presented at the Geneva Motor Show under the mark name Zonda. It was different. Very different. There was almost an unprecedented level of attention to detail. Using the term supercar wasn't enough to describe the model. It became the world's first hypercar, seamlessly blending science with art.
The Pagani Huayra Story - A Documentarywww.youtube.com
Pagani Automobili had arrived.

First with Honda, then with Huayra, Pagani has broken speed records and made technological breakthroughs, all in style.
Neither Pagani nor Horacio are done. The company and the man have more ambitious goals they wish to achieve in their mission to create further timeless models that never lose sight of Horacio's, or Da Vinci's, vision.