Honda's journey to selling 400 million motorcycles started with a Dream in 1949
Dec 30, 2019, 5:57 am
Honda kicked off production of the Dream D-Type motorcycle in 1949, marking the brand's first foray into commercial motorcycle production. Seventy years later, the company has made its 400 millionth.
"For 70 years, Honda has provided to customers worldwide motorcycles that make life easier and enjoyable," said Takahiro Hachigo, Chief Executive Officer, Honda Motor Co., Ltd. "As a result, we have achieved our 400 million-unit milestone. I am grateful to all of our customers, and everyone involved in development, manufacturing, sales and service of our products. We will continue to do our best to provide attractive products that meet the needs and dreams of our customers worldwide."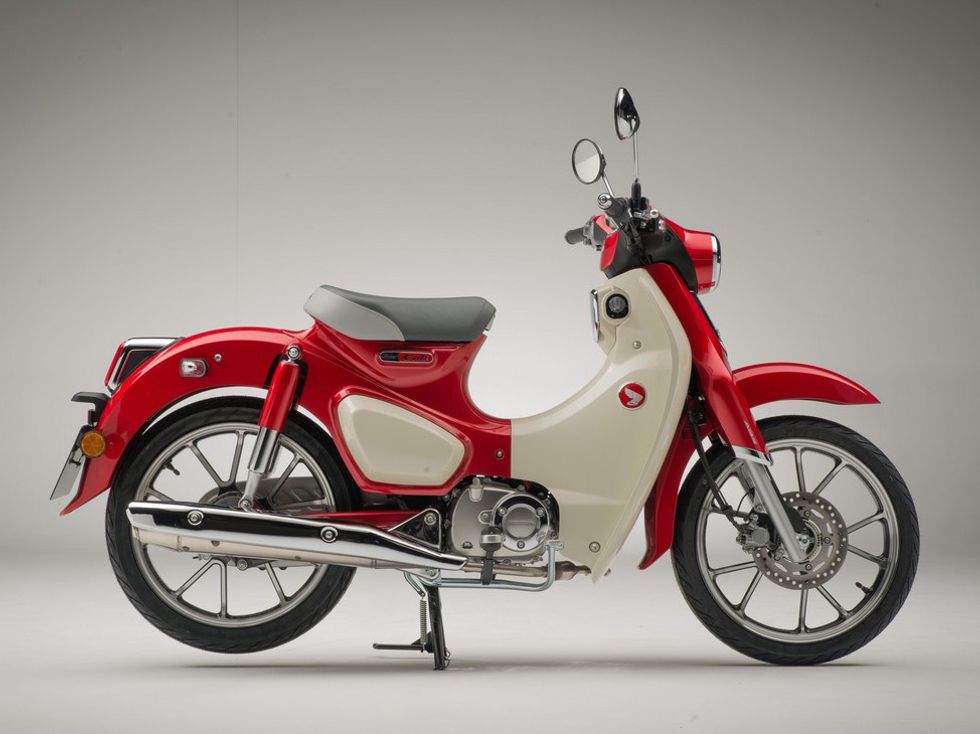 The Honda Super Cub is the most important motorcycle in Honda's history, selling more than 100 million nationwide since its debut.Photo courtesy of American Honda Motor Co., Inc
Sometimes known as the Type D or Model D, the Dream D-Type was the first in a series of Dream motorcycles that Honda made in its early years. The bike featured an air-cooled two-stroke single-cylinder engine with 98 cc displacement and three horsepower.
Honda unveiled the D-Type's successor, the E-Type, in 1951 and began exporting motorcycles from Japan in 1952. That same decade, in 1958, Honda released its first Super Cub, the Super Cub C100.

The Super Cub is Honda's most successful motorcycle. Its numerous variants accounted for over 60 million total sales by 2008, 87 million by 2014, and 100 million by 2017. It is now the most produced motor vehicle in history.
Honda first entered the motorcycle Grand Prix racing stage in 1959. This decade also the beginning of the production of purpose-built Honda motorcycles for racing that carried the "RC" label. Honda Racing Corporation would eventually form in 1982 and carry on the naming tradition.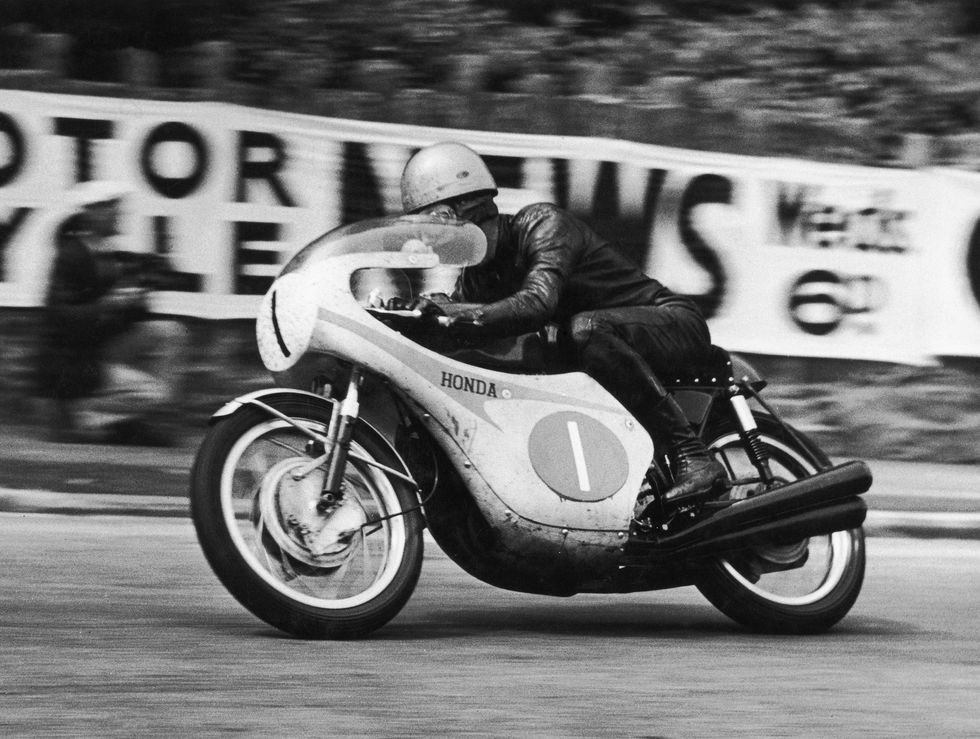 British born Rhodesian racing motorcyclist Jim Redman riding a Honda to victory in the Lightweight 250cc event at the Isle of Man TT races, 9th June 1964. Photo by Getty Images
As a way to show the difference between the negative stereotypes that were pervasive in U.S. culture surrounding motorcyclists, Grey Advertising created the slogan "You meet the nicest people on a Honda." The campaign was a resounding success and is still considered a case study in good advertising strategy.
With demand on the rise, Honda expanded production opening a facility in Belgium in 1963 and one in Thailand in 1967. By 1968, the company reached 10 million cumulative motorcycles produced.
Expansion continued with production expanding to Indonesia in 1971 and Italy and Brazil in 1976. It wasn't until 1979 that Honda began producing motorcycles in North America.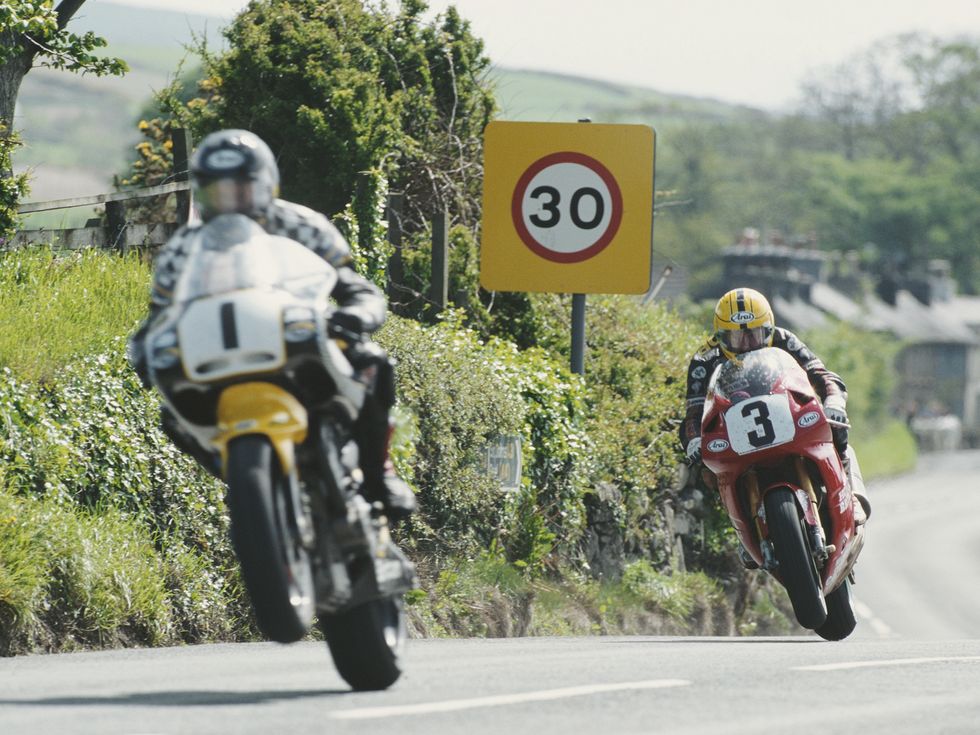 Joey Dunlop of Great Britain and rider of the #3 Honda Britain Honda RC45 chases Shaun Harris on the #1 Britten V1000 during the International Isle of Man Formula One TT (Tourist Trophy) Race on 5 June 1996, Douglas on the Isle of Man, United Kingdom.Photo by Getty Images
Honda continued to have success in the world market though there are mixed opinions regarding the company's lack of competition in the higher-powered motorcycle market in the U.S. Some theorized that it was poor planning on behalf of Honda while others say that it was never Honda's intent to compete.
Honda of America began producing motorcycle engines in Ohio in 1985.
In 1987, as Honda reached the 50 million mark in total motorcycle production in Japan, the company also celebrated the beginning of motorcycle and auto part production at Honda de Mexico. This is the same year that Honda first included an air bag in a car, the Acura Legend.
1992 marked the year that Honda first produced the Honda NR, the first motorcycle that was sold with oval pistons. The shape of the pistons allowed for eight valves per cylinder, generating more power than other setups.
Honda's Marysville, Ohio, Motorcycle Plant produced its 1 millionth vehicle in 1996, a Gold Wing Aspencade.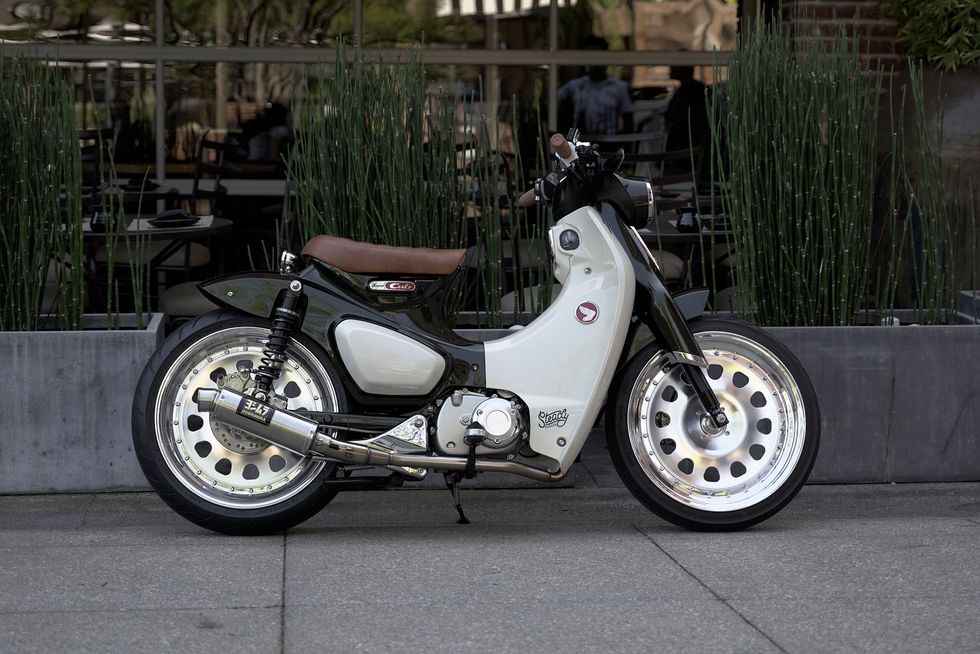 This City Slicker Super Cub built by Steady Garage for SEMA in 2019 sports chopped and shortened front and rear fenders with a retrofitted front suspension, custom hubs, and a custom two-tone green and off-white paint job.Photo courtesy of American Honda Motor Co., Inc
Motorcyclist magazine named the Honda Interceptor its "Motorcycle of the Year" in 1998. The Interceptor was a notable model because it brought much of the technology of a Honda motorcycle only previously seen on the race track to the street.
Additional production capacity for motorcycles was added with plants in China and Vietnam in the 90s and India in 2001. Bangladesh's Honda factory opened in 2013.
In 2017 India became Honda's largest motorcycle market and the next year the company exceeded 20 million annual motorcycle units produced for the first time.
In 1997, Honda produced its 100 millionth motorcycle, Just 11 years later the company celebrated its 200 millionth and seven years after that the company was at 300 million. Now, just five years later, that total has grown to 400 million.
Honda currently produces a wide range of motorcycles, from 50cc commuters to 1,800cc models, at 35 facilities in 21 countries.