GMC reveals details of the 2024 Hummer EV SUV's 'tactical technology'
Apr 5, 2021, 2:11 pm
When it debuted over the weekend, GMC promised that the 2024 GMC Hummer EV SUV would be packed with "tactical technology". Today, the company is giving a more in-depth look at what technologies you can expect to see in the SUV when it finally makes its way to U.S. dealerships in early 2023.
"GMC's Hummer EV SUV offers an exceptional balance of on-road performance and off-road capability, enhanced by a unique structure that allows for our signature open-air experience," said Al Oppenheiser, Hummer EV chief engineer. "New features debuting on the SUV reinforce its role as a tactical tool in almost any situation."
Among the new technologies are trail mapping, an available Power Station generator, Extract Mode, and CrabWalk. They combine with the Hummer EV SUV's dimensions, which make off-roading hospitable, to create a compelling vehicle, at least on paper.
Satellite-rendered trail mapping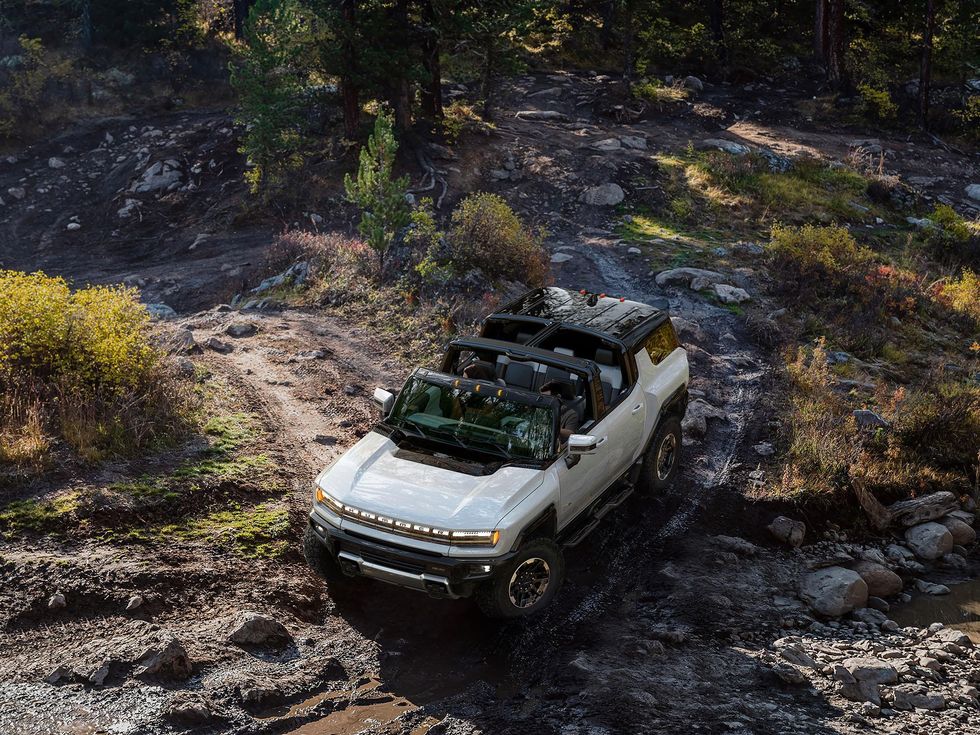 Photo courtesy of GMC
Think of this tech as trail navigation plus energy monitoring all in one. The redesigned myGMC app allows users to plan and navigate off-roading adventures while keeping an eye on charging locations and their distances fro off-road locations. This all results in a community-based energy forecast. Routes and plans can be downloaded from the app on the driver's phone and projected on the vehicle's infotainment screen to be used while driving.
"It's technology that adds to the Hummer EV's immersive driving experience," said Mike Colville, senior manager for EV complex feature integration and execution. "More than simply locating a destination, we help you find an epic one, create an EV-unique navigation experience when you get there and allow you to share your trip with others."
Once pushed to the in-vehicle system, the Hummer EV SUV's 13.4-inch infotainment screen and 12.3-inch driver information display share the appropriate information in the correct places for easy use.
Cameras everywhere 
From the same company that brought you 15 different camera views in the 2020 Chevrolet Silverado comes the available technology known as UltraVision. UltraVision offers 360-degree high-definition views with 14 camera views standard and up to 17 camera views the available underbody cameras that come on the Extreme Off-Road Package.
Selective power allocation
The Hummer EV SUV is nine inches shorter than the Hummer EV pickup. That allows it to be more maneuverable, with a turning circle of just 35.4 feet and four-wheel steer. That turning circle is tighter than what the Ford Mustang Mach-E and Toyota RAV4 offer.
The SUV's platform allows for 13 inches of suspension travel while climbing up to 60 percent grades, scaling 18-inch verticals, and fording water more than two feet deep. To do this, the Ultium drive system is able to allocate all the SUV's power to one wheel or split it between several.
This power allocation ability also enables the SUV's CrabWalk mode. Standard on 2X, 3X, and Edition 1 models. CrabWalk enables diagonal drive functionality.
Extract Mode
GMC is touting the Hummer EV SUV's adaptive air suspension with Extract Mode. Though details are scant on what Extract Mode may entail, the general thought around the industry is that it will be something similar to Mercedes-Benz's Free Driving Assist. That Merc tech is an off-road mode that helps drivers get free when they've managed to get their SUV stuck in sand or mud via a bouncing effect.
An onboard power generator
GMC will offer the Hummer EV SUV with generator technology that is similar to what Ford already offers in the F-150. The available Power Station generator enables 19.2 kilowatts of AC charging, generator functionality (120v/25A/3kW), and ability to charge other EVs (240v/25A/6kW). The Ford model's Pro Power Onboard system offers 7.2 kilowatts of charging capability. Earlier this year, theHyundai Ioniq 5 was teased with similar technology.