GMC sets the date for SUV version of the 2022 Hummer EV debut
Mar 8, 2021, 10:03 am
The 2022 GMC Hummer EV is almost ready for production - expect to see it this autumn - so that means that it's time for the next chapter of the Hummer, the Hummer EV SUV.
The two models are expected to share powertrains, drivetrains, and much body structure. Think of it as the relationship between the Chevrolet Silverado and Suburban, or the Rivian R1T and R1S. Either way, it's a tried and true formula that works well given the vehicles' similar body sizes.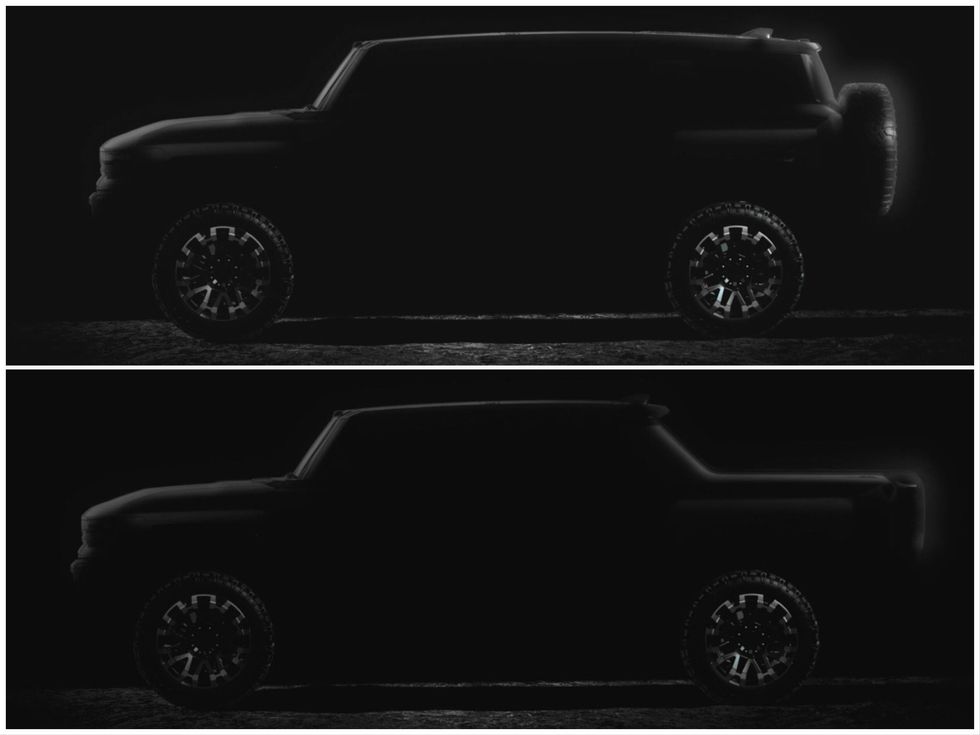 The GMC Hummer EV SUV (top) and truck (bottom) were teased ahead of the GMC Hummer EV's debut in stylized images. Photo courtesy of GMC
Because we're already seen the Hummer EV truck, we have an idea what can be expected from the Hummer EV SUV. The first Hummer EV, the Edition 1 model,. delivers 1,000 horsepower, has a 350-mile all-electric range, and goes for $112,959. In the ensuing years, GMC Is slated to deliver less powerful and far less expensive versions of the truck. This is a formula that likely plays out for the SUV as well.
Expect the dimensions and wheelbase for the SUV to be similar to the Hummer EV truck as well. Built on GM's new flexible architecture, the Hummer EV fits between the traditional and extended wheelbase sizes of the 2021 GMC Yukon and Cadillac Escalade. It's over a foot longer than the Hummer H2 and a few inches taller than the Ford F-150 Raptor.
What we don't know is if the truck's t-top-style Infinity Roof will be carried over into the SUV. It's likely that Crab Walk mode and Watts to Freedom launch mode will make the cut.
The 2022 GMC Hummer EV Edition 1 will have 350 miles of range coming from its GM Ultium battery pack. This is the same power supply the SUV will get.
GMC will unveil the Hummer EV SUV at 5 p.m. ET on April 3, 2021 and feature it during the NCAA Final Four. Reservations for the model will open immediately following the reveal on the same date.