GM shortens trailer stopping time with new, innovative eBoost technology
Jan 22, 2020, 10:04 am
Photo courtesy of Chevrolet
For some folks, towing a trailer is second nature. It's like riding a bicycle or going for a swim. But for a vast majority of others, towing can be intimidating, scary and even downright dangerous. No matter what category you fall into, truck makers have been working feverishly to come up with new and exciting technologies to make towing easier and safer for you.
One of the biggest challenges of towing, at least at speed, is the abrupt need to come to a stop. Whether it be someone pull out in front of you or the traffic light turned red sooner than you'd expect. Towing down a grade in high winds can create even more issues.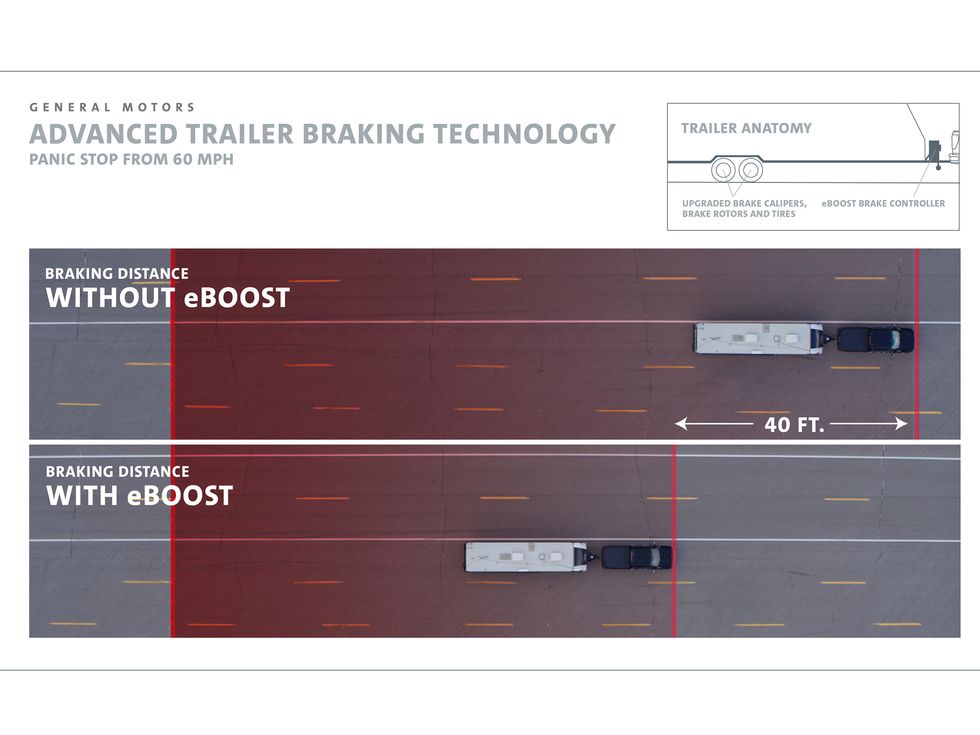 This diagram shows the impact of the new eBoost technology.Photo courtesy of General Motors
To help with towing and stopping, electronic trailer brake controllers are common on rigs that tow. They help control the trailer by apply the brakes in the trailer. Setting up a trailer brake control is often described as an art, not a science.
That's where new General Motors tech comes in. Using their electronic brake system from their heavy-duty pickup, the company has fitted it to a trailer for the purpose of improving braking. Their goal was to equip a trailer with the company's eBoost braking system and see how well they could stop with it.
Their goal was to take a 2020 Silverado HD without a trailer and see how far it took to stop. Then they attached a trailer with 9,000 pounds and set a target of stopping in the same distance. They were within three feet.
That means in a full-on, emergency stop scenario a truck towing a 9,000-pound trailer can stop as short as a truck without a trailer. Not to overwhelm you with hyperbole, but that is a game changer.
Why? There's no complicated setup of the trailer brake controller. The equipment already exists, and GM managed to do it with around $1,000 worth of hardware that's already available. It would require a trailer manufacturer to integrate it with their trailers, but the safety benefits are huge.
Unlike some aftermarket anti-lock braking systems, primarily from Bosch, this system communicates with the truck, and can even use electronic stability control to reduce trailer sway.
It's a prototype at this point. GM is hoping to find a trailer maker to help develop the technology. The marketing department is still figuring out all of the details, but in addition to offering it on a brand-new trailer, it might even be possible for certain dealerships or installers to add it to existing trailers after the fact.
While there is a truck war going on with how can tow and haul the most, the efforts that GM is making right now for improving towing safety, such as their invisible trailering system and this prototype trailer brake system, makes the roads safer for everyone – even if they don't drive a GM.