AutomotiveMap answers 5 common fuel economy questions
Oct 27, 2019, 9:00 am
How fuel efficient is your car? The numbers you saw on the car's window sticker while you were shopping the dealer lot are likely not playing out in real life. Why?
In this guide to fuel economy, AutomotiveMap will help you better understand what a fuel economy rating is, how your driving and the environment impact real world fuel efficiency, and how hybrid powertrains impact fuel economy.
What is fuel economy?
Fuel economy numbers are measurements of the efficiency at which a vehicle uses its fuel, whether that's gasoline or diesel. A vehicle that has high fuel economy number is considered fuel efficient while vehicles that burn through their fuel at a faster rate are labeled as fuel inefficient.
Who determines if a car is fuel efficient?
Ultimately, a car's fuel efficiency comes down to the driver. However, the U.S. Department of Energy produces an estimated fuel economy rating based on laboratory tests that are conducted by manufacturers using a regulated process.
How does my driving impact fuel economy?
Car are least fuel efficient when moving from a stop. The acceleration needed to propel a vehicle forward causes the car's efficiency to plummet. However, other aspects of the drive experience are more fuel efficient, balancing out the car's overall fuel economy numbers.
When you accelerate quickly off the line, not only does the vehicle need to use its usual fuel inefficient propelling process, the hard acceleration tells the vehicle to do it faster, a process that uses more fuel. This process holds true when it comes accelerating to pass folks on the highway.
Abruptly stopping uses more fuel than coasting to a stop because you are maintaining a speed up until the last possible moment.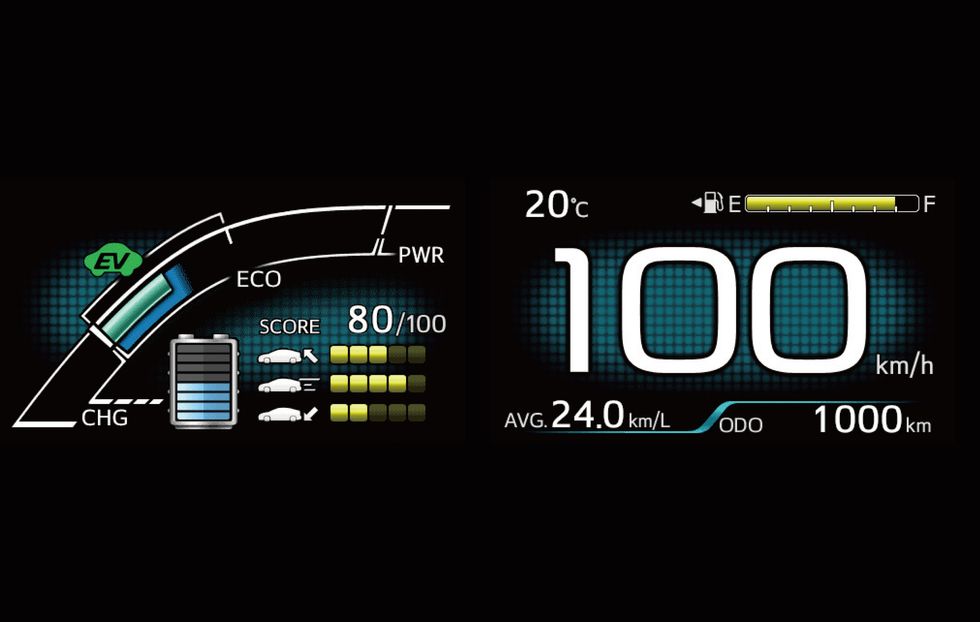 Many hybrid cars come with displays like this that help drivers understand the impact of their driving by illustrating best practices.Photo courtesy of Toyota
How does the environment impact fuel economy?
When it's hot or cold, running your climate control system requires energy and that impacts your vehicle's efficiency. However, modern systems can be as efficient, or more efficient, than driving with the window's down so don't think that is the more efficient solution.
When it is cold outside, your vehicle needs to warm itself (and you) up to reach peak efficiency. The colder it is, the longer it takes and the more energy it requires.
In an EV, using the radio, climate system, windshield wipers, and lights can all impact a vehicle's range. There's only so much electricity to go around!
Vehicle maintenance also impacts a car's efficiency. Things such as changing your oil regularly and making sure that your tires are inflated to the correct level can have a large impact on your vehicle's efficiency.
Weight also impacts how fuel efficient a car is. If a vehicle is loaded up with people and gear, it has extra weight to lug around. That weight requires additional energy to get going and keep going.
How does a hybrid help fuel efficiency?
Most hybrid cars use an electric power boost to help them get off the line faster. The battery's boost of electricity takes the place of traditional fuel methods being used. Because there isn't as much gasoline or diesel being used, the car is more efficient.
While driving down the road, many hybrid systems (consisting of a battery and an electric motor) use a motor (or two, or three, or four) to move the wheels of the car. Many systems are designed to recapture unspent energy and return that to the battery.
The fuel efficiency of cars has been steadily rising over the last four decades. Nowadays, the Toyota Prius, an impactful model in the hybrid vehicle marketplace for the last 15 years, is basically as fuel efficient as the Toyota Corolla Hybrid.
Related Articles Around the Web