Original Bronco's design was conceived by Ford's first African American designer
Feb 25, 2020, 5:38 pm
Photo courtesy of Ford Motor Company
Ford's design studio has churned out some of the most iconic models of all time. They're models so iconic that they need only be mentioned by one name - Explorer, Mustang, Bronco. With the Bronco, the design and engineering teams at Ford created not just the first Ford 4x4 sports-utility vehicle, but an iconic vehicle that has millions of fans nationwide.
McKinley Thompson Jr., like many automotive enthusiasts had his interest in the industry sparked by particular vehicle. The silver-gray DeSoto Airflow caught his eye when he was around 12 years old. "It just so happened that the clouds opened up for the sunshine to come through," he said in an interview documented by The Henry Ford. "It lit that car up like a searchlight." Thompson recalled running toward it, but the light turned green. "I was never so impressed with anything in all my life," he said. "I knew that's what I wanted to do – I wanted to be an automobile designer."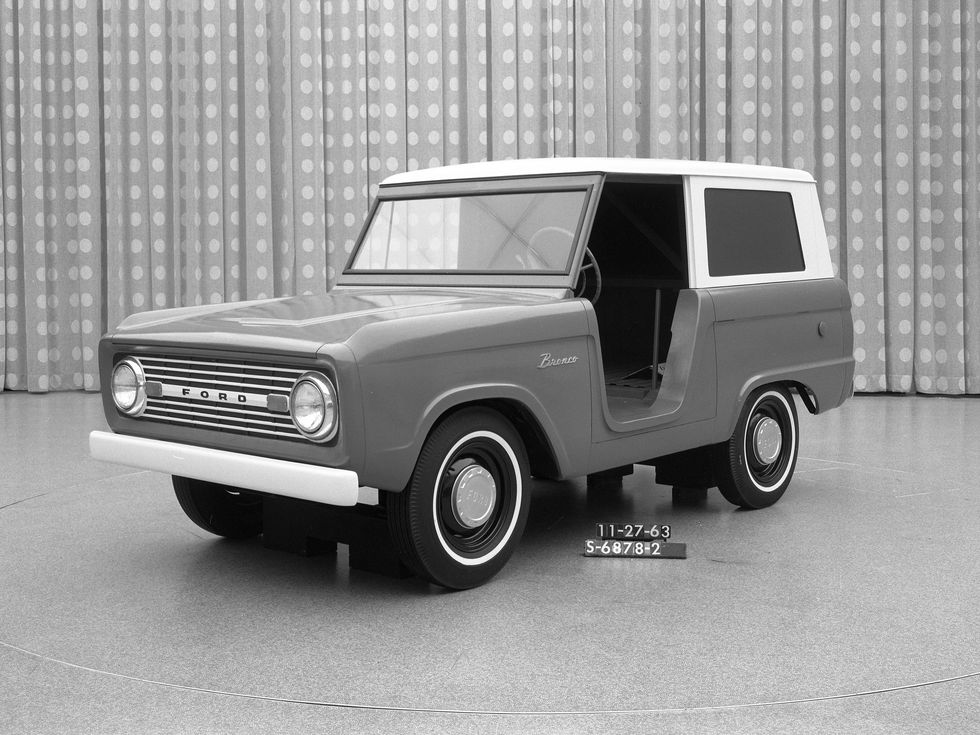 This is one of the initial prototypes of the Ford Bronco from 1963.Photo courtesy of Ford Motor Company
After high school, Thompson served in the Army Signal Corps in World War II, learning drafting and working as an engineering layout coordinator. After the war, Thompson found he couldn't kick his enthusiasm for car design - not that he wanted to. In the early 1950s, he entered a design contest in Motor Trend magazine, submitting a turbine car with a reinforced plastic body. Both of those concepts were trendy in postwar America. That design won him the contest and solidified his decision to go to art
The Queens, New York was hired at Ford Motor Company in 1956 fresh out of the ArtCenter College of Design in Pasadena, California with a degree in transportation design. Thompson is one of the many noted alumni the college has produced. The extensive list of venerable automotive designers that includes Chris Bangle (former Chief of Design at BMW), Wayne Cherry (Vice President of Global Design at General Motors), Willie G. Davidson (Vice President of Styling at Harley-Davidson), Larry Shinoda (Chevrolet Corvette, Ford Mustang designer), Jeff Teague (former Vice President of Global Design at Ford).
He was the first African American designer that the company hired, 10 years after Jackie Robinson broke the color barrier in baseball but 12 years before the U.S. Supreme Court ruled that segregation was illegal. His first assignments included working on a light-duty cab-forward truck and Ford GT40, and several concept sketches for the soon-to-be Ford Mustang.
Thompson also worked on the futuristic space-age Ford Gyron, a two-wheeled concept car that was on display at the Century of Progress exhibit at the Ford Rotunda in 1961.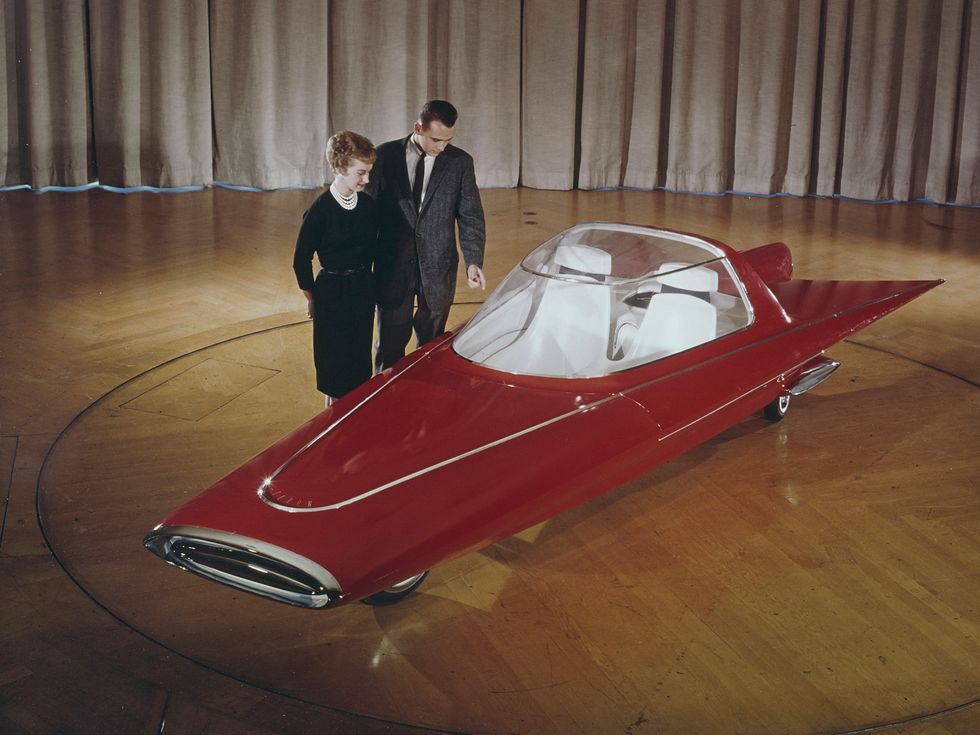 The Ford Gyron, a two-wheeled, gyroscopically-stabilised concept car, designed by Alex Tremulis and Syd Mead, USA, circa 1961. A fiberglass show car was exhibited at the Detroit Motor Show in 1961.Photo by Getty Images
"McKinley was a man who followed his dreams and wound up making history," said Ford Bronco interior designer Christopher Young. "He not only broke through the color barrier in the world of automotive design, he helped create some of the most iconic consumer products ever – from the Ford Mustang, Thunderbird and Bronco – designs that are not only timeless but have been studied by generations of designers."
It was Thompson's sketch of a prospective 4x4 that would influence a buyers for generations. "Package Proposal #5 for Bronco" was rendered July 24, 1963. Its design attributes carried over to the final first-generation Bronco design. In Thompson's proposed design showed the form and function of the wheels positioned at the far corners of the body for a confident and aggressive go-anywhere stance, while the curve of the wheel arches smoothing out conveyed speed.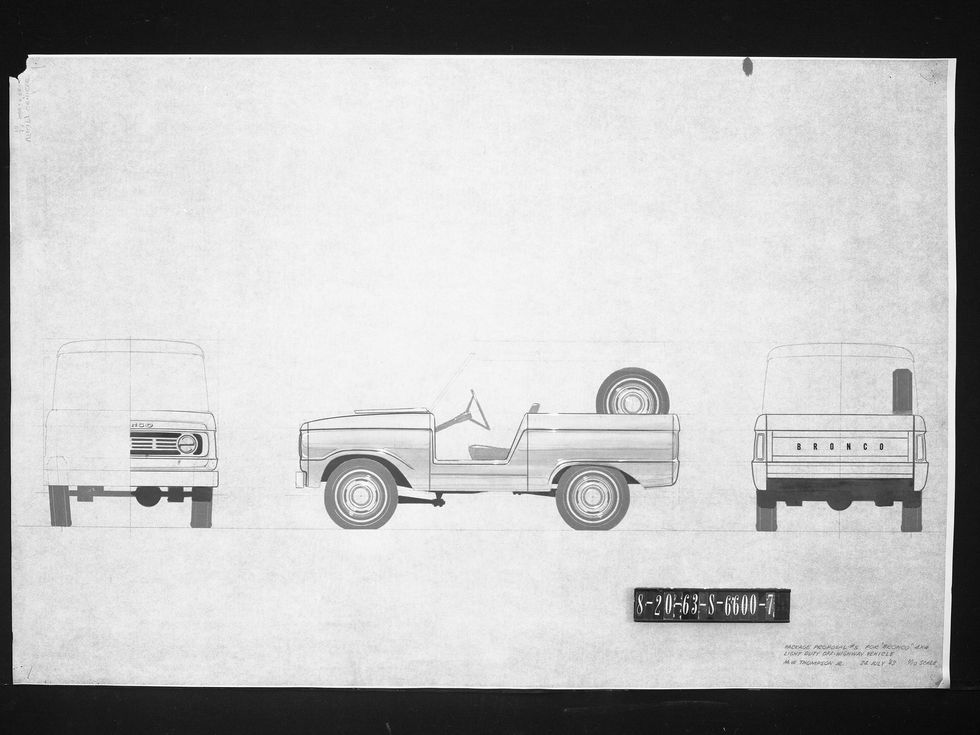 This is Package Proposal #5 for Bronco, the sketch series that set the iconic design in motion.Photo courtesy of Ford Motor Company
"I believe the hardest thing for a person like McKinley to do was working within the constraints given him to make a beautiful product," said Young. "Engineering dictates size and functionality, then manufacturing limits how it can be stamped and assembled, and finance says you have to build it for a low price."
In the years following the Bronco project, Thompson continued to have a transformative influence on the brand, and on the world. From 1969 to 1979, he worked to create high dream car in a rented garage in Detroit. He enlisted the help of Wallace Triplett, who had broken the color barrier as the first African American draftee to play for the Detroit Lions in 1949.
Together, they built a prototype and pitched the plans to burgeoning automakers in developing nations. Thompson hoped to change these countries for the better, much the same way Henry Ford envisioned with the Model T. That project never came to fruition.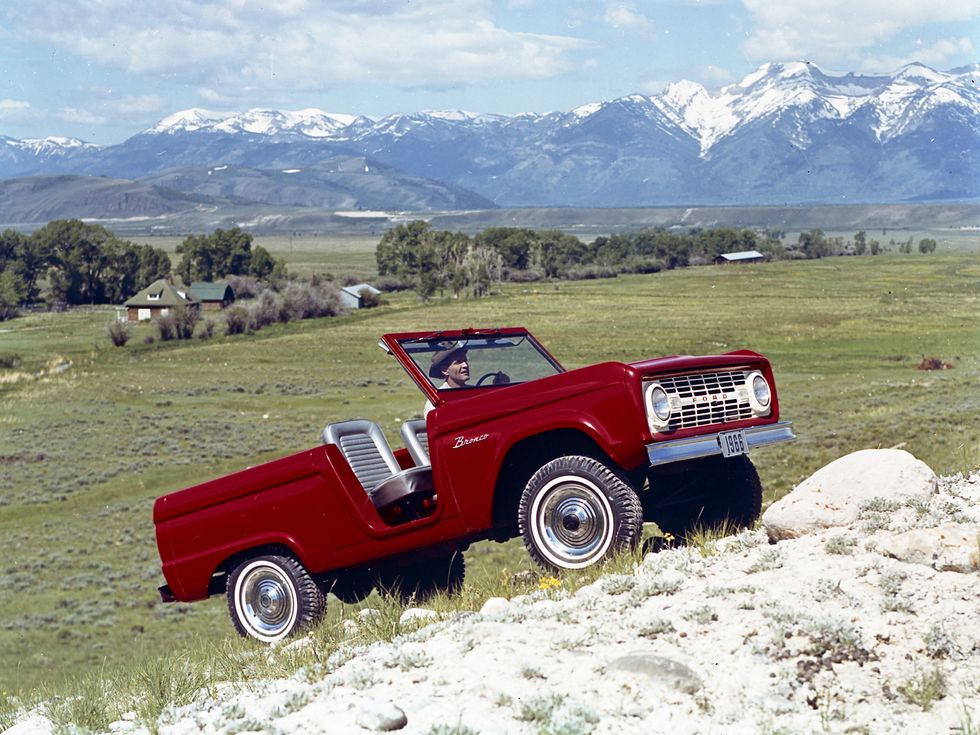 From the first-generation Bronco to today, the model has had an exterior that sends the message that it's adventure-ready.Photo courtesy of Ford Motor Company
After his retirement from Ford in 1984, Thompson moved to Arizona and worked to design and build a concept he envisioned as an affordable all-purpose vehicle named the Warrior. The small utility vehicle was based on a one-piece fiberglass body.