Still Rolling: Inspired by Herbie, Faye Hadley of 'All Girls Garage' customized this VW Rabbit
Jan 23, 2020, 2:51 pm
Faye Hadley has come a long way in a short time in the automotive world. She is a professional Toyota Specialist and Harvard graduate, but is better known as the co-host in the show "All Girls Garage" on Discovery Channel. The the pebble that started the avalanche of her automotive enthusiasm was a little car she lovingly named Gaia, after the Geek goddess of Earth.

Sometimes an inanimate object becomes the key to a purpose in life. A first guitar can snowball into a world tour, or a little league helmet into a multi-million dollar MLB contract. Some are more obvious than others, but it's the objects that force us into a180-degree spin that hide in the blind spot of the unexpected. For Faye Hadley, that object was a diesel-powered1980 Volkswagen Rabbit she found hidden, abandoned, behind a barn while on vacation in Washington State in 2007.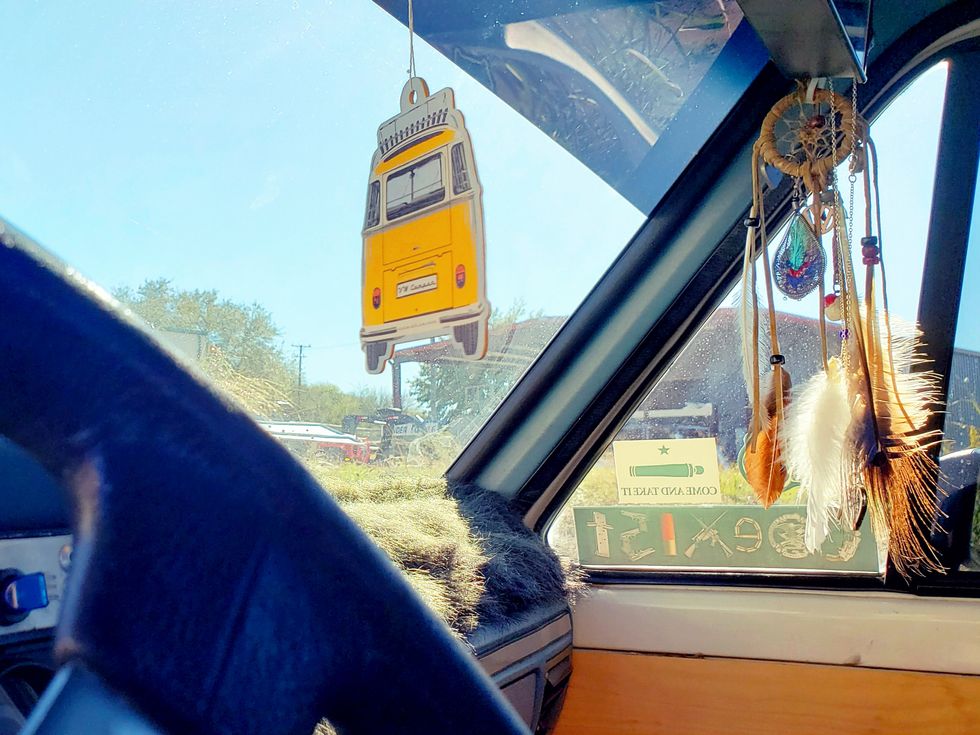 The interior of the car features its own custom flare.Photo by Jesus Garcia
A childhood with minimal television screen time. Faye would only watch the occasional movie on VHS. One of those films was The Love Bug (1969) featuring possibly the most famous Volkswagen of them all, Herbie. The concept of a living car stuck with her. In her youth she would offend ask her mom and grandmother to take her to car shows. An interest for cars had dawned but it wouldn't break the horizon until years later.
The little Volkswagen barn find had not seen a highway roughly 10 years, but Hadley is the kind of person that follows the rule set by Hunter S. Thompson, "Buy the ticket, take the ride she had no mechanical experience at the time and rolled the dice on driving the Rabbit back across the country to her parents' home in New Hampshire.
The Rabbit was originally powered by a diesel engine paired with a four-speed manual transmission. The powertrain kept the model trekking until one mile from her mom's house it blew a head gasket. With no money for parts Hadley used the Rabbit as a semi-daily driver as she limped the car to and from school in Massachusetts.
She graduated from Harvard University with a degree in psychology in 2010, but even after securing a well paying job she had a twitch in the hands. She had a festering desire, a yearning for grease under finger nails and the cold feel of a stainless steel wrench over a dry yellow note pad.
During her drives around town, people started to take notice. Northern winters became the salty graves for many VW Rabbits so seeing one in the late 2000's was a visual treat for people with fond memories of them. The local VW owner's club invied her to car meets. It was at these meets where she would go on to meet her mechanic mentor, Jesse.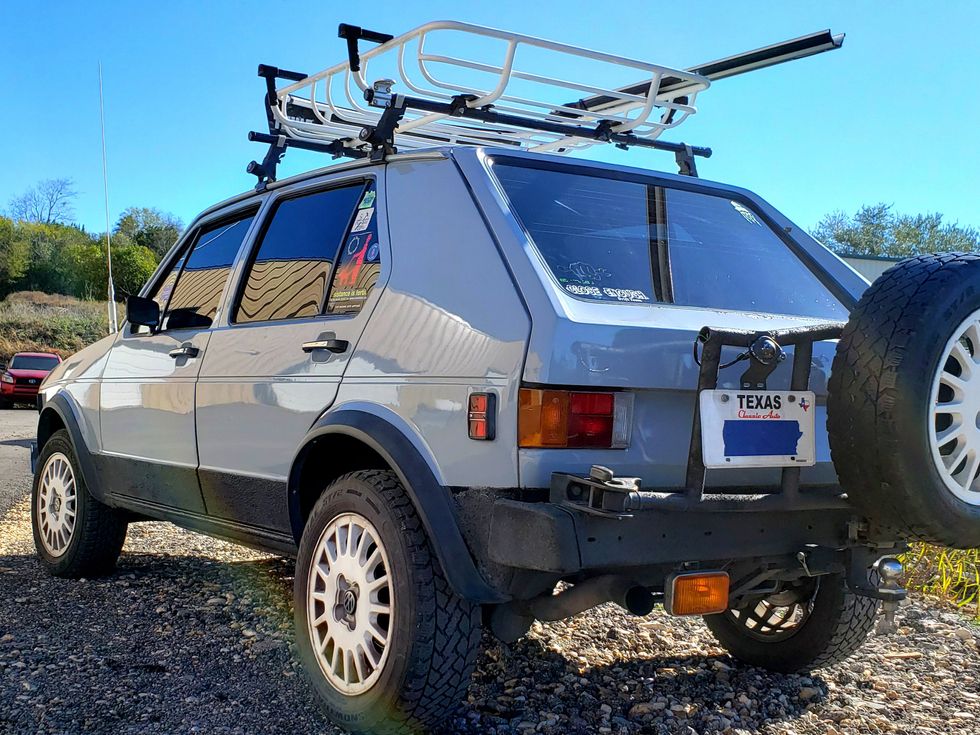 This isn't your typical Rabbit restoration project.Photo by Jesus Garcia
Jesse was the first person who listened to her dream about learning cars and welcomed her as a shop apprentice. Over the next two years Hadley got the hands-on experience she needed to follow her dream. She was no longer just another Ivy Leaguer. Now she was degree-holder capable of performing an engine swap.
The Rabbit's original diesel engine needed to be rebuilt three times. The first was when it blew up one mile from Hadley's mother's house. The second time the engine quit it was somewhere in Kansas on another cross-country road trip. It gave up the ghost a third time when Hadley needed the Rabbit to tow a motorized scooter and Gaia didn't care for it – pop goes the rod. A replaced engine came from a 130,000 mile VW Golf as a 2.0-liter heart with a $200 price tag.
The engine isn't the only thing Hadley has replaced. Even at first glance, the casual observer can see that this rad Rabbit is far from Wolfsburg. The car has a custom lift-kit. Its front suspension features parts from a Volkswagen Mark 2 GLI and its rear-end uses parts from a Mark 3. The front and rear bumpers are one-of-kind custom fabrications that were Hadley's first welding project and carry a sentimental curb weight. The hood scoop is adapted from a Subaru WRX STI that no longer needed it. There's even a small skid plate underneath.

The results give Gaia an urban off-road look that serves as real life capability.
The car's front seats have been swapped with those from a Honda Prelude that have proved to be way more comfortable than the German stock seats. This Rabbit doubled as both a camper and shop truck in the past so Hadley opted to delete the rear seat for good. She's added another gear with a swapped in five-speed transmission for easier road tripping. Yet, she says that her favorite modifications to the car have been cup holders and a "kick-ass" sound system – the essentials.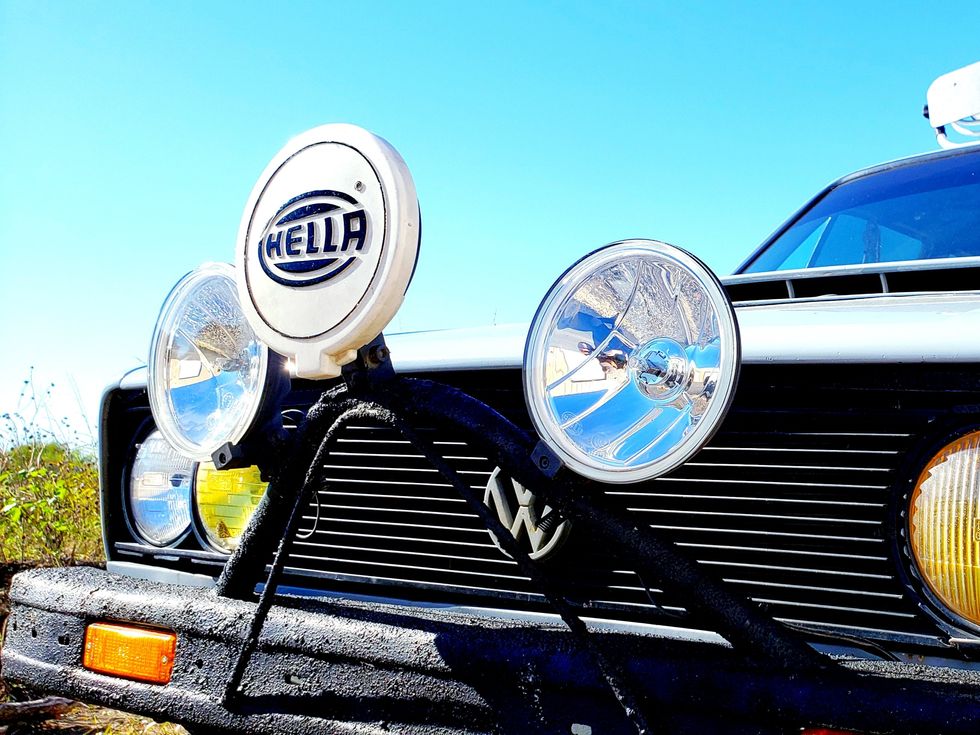 The Rabbit has a host of modifications for off-roading and general badassery.Photo by Jesus Garcia
Future planed modifications for Gaia do include the word turbo, but nothing too crazy. Hadley's goal is to produce just enough boost to get this little Rabbit to the end of its 85 mph speedometer.
Hadley's 1980 VW Rabbit is a moving, breathing, testament to her skill as a mechanic. "It gives my work the test the time," she told AutomotiveMap. The fact that the car is still road worthy after all it's been through is an achievement to her success. In the process, she has embedded the car with more than just swear and blood.
To call Gaia just a car is a swear word for Hadley. This Rabbit is family. This car was featured in her wedding party, and she has the Rabbit's VIN tattooed on her arm.
Hadley is a busy person. When she isn't on TV, or managing her auto repair business Pistons & Pixie Dust, she is teaching. She is one of the founders of Women and Machine, which are classes designed to develop female car enthusiasts. Lessons taught by women for women that cover the basics from how to check the oil, change a tire, and learning how to speak to a mechanic. These are important skills to anyone who owns a vehicle and is self-aware of how little they know if the check engine light suddenly came on.
The journey from Harvard graduate to mobile Toyota specialist/ TV host/ business owner started with an old Volkswagen for Faye Hadley. The car has been a learning tool, travel companion, bridesmaid, work horse, but above all else the most important thing this 1980 Volkswagen Rabbit has been is, Hadley's car.
From Your Site Articles
Related Articles Around the Web