Diverse and inspiring Rebelle Rally participants take on 2,300 km wilderness challenge
Oct 11, 2019, 4:33 pm
Photo courtesy of Mitsubishi Motors North America, Inc.
The 2019 Rebelle Rally, an all-female off-roading competitive adventure kicked off this week in Squaw Valley, California. Among the 38 teams are a number that stand out for their beefy builds and courageous drivers.

Team #176: Escape the Paved
This team met under less than ideal circumstances. Rebelle Rally participants Sarah Homer and Lindsey Hunterwere first introduced when they were mucking out their houses after Hurricane Harvey struck in 2017 and they have become fast friends. Homer is a Houston, Texas resident and Director of Surgical Acute Care at Houston Methodist while Hunter is an engineer who now lives in Anchorage, Alaska.
They'll be piloting a 2019 Ford F-150 Raptor during the expedition and are sponsored by Ford Motor Company, Roush Performance, BuiltRight Industries, and Homer IP LLC Innovation Design and Graphics.
Team #106: Team Wild Grace
Driven and navigated by Sedona Blinson and Lyn Woodward, the team will be driving a 2019 Nissan Armada. Both previously competed in the 2017 Rebelle Rally and, like many other teams, has come back for another go.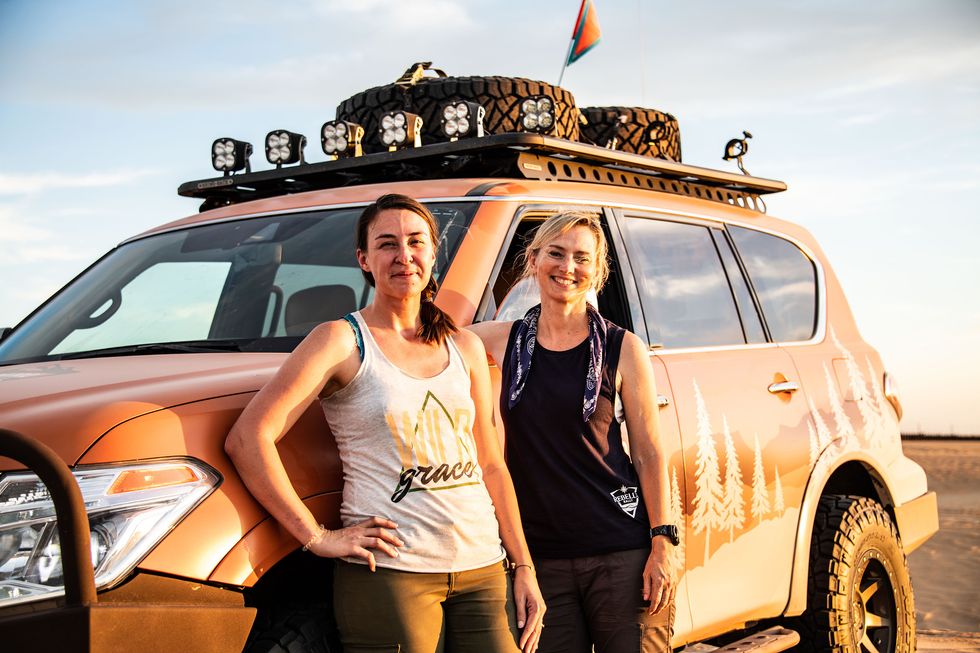 Team Wild Grace will be driving the Nissan Armada Mountain Patrol across California.Photo courtesy of Nissan North America
The Armada they're driving is the specially modified Armada Mountain Patrol. The rig is a world traveler, having traversed the sand dunes of the Sahara Desert and rock crawled in Moab, Utah. The SUV is outfitted with Nitto Trail Grappler tires; Icon Bronze rebound wheels; Rhino Rack Backbone System and shovel; Hi-Lift jack; Baja Designs XL80 lights, LP9 lights and light bar; Calmini bumpers, rock sliders, and a 6-inch lift; Icon coilovers; Warn Zeon Platinum 12S winch; Factor55 closeloop winch; and an ARB fridge, drawers, and twin screw air compressor.
Team #207: Record the Journey
The Rebelle Rally is all about overcoming obstacles and it's obvious even to the casual observer that Team Record the Journey will have to overcome more than most. Three-time Rebelle and Team Spirit Award winner and 31-year U.S. Army veteran Rachael Ridenour has partnered with Karah Behrend, a Houston, Texas-based U.S. Air Force veteran who is an adaptive athlete who uses a wheelchair.
Behrend is the first adaptive athlete to compete in the Rally. Mitsubishi Motors has specially equipped the 2018 Eclipse Cross the two will be adventuring in with hand controls and designated storage space for Behrend's wheelchair.
The partnership is the first step in Mitsubishi's new "Small Batch – Big Investment" corporate social responsibility initiative which allows a number of Mitsubishi vehicle loans to small nonprofits and start-up social benefit corporations to help support their local communities. Record the Journey, a non-profit run by Ridenour, will keep the vehicle after the Rally and use it for various charitable programming.
Team #124: Fueled by Chocolate
It's clear from their team name that teammates Kristian Rene and Chelsea Vachon love chocolate. So does their 1992 Mercedes-Benz G-Wagon, which has been re-engineered to run on a biofuel made from waste chocolate. Additionally, eighty percent of the vehicle is made from remanufactured or recycled parts.
This team originally hails from Boulder, Colorado, where Rene still lives, but Vachon is coming to the U.S. for the event from her home in Noosa Heads, Queensland, Australia. They are sponsored by Chocolove, Rainforest Alliance, and Always Be Rollling.
Team #200: Team Jeeves
Using #PardonMe to promote their drive is appropriate for CNET automotive journalist Emme Hall and her co-driver Rebecca Donaghe, a producer originally from Houston, Texas who lives in Marina del Ray, California. They're piloting a specially equipped Rolls-Royce Cullinan from Lake Tahoe to San Diego- easily the plushest and most expensive ride on the journey.
The teammates have been competing together since 2016 and are the 2019 co-champion Rebelle Rally team. Hall and Donaghe are no stranger to adventure. The CNET host is an avid off-road racer and recently went to Monster Jam University to learn how to drive a 12,000-pound monster truck. Following the Rally, Dongahe is planning to cross Morocco over seven days riding a 50cc motorbike.
Team #130: Front Range Rebelles
Team member Kathy Locke is originally from Okinawa, Japan but family camping trips in California, Nevada, and across the Rocky Mountains as a teen in a 1978 Ford Bronco that most shaped her adventurous spirit. Locke is the Creative Director for Toyota Cruisers & Trucks magazine. Locke first attended the Rebelle Rally in 2018 as a journalist and is returning in 2019 as a participant.
Littleton, Colorado resident Stacey May is a self-employed designer and Locke's co-driver. She too has an adventurous spirit. A dozen years ago she traded in her Manhattan high-rise lifestyle to travel the U.S. in an 18' travel trailer with her husband. That lasted three years before they once again put down roots, this time in Colorado.
They're driving a 20118 Toyota FJ Cruiser that has a long list of sponsors: Toytec Lifts, ActionTrax, Colorado FJ Cruisers, Refined Cycle and Offroad, and Blue Crush Auto Glass The Art Consultant, LLC.
The Rebelle Rally runs through Oct. 19. You can follow the journey online at www.RebelleRally.com.