Here's everything you need to know about FCA's UConnect 5
Jan 29, 2020, 9:23 am
Photo courtesy of FCA US LLC
FCA's infotainment system is generally regarded as one of the best. Now, that system is getting a makeover as part of a generational redesign. Uconnect 5 will go live in vehicles this year.
Why is this generation so important?
Before, different vehicles and brands had various facets of the Uconnect system. Uconnect 5 is scalable across all FCA brands and, according to a release, "lays a foundation, bringing access to a broad catalog of applications to answer the rapidly developing demand for an improved user experience (UX)."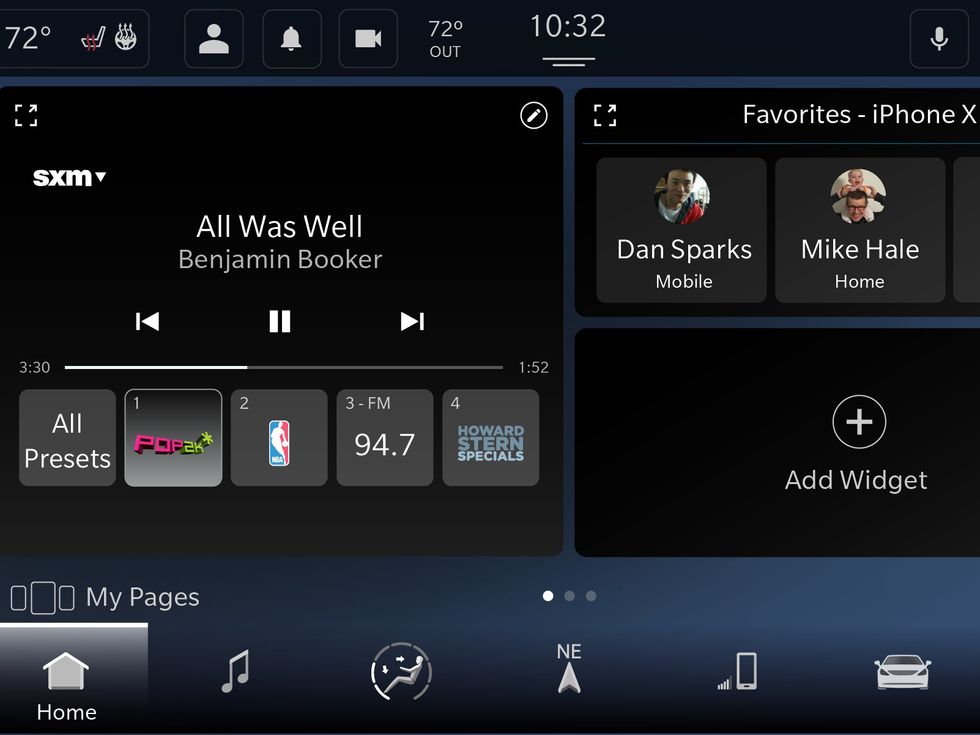 Users are able to choose the look of their Uconnect screen based on what functionality they use most. Photo courtesy of FCA US LLC
In a nutshell, that means that no matter what FCA vehicle you hope behind the wheel of, the infotainment system user experience will be pretty much the same.
It's built on an Android operating system but that doesn't mean it's only interacts with Android phones.
Basically, the Android platform is what coding, etc. the system uses in the background. Uconnect 5 is able to connect with any number of non-Android devices as part of its functionality.
UConnect 5 allows for deeper personalization.
Personalization is one of the things that a recent survey by Lexus revealed as a highlight of a true luxury experience. It's something more buyers are seeking. Uconnect 5 is an Android-based operating system that features several fully-customizable interfaces and allow users to store up to five different profiles. These profiles store a user's favorite temperature, seating position and mirror placement settings, among other features.
UConnect 5 is adaptable.
FCA products have three different types of screen layouts - portrait, landscape, and square. Engineers worked to make the Uconnect 5 UX fit each of the different screens. Screen graphics can be customized for every vehicle and trim level.
Uconnect 5 allows users to customize their screen to put the icons they most frequently touch in the locations that make the best sense for them.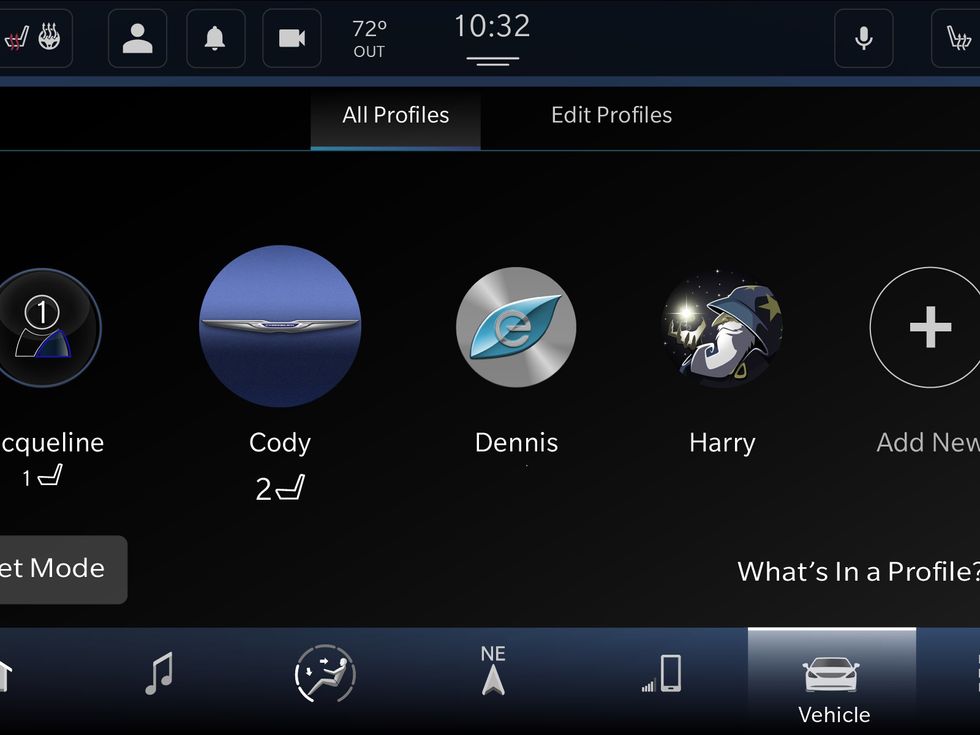 Users can personalize their Uconnect 5 experience. ©Photo courtesy of FCA US LLC
This version of the system uses a card-based format. This makes grouping functions and simplifying the screen possible for users based on their preference. FCA says that, "once inside a card, information and icons can be accessed in no more than two button pushes."
It's five times faster than UConnect 4.
Sure, the Uconnect 4 system was good and responsive, but five times faster?! I'l take it.
There's an Alexa skill.
Amazon Alexa-enabled devices are able to connect directly to the Uconnect 5 system. Users can interact with Alexa in the vehicle and connect with their Alexa enabled device at home, the office, or beyond. FCA says, "... occupants can ask Alexa to play music, podcasts and audiobooks; add items to their to-do list; check news, weather, traffic, sports and other real-time information; and access tens of thousands of Alexa skills. Responses and streaming audio are delivered through the vehicle's audio system, allowing anyone in the entire vehicle to easily interact with Alexa."
Apple CarPlay and Android Auto will now be on 100 percent of FCA's North American vehicle offerings.
The public is asking for it and FCA has listened. Uconnect 5 also adds wireless connectivity for the systems.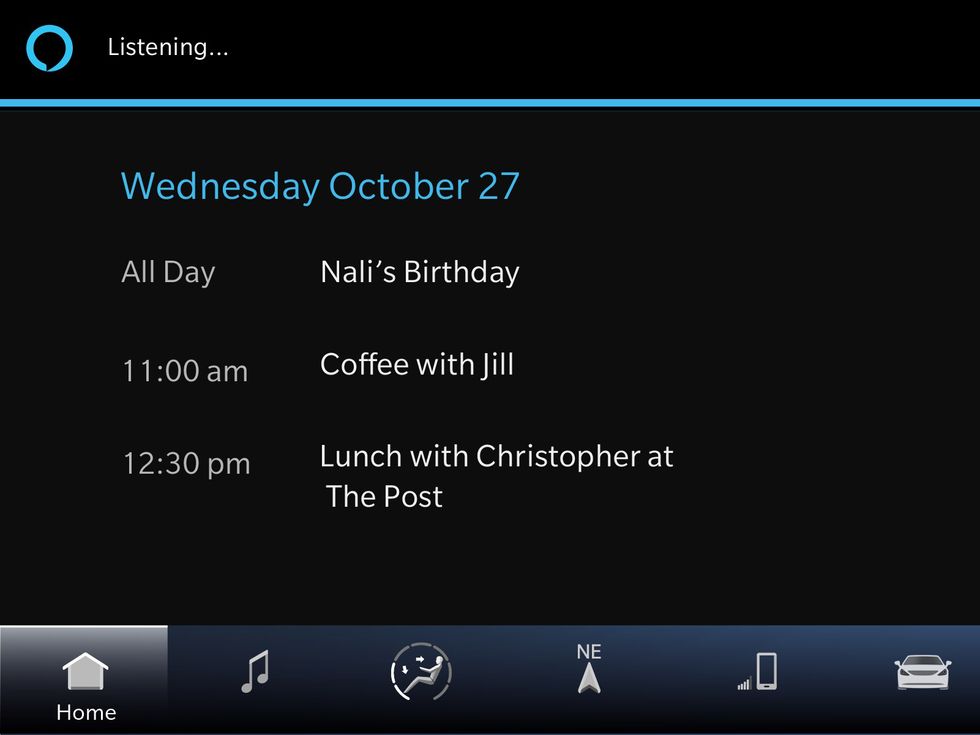 Voice recognition is a big part of the system and helps keep eyes on the road. Photo courtesy of FCA US LLC
Uconnect 5 will recognize your voice.
This system marks the first time Uconnect will have voice recognition available on all product lines. It will have software, microphone technology, and natural voice capability. That means that the system can understand conversational commands like, "Find an available EV charging station near me."FCA says that the system also works when there's a high level of background noise. That's good for Wrangler buyers who want to use voice recognition and take their doors off on a sunny day.
The Uconnect wake up word varied by vehicle brand.
Want to use voice recognition? Say the name of the vehicle brand you're driving. For example, "Hey Chrysler, change the temperature to 70 degrees." Will this force customers still referring to their pickup truck as a "Dodge Ram" to finally realize it's just "Ram"? Only time will tell.
Two phones can be connected at once.
Two phones in the vehicle will be able to connect to Uconnect's Bluetooth simultaneously. The system can manage input from both at the same time but one can be given priority in the system over the other.
Navigation is built-in.
FCA's navigation system, like Subaru's, is powered by TomTom. The system now includes traffic as well as EV and connect services.
Similar to how navigation works on your phone, there's one-box search functionality. Unlike with smartphones, the system works even without internet connectivity.
There are also last mile directions if walking once parked is necessary. Those directions can then be carried with the driver when they exit the car via the Uconnect smartphone app.

Unlike personal devices, even without internet connectivity, search and guidance continue to work with the system simply switching to offline map data.
The system offers navigation routes based on how much juice you have left.
According to FCA, "Dynamic Range Mapping helps the driver to visualize the vehicle's range by displaying on the map how far they can drive with current fuel/charge levels. If the range is insufficient to make it to the selected destination, Uconnect 5 will make suggestions for recharging /refueling with a cost comparison. A warning appears on-screen, prompting the user to choose a charging point/fuel station which is available and within range."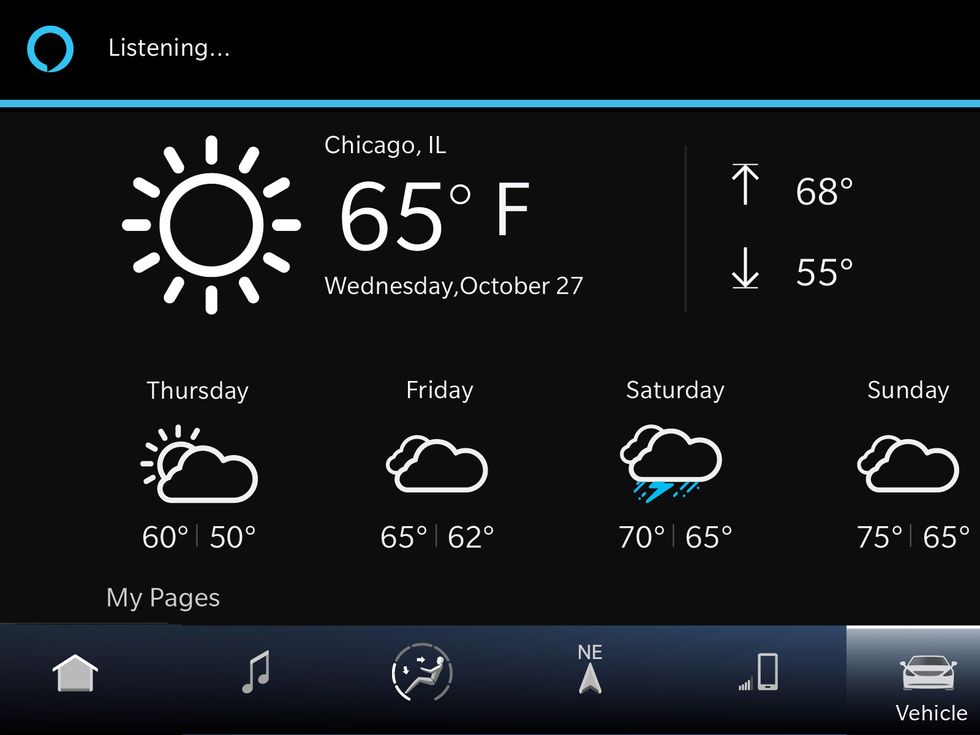 The Uconnect 5 system is more integrated with the world around the vehicle allowing for more a more customized user experience. Photo courtesy of FCA US LLC
By 2022, FCA will offer more than 30 nameplates with electrified powertrains, half of which are plug-in hybrid electric vehicles or battery-electric vehicles.

Uconnect is finally getting a mobile app.
Most automakers now offer an app that connects owners to their vehicles. Using FCA's Uconnect app, drivers can start their car's engine, lock or unlock the vehicle, or receive a notification. According to the automaker, "Assist Call, owners can contact the Uconnect customer care team for help with their vehicle or instructions on using a Uconnect system. Stolen Vehicle Assistance can help police track a vehicle's location and Family Drive Alerts delivers notifications to concerned parents when boundary, curfew or speed limits are broken. Owners can also receive a notification when someone else drives the vehicle while in Valet Alert mode."
The system can also push notifications to the driver about needing an oil change or other necessary maintenance requirements.
Uconnect's navigation now has multi-lane guidance, like Apple CarPlay.
Instead of trying to figure out which lane you're supposed to be in based on a small drawing on a screen feet from the driver's face and off to the side, the new system offers multi-lane guidance directly in front of the driver, projecting the information as well as speed camera, traffic and hazard warnings to the vehicle's cluster screen.
SiriusXM with 360L is no longer exclusive but you can still get it.
Uconnect 5 will offer FCA product buyers a 12-month trial of SiriusXM with 360L when the purchase a new vehicle. SiriusXM with 360L offers personalized programming powered by Pandora with hours of downloadable content, including live sports, free on-demand shows and performances, and interviews.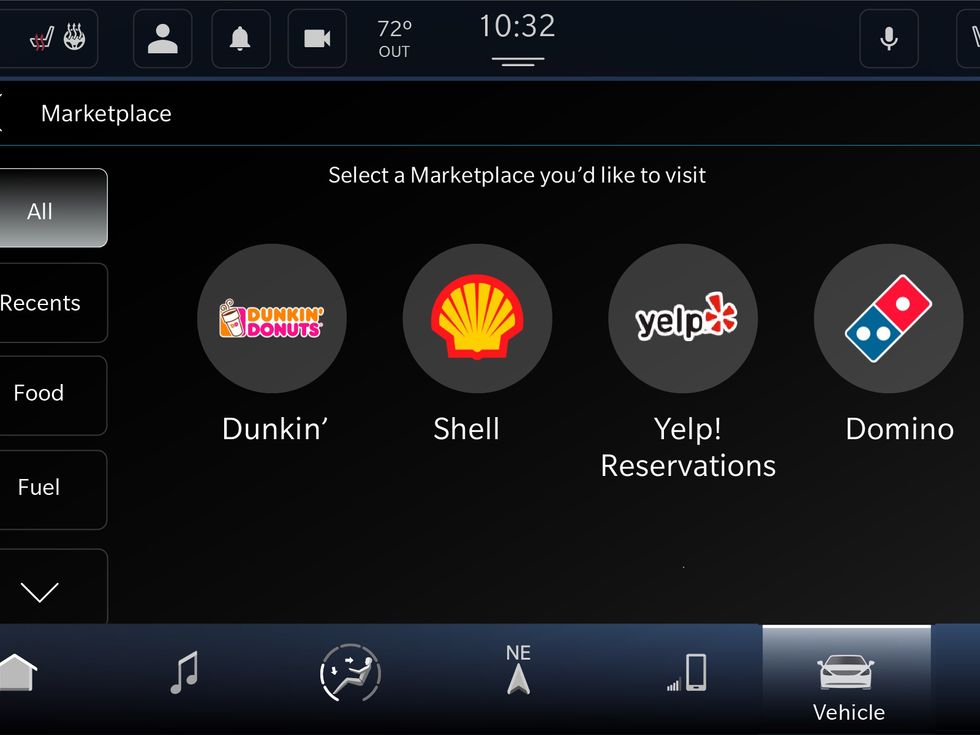 Users can pay for gas using a credit card without having to swipe at the pump. Photo courtesy of FCA US LLC
Uconnect 5 allows drivers to order food and reserve a table while behind the wheel.
Called Uconnect Marketplace, the cloud-based in-vehicle commerce platform allows users to over food, find the nearest gas station, save money on fuel purchases and make dinner reservations, all from the comfort of the vehicle. Drivers can also locate and pay for nearby parking, authorize pump-and-pay fuel stations, and schedule service appointments at FCA dealerships.
Uconnect 5 interacts with a faster Wi-Fi hot spot.
FCA has improved their 4G LTE Wi-Fi hot spot with speeds that are now five times faster. The hot spot can connect with up to eight devices. Each Uconnect 5 equipped vehicle comes with a complementary three-month in-car internet subscription.
The screen has a night mode.
Dimming the screen only goes so far. FCA has developed night mode functionality for Uconnect that helps reduce eye strain whether driving through tunnels or along the road at night. There are independent settings for each of the screens in the vehicle.
Uconnect can updated itself over the air.
Firmware Over The Air (FOTA) updates will allow FCA to push updated software to your vehicle. This works in a similar fashion to the way your computer, smartphone, or tablet lets you know that there's an update available.