Chevrolet begins new Silverado 1500 desert racing program
Oct 13, 2019, 2:20 pm
Photo courtesy of Chevrolet
The Ford Raptor rules. As far as off-road ready trucks go, it's the king of the full-size realm. Ram has already confirmed the Raptor-fighting 1500 TRX is coming sooner rather than later. Now, Chevrolet is inching closer to a hint at serious Silverado off-roader development.

The Detroit-based automaker will compete in the Best in the Desert Racing series in a Silverado 1500. Chevrolet is open about the reason saying, "the Silverado race truck will be used for engineering development and validation."
"Off-road racing is just brutal on vehicles," said Mark Dickens, chief engineer, Government Programs, Performance Variants, Parts and Motorsports, "and a single race puts more wear and tear on trucks than most vehicles will experience in years. That makes off-road racing a valuable test bed to evaluate new components. What we learn while racing informs everything from future performance parts and accessories to GM Defense projects and production vehicle changes."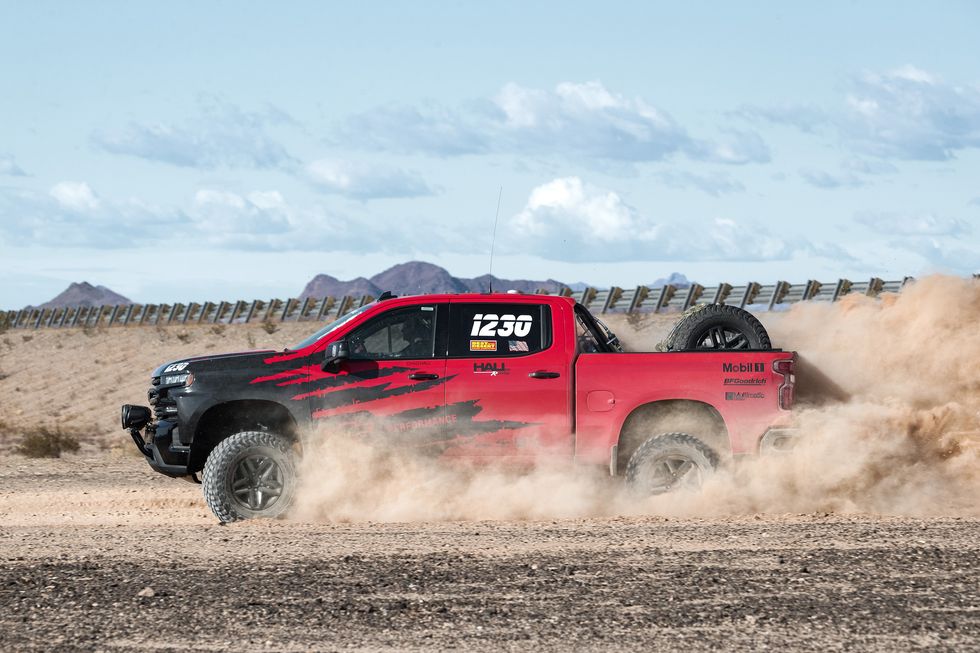 The model is powered by Chevy's 6.2-liter V8 engine.Photo courtesy of Chevrolet
Hall racing drivers, piloting a Chevrolet Colorado ZR2 since 2017, have tested out a number of components that have become available as part of the Chevrolet Performance off-road parts catalogue.
Additionally, some of those parts are now been integrated into GM Defense's Infantry Squad Vehicle, a prototype selected for evaluation and testing by the U.S. Army.
To get the Silverado 1500 race-ready, Chevrolet has to do a number of modifications. Starting life as a LT Trail Boss model, the truck was equipped with a 420-horsepower 6.2-liter V8 engine and 10-speed automatic transmission.
It will compete in the stock class, which limits modifications but there were a number of significant changes made. Specifically, a log travel suspension, front and rear HOU be shocks, and a set of prototype high-capacity Multimatic Dynamic Suspension Spool Valve dampers. These dampers are a scaled-up version of the ones used on the Hall Racing Colorado ZR2.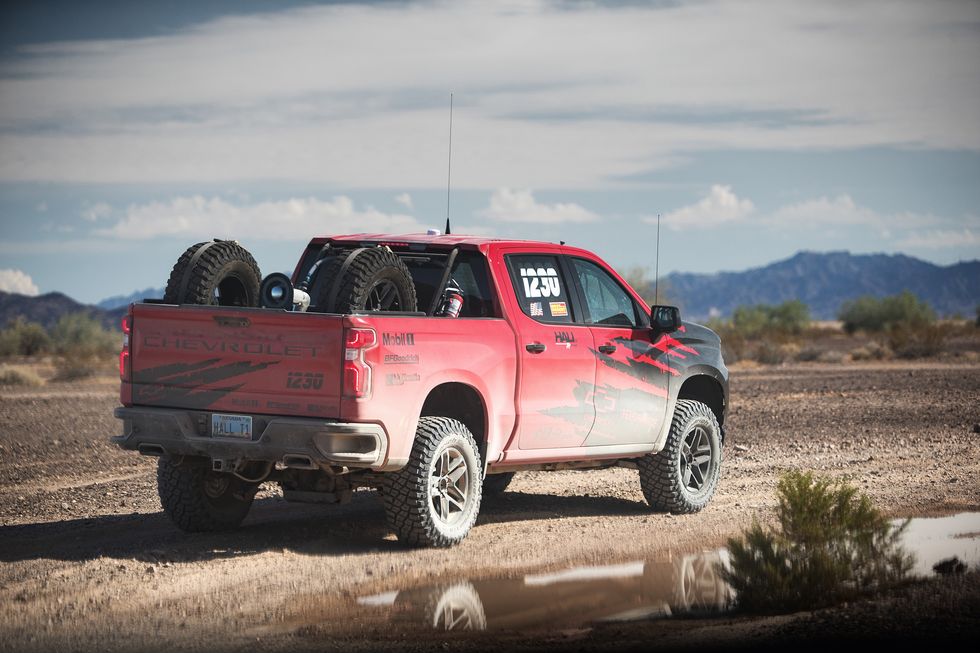 The Silverado 1500 is built for off-road racing and features prototype parts.Photo courtesy of Chevrolet
"This is the next evolution of the DSSV off-road damper," said Michael Guttilla, executive vice president, Multimatic Engineering. "We've taken everything we learned from the highly successful Colorado ZR2 program and scaled it to deliver next-level performance in the Silverado. Initial on-truck development has been successful, but competition will provide the true test."

Additional prototype parts on the Silverado race truck include front and rear jounce shocks, rear shock skids, 35-inch off-road tires, and skid plates covering the transfer case, steering gear, rear differential and front underbody.
Chevrolet will participate in six Best in the Desert races in 2020, along with the Mint 400, with both Silverado and ZR2.