Capital One study reveals 74 percent of buyers aren't confident car shoppers
Dec 2, 2019, 9:49 am
Its a hassle that's been played out comically in commercials for years. The salesman and buyer decide on a price for a new vehicle and the salesman then heads to the back room where he's supposed to be negotiating with the finance team but instead makes himself a cup of coffee. Meanwhile, the nervous buyers sit and wait for what seems like hours.
It's no wonder that dealerships are the biggest pain point in the car buying process. A Cars.com study recently found that potential car buyers would rather clean toilets than go through the hassle.
A new survey by Capital One reveals the factors that lead to buyers' anxiety. To get the results, a survey of 1,004 U.S. adults ages 18 and older was conducted on behalf of Capital One Auto Finance using Engine Insight's Online CARAVAN omnibus in September 2019.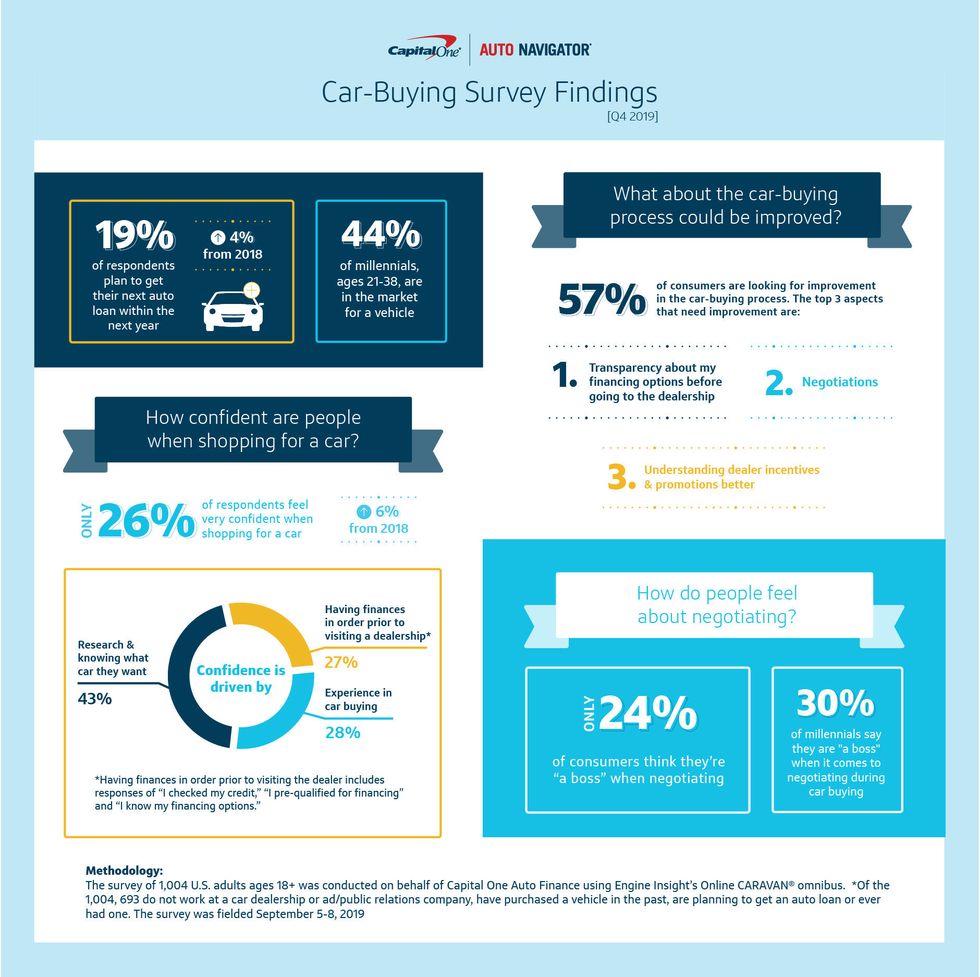 Graphic courtesy of Capital One
The results showed just how far dealerships still need to go to ease the process and how much educational opportunity there still is for buyers.

Only 26 percent of respondents said that they feel very confident when shopping for a car. This is a six percent increase over the 2018 results.
The lack of confidence came from three major areas:
27% said it was because they did not have finances in order when visiting a dealership
43% revealed that it was because of lack of research into the vehicle they're shopping for
28% attributed the anxiety to past car buying experiences
In the 2018 survey, 16 percent of respondents said that they felt "like a boss" when car shopping. In 2019, that number rose to 24 percent.
"Car shopping should be enjoyable instead of stressful, and with a little pre-work, consumers can ensure their decision complements their lifestyle and budget," said Jeffrey Rabinowitz, managing vice president, Capital One Auto Finance. "We found that 88 percent of consumers surveyed understand what it means to pre-qualify for financing, but only half are willing to try it."
Financing is traditionally the longest part of the car buying process, which Cars.com says lasts around four hours on average.
While budget is the largest determination of which vehicle a buyer selects, 28 percent of Capital One survey responders said that they are also looking for the lowest monthly payment while 27 percent focused more on the final sale price. Just 20 percent of potential buyers said that they were concerned with the total cost of ownership.
Fifty-seven percent of respondents said that they are looking for improvements in the car buying process, especially when it comes to transparency in financing options, negotiations and more clarity on dealer incentives and promotions.