This 20-carat natural pear-shaped yellow diamond is called the 'Bentley Centenary'
Dec 26, 2019, 7:47 am
Photo courtesy of Bentley Motors
There's best friends, and then there's this best friend. It's a diamond with nearly flawless clarity, exquisitely cut and mounted for maximum sparkle. With a VS2 purity rating and Very Good cut, the 20.08-carat Bentley Centenary yellow diamond is a collector's piece for the ultimate luxury buyer.
Harvested from the African landscape, the design of the Bentley Centenary diamond's journey from ground to showroom was influenced by Bentley designer Chris Cooke, who created the original designs for the gold and platinum settings. He took inspiration from Bentley's EXP 100 GT concept car.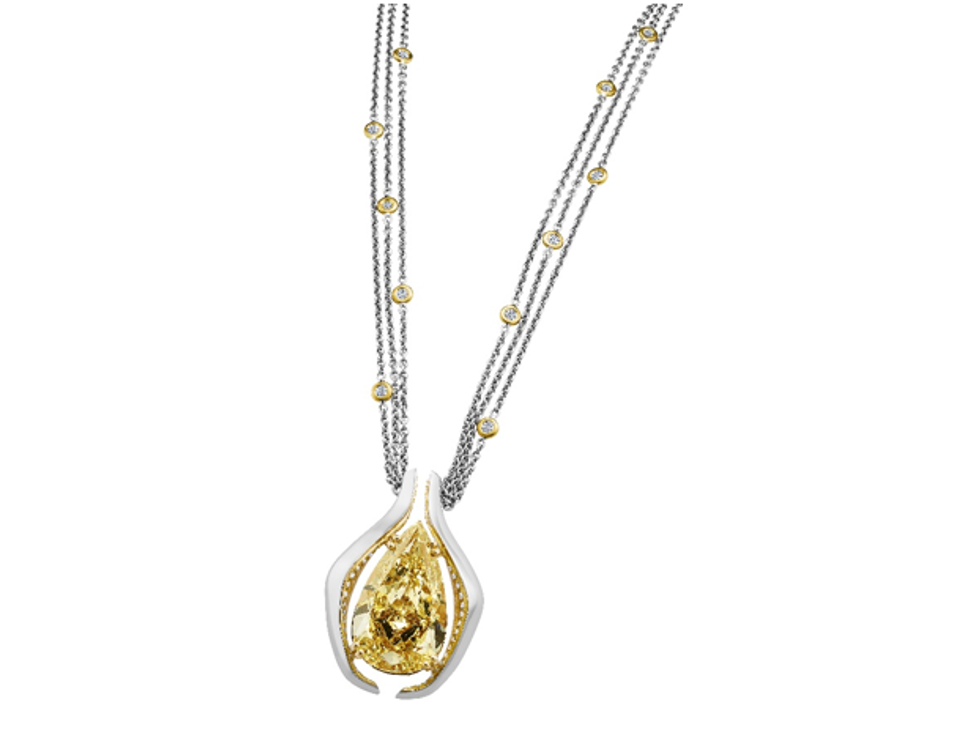 Bentley has worked with Master Goldsmiths at Heinz Mayer to craft the extraordinary piece.Photo courtesy of Bentley Motors
The final design of the piece was entrusted to expert Master Goldsmiths at Heinz Mayer in Idar-Oberstein, Germany.
The diamond rests in a platinum and 18-karat gold setting and hangs at the bottom of a chain. There are 106 diamonds on the pendant - 20 on the chain, 30 under the center stone, and 56 in the surrounding setting. Underneath the pendant is the Bentley 100 Extraordinary Years logo. The Bentley emblem and inscriptions of diamond weight, clarity and serial number are engraved on the chain's plaque.

Platinum wing-like shapes hold the cradle where the large stone rests. The Italian platinum chain consists of sections that have been cut then welded and soldered back together with 18 karat gold mountings. The chain itself holds 20 white round natural brilliant cut diamonds. The chain can be worn at either 42 cm or 45 cm.
The design, cutting, mounting, and polishing process took weeks to complete. When it was complete and the work was approved by all involved, the moulds created for the project were destroyed, ensuring that the piece is truly one of one.