Bentley's concept EV features wine leftovers, materials linked to British royal family
Nov 1, 2019, 2:35 pm
Photo courtesy of Bentley Motors
This year, Bentley celebrates its centenary year, its 100th birthday.
The new EXP 100 GT concept car pushes the limits of luxury and all-electric power, focusing on the future as Bentley sees it: sustainable mobility. The car is fully autonomous, has zero emissions, and is run by artificial intelligence.
The grand tourer has zero emissions, as BEVs naturally do, and an athletic yet refined presence, as Bentleys naturally do.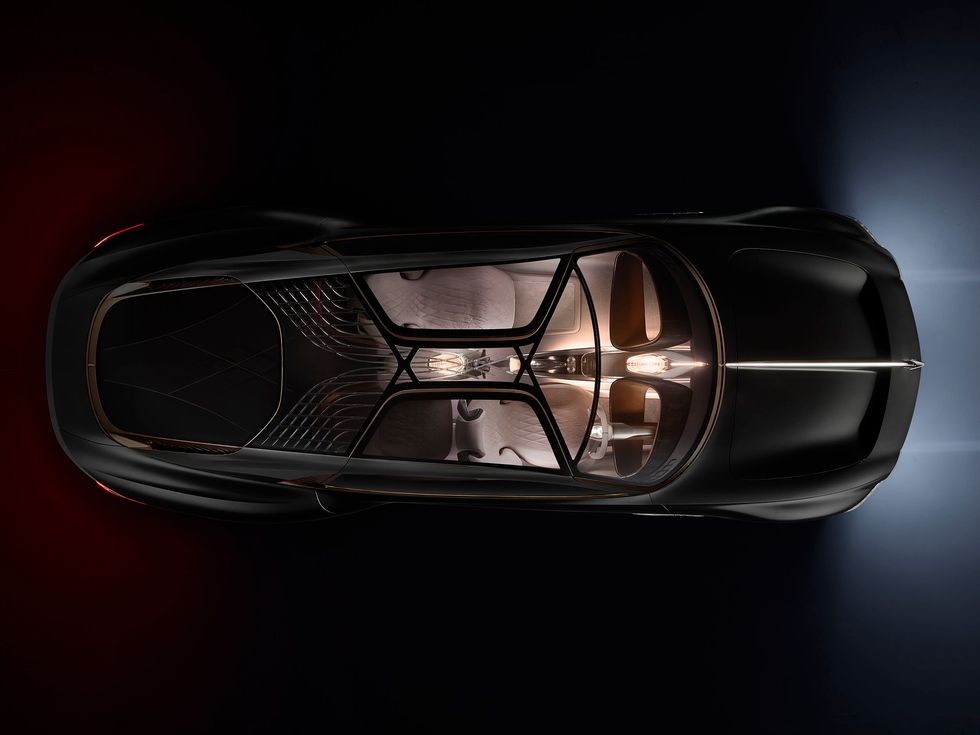 The cabin is well-appointed, filled with numerous British-linked elements.Photo courtesy of Bentley Motors
Inside the car is 5,000-year-old Copper Infused Riverwood. It also features Vegea, an organic leather-like textile that is a bi-product of wine-making consisting of the skins, seeds, and stalks of grapes that remain after the crush. It has previously been used the fashion and accessories industries and exterior paint that comes from recycled rice husks.
The car is strongly influenced by its British roots. A partnership with Gainesborough, a 116-year old company that holds a royal warrant of appointment to Her Majesty the Queen, has resulted in the inclusion of a cotton damask textile that is renewable and biodegradable. It was dyed using a sustainable process.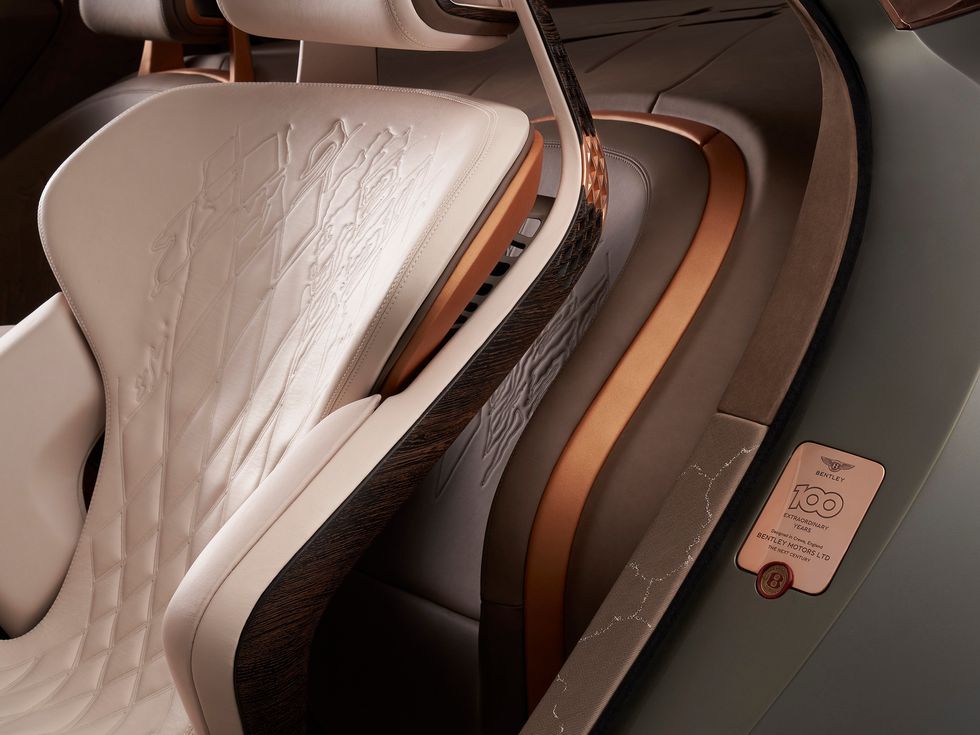 Wavy lines give the vehicle a unique sculptural look.Photo courtesy of Bentley Motors
Hand & Lock, a premier London embroidery house, crafted the sewn patterns on the Gainesborough textile. The company is known for providing embroidery services for the British royal family, European design houses, the Royal Armed Services, and Savile Row tailors.
Its cabin sports British Farmed Wool carpets woven on a tradition Wilton loom by Grosvenor Wilton. The carpet manufacturer, one of England's oldest, spun the wool in Britain, dyed it in Yorkshire, and wove it in Worcestershire.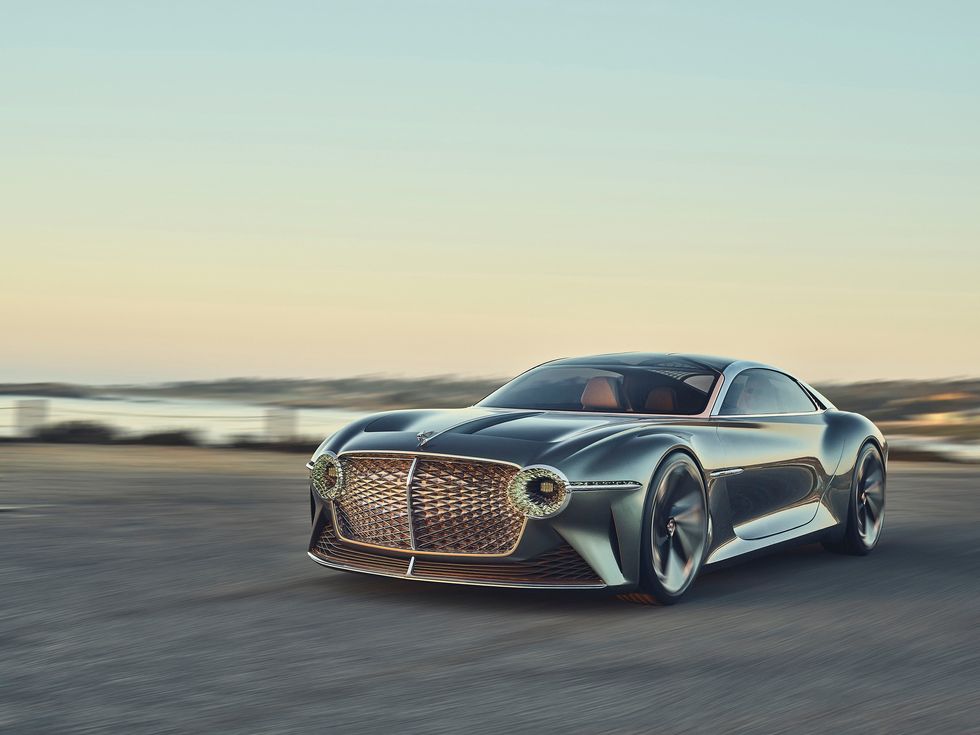 The face of the Bentley is a big bug-eyed.Photo courtesy of Bentley Motors
Crystal inside the Bentley EXP 100 GT is hand-blown and hand-cut by Cumbria Crystal, the last producer in England who crates their products this way. Uniquely, the company works only with British and European partners for all supplies and is the crystal of choice for British embassies worldwide.
The wood inside the Bentley comes from a 5,000-year old, 13-meter long oak log from the Fenland Basin in East Anglia. The choice of the wood continues the partnership between Bentley and the Fenland Black Oak Project.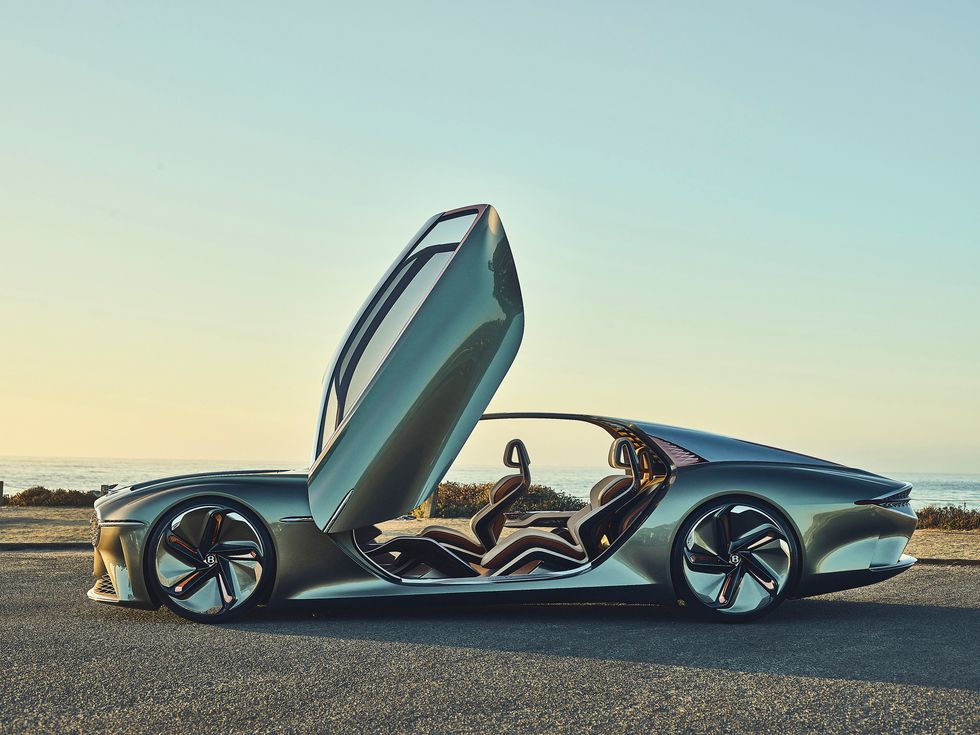 The doors of the Bentley concept car are designed in the same vein as what you'll find in many supercars.Photo courtesy of Bentley Motors
The EXP 100 GT is not a vehicle that will go on sale. However, elements of its design are expected to impact future Bentley vehicle development.