Two-seater Bentley Mulliner Bacalar makes its debut, only 12 will be made
Mar 3, 2020, 12:02 pm
Photo courtesy of Bentley Motors
The car Bentley is calling "the rarest two-door Bentley of the modern era" made its debut today in Crewe, England. The model is a two-seat convertible grand tourer that pushes the envelope of design.
Bentley Mulliner, the oldest coachbuilder in the world, will produce just 12 Bacalar models. Each of the cars will be handcrafted in the Bentley Mulliner workshop in Crewe, according to the individual customer's personal tastes.
"The Bentley Mulliner Bacalar is our ultimate expression of an open-top, luxury grand tourer, and of the immense capabilities of our team in Crewe," said Adrian Hallmark, Chairman and Chief Executive of Bentley Motors. "In Bacalar, we have created a fully bespoke Bentley, orientated towards a two seat open top experience, and carrying a number of the forward thinking elements of future luxury, first heralded in our EXP100GT as part of our Centenary celebrations last year."

The car's design has tapered cowls at the rear which were designed to be reminiscent of vintage Barchetta sports cars. It features a wrap-around cockpit with a center console that is seamlessly integrated into the dashboard and doors. A semi-enclosed luggage compartment sits behind the passengers and is purposely designed to fit bespoke Schedoni fitted luggage.
A new, knurled pattern was created for the iconic 'bullseye' vents in the cabin. This pattern is repeated around the interior on areas like the steering wheel controls, media and climate controls, and speaker frets. Each element has a fine, Dark Bronze detail to further enhance the finish, with Midnight Black Titanium detailing.
Buyers can finish their inter using any of the Bentley color and material choices available. In the model show, Bentley used Beluga leather alongside Bentley's heritage semi-gloss leather and natural wool to create a dark 'tone-on-tone' character. Bentley Mulliner's Khamun accent leather highlights the wraparound cabin theme and matches the new Yellow Flame exterior paintwork.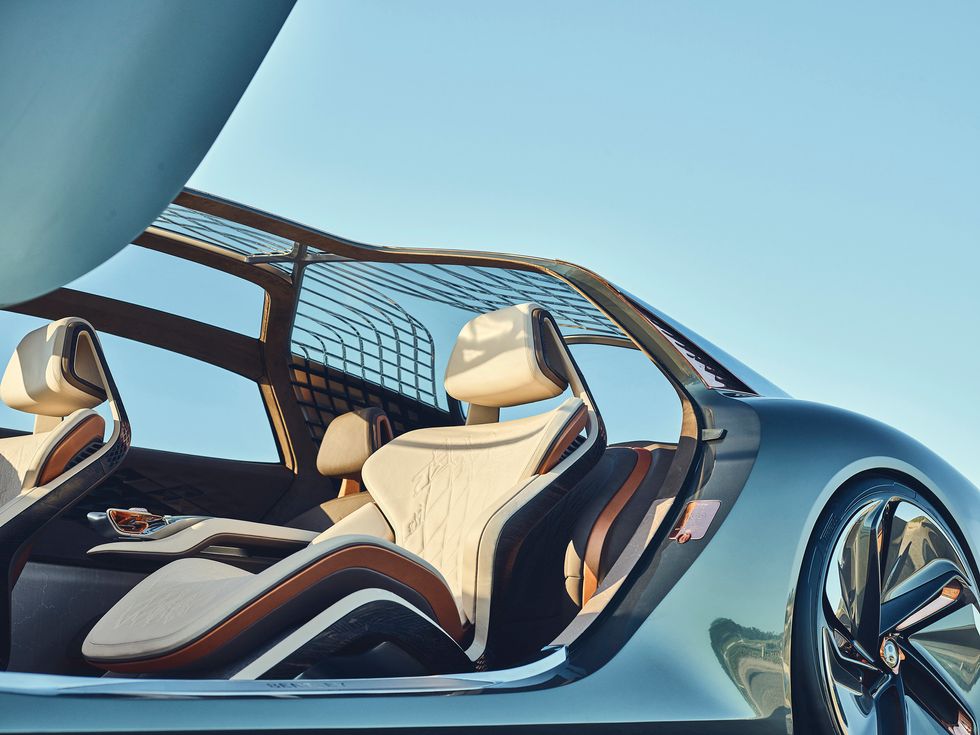 Bentley previewed its future interior materials last year in the EXP100GT concept car.Photo courtesy of Bentley
The car's D-shaped steering wheel features Alcantara inserts, with a contrast accent top marker. The gear-shifter is also finished in Alcantara with Dark Bronze detailing. Unique leather strap door and seat releases, and digital instrumentation heighten the look.
The sustainable products first showcased in the EXP100GT have come to the Bacalar including ash from rice husks, which provides a sustainable way of delivering a rich metallic finish, natural British wool and 5,000-year-old Riverwood sourced from the ancient Fenlands of East Anglia.
"Bacalar is a rare and remarkable Bentley, and whilst clearly defined, will be an extraordinary and collaborative experience for just twelve discerning people who will now co-create, collect, drive and treasure one of twelve being built," said Hallmark. "Our customers are as excited as we are about Bacalar, as it brings our team and discerning enthusiasts together, to create the finest bespoke, hand-built cars, and push the boundaries of our imagination and capabilities."
Bentley has given the car an enhanced version of their 6.0-liter W12 engine, which produces 650 horsepower and 667 pound-feet of torque. The car comes standard with torque vectoring all-wheel drive.
Bentley's super luxury model gets its name from Laguna Bacalar, located in Mexico's Yucatan peninsula. It's a long and narrow lake known for its clear blue water. The name continues the new Bentley tradition of naming cars after remarkable landmarks. This started in 2015 with Bentayga.
All examples of the Bentley Mulliner Bacalar have already been allocated to customers from around the world.