Audi Q8s with C-V2X tech communicating with Virginia Dept. of Transportation signs, lights
Oct 8, 2020, 4:13 pm
Photo courtesy of Audi AG
The future is multi-way communication. Not just human or computer, but multi-channel communication for businesses and transportation, among others. There are many players in the space, many working cooperatively to test and deploy these technologies.
Audi, the Virginia Department of Transportation (VDOT), and Qualcomm are working with American Tower Corporation, Commsignia, and Virginia Tech Transportation Institute (VTTI) to deploy cellular vehicle-to-everything (C-V2X) communication technology. It's the result of an effort between Audi, VDOT, and Qualcomm Technologies aimed at making Virginia's roadways safer and reducing the number of road hazards and fatalities.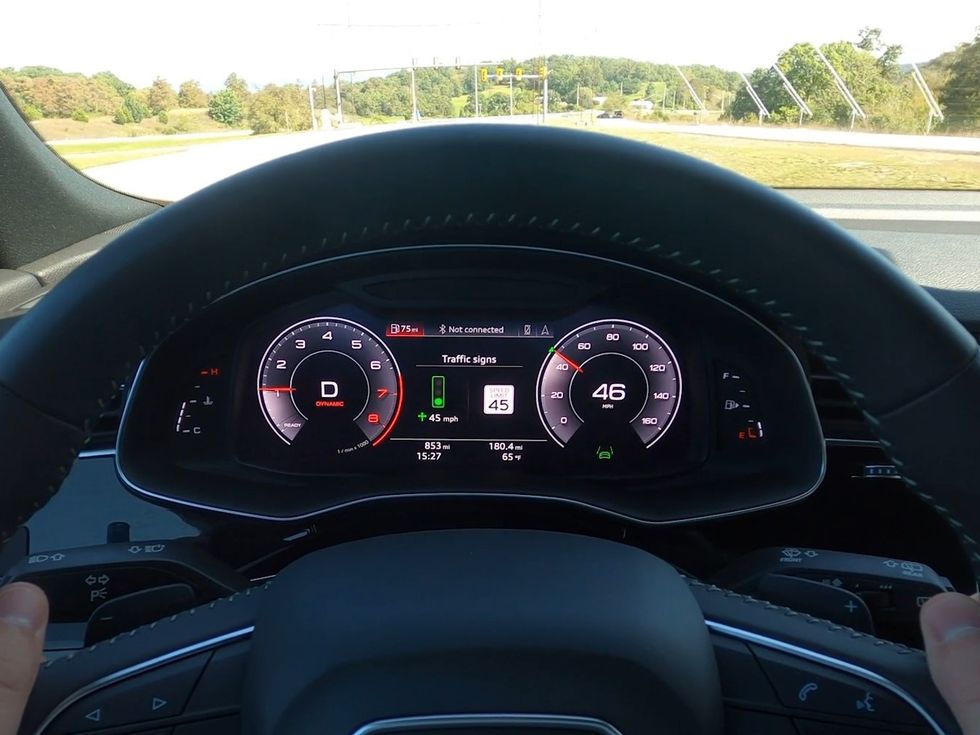 The Audi Q8 shows information from road hazards on the car's driver information screen.Photo courtesy of Audi AG
VTTI and V2X solutions provider Commsignia are using the 5.9 GHz wireless communications band that the Federal Communications Commission (FCC) recently proposed to allocate for C-V2X enhanced surface transportation safety to deploy the tech.

The collective has given several use cases for the technology. In work zones, the tech can offer greater awareness for drivers who can "receive messages through low-latency direct communications" while maintenance personnel who can also receive messages and warnings that a vehicle is approaching using a C-V2X-enabled vest.
In the case of traffic lights, VDOT's signal controllers are broadcasting signal status information through roadside infrastructure provided by Commsignia. That information supplements Audi's Traffic Light Information service, which is part of the MIB 3 infotainment system in the Audi Q8 testers.
"We expect neutral host models and shared roadside unit enhanced infrastructure to play a key role in the deployment of C-V2X in the Virginia Connected Corridors, a connected vehicle environment in Northern Virginia," said Ed Knapp, CTO, American Tower. "We are pleased to be working with industry-leading organizations to identify ways to accelerate C-V2X technology adoption and 5G edge infrastructure at scale. Widespread adoption will deliver on the vision of intelligent roadways and intersections for enhanced safety and connectivity while also improving the environment and overall quality of life."
"The deployment of C-V2X on the Virginia Smart Road Corridor allows a new generation of vehicles capable of communicating not just through cellular towers but also directly with roadside infrastructure and vulnerable road users," said Pom Malhotra, director, Connected Services, Audi of America. "Today's milestone will allow Audi to accelerate the deployment of innovative use cases that have the potential to increase driver confidence on the road by providing warning – and in the future, take autonomous action – when sensing an impending collision or even a traffic rule violation."
"We are proud of the work we've done with Audi of America, VDOT, American Tower Corporation, VTTI and Commsignia to not only showcase momentum and value of C-V2X to communities and stakeholders, but to also innovate on deployments such as these to continue opening paths to widespread adoption," said Jim Misener, senior director, product management, Qualcomm Technologies, Inc. "The Virginia deployment is a significant milestone, serving as a successful proof point showing public and private organizations working together to apply C-V2X to achieve transformative safety and mobility benefit."